The Chicago Blackhawks are the first NHL team to start the 2013 season 3-0 and have established themselves as the early favorite to represent the Western Conference in the Stanley Cup final.
Tuesday night's 3-2 victory over the previously undefeated St. Louis Blues proved how hard the Blackhawks will be to defeat this season when they play well in all three zones and starting goaltender Corey Crawford plays at a high level.
Let's break down why the Blackhawks are currently the best team in the Western Conference.
Impressive Offensive Depth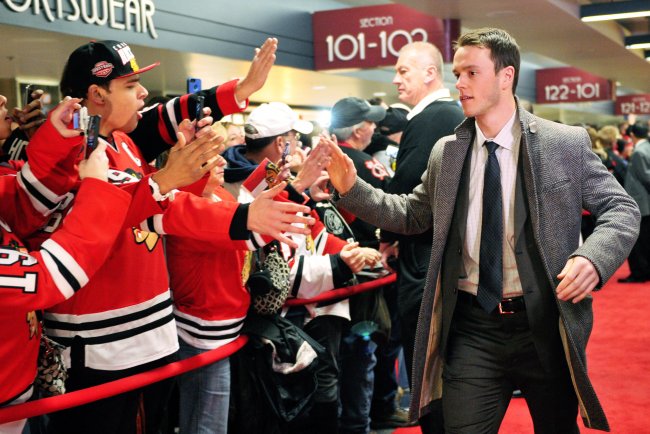 Rob Grabowski-USA TODAY Sports
With Marian Hossa and Jonathan Toews fully recovered from head injuries suffered last season, the Blackhawks have the best offensive depth of any team in the Western Conference.
Not many teams can roll out three lines as talented as the ones below:
Line

LW

C

RW

1
Daniel

Carcillo

Jonathan

Toews

Marian Hossa
2
Patrick Sharp
Dave

Bolland

Patrick Kane
3
Bryan

Bickell

Andrew Shaw

Viktor

Stalberg
Head coach Joel Quenneville finally has the depth he's lacked over the last two seasons, which means the Blackhawks can excel in any style of hockey that their opponents want to play.
When you have three lines that are able to give you the scoring depth needed to beat great defensive teams like the Blues, it's a major advantage for the coach.
Hossa and Kane rank second in the league with five points, and only four of the 20 skaters on the Blackhawks roster have yet to score a point this season. Hossa's four goals lead the NHL alongside Daniel Winnik and Patrick Marleau.
Chicago currently ranks third in goals scored and there aren't a lot of teams capable of matching the Blackhawks' ability to score four-to-six goals each game.
Special Teams Have Improved
One weakness that the Blackhawks had to improve this season was special teams, and through three games, they have taken great strides on the power play and penalty kill.
Will Chicago win the Western Conference?
Chicago ranks third in penalty-killing percentage thus far and has allowed just one power-play goal in 10 short-handed situations.
The team ranked 27th in penalty killing last year, so the improvement made this year is a welcomed sight for fans who spent a lot of last year criticizing their team for its performance in this area.
The Blackhawks also have three power-play goals, which is tied with a lot of teams for the fourth-most in the league.
Chicago ranked 26th in power-play percentage last season, and with the team off to a fine start from an offensive standpoint, the Blackhawks' improvement with the man advantage should continue.
Corey Crawford Looks Comfortable in Net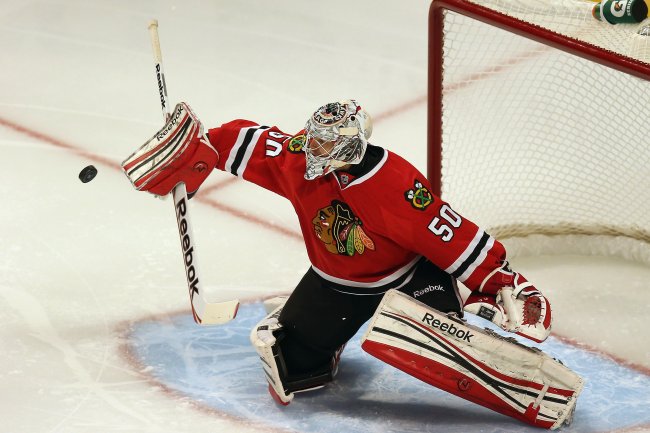 Jonathan Daniel/Getty Images
Starting goaltender Corey Crawford's good start to the season has been the most encouraging sign for the Blackhawks through three games.
In the first period of the Blues game, Crawford made an unbelievable save on rookie forward Vladimir Tarasenko, who has been St. Louis' best player this year.
The 28-year-old goaltender has looked quite comfortable in net and has a 2-0 record with a 2.00 goals-against average and .927 save percentage.
Crawford has not only been positioned well in net, he's been playing the puck well too and has made some big saves while the Blackhawks have been killing penalties.
If Crawford can continue to play like a reliable No. 1 goaltender, the Blackhawks will finally have the quality goaltending needed to make another deep playoff run.
Patrick Kane is Playing His Best Hockey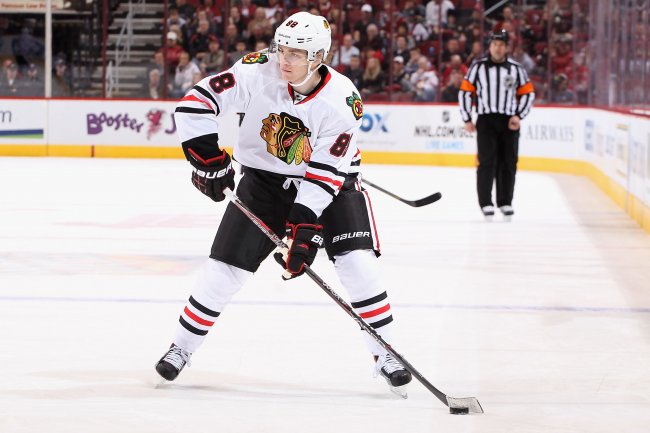 Christian Petersen/Getty Images
Few players in the NHL are under more pressure to play at a high level this season than Patrick Kane.
The 24-year-old winger has been fantastic through three games and is not only scoring goals, he's also creating chances for teammates with his great playmaking skills.
Against the Blues on Tuesday, Kane delivered a sweet saucer pass to Marian Hossa, but the veteran forward was unable to score. Later in the first period, Kane scored on St. Louis goaltender Brian Elliott with a nifty dangle to give his team a 1-0 lead. He has two goals and three assists this season.
Another example of his playmaking talent happened on Sunday in the team's 6-4 victory against the Phoenix Coyotes (see video below for his assist on Bolland's PP goal).
If Kane continues to play like he has to start the season, the Blackhawks offense will be incredibly difficult to stop.
Kane is one of the elite offensive players in the NHL and very few players have the type of speed, playmaking and goal scoring talents that he has.
The last time Kane played this well was during the 2009-10 season when he set a career high with 88 points. The Blackhawks won the Stanley Cup that year, and if Kane maintains his current level of performance, Chicago will be celebrating again in June.