The 7 Best Setup Men in the NHL Right Now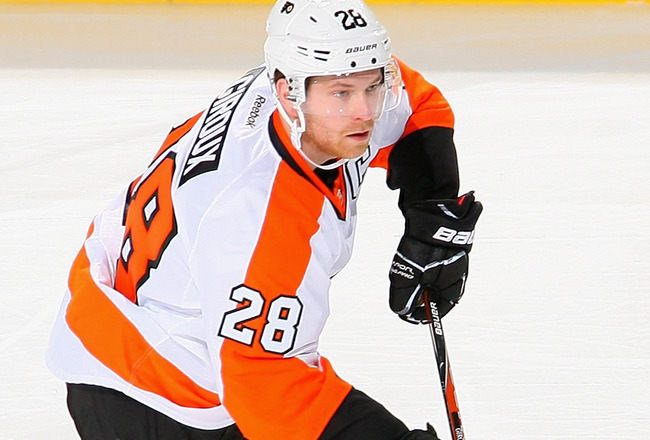 Claude Giroux is one of the top set-up men in the NHL.
Rick Stewart/Getty Images
It may be vision. It could be hands. It also includes balance and athletic ability.
The best setup men in the NHL have a gift. They know how to hold on to the puck and create space at the same time.
When they do this, it opens things up for their teammates. The best setup men can deliver the puck with a flip of the wrist so the puck moves onto the stick of a teammate who can fire the puck consistently on net.
It won't go in every time, but it will go in often enough so that the setup man's assist total builds consistently.
While goal scorers should never be downplayed, it's the setup men who constantly make plays and create goals.
Here's a look at the best setup men in the game right now.
(We are looking at last year's assist totals as well as their current status as the new season begins.)
Ryan Getzlaf, Anaheim Ducks
Ryan Getzlaf did not have a memorable 2011-12 season. He scored 11 goals and 46 assists for the Ducks.
His assist total ranked No. 20 in the league last year. However, we expect a big year from Getzlaf as he is in his free agent year and he should become one of the top assist men in the league.
Getzlaf uses his size, reach and passing ability to put his teammates in an excellent position to score.
Joe Thornton, San Jose Sharks
The 2011-12 season was not the best of Joe Thornton's career, but he still ended up with 59 assists, which was good for fifth in the league.
Thornton is a big man who combines strength and anticipation on the ice. As a result, he is one of the best setup men in the league. He uses his strength to fend off defenders as he makes a pass that often leads to a quality shot on goal.
He also puts the puck in a position where his teammates are going to be and they don't have to slow down to receive is passes.
Henrik Sedin, Vancouver Canucks
Henrik Sedin was the leading assist man in the league in 2011-12.
Sedin had 67 assists last year, following up the 2010-11 season in which he had 75 assists.
Sedin's partnership with twin brother Daniel Sedin has been well-documented, but he passes equally as well to his other teammates.
Henrik Sedin is an unselfish player and he plays games as if he would much rather set up a goal rather than score himself.
Evgeni Malkin, Pittsburgh Penguins
Evgeni Malkin may be the most talented player in the NHL.
His ability to score goals could hurt him as a setup man, but he had 59 assists last year to go with his 50 goals. Malkin was the leading scorer in the league.
He has great goal-scoring skills but he passes the puck just as well. Malkin can thread the needle with his cross-ice passes as well as nearly any player in the game.
Erik Karlsson, Ottawa Senators
Erik Karlsson is the best offensive defenseman in the league.
He has a quick laser-like shot from the point and he had 19 goals and 59 assists last year. Many of his assists came on rebounds of his shots, but Karlsson excels at quick and accurate passes.
He is the most important player on the Senators and he is a great setup man because he is so dangerous from an offensive perspective.
Sidney Crosby, Pittsburgh Penguins
The last two seasons were ruined for Sidney Crosby.
He has had concussion-related issues since the Penguins' appearance in the 2011 Winter Classic.
Now Crosby is healthy again and he is once again a sensational offensive player.
He may be the best all-around player in the game. He has the speed, the puck sense, the passing ability and the killer instinct to dominate on many nights.
He should also have an excellent season because he wants to be the best player on the ice. When he looks across the locker room and sees Evgeni Malkin, he knows he can't come with anything other than his best effort.
That means delivering a series of near-perfect passes.
Claude Giroux, Philadelphia Flyers
Claude Giroux is a hard player to compete against.
He goes to the net hard, he shoots the puck hard and he makes tight, accurate passes that his teammates can convert into goals.
Giroux was second to Henrik Sedin last year with 65 assists. Giroux makes a habit of putting accurate passes on the tape of his teammates' sticks.
That makes it awfully easy to take those passes and one-time them into the net.
Giroux should continue to dominate in this area for many seasons.
Keep Reading