Toronto Maple Leafs Set to Face Penguins, Reimer and Kessel Expected to Shine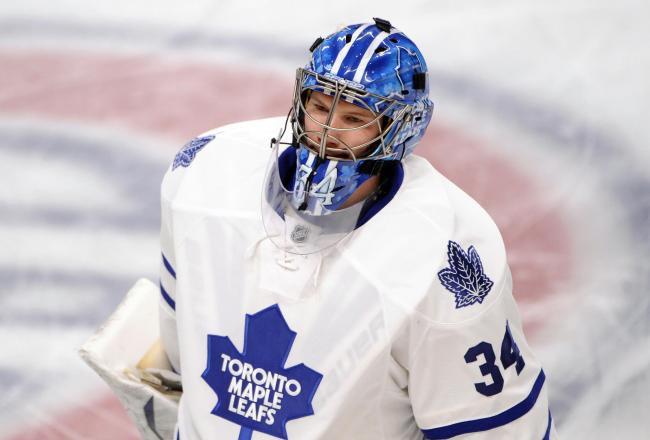 Ready for action
USA TODAY Sports
With a lucky bounce here and a lucky bounce there, the Toronto Maple Leafs would be enjoying a winning streak and an unbeaten season heading down the playoff stretch in January, a prospect not so dissimilar to recent efforts out of the gate during the Wilson-Burke reign.
James Reimer looks to start in goal against the Penguins and it's about time Phil Kessel scored a goal. With the exception of Nikolai Kulemin, who has not opened with his usual tenacity and expected finish, the new-look team is playing well together and providing an entertaining style of hockey for new owners, though not championship hockey.
Now coached by Randy Carlyle, a crisp-passing team are expected to move the puck efficiently up the ice and produce a chance on net with each successive new rush. Down at the other end, new D-man Mike Kostka in particular has been taking hard and well-placed shots from the blue line. From time to time during their opening games, however, Leafs defensemen were still icing the puck under pressure.
This ability to give away the puck on behalf of their team needs to be reduced, simply.
With Jake Gardiner coming off his injury, perhaps this will be addressed, once he's cleared to play, enabling Mike Komisarek to continue to provide much-needed professional-level depth from the bench.
In terms of changing roles, against the Pittsburgh Penguins, the Leafs will now likely offer Mikhail Grabovski between James van Riemsdyk and Kulemin. Clarke MacArthur practiced on a line with leading scorer Nazem Kadri and newcomer Leo Komarov, but will likely play alongside Kessel and Tyler Bozak.
Yes, the Leafs need to stay out of the penalty box, stay healthy and finish their checks, but they also need to score goals. Kadri has effectively laid down the gauntlet for other scorers on the team, and certainly first affected in this department would be Phil Kessel.
With the rust certainly shaken off the Leafs, their game against Pittsburgh will separate the men from the boys. The players know their roles and now need to execute on the ice, as a team.
Playing Dion Phaneuf on the left side might be one of those peculiar innovations, by shifting an existing asset, that truly provides the dividends anticipated of this burly player when originally acquired.
The Leafs' captain will be very productive shooting from the left side and will flourish under Carlyle, providing GM Nonis a tradeable asset and an opportunity to transition Joffrey Lupul into the team's captain role.
Rather than relying on the truculent dump-and-chase methodology to generate results, the Leafs' fleet-footed forwards this year are encouraged to take more shots on the rush, and take advantage of the threat of making a great pass, while opposing defensemen retreat and teammates buzz the enemy net with gusto.
Having had ample time to address strengths and weaknesses on the team, and of course with more pucks in their possession, the Toronto Maple Leafs will this season follow a plan to win, to control and move the puck, and shoot with intent to win. This is the direction that players are now being held accountable to.
To beat the Penguins, the Leafs need to display a deft balance of positioning shift after shift and equal spontaneity and force opposing players, young and old, big and small, to give up the puck in all zones. The Leafs did this in both opening games, but then once in possession they need a plan to score, and win.
Going forward, the Leafs will begin to play the game at a higher level. It's a game that requires a consistent level of enthusiasm and energy, matching skills and training to skate and shoot well consistently on the fly, and to play passionately yet with the discipline necessary to win is certainly within the team's reach.
This article is
What is the duplicate article?
Why is this article offensive?
Where is this article plagiarized from?
Why is this article poorly edited?

Toronto Maple Leafs: Like this team?