6 Key FA Cup Battles to Watch This Weekend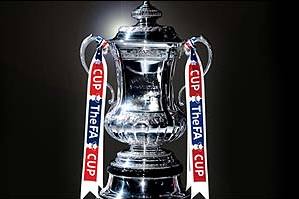 Image courtesy of gizmaestro.com
The English Premier League takes a back seat this weekend as England's prestigious FA Cup takes top billing.
Cup competitions have a fantastic tradition of throwing up the odd upset, when a lower league team knocks out their highly favoured opponents.
There are six games that interest me this coming weekend: one on Friday, four from Saturday and one from Sunday's fixture list.
I'll preview each game as I see it and give my prediction at the end of each slide. Let's get to it!
Begin Slideshow

»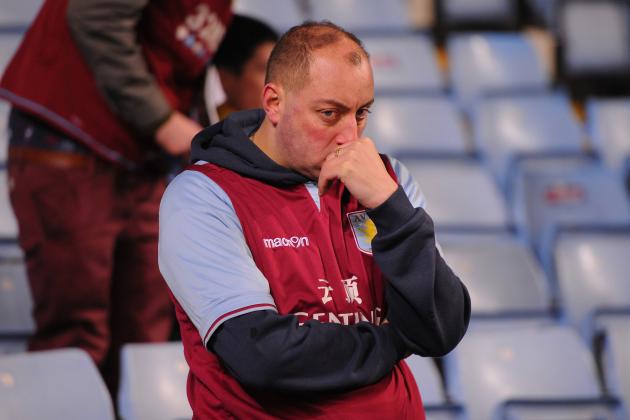 Michael Regan/Getty Images
This fan can't understand why Villa lost to League Two side Bradford City
After losing their Capital One Cup semifinal 4-3 on aggregate to League Two side Bradford City on Tuesday, Aston Villa head in to FA Cup duty against another lower league side on Friday night and Paul Lambert will be looking for a response from his players.
Millwall probably isn't top of the list of places Villa would rather go this weekend.
There's always a passionate crowd down there, and having seen Villa's problems of late, Millwall manager Kenny Jackett and his players will be confident of causing Paul Lambert's side more problems on Friday night.
They're just five points outside the playoff positions in the Championship, so Jackett will use this game to see how close his players are to achieving Premier League status.
The likes of Danny Shittu and Darius Henderson are hugely experienced players, and with others like Liam Trotter, Dany N'Guessan and Andy Keogh going forward, Millwall will have no reason to fear their Premier League opponents.
In fact, given the relative inexperience of the Villa side and their fragile confidence, Millwall might even go into this game as favourites.
Aston Villa could not go into this match with any less confidence than they already have.
They're struggling in the league and the aforementioned aggregate Capital One Cup loss to Bradford was embarrassing and demoralizing.
On paper, no Premier League team should lose to a League Two side, but that's exactly what happened.
Over the two matches against Bradford, Villa simply were not good enough, especially at defending set pieces.
That might be an area that Millwall try to exploit on Friday.
It comes down to which team will be more confident of getting a result, and right now that's Millwall.
Prediction: Millwall win
Jamie McDonald/Getty Images
Asmir Begovic will be a key man for Stoke against Man City
Unusually for Stoke, they go in to Saturday's lunchtime kickoff against Manchester City in poor shape defensively.
They have been shipping goals left, right and centre lately, so Tony Pulis will want to rectify that this weekend.
Unfortunately, they'll be up against one of the strongest attacking sides in the league, which means his goalkeeper, Asmir Begovic, will more than likely be busy.
Earlier this week, Jeremy Butler of the Daily Mirror speculated that the Bosnian keeper is being courted by both Manchester clubs, so what better way to state his case than with another eye-catching performance against a potential suitor?
Saturday's visitors, Manchester City, head in to this match on the back of a comfortable 2-0 victory against Fulham last weekend.
Sometimes, it's as if Roberto Mancini's side don't even have to get out of second gear to win their matches, but Stoke are an entirely different proposition altogether.
They might be shipping goals, but Mancini will have to get his tactics right to come away with what would be a hard-earned victory.
Going forward shouldn't be an issue, with the likes of David Silva and Edin Dzeko in among the goals of late.
In fact, given the physical nature of Stoke's play, Mancini might stick with the big Bosnian up front because of his presence, and leave one of Sergio Aguero or Carlos Tevez on the bench.
Either way, this will be an intriguing cup-tie and one that might need a replay to settle it.
Prediction: Score draw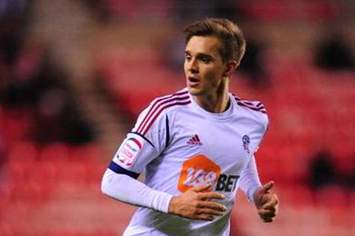 Stuart Holden's return from injury will help Bolton—Image courtesy of www.goal.com
Bolton secured this fourth-round tie with Everton courtesy of beating another Premier League side, Sunderland, after a replay in the last round.
However, Dougie Freedman and his players will be well aware that, with the greatest of respect to Sunderland, Everton are an entirely different kettle of fish.
Although they're in the bottom half of the Championship right now, Bolton's recent results have been pretty solid if unspectacular.
One of the most pleasing things for Bolton fans of late has been the return of Stuart Holden.
The American has been out of action for most of the last season-and-a-half with knee injuries, so his return will have given them a boost.
It's still early days yet, but Holden might just be the spark that re-ignites Bolton's season.
When Everton come calling on Saturday, Bolton will know how tough it will be to come away with any sort of positive result, regardless of how well they play.
After coming close in the last couple of seasons, David Moyes will no doubt view this competition as his best chance to win a trophy at Everton.
Without being disrespectful, Everton just don't have the financial clout to be able to challenge for the league title, but they're more than capable of winning a cup or qualifying for the Champions League.
David Moyes' side are one of the dark horses to win this tournament, and he sent out a statement of intent against Cheltenham in the last round by sending out a very strong side.
It was mission accomplished as they came away with a 5-1 victory.
Bolton will have to work hard to get any chances throughout the 90 minutes, and it wouldn't be a surprise if they were beaten quite comfortably over the course of the game.
Everton just have too much quality, and they'll come away with a well-deserved, comfortable win from the Reebok on Saturday.
Prediction: Everton win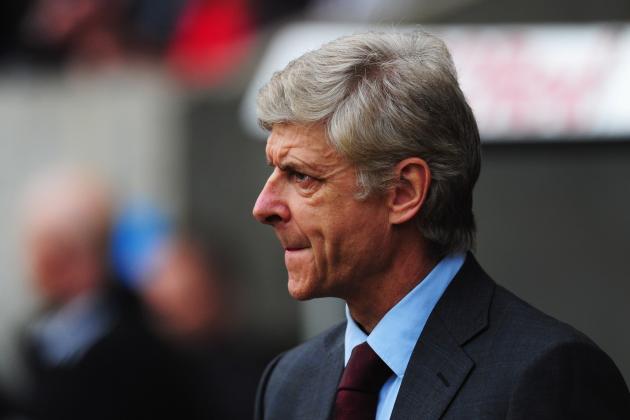 Stu Forster/Getty Images
Consistency is Arsenal's problem, not desire, says Arsene Wenger
While it might have come as a shock to some fans and pundits, Brighton's win over Newcastle in the last round wasn't a surprise to me.
Brighton are a very good side who play some excellent football at times, and they have a decent squad of players.
Their manager, Gus Poyet, played at the highest level for both Chelsea and Tottenham, so he'll have the same high expectations for his players whenever they cross that white line to go on to the pitch.
Brighton are unbeaten so far in 2013, and they'll figure that they have a good chance of adding to Arsenal's woes on Saturday.
Arsenal are pretty much a "Jekyll and Hyde" team these days.
Their first-half performance against Chelsea last weekend was nothing short of abysmal, but in the second half, they'll feel unlucky that they didn't come away with a point, or even sneak the three points.
Arsene Wenger commented to the press on Tuesday (reported via BBC Sport among others) that: "the consistency of our performances within the game is worrying."
It's not just the consistency of their performances, it's the lack of strength in depth.
When you looked at Arsenal's bench against Chelsea, there was nobody who could have come on to change the game.
Granted, Lukas Podolski and Alex Oxlade-Chamberlain were unwell, but that's just two players.
It's sad to say that Arsenal are no longer the force they once were.
Without some serious investment in the squad, they'll continue to underachieve in front of their fans who expect, and deserve, more for the money they pay to watch their team.
Sadly, their poor run might continue on Saturday, because it's likely Brighton will come away with a draw.
Prediction: Score draw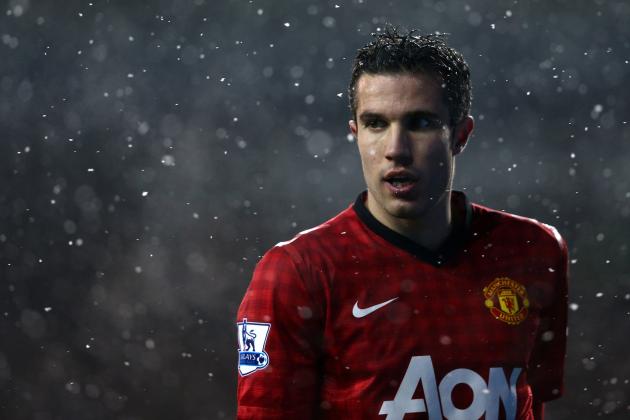 Clive Mason/Getty Images
Robin van Persie will look to add to his tally against Fulham
It doesn't seem like nine years since Manchester United last won the FA Cup, but that's the truth of the matter.
United's sheer will to win is phenomenal, and they've steamrolled their way through the Premier League this season.
Yes, they've had problems defensively, but their attacking options far and away outweigh any issues at the back.
Robin van Persie has just been magical this season, and it feels like he's an almost nailed-on-certainty to score every time he plays.
He scored again last weekend against Tottenham, and he'll feel confident of keeping that run going on Saturday.
As decent as Fulham can be on their day, they're in shocking form right now.
Since the end of October, they've won just two of their last 17 games: against Newcastle in the league and against Blackpool after extra time in the last round of the FA Cup.
If that sort of form continues, they're going to find themselves in serious trouble come the end of the season.
As talented as Dimitar Berbatov is, he can't do it all on his own, and it's time that some other players stepped up to the mark.
Greek legend Giorgos Karagounis has done that of late, and some more of his teammates should follow his example.
It won't get any easier for Fulham on Saturday.
Manchester United will come out as comfortable winners.
Prediction: Manchester United win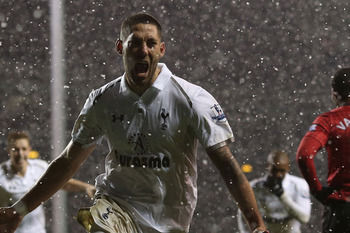 Clint Dempsey celebrates his equaliser against Manchester United last week—Image courtesy of www.skysports.com
This match should be a blood and guts affair.
A typical English FA Cup tie between two great sides.
Leeds might not be the force they once were, but as one of England's traditional "big" sides, there will be a fantastic atmosphere when Tottenham travel north on Sunday.
Neil Warnock is like marmite: you either love him or hate him.
He's one of those polarising figures in football.
Someone that you'd love to have in charge of your team, but you'd hate to be playing against his side because of the passion and commitment that he brings to the table.
Sunday will be a test for Leeds.
They have aspirations of making the Championship playoffs this season, and outside of the two Manchester clubs or Chelsea, there's no bigger test for them in terms of a Premier League opponent.
Warnock's side will be well-drilled and disciplined, but they're capable of causing problems too.
Luciano Becchio and Ross McCormack are two players Tottenham will need to keep quiet if they're to have things their own way this weekend.
We all know the threat that Tottenham possess.
The likes of Gareth Bale, Aaron Lennon, Moussa Dembele and Jermain Defoe are capable of making the best defences in the Premier League look amateur, so it wouldn't be a surprise to see Leeds struggle to cope with them during the match.
Another Tottenham player who seems to have come in to his own in the last few weeks is Clint Dempsey.
The American has had a tough start to life at White Hart Lane.
For some reason, he struggled for form just after his move, but there are signs he's getting back to his best, and his goal last weekend against Manchester United proved that.
Yes, you can point the finger at the defensive mistake that led to the goal, but Dempsey still had to be in the right place at the right time and put the ball in the net.
His recent performances will do his confidence a lot of good and it wouldn't be a surprise to see his name on the scoresheet again this time around.
This one will be close, but the Londoners should travel back south safely in the next round.
Prediction: Tottenham win