Most Amazing NBA Stats so Far This Season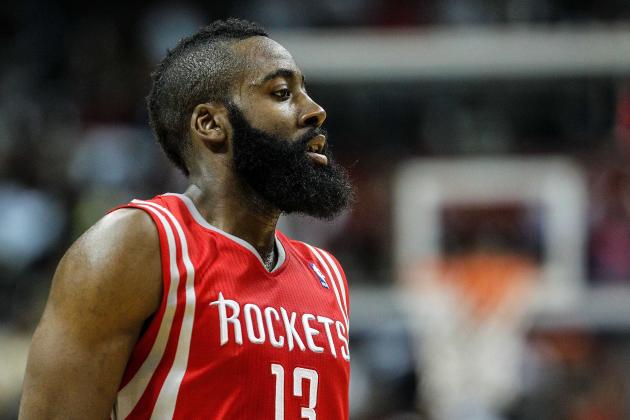 Daniel Shirey-USA TODAY Sports

The NBA is where amazing happens, and that includes the stats.
If you've been paying attention during the 2012-13 season, you might have noticed some incredible statistical performances by superstars, role players, the players who fall in between those distinctions and teams in general.
Would you really expect anything less, though?
Feel free to use the comment section to express any amazement with what some of these players and teams have done during the first half of the season, and don't hesitate to include any other statistical feats you're impressed by that didn't quite make the cut.
Begin Slideshow

»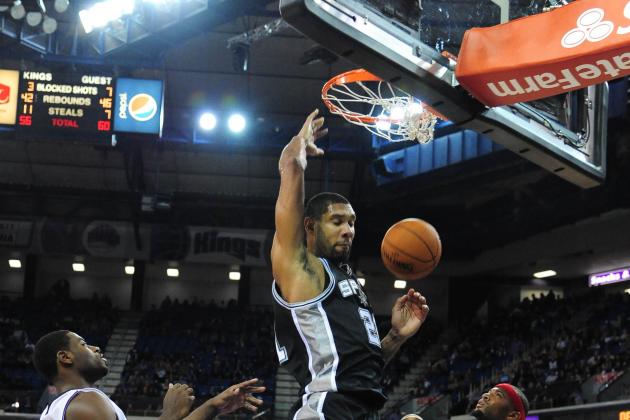 Kyle Terada-USA TODAY Sports

There are well-rounded stat lines, and then there's what Tim Duncan threw up against the Sacramento Kings on Nov. 9 in a 97-86 victory.
While playing only 31 minutes, The Big Fundamental recorded 23 points, 12 rebounds, four assists, five blocks and three steals. Those are totals that have been reached only 31 times by nine different players, per Basketball-Reference's Game Finder.
However, it gets more impressive. Duncan needed only 12 shots, going 9-of-12 from the field, to reach his point total, and he coughed the ball up just twice over the course of the game.
He was also three years older than the next-oldest player to join the club, Hakeem Olajuwon, who did so at 33 years of age.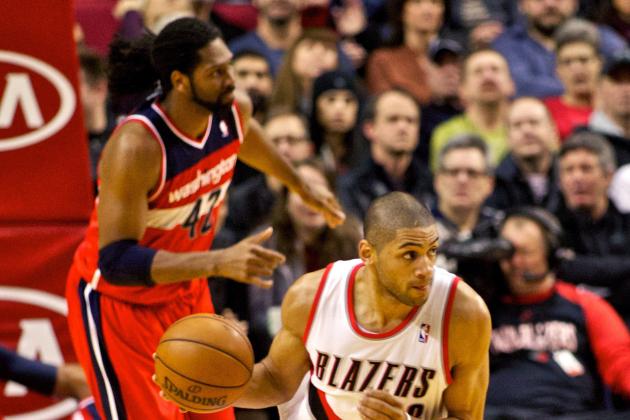 Craig Mitchelldyer-USA TODAY Sports

This is a double feature for Nicolas Batum, who joined two exclusive fraternities during the first half of the 2012-13 season.
In a 95-94 victory over the New Orleans Hornets on Dec. 16, the versatile small forward became the latest player to record the elusive five-by-five, dropping 11 points, five rebounds, 10 assists, five steals and five blocks. Damian Lillard's final shot may have won the game for the Portland Trail Blazers, but it was Batum who made history.
The first player in Blazers history to go five-by-five, Batum became the first man to do so regardless of team since Andrei Kirilenko joined the club for the third time in 2006.
But he wasn't done making his mark.
With 12 points, 10 rebounds and 11 assists against the Washington Wizards on Jan. 21, Batum recorded his first career triple-double. Notably, it was the third ever by a Portland player at the Rose Garden, even if it wasn't enough to overcome Jordan Crawford's dagger at the end of the game.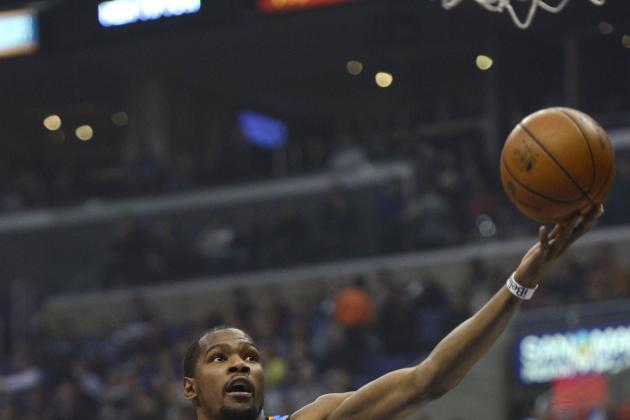 Richard Mackson-USA TODAY Sports

Shooting 50 percent from the field is impressive. Knocking down 40 percent of your shots from behind the three-point arc is impressive. Hitting 90 percent of your charity shots is impressive.
Well, maybe not to Kevin Durant. He won't be content unless he hits all three of those marks in the same season.
Through the first 43 games of his 2012-13 campaign, Durant has made 52 percent of his shot attempts, 42.1 percent of his triples and 91 percent of the freebies. And after a 12-of-19 performance against the Los Angeles Clippers that included a sparkling 5-of-6 mark from downtown, he doesn't exactly appear to be slowing down.
Is there any doubt that Durant is the most talented scorer in basketball right now?
There have only been nine 50-40-90 seasons recorded in NBA history. The exclusive club of players to hit the benchmarks is comprised solely of Larry Bird (twice), Mark Price, Reggie Miller, Dirk Nowitzki and Steve Nash (four times).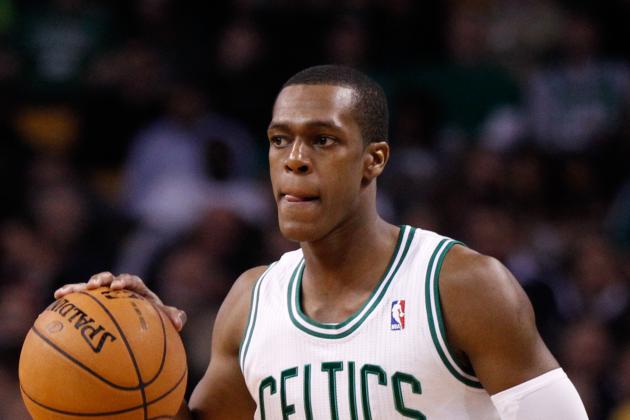 USA TODAY Sports

It wasn't until an altercation with Kris Humphries resulted in his ejection from the game against the Brooklyn Nets on Nov. 28 that Rajon Rondo failed to record double-digit assists.
The streak dated back past the start of the 2012-13 campaign, though. In fact, you have to go all the way back to Mar. 11 to find another game in which Rondo didn't rack up at least a dollar's worth of dimes.
His streak ended at 37 games, leaving him tied with John Stockton for the second-longest string of performances in NBA history. He fell just nine games short of none other than Magic Johnson.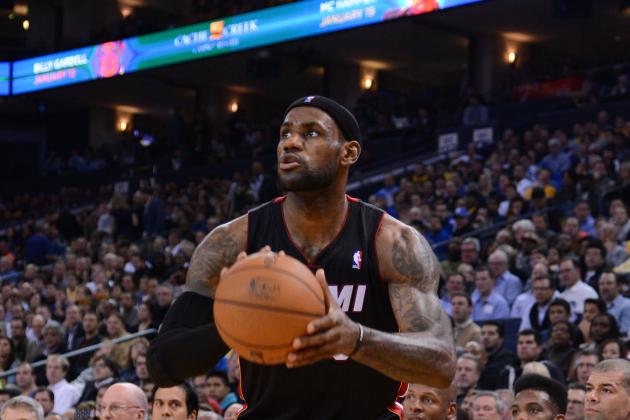 Kyle Terada-USA TODAY Sports

Speaking of impressive streaks, it's impossible to overlook LeBron James' dominance over the scoring column during the first half of the 2012-13 season.
If a team was hoping to hold the reigning MVP below 20 points in a single contest, well, they might have needed to think again. It wasn't until the Portland Trail Blazers corralled the King on Jan. 10 that James was held to the teens.
During that 92-90 loss, LeBron scored only 15 points, halting his streak of games with 20 or more points at 54, dating back to the 2011-12 campaign. That streak included the first 33 games of the current season, giving him the longest such streak to start a season since George Gervin got to 45 in 1981-82.
In the five games since James was held below 20, he's been even better, averaging 29.4 points per contest.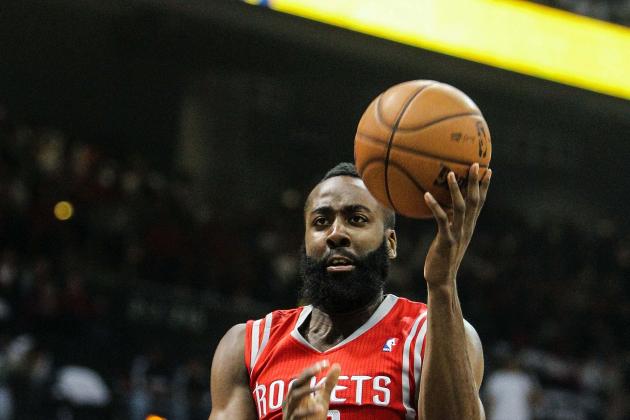 Daniel Shirey-USA TODAY Sports

James Harden's debut for the Houston Rockets was impressive enough. After all, he recorded 37 points, six rebounds, 12 assists, one block and four steals in the season opener against the Detroit Pistons.
Since 1985, there have only been 37 performances in which a player recorded 37 points or more in a season debut, and only Harden managed to record more than eight assists as well.
While that game was far more well rounded, the bearded shooting guard one-upped himself against the Atlanta Hawks when it came to putting the ball in the basket. During that second game, he dropped 45 points on only 19 shots.
How is that possible?
Well, Harden went 14-of-19 from the field, including 2-of-4 from downtown. He also got to the charity stripe 17 times, knocking down 15 of his attempts. That, my friends, is efficiency.
With his performance, Harden became one of the eight players since 1985 to score at least 45 points without taking more than 20 shots.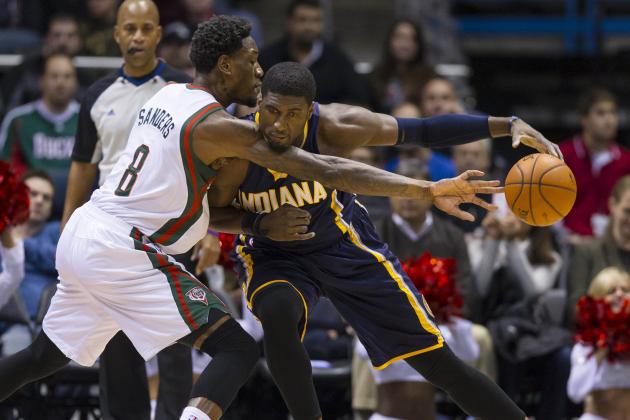 Jeff Hanisch-USA TODAY Sports

Whenever a player records a triple-double, people get excited. However, we've come to expect those triple-doubles to occur when players hit double digits in points, rebounds and assists.
Larry Sanders and Roy Hibbert decided to challenge the traditional narrative during the 2012-13 season, replacing assists with blocks.
The breakout big man for the Milwaukee Bucks recorded his triple-double in a 95-85 loss to the Minnesota Timberwolves on Nov. 30, swatting away 10 shots while recording 10 points and 12 rebounds. Hibbert got his nine days earlier in a 115-107 victory over the New Orleans Hornets by rejecting 11 attempts and putting up 10 points and 11 rebounds.
In that nine-day stretch, the number of players since 1985 who had recorded a triple-double with blocks included as a category jumped from 50 to 52.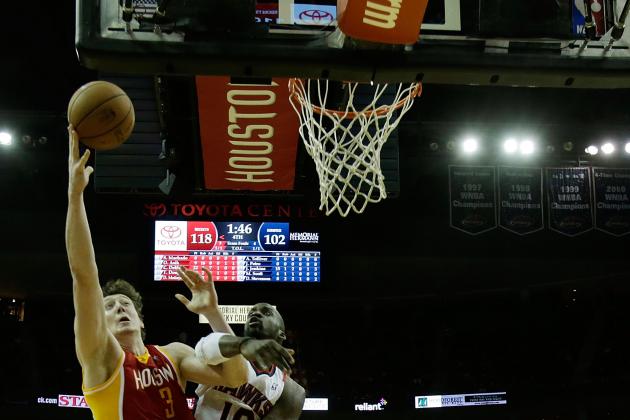 Scott Halleran/Getty Images

We know that Omer Asik is a great rebounder and defender in the paint with limited capabilities on the offensive end of the court, but he seemed determined to prove it to the world on Nov. 2.
Against the Atlanta Hawks, the former member of the Chicago Bulls helped the Houston Rockets to a 109-102 victory by recording 19 rebounds. However, he missed all seven field-goal attempts and finished with a donut in the points column.
How he did that while recording nine offensive rebounds still boggles my mind.
Since 1985, 47 players have attempted at least five shots without scoring while grabbing at least 10 rebounds. The number dwindles to just 14 when you look at players who have done the same while taking at least seven shots. Asik is part of that group, although he can't touch Dino Radja's 0-of-14 performance.
And of those original 47, only Dennis Rodman's 28 rebounds against the Charlotte Hornets managed to top Asik's 19-rebound outing.
Douglas Jones-USA TODAY Sports

Nikola Vucevic has been one of this season's most improved players, even if he hasn't gotten the recognition he's deserved while toiling away in obscurity for the Orlando Magic.
According to Basketball-Reference, Vucevic is third in rebounds per game with 11.0 per contest—trailing only Dwight Howard and Zach Randolph—and ranks sixth in total rebound percentage. He's displayed a great ability to crash the boards on both ends of the court.
Vucevic also has the top rebounding performance of the 2012-13 season, pulling down 29 boards while throwing up 20 points against the Miami Heat in a 112-110 loss on the last day of 2012.
Since 1985, there have been 20 games in which a player recorded 29 or more rebounds, but only 11 different players have joined the exclusive club. Vucevic's 20 points leave him in a tie for the seventh-most points scored in one of those performances.
He almost managed to single-handedly outrebound the Heat, who could only muster up 33 rebounds, led by LeBron James' eight.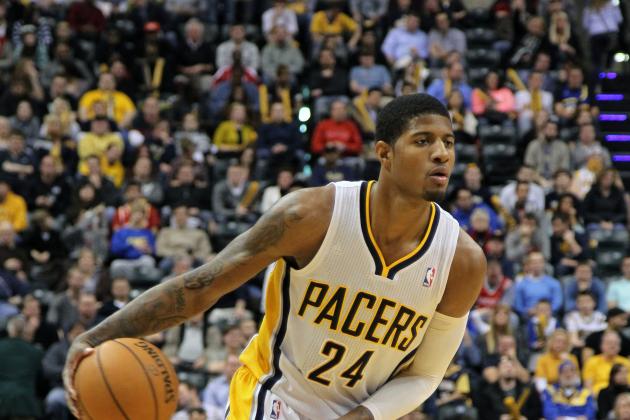 Brian Spurlock-USA TODAY Sports

The Indiana Pacers are on a strange quest to stay in contention for a top spot in the Eastern Conference while boasting a league-best defense and league-worst offense.
Through their first 43 games of the season, the Pacers rank 29th in offensive rating and first in defensive rating (per Basketball-Reference). With John Wall returning to action and sparking the Washington Wizards offense, there's a serious chance that the Pacers could drop to No. 30 in the near future.
At the end of the season, we'll finally figure out whether or not defense really can win championships.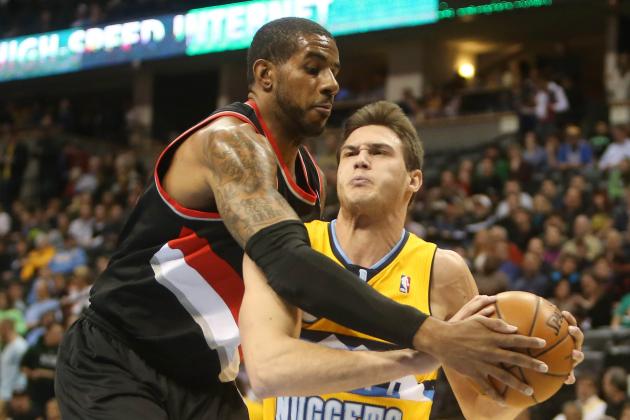 USA TODAY Sports

In a 101-93 loss to the Portland Trail Blazers, the Denver Nuggets were just ice cold.
It was the first time in six years that they hadn't made a single three-pointer, and they managed to set an NBA record for futility from downtown.
Andre Iguodala was 0-of-6 on his three-point attempts. Ty Lawson checked in at 0-of-4. Jordan Hamilton and Corey Brewer each missed all three of their tries, and Danilo Gallinari, Andre Miller and Evan Fournier each missed a pair of triples.
Add it all up and you get a putrid 0-of-22 showing from behind the three-point arc.
Since 1985, only 10 teams have managed to go 0-of-15 or worse, and the Nuggets supplanted the Blazers' 0-of-20 showing from just 10 days earlier as the worst performance yet.