Defensive players almost never win the MVP of the Super Bowl, but the man currently listed as the No. 3 betting choice has a chance to become the first two-time defensive winner.
The Super Bowl MVP odds menu at one sportsbook has Ray Lewis as a 6/1 bet, just behind the two starting quarterbacks. Lewis, who is riding a Cinderella run through these NFL playoffs after announcing he would retire at year-end, won the MVP award 12 years ago at Super Bowl XXXV.
Since then, only Dexter Jackson of Tampa Bay has won the prize from the defensive side of the ball.
"Those odds at Bovada might be a little high, but I think the oddsmakers are guarding against any nostalgic love-in the voters may have with Lewis before he retires," said Jack Randall in an interview from OddsShark.com, where he is a lead football analyst.
"If he plays well and nobody else plays spectacularly, you can see emotion and a Hollywood ending getting in the way of a true vote."
And what about the top betting choices?
Colin Kaepernick was Alex Smith's backup in San Francisco in Week 10 before injury opened the door. As of Tuesday, he is the top choice on the Super Bowl MVP odds menu at 7/4.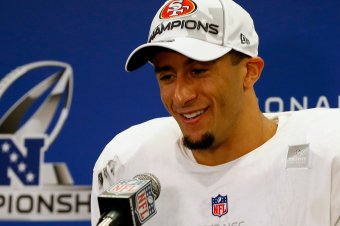 Kevin C. Cox/Getty Images
Baltimore Ravens QB Joe Flacco was next at 5/2, followed by Frank Gore at 17/2 and Ray Rice at 12/1.
SUPER BOWL MVP Odds – via Bovada (as of Jan. 22, 2013):
Colin Kaepernick (SF) QB 7/4
Joe Flacco (BAL) QB 5/2
Ray Lewis (BAL) LB 6/1
Frank Gore (SF) RB 17/2
Ray Rice (BAL) RB 12/1
Michael Crabtree (SF) WR 16/1
Anquan Boldin (BAL) WR 18/1
Torrey Smith (BAL) WR 20/1
Vernon Davis (SF) TE 22/1
Aldon Smith (SF) LB 25/1
Dennis Pitta (BAL) TE 33/1
Ed Reed (BAL) FS 33/1
Randy Moss (SF) WR 40/1
Terrell Suggs (BAL) LB 50/1
LaMichael James (SF) RB 50/1
Patrick Willis (SF) LB 66/1
NaVorro Bowman (SF) LB 66/1
Dashon Goldson (SF) FS 66/1
David Akers (SF) K 66/1
Bernard Pierce (BAL) RB 75/1
Justin Tucker (BAL) K 75/1
Delanie Walker (SF) TE 75/1
Ted Ginn Jr. (SF) WR 75/1
Alex Smith (SF) QB 100/1
Field 22/1
Past Super Bowl MVP winners
Game Winner Team Position
I Bart Starr Green Bay Packers Quarterback
II Bart Starr Green Bay Packers Quarterback
III Joe Namath New York Jets Quarterback
IV Len Dawson Kansas City Chiefs Quarterback
V Chuck Howley Dallas Cowboys Linebacker
VI Roger Staubach Dallas Cowboys Quarterback
VII Jake Scott Miami Dolphins Safety
VIII Larry Csonka Miami Dolphins Running back
IX Franco Harris Pittsburgh Steelers Running back
X Lynn Swann Pittsburgh Steelers Wide receiver
XI Fred Biletnikoff Oakland Raiders Wide receiver
XII Harvey Martin Dallas Cowboys Defensive end*
XII Randy White Dallas Cowboys Defensive tackle*
XIII Terry Bradshaw Pittsburgh Steelers Quarterback
XIV Terry Bradshaw Pittsburgh Steelers Quarterback
XV Jim Plunkett Oakland Raiders Quarterback
XVI Joe Montana San Francisco 49ers Quarterback
XVII John Riggins Washington Redskins Running back
XVIII Marcus Allen Los Angeles Raiders Running back
XIX Joe Montana San Francisco 49ers Quarterback
XX Richard Dent Chicago Bears Defensive end
XXI Phil Simms New York Giants Quarterback
XXII Doug Williams Washington Redskins Quarterback
XXIII Jerry Rice San Francisco 49ers Wide receiver
XXIV Joe Montana San Francisco 49ers Quarterback
XXV Ottis Anderson New York Giants Running back
XXVI Mark Rypien Washington Redskins Quarterback
XXVII Troy Aikman Dallas Cowboys Quarterback
XXVIII Emmitt Smith Dallas Cowboys Running back
XXIX Steve Young San Francisco 49ers Quarterback
XXX Larry Brown Dallas Cowboys Cornerback
XXXI Desmond Howard Green Bay Packers Returner
XXXII Terrell Davis Denver Broncos Running back
XXXIII John Elway Denver Broncos Quarterback
XXXIV Kurt Warner St. Louis Rams Quarterback
XXXV Ray Lewis Baltimore Ravens Linebacker
XXXVI Tom Brady New England Patriots Quarterback
XXXVII Dexter Jackson Tampa Bay Buccaneers Safety
XXXVIII Tom Brady New England Patriots Quarterback
XXXIX Deion Branch New England Patriots Wide receiver
XL Hines Ward Pittsburgh Steelers Wide receiver
XLI Peyton Manning Indianapolis Colts Quarterback
XLII Eli Manning New York Giants Quarterback
XLIII Santonio Holmes Pittsburgh Steelers Wide receiver
XLIV Drew Brees New Orleans Saints Quarterback
XLV Aaron Rodgers Green Bay Packers Quarterback
XLVI Eli Manning New York Giants Quarterback
All odds, stats and trends mentioned courtesy of OddsShark.com. Mike Pickett is an Analyst at Bleacher Report and contributes to the Twitter feed.