Ranking the Must-See NCAA Basketball Games This Weekend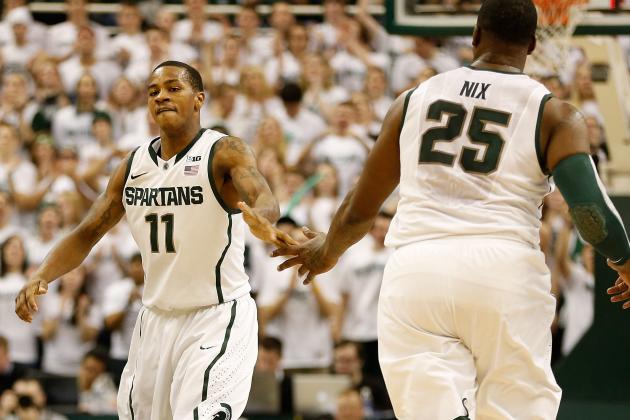 Gregory Shamus/Getty Images

After experiencing one of the most memorable days of college basketball in recent years, the nation gets to experience yet another strong Saturday of basketball.
This weekend, there is only just one matchup between ranked opponents, which comes from the strongest conference in the nation, the Big 10.
This week's list covers games from the power conferences like the Big 10, ACC and Atlantic 10 as well as games from mid-major conferences like the WAC and Big Sky.
While this weekend's games may not live up to the excitement that we saw last weekend, there are still plenty of games to keep an eye on.
Here are the 10 games to watch this weekend in college basketball.
Begin Slideshow

»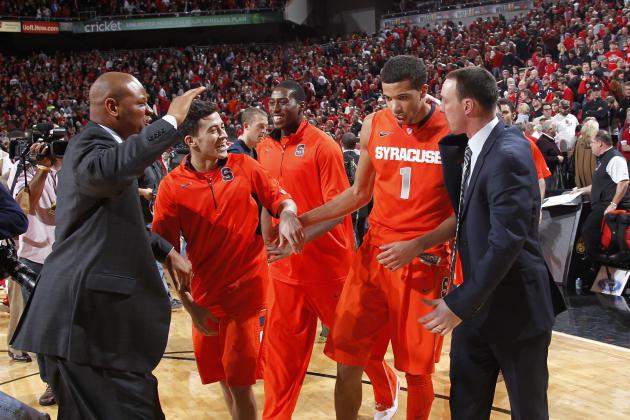 Joe Robbins/Getty Images

The first and easiest of the factors that play into the determination of the weekly rankings is a game between two teams in the AP Top 25.
With very few ranked matchups this week, a few intriguing games between mid-majors take center stage on this list.
Of course, there are always the brutal road trips into hostile environments that are made by the best teams in the nation, but this week's list takes a better look at games that could make or break a team's campaign to reach the NCAA Men's Basketball Tournament.
Some of these make or break games take place between two bubble teams in a major conference like the Big 12.
The other group of make or break games feature two strong mid-major programs who will be fighting for just one automatic berth into March Madness.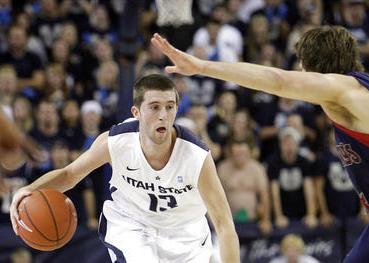 Photo Courtesy of deseretnews.com
When: Saturday, 9:05 p.m. ET
Where to Watch: ESPN3
It is time to start paying attention to the leaders of the WAC.
Louisiana Tech (16-3, 7-0) has cruised through conference play so far but they face their biggest test on Saturday night in Logan, Utah.
The Bulldogs are led by sophomore Raheem Appleby and junior Cordarius Johnson, both who average over 10 points per game.
A road win on Saturday would match the win total that the Bulldogs posted last season in Michael White's first year as head coach.
White has turned the program around in the second season of his first head coaching job.
Utah State (14-3, 5-2) has qualified for the NCAA Men's Basketball Tournament in three of the last four seasons and are the biggest threat to Louisiana Tech's tournament hopes.
Stew Morrill's Aggies started their conference schedule with five consecutive wins before dropping two straight on the road to New Mexico State and Denver.
Saturday's game will mark the first time that the Aggies have played at Smith Spectrum since their January 11 win over San Jose State.
One thing to be aware of going into this game is Utah State's near immaculate home record and the fact that the Bulldogs have lost all three of their games this season on the road.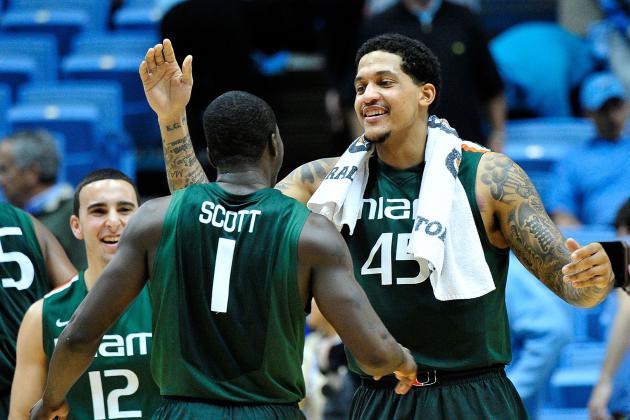 Grant Halverson/Getty Images

When: Sunday, 6 p.m. ET
Where to Watch: ESPNU
One of the final games of the weekend is a rivalry game between two schools that are known best for their football programs.
The basketball programs at Florida State (10-7, 2-2) and Miami (FL) (13-3, 4-0) are improving by the season and the level of talent at both programs has made this rivalry better.
The Seminoles have failed all of their big tests this season so far with losses to Florida, Minnesota, North Carolina and Auburn.
A lot was expected out of Leonard Hamilton's team this season as they brought back the experience of senior Michael Snaer and junior Okaro White, who have led the Seminoles to back-to-back NCAA Men's Basketball Tournament appearances.
The Hurricanes have exceeded expectations this season under Jim Larranaga and are the only unbeaten team left in ACC play.
The last thing on their mind this week will be the showdown with the Seminoles as the conference leaders host Duke on Wednesday night.
After the Duke game, the Hurricanes will look to win their first game over Florida State since January 21, 2009.
If the Seminoles come out of the BankUnited Center with a win, they would be the first team to defeat Miami at home this season.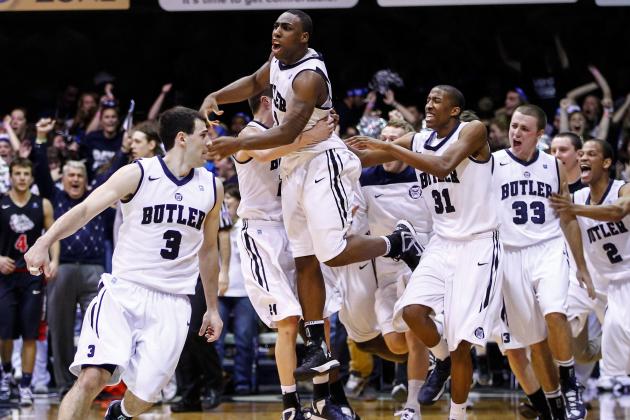 Michael Hickey/Getty Images

When: Saturday, 6 p.m. ET
Where to Watch: ESPN2
Two of the best teams in the Atlantic 10 will square off at Hinkle Fieldhouse on Saturday night.
The Temple Owls (12-5, 2-2) are coming off one of the most embarrassing losses in the history of their program after losing to St. Bonaventure at home last Saturday.
One positive sign for the Owls' slim chance of pulling off an upset is their performance against two other top 10 teams this season.
Fran Dunphy's team took down Syracuse at Madison Square Garden on December 22 and played a close game with Kansas at Allen Fieldhouse on January 6.
There is no doubt that the Owls will go into Hinkle Fieldhouse with no fear and they will give their hosts a challenge.
Butler (16-2, 3-0) pulled off yet another miracle at Hinkle last Saturday when they took down Gonzaga by way of a Roosevelt Jones buzzer beater.
The Bulldogs are in the midst of a 13-game winning streak that started all the way back on November 27.
To go along with their winning streak this season, Brad Stevens' team are also in the middle of a 12-game winning streak at home that was started after their loss to Detroit last season.
As for the status of Butler's star guard Rotnei Clarke, he was ruled out of the Bulldogs' game at La Salle on Wednesday and his status has not been determined for Saturday.
There are a lot of factors going against a potential upset by Temple, but one thing we have learned about Dunphy's Owls over the past few years is to not count them out against ranked opposition.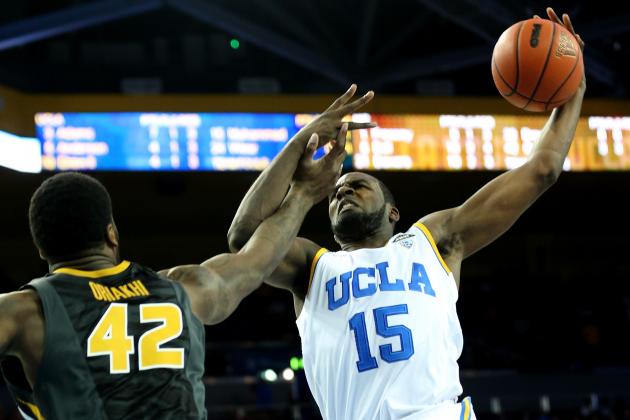 Stephen Dunn/Getty Images

When: Saturday, 4 p.m. ET
Where to Watch: Fox Sports Net
To say that almost everyone who follows college basketball underestimated the strength of the Pac-12 this season is an understatement.
The Pac-12 could potentially put five teams into the NCAA Men's Basketball Tournament if everything goes right.
One of the teams that is a lock to make the tournament at the moment is UCLA (15-4, 5-1), who will take on Arizona on Thursday night before taking on Arizona State (14-4, 3-2) at Wells Fargo Arena.
The Bruins are also not a one-trick pony anymore with Travis Wear (12.3 points per game) developing into the second go-to scorer on the team behind superstar freshman Shabazz Muhammad.
Wear has scored in double digits in every game since his breakout performance on December 28 against Missouri.
Arizona State will be one of the teams on the bubble when March comes around and a win over UCLA would help their resume that contains no signature wins and a disappointing loss to DePaul.
The Sun Devils will once again have to rely on freshman guard Jahii Carson, who scored over 20 points against Oregon and Arizona already this season.
Carson will also need to get help from the experienced players on the roster that include senior Carrick Felix and junior Evan Gordon.
If the trio of stars for the Sun Devils can all score in double digits, then they have a very strong chance of pulling off an upset.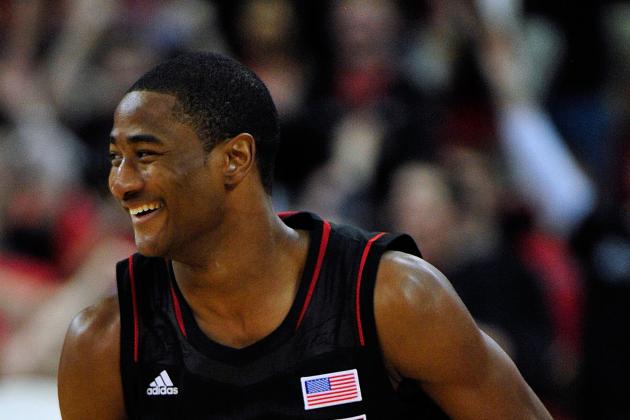 Grant Halverson/Getty Images

When: Saturday, 7 p.m. ET
Where to Watch: ESPN
Saturday's clash of in-state rivals at the PNC Arena is a must-win for both North Carolina (12-5, 2-2) and NC State (15-4, 4-2).
The Tar Heels rebounded from their awful start to ACC play with wins over Florida State and Maryland last week.
Against Maryland, junior Reggie Bullock scored a career-high 24 points.
Bullock has become a welcome compliment to the paint presence of James Michael McAdoo while the rest of the pieces begin to fall into place for Roy Williams' team.
NC State may be the most inconsistent team in the nation this season.
After receiving a high early-season ranking, the Wolfpack fell to Oklahoma State and Michigan back in November.
Mark Gottfried's team looked like they righted the ship after an impressive December and a strong start to conference play, which included a win over then top-ranked Duke at home.
Since beating Duke, the Wolfpack have suffered losses on the road at Maryland and Wake Forest by a combined three points.
With all that being said, NC State are 11-0 at the PNC Arena this season, and it will be difficult for the Tar Heels to come out of Raleigh with a victory.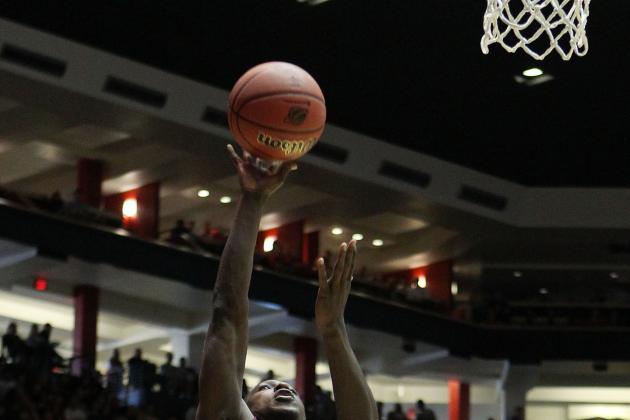 Christian Petersen/Getty Images

When: Saturday, 9:05 p.m. ET
Where to Watch: No National Television
There are only nine conferences in America that possess two teams that are undefeated in conference play, the Big Sky is one of them.
Weber State (13-3, 8-0) and Montana (12-4, 8-0) will square off at the Dahlberg Arena in Missoula, Montana to determine the final unbeaten team in the Big Sky.
Weber State has not reached the NCAA Men's Basketball Tournament since 2007 and defeating Montana on the road will be a huge step towards achieving the goal of playing in March.
The game in Missoula does come during the Wildcats' toughest part of the schedule.
The Wildcats trip to Dahlberg Arena will be their second of four consecutive road games.
Montana has gone undefeated in conference play after a disappointing nonconference schedule where they lost to Colorado State and South Dakota State and BYU.
For the Grizzlies to make their third tournament appearance in four years, they will need to take down the one contender to their Big Sky crown on Saturday night.
If Montana wants to remain unbeaten in Big Sky play, they will need strong games from forward Mathias Ward and guard Kareem Jamar, who are the two leading scorers on Wayne Tinkle's team.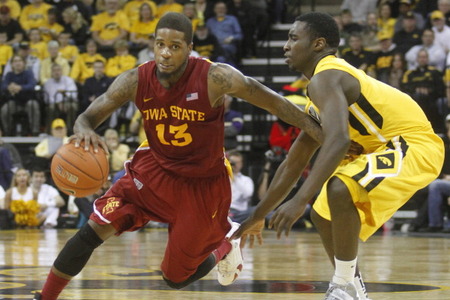 Matthew Holst/Getty Images

When: Saturday, 1:45 p.m. ET
Where to Watch: ESPN3
After suffering a four-point loss to in-state rival Kansas on Tuesday, Kansas State (15-3, 4-1) must recover quickly from the loss as they visit one of the most hostile environments in the Midwest.
Bruce Weber's Wildcats will head into Ames, Iowa to play Iowa State (13-4, 3-1) at Hilton Coliseum.
Currently, the Wildcats are the second best team in the Big 12 but that all could change in an instant if they do not win in Ames on Saturday.
Fred Hoiberg's Cyclones are one of the most underrated teams in the nation, and they could be poised for a long run in March if they keep performing well.
To start conference play, the Cyclones almost came out of Allen Fieldhouse with a victory over Kansas.
There is no doubt that the Cyclones can make it into the NCAA Men's Basketball Tournament but they will need some marquee wins to escape the suspense of being on the bubble.
Right now, the Cyclones are 0-3 against ranked teams, and they will need at least one win over Kansas or Kansas State to separate themselves from Oklahoma and Baylor, who are expected to be the other two Big 12 teams to contend for an at-large berth in March.
Expect this game to be a typical Big 12 battle that will come down to the wire, while the Wildcats are the favorites going into the game, expect an upset and a possible court-storming at Hilton Coliseum when the final buzzer sounds.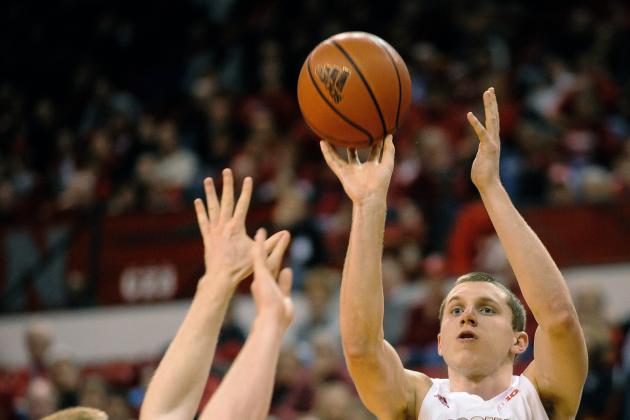 Eric Francis/Getty Images

When: Saturday, 2 p.m. ET
Where to Watch: Big Ten Network
For yet another weekend, the Big 10 gives us plenty to talk about.
At the Kohl Center in Madison, Wisconsin, No. 12 Minnesota (15-3, 3-2) will look to break their two-game losing streak against Wisconsin (13-6, 4-2).
The Golden Gophers were the darlings of nonconference play before they fell to Indiana and Michigan in the past week.
Tubby Smith's team are now looking to get back on track as they look to solidify their spot in the top five of the Big 10.
For that to happen, the trio of Andre Hollins, Rodney Williams and Austin Hollins will have to step up and perform.
Wisconsin won their first four conference games before falling to Iowa and Michigan State over the past week.
Winning games at home in a strong conference like the Big 10 is crucial, and it is something that Bo Ryan's Badgers must do to compete for a spot in the top four of the conference.
This will be a close game between two rivals, but expect home-court advantage to play a big factor as the Badgers should come out on top.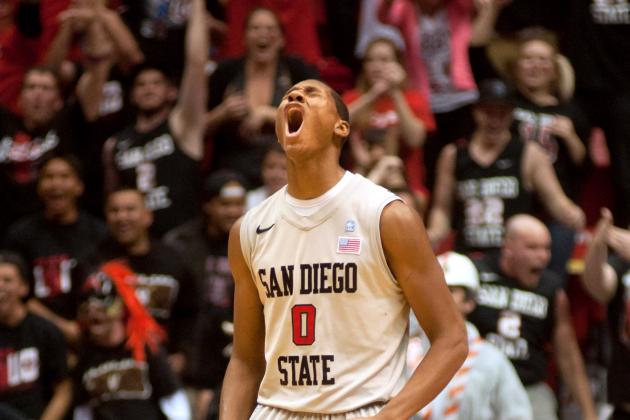 Kent Horner/Getty Images

When: Saturday, 4 p.m. ET
Where to Watch: NBC Sports Network
The Mountain West Conference has already proven that is a very volatile and unpredictable conference.
The only team that has won all of their conference games so far is New Mexico (16-2, 3-0).
Steve Alford's Lobos barely escaped a road trip to Boise State last week, and they will now face another rough road trip as they visit San Diego State (14-4, 2-2).
San Diego State were one of the favorites to win the Mountain West in the preseason but their stock has fallen over the past two weeks with losses to UNLV and Wyoming.
The Aztecs are now grouped with four other teams in the middle of the conference standings, and they will look to separate themselves from the pack with a home win over the Lobos.
One advantage that the Aztecs will have on Saturday will be their home crowd at the Viejas Arena, which possesses one of the best student sections in the nation.
Last season, the Lobos went into the Viejas Arena and defeated the Aztecs, which is something Steve Fisher's team should not let happen for two straight years.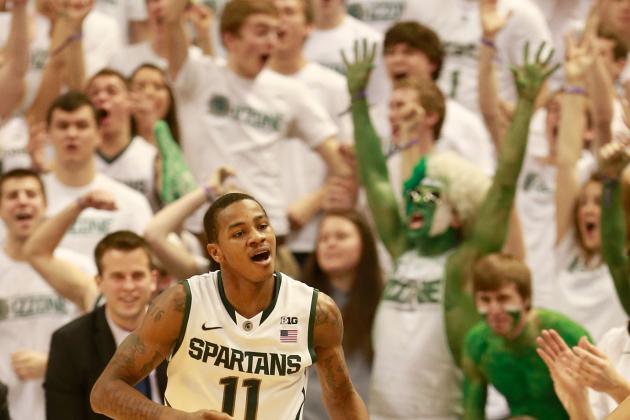 Gregory Shamus/Getty Images

When: Sunday, 1 p.m. ET
Where to Watch: CBS
The only game that features two ranked teams this weekend comes from the Big 10 where Michigan State (17-3, 6-1) visits Assembly Hall to play Indiana (16-2, 4-1).
The Spartans have pulled off two strong victories in their last two games by beating Ohio State at home and then taking down Wisconsin on the road on Tuesday.
Tom Izzo's team are flying under the radar at the moment but a win over Indiana would not only put them on the national radar but it could also possibly put them in the AP Top 10.
The Hoosiers were undefeated at home until Wisconsin came into Bloomington last week and took down Tom Crean's team.
Before the loss to Wisconsin, Indiana had passed all of their conference tests but the loss to the Badgers showed their vulnerability.
Both teams have a group of six players that can step up and score when asked upon but Sunday's game could come down to the guard play.
Against Wisconsin, Indiana's Jordan Hulls was shut down and if the same happens against Michigan State, the Spartans could come out on top.
What do you think is the game of the week in college basketball?
Comment below or leave me a comment on Twitter, @JTansey90.