10 Things That Absolutely Will Not Happen at Super Bowl XLVII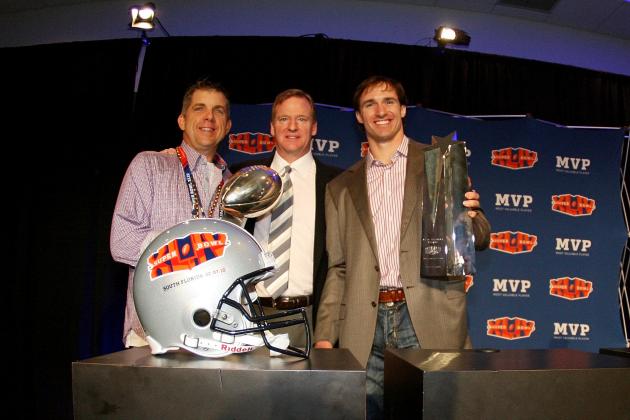 Doug Benc/Getty Images
Don't expect to see Sean Payton, Roger Goodell and Drew Brees pretending to be pals anytime soon.
The NFL's popularity is largely driven by the any-given-Sunday image that makes every weekend exciting. While that still applies to the game on the field, the Super Bowl is the most tightly controlled major sporting event in America.
From ticket sales to press conferences to the entertainment surrounding the game itself, the NFL controls their signature event down to the most minor detail. Previous mishaps have only caused the league to become even more maniacal about the handling of such a high-profile sporting event.
With less than two weeks left before Super Bowl XLVII kicks off on Sunday, February 3, here are 10 things that absolutely will not happen that day.
Begin Slideshow

»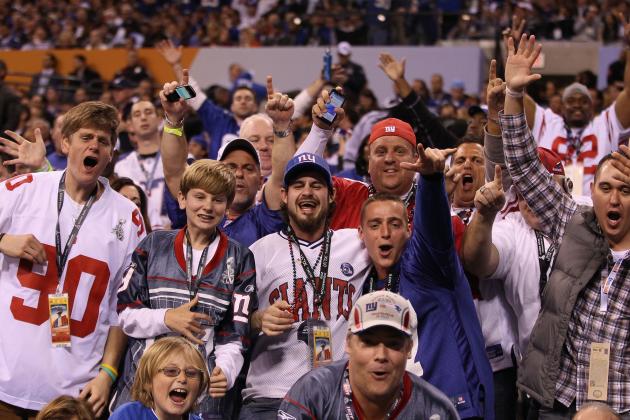 Ezra Shaw/Getty Images
You better believe that the Mercedes-Benz Superdome will be packed on Super Bowl Sunday.
The Superdome will be jam-packed with "fans" on Super Bowl Sunday, but do not expect that to mean a home-field advantage for either team. Sure, you will likely see plenty of San Francisco 49ers and Baltimore Ravens in the crowd, but the majority of game tickets go to suits.
Despite the exorbitant prices of PSLs and season tickets, even these fans are not granted access to Super Bowl tickets. You are even worse off trying to purchase a reasonably-priced ticket on a ticket exchange site like StubHub.
The fact is, the NFL only gives 17.5 percent of Super Bowl tickets to each team, and less than 80 percent of those are passed on to fans of the participating teams. The remaining tickets are allocated to the various corporate sponsors that support the league throughout the season.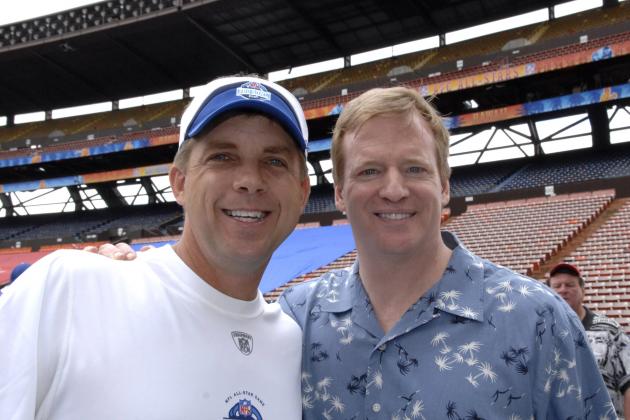 A. Messerschmidt/Getty Images
This photo was taken at the 2007 Pro Bowl, and it could be another six years before you see these two smiling together again.
New Orleans Saints fans narrowly escaped the indignity of having to watch the Atlanta Falcons compete for the Lombardi Trophy in their home stadium, but that won't take the heat off of Roger Goodell. The NFL commissioner is still public enemy No. 1 in the eyes of Saints fans for his treatment of the team following last year's Bountygate scandal.
Although the players' suspensions were never overturned and head coach Sean Payton was recently reinstated by the NFL, the sour taste of a 7-9 season is still fresh in the mouths of New Orleans residents.
Nothing short of another Super Bowl appearance will begin to heal the major damage done to the relationship between Goodell and the good people of New Orleans.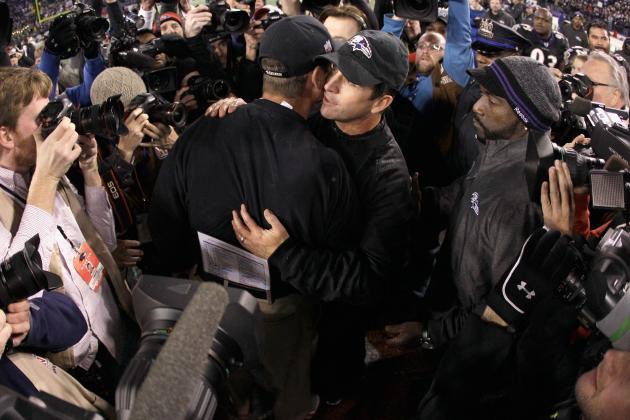 Rob Carr/Getty Images
This postgame hug between Jim and John Harbaugh will be repeated after Super Bowl XLVII.
No matter which team emerges victorious on Super Bowl Sunday, the Harbaugh family will walk away winners. Yes, either John (Ravens) or Jim (49ers) will walk away as the losing head coach, but their father Jack should be equally proud of his two sons.
They have already become the first brothers to coach against each other in a regular season game as head coaches, and they will become the first brothers to face off in a Super Bowl. The Harbaughs are two of the best and brightest coaches in the NFL, and both the 49ers and Ravens are built to be in playoff contention for years to come.
In a way, it is a shame that someone has to lose this game, because I would hate to be the losing Harbaugh at the first family gathering following the game.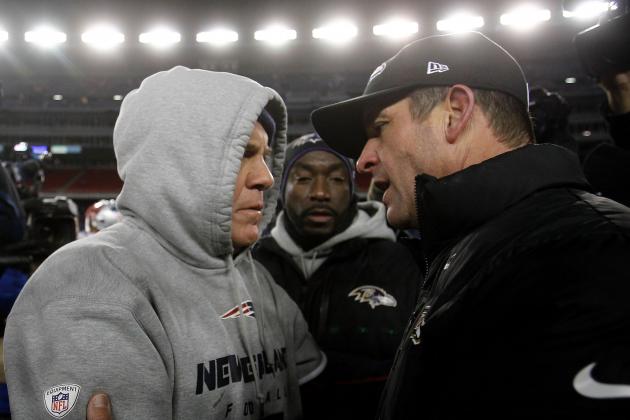 Jim Rogash/Getty Images
No matter who wins, John will get warmer postgame reception from brother Jim than he did from Patriots coach Bill Belichik.
While the Harbaugh family will collectively be happy with the Super Bowl outcome, one of the two head coaches will have a tougher offseason than usual.
Jim and John have both been frank about how competitive they were growing up, and they are only communicating via text messages for the next two weeks leading up to the biggest game of their lives. And you can bet that even that will kept to a minimum.
Despite the ultra-competitiveness that has driven each to the pinnacle of their profession, I fully expect the love to be shown when the Super Bowl ends. In fact, this will likely be the most emotional postgame embrace in the history of the NFL.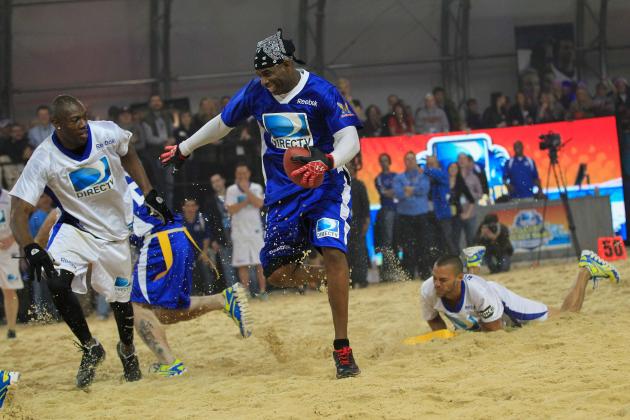 Chris Trotman/Getty Images
Perhaps the annual celebrity flag football game should become Pro Bowl weekend's signature event.
The Pro Bowl has become a huge zit on the face of the NFL, and they haven't found a way to make it go away. Players and commissioner Goodell have openly complained about the game, and it has become an completely unwatchable farce.
Players routinely skip out on the event with phantom injuries, and the ones that do play give little to no effort. The game barely resembles the product that fans love watching during the regular season and the playoffs.
I can understand why the players don't want to risk injury in an exhibition game, especially after their season has already ended. But something has to be done to fix this, and it needs to be done soon.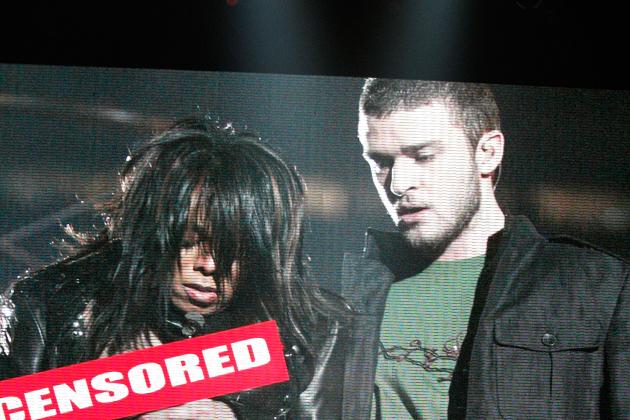 Kevin Winter/Getty Images
Former NFL commissioner Paul Tagliabue probably struck this same pose during halftime of Super Bowl XXXVIII.
Ever since Janet Jackson and Justin Timberlake contributed to the most embarrassing moment in Super Bowl history, the NFL has become ultra-conservative in the handling of the halftime entertainment. Frankly, I am shocked that Goodell would allow an artist with any sex appeal to perform during the game, especially one as popular as Beyonce.
Maybe it has something to do with that new $50 million endorsement deal that Mrs. Jay-Z just signed with Pepsi, one of the NFL's largest sponsors. Apparently no one at the league office knew that this GQ cover was coming for the February issue.
Kidding aside, I'm sure that every warm-blooded male in America is looking forward to having a built-in excuse to stare at Beyonce for a few minutes with their wives present (Super Bowl parties started doubling as date night long ago). But don't get too excited, because this will be a strictly G-rated performance.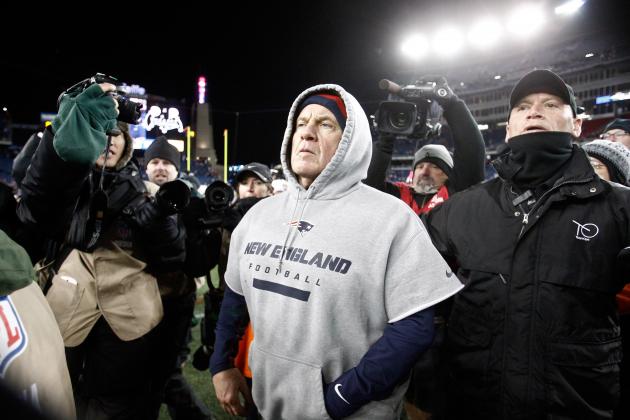 Jim Rogash/Getty Images
Where did Bill Belichick go after New England's AFC Championship game loss to the Ravens? It wasn't to talk to the press.
The NFL takes their relationship with the media very seriously, and they do not take kindly to coaches and players avoiding their responsibility to meet with the press at designated times. Apparently New England Patriots head coach Bill Belichick could care less about the NFL and their stupid rules.
Belichik once again embarrassed himself and the league by refusing to speak to the press after Sunday night's loss to Baltimore in the AFC Championship game. I could go on and on about the Pats coach being a classless jerk, but let's hear what CBS NFL analyst Shannon Sharpe had to say about the incident.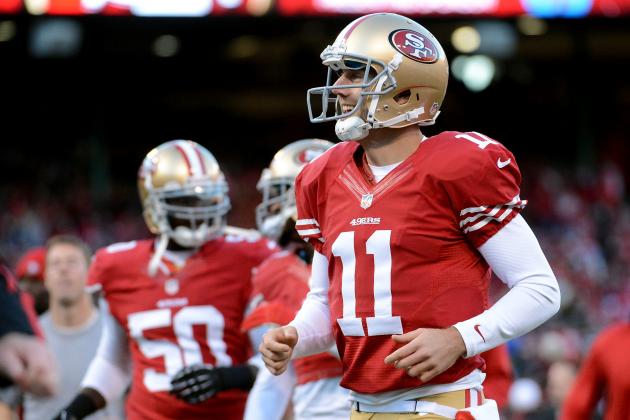 Harry How/Getty Images
Alex Smith is not walking through that door to save the 49ers season.
I will make this very simple for you: If Alex Smith is forced to relieve 49ers quarterback Colin Kaepernick for an extended period of time, San Francisco will not be hoisting the Lombardi Trophy on February 3.
Kaepernick gives the 49ers their best and only chance to beat the Ravens.
I do feel a bit sorry for Smith, given that he had spent the past 18 months playing the best football of his NFL career. I have no doubt that he will be starting somewhere when the 2013 season begins, but it will not be in San Francisco.
Kaepernick has taken this job and run with it (literally), and the 49ers are a completely different team with him at the helm. If the first-year starter delivers an MVP-caliber performance, San Francisco will be the champions of the 2012 NFL season.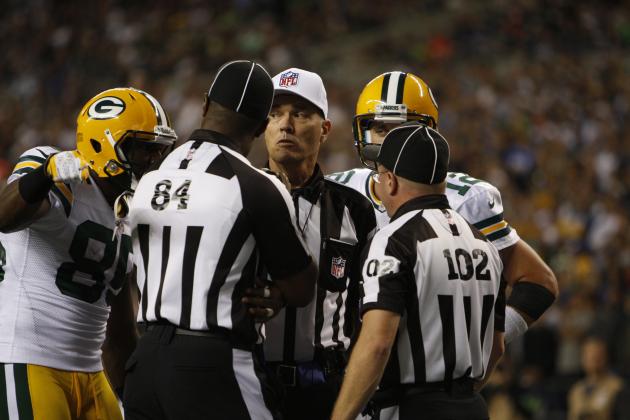 Kevin Casey/Getty Images
Hopefully this scene will not be repeated during Super Bowl XLVII.
Luckily for the replacement referees, the blown call at the end of the Week 3 Seattle Seahawks-Green Bay Packers Monday Night Football game did not impact either teams' season. Given the uproar that followed that game, you better believe that the regular referees and the NFL will take as much time as they need to make sure that they get any such call in the Super Bowl 100 percent correct.
The NFL has taken its fanbase for granted for a long time. But following the Seahawks-Packers game, the fans finally pushed back so hard that the league was forced to respond. Less than 48 hours after the incident, the NFL and the referees' union had struck an agreement to get the regular officials back on the field immediately.
Goodell does not like for his baby to look bad, so don't get too upset if the zebras spend a little extra time under the hood reviewing a key touchdown or turnover.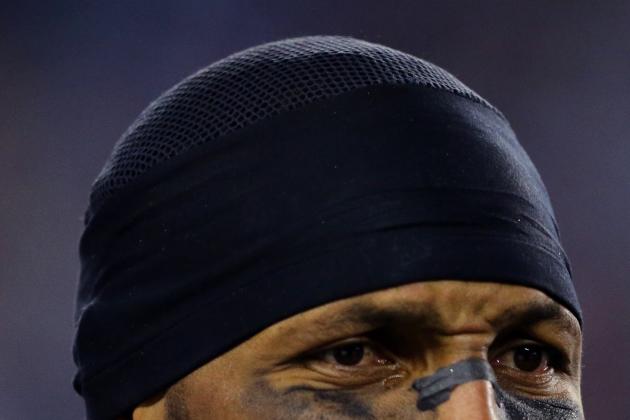 Al Bello/Getty Images
Those tears will not be tears of joy when Super Bowl XLVII, and Ray Lewis' career, come to an end.
Unlike Anna Burns Welker, I think that Ray Lewis' final season and overall story of redemption are highly inspirational stories. To see the future Hall of Famer overcome personal adversity and return from a devastating injury in his 17th and final season and get one more shot at a Super Bowl ring is a terrific story.
Unfortunately, there will be no storybook ending for Reverend Ray and the Baltimore Ravens.
Watching Baltimore's defense do a complete 180 during the playoffs has been just as important to their surprising run as the exceptional play of quarterback Joe Flacco. However, Colin Kaepernick presents a challenge for this aging group that Andrew Luck, Peyton Manning and Tom Brady could not provide.
Aside from that, Flacco will face the most physical defense that he's had to face all season, and the extra week of rest between games will make the two Smiths, Justin and Aldon, that much fresher come game day. Ultimately the 49ers will prove to be too much for the Ravens to handle.
Ray Lewis has nothing to be ashamed of, and this 2012 season has to have gone better than even he reasonably expected. But destiny is a cruel and fickle thing, so Lewis will have to settle for an AFC Championship.
49ers 24, Ravens 20.