WWE Royal Rumble 2013: Predicting Winners for Each Match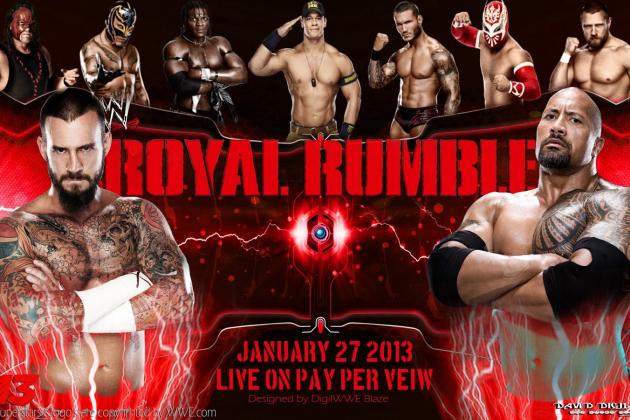 bhabaniwwe.in
We are just days away from the 2013 Royal Rumble, and all the matches that are going to be made prior to the event are official.
We have a total of five matches scheduled if you count the pre-show, which will be Antonio Cesaro defending his US title against Miz.
The World title will be contested in a Last Man Standing match between Champion Alberto Del Rio and former Champion Big Show.
The tag titles will be on the line when Team Hell No defend against Rhodes Scholars.
The highly anticipated WWE title match between The Rock and CM Punk will certainly be a once in a lifetime kind of match.
And the main event of the evening will see 30 men fight in an over-the-top-rope battle royale to see who gets a title shot at WrestleMania.
Let's take a look at each match and evaluate the potential for each person to win and who the odds-on favorite will be come Sunday.
Begin Slideshow

»
The pre-show match between Cesaro and Miz has been building for the past several weeks, especially on Main Event.
Cesaro has been trashing the US since he won the title, and with Miz being in the upcoming Marine 3: Homefront, it makes sense to have him be the American patriot who silences Cesaro's Swiss mouth.
Even though Miz is in the middle of a babyface turn, I do not see him coming away with the belt on Sunday.
Cesaro has been too good as a US champion to stop him now, unless the plans involve moving up to the main-event scene.
I see Miz getting in plenty of great offense, but in the end Cesaro will retain the title.
This is one of the harder matches to call the outcome on the card. Both teams make sense to come away as champions on Sunday.
Team Hell No have been great champions and keeping the belts on them would surprise nobody, but Rhodes Scholars have been right on the cusp of winning those belts for some time now.
It feels like the time is right for a change and that is why Rhodes Scholars are my pick to win and take home the gold.
I do not, however, feel that this is the end of Team Hell No. I have been reading a lot lately about them breaking up and I think WWE will keep them together for a bit longer.
Although, the anger-management graduation from Raw could be symbolic of their time together coming to an end.
This one is easy. Del Rio retains.
The babyface turn Del Rio has been going through has gone much smoother than anyone could have anticipated, and that is one major reason WWE should not take the title off him yet.
He only just won the belt a couple of weeks ago, and ever since, he has been getting great crowd reactions.
Big Show is a solid performer who had a good run with the belt for a few months, but now it is time for Del Rio to show us if he is truly capable of leading the company as a face.
Del Rio will probably get the win after hitting Big Show with his car.
The most anticipated title match in Royal Rumble history will be one for the ages.
In one corner you have CM Punk, one of the most talented grapplers to ever lace up a pair of boots.
In the other corner you have Dwayne "The Rock" Johnson, quite possibly the most charismatic and entertaining person in the industry.
On Monday, Paul Heyman talked about how everyone is acting like it is a foregone conclusion that The Rock will win the title on Sunday.
The Shield attacked also attacked Rocky on Monday, which will cost CM Punk the WWE title if it happens again on Sunday.
Even though I would mark out if CM Punk defeated Rocky clean and retained the title, I just do not see it happening.
The Rock winning the belt seems like the most likely outcome, but again, I will be more happy to see Punk retain.
The match for which this event is named hopefully will, and should, close the show.
As a long-time fan of WWE, this is one of the most anticipated events of the year because you never really know who will win the Rumble match.
It is a match that has made careers for many superstars and legends from Shawn Michaels with back-to-back wins to Steve Austin's three non-consecutive wins.
This year, we have a lot of main-event caliber talent all vying for a shot at a major title, which will make the entire match very interesting to watch.
We do not know who all 30 men are yet since WWE likes to throw a few surprises in there, but a big chunk of the entrants have already been announced.
Just the category of former WWE/world champions has Randy Orton, John Cena, Sheamus, Dolph Ziggler, Miz, Kane and Daniel Bryan all competing in the match..
I think it is too early to give Ryback a WrestleMania main event, which is why I think he will be one of the last few people eliminated.
As much as I do not want it to happen, John Cena seems like the most likely to come away with the win.
Thanks for reading and please share your thoughts and predictions in the comments section below.
Follow me on Twitter @BR_Doctor