Dark Horse American League Cy Young Candidates Heading into 2013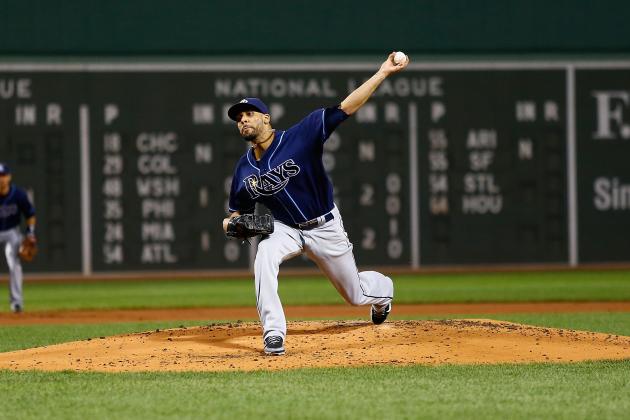 Jared Wickerham/Getty Images
Tampa Bay Rays hurler David Price won last year's Cy Young Award.
The competition for the American League Cy Young Award—bestowed on the league's best pitcher for the season—is literally and figuratively an arms race.
Last year's AL Cy Young was a two-horse race, with Tampa Bay Rays southpaw David Price eventually edging out Detroit Tigers hurler Justin Verlander for the honor.
All signs point to a similar competition in 2013, with the additional usual suspects—Felix Hernandez, CC Sabathia and Jered Weaver—all vying for the honor of the league's best pitcher.
That isn't to say a dark horse couldn't emerge from the fray to capture the 2013 AL Cy Young. Just last year, then-Mets knuckleballer R.A. Dickey came out of nowhere to take the National League award.
All it takes is for one pitcher to raise his game to the next level and suddenly he is in the conversation with the big boys.
Here are six potential dark-horse candidates who have a shot at crashing the party and winning the 2013 American League Cy Young Award.
All stats via ESPN.com
Begin Slideshow

»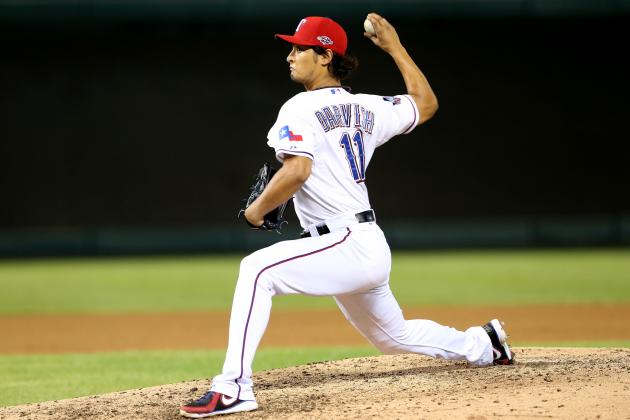 Ronald Martinez/Getty Images
Texas Rangers righty Yu Darvish got hot over the last eight games of 2012.
Last year was all about adjusting to American hitters for Japanese righty Yu Darvish. This year, the Texas Rangers' No. 1 starter could jump into the elite pool of American League pitchers.
There is a reason Texas spent $111.7 million between a posting fee and contract on Darvish: He can throw. Darvish may have had just a 3.90 earned run average and a 16-9 record, hardly Cy Young numbers, but he got hot as the season went on.
In his last eight starts, Darvish went 5-1 with a 2.35 ERA and 67 strikeouts. He held hitters to a .176 batting average over that stretch.
If Darvish can maintain such consistency over the course of a season, he certainly could challenge for the Cy Young.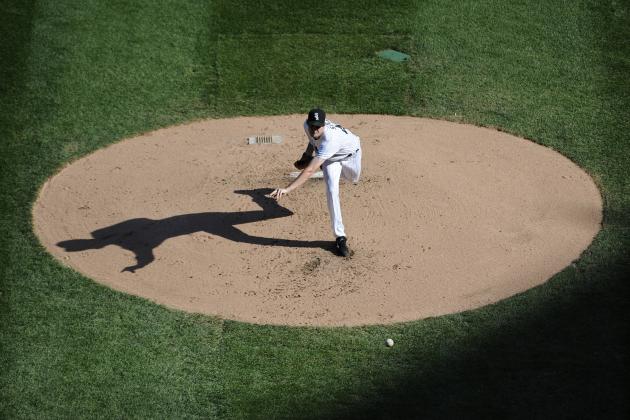 David Banks/Getty Images
Chicago White Sox southpaw Chris Sale had a solid first season as a starter.
White Sox lefty Chris Sale had a stellar 2012 season with a 17-8 record, a 3.05 earned run average and 192 strikeouts. Opponents hit just .235 against the southpaw.
His career numbers are even better, with a .223 opponent batting average and a sterling 2.89 ERA. Yet he doesn't get the recognition he deserves with higher-profile aces in his division.
No matter, because 2013 could finally be the year he gets his due. The towering lefthander (Sale stands 6-6) is still only 23 and last year was his first in the major leagues as a starter.
Now that he has a full season of starting under his belt, he is ready to take the next step—perhaps into Cy Young territory.
Ronald Martinez/Getty Images
Texas Rangers hurler Matt Harrison earned a big contract this past season.
Rangers lefty Matt Harrison was just rewarded with a five-year, $55 million contract by Texas this offseason, and for good reason. In 2012, Harrison pitched to an 18-11 record with a 3.29 earned run average. The southpaw struck out 133 batters, and held opponents to a .258 batting average.
In addition, Harrison made his first All-Star game and continued to improve after a solid 2011.
Could his 2013 be even better? Quite possibly.
ESPNDallas.com writer Richard Durrett says that Harrison has become a "smarter pitcher," and added while he does not overpower batters with strikeouts, the left-hander can throw hard, relies on his defense and does not let a bad at-bat or inning get to him.
If Harrison can build on his solid 2013 and make the jump to ace status, award recognition could follow.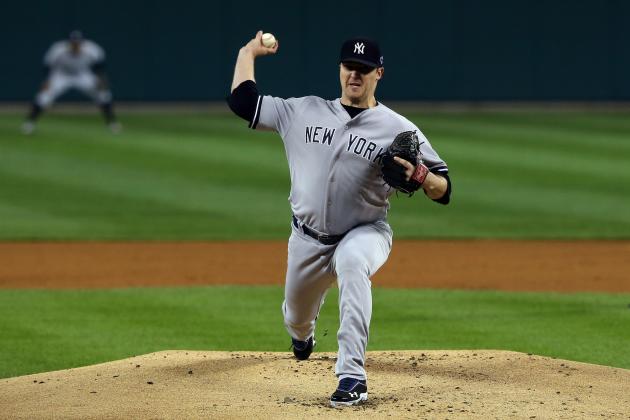 Leon Halip/Getty Images
New York Yankee Phil Hughes is hoping to live up to his potential in 2013.
Will 2013 be the year Hughes steps out of CC Sabathia's shadow in the Bronx?
The New York Yankees have been waiting for righthander Phil Hughes to become the ace they believed he would become when they refused to deal him for Johan Santana. Unfortunately, he has yet to fulfill his promise.
However, Hughes had a solid, if not spectacular, 2012 season where he pitched to a 16-13 record and 191.1 innings, the most in his career.
Additionally, he struck out 165 batters and while his 4.23 earned run average is nothing to write home about, the season represented serious progress in his career.
The 2013 campaign just might be the season that Hughes lives up to his potential. If he plays up to the ceiling he had when he was a young prospect, the American League better watch out—especially other contenders for the Cy Young.
Jared Wickerham/Getty Images
Like his team, Boston Red Sox hurler Clay Buchholz is looking to bounce back this season.
The 2012 season was not kind to the Boston Red Sox or their righty Clay Buchholz. Over the course of 29 starts, Buchholz pitched to an 11-8 record with a 4.56 earned run average.
But 2013 is a blank slate for both the team and the righty, and if Buchholz can return to his prime form, he could be one of the best pitchers in the American League.
Just two seasons ago in the 2010 campaign, Buchholz pitched to a 17-7 record with a minuscule 2.33 ERA. He also pitched a no-hitter in his second major league start in his 2007 rookie campaign.
If Buchholz can recapture some of that magic in 2013, Cy Young voters would surely notice.