Playing Fact or Fiction with the Latest NBA Trade Rumors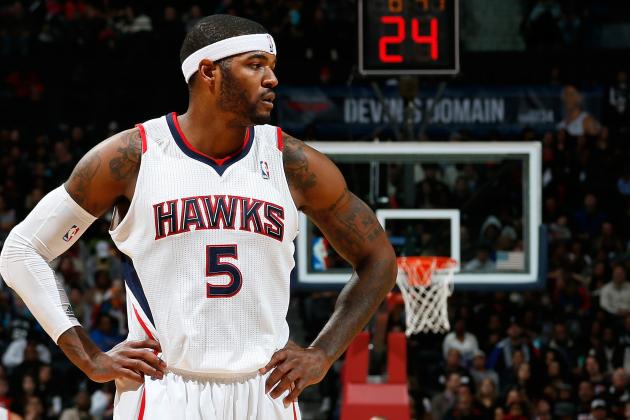 Kevin C. Cox/Getty Images

With the NBA trade deadline on Feb. 21, there's a growing sense that stars like Pau Gasol and Dwight Howard may soon be on the move.
However, as reports begin to surface about possible destinations for some of the NBA's most talented players, it his hard not to be at least a little skeptical.
With more than a few intriguing names circulating the rumor mill, we're here to break down the latest rumors and discern whether they're fact or fiction.
Begin Slideshow

»
Kirby Lee-USA TODAY Sports

A report from RealGM on Tuesday indicated that the Brooklyn Nets were interested in trading for Los Angeles Lakers center Dwight Howard, but since then, there have been several refutations stating that the Nets have no desire to acquire the star center.
Perhaps the most notable one came in the form of a report from Stefan Bondy of the New York Daily News:
According to multiple team sources, the Nets have not engaged in trade talks for Howard and remain skeptical the Lakers will deal their center by next month's deadline. They've also talked privately with Lopez about the circumstances, reassuring him that he's not involved in any trade proposals after he signed a four-year, $61 million deal.
This trade doesn't make much sense from either team's perspective. In order for the Nets to acquire Howard, they would need to work in a third team, one with a compelling superstar whom said team would be willing to part ways with.
In addition, it would make little to no sense for the Lakers to pursue a trade involving Howard, as the center still possesses plenty of room for improvement in Los Angeles.
According to ESPN's Dave McMenamin, the Lakers may be getting nervous, but they won't pull the trigger on an irrational trade due to Howard's displeasure with the team's current struggles:
The Los Angeles Lakers have consistently turned away trade inquiries in recent weeks for All-Star center Dwight Howard and still believe they have a strong chance of signing him to a new contract when Howard becomes an unrestricted free agent this summer, according to sources close to the situation.
Since he is a potential franchise centerpiece for years to come, it's hard to envision a scenario in which the Lakers would be comfortable dealing Howard.
Verdict: Fiction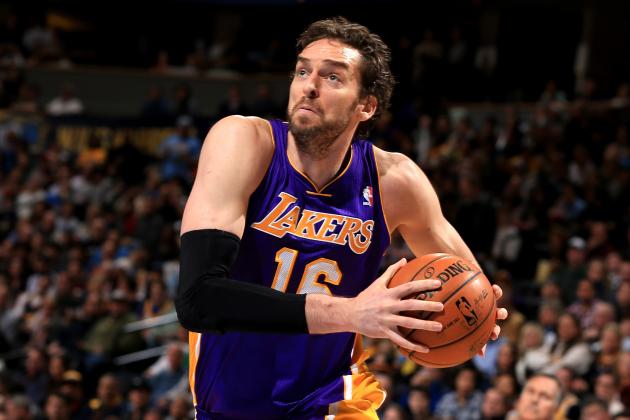 Doug Pensinger/Getty Images

Given the Los Angeles Lakers' struggles, nothing about the team's roster feels stable, and that includes the once-vaunted frontcourt comprised of Pau Gasol and Dwight Howard.
Gasol has been labeled as the scapegoat for many of the Lakers' first-half troubles, but the fact remains that using him in Mike D'Antoni's system has been like trying to put a square peg in a round hole.
Gasol has always been more of a conventional post-up center whose versatility allows him to extend his game out to 10-12 feet to knock down jumpers, but he's become strictly a jump shooter within D'Antoni's offense.
With his minutes dwindling and his starting spot recently usurped by Earl Clark, all indications would appear to be pointing toward a fragmenting relationship between the Spaniard and his employer.
However, just because Gasol is unhappy with his recent demotion doesn't mean it will be easy for the Lakers to get rid of their expensive big man.
According to Yahoo! Sports' Adrian Wojnarowski, the Lakers may have a hard time dealing the center because of their reluctance to accept significant financial commitments in return for Gasol:
Trade market for Pau Gasol complicated because Lakers have made clear that they don't want back long-term money in deal, league sources say.
— Adrian Wojnarowski (@WojYahooNBA) January 22, 2013
With Gasol slated to earn just over $19 million next season (per HoopsHype), it appears that any market for his services would be slim to begin with.
Verdict: Fiction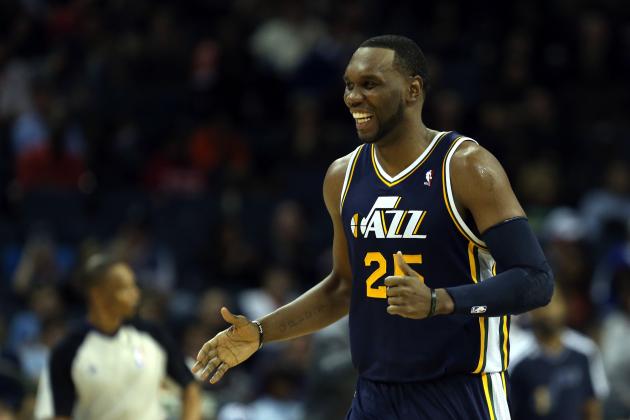 Streeter Lecka/Getty Images

The Utah Jazz represent a sort of one-stop shopping destination for teams in need of frontcourt help.
Utah possesses frontcourt talent by the truckload, with big bodies who can play a dynamic range of roles at both the power forward and center positions.
Among the most talented of the bunch are Al Jefferson and Paul Millsap, both of whom have contracts that expire at the end of the season.
Jefferson and Millsap are both appealing names on the open market because of their financial standing, but also because they're unique talents.
Jefferson is putting together quite a nice year, averaging 17.1 points and 9.8 rebounds a game, while Millsap is playing well himself, to the tune of 14.8 points and 7.8 rebounds per night.
According to ESPN's Chad Ford, many around the league believe Jefferson will be easier to acquire come February:
But virtually every GM in the league believes the Jazz are moving one of their two big men -- either Jefferson or Paul Millsap. Because Millsap is a favorite of the team, Jefferson could be the odd man out.
However, Sam Amico of FoxSportsOhio reports that despite the Jazz favoring Millsap, teams still view him as a realistic trade target:
Brooklyn, Milwaukee and Denver are among the teams that might make a play for Utah forward Paul Millsap at the deadline. Millsap's contract expires at season's end. Most teams interested in obtaining Millsap, however, would do so with the intent of offering him an immediate extension.
Millsap is generally viewed as the hotter commodity of the two, which could be good news if the Jazz are looking to snag a hefty bounty in exchange for the 27-year-old power forward.
Fearing that their prized duo could walk into free agency next summer, it would appear as if the Jazz remain likely to deal one of their talented bigs.
Verdict: Fact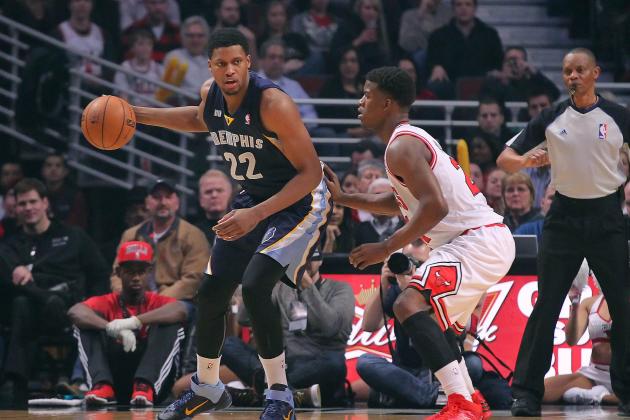 USA TODAY Sports

It's no secret that the Memphis Grizzlies have actively been exploring possible trades over the past few months involving Rudy Gay.
Rumors involving a handful of teams have cropped up, which makes sense considering this report from the Memphis Commercial Appeal:
It is true that Griz brass has spoken to every team in the NBA about their roster over the past month. That league tour by the team's new management has produced daily rumors about possible deals, most of which involve Gay.
However, the Grizzlies' recent trade of Marreese Speights, Wayne Ellington, Josh Selby and a future first-round pick to the Cleveland Cavaliers has cleared up Gay's situation a bit.
By dumping $6 million in salary and getting below the league's luxury-tax threshold, Gay appears to be safe—for now.
Given the Grizzlies' recent salary dump and the team's inability to find an appealing offer from another franchise, it feels safe to assume Gay will be sticking around for the remainder of the season.
In fact, that same report from the Memphis Commercial Appeal notes that the Grizzlies would need to be blown away by an offer in order to deal Gay:
According to a person with knowledge of those conversations, Gay is likely to remain a Grizzly through the end of this season. The message to Gay at the moment is that if he is dealt by the league's Feb. 21 trade deadline, then the Griz will have been offered a no-brainer scenario.
With their recent trade, the Grizzlies have bought themselves some time—time that may include a deep postseason run with their complete arsenal of weapons.
Make no mistake about it: Gay's future in Memphis is anything but certain, but the front office's maneuvering has it looking more likely that he will stick around for the remainder of the season.
Verdict: Fiction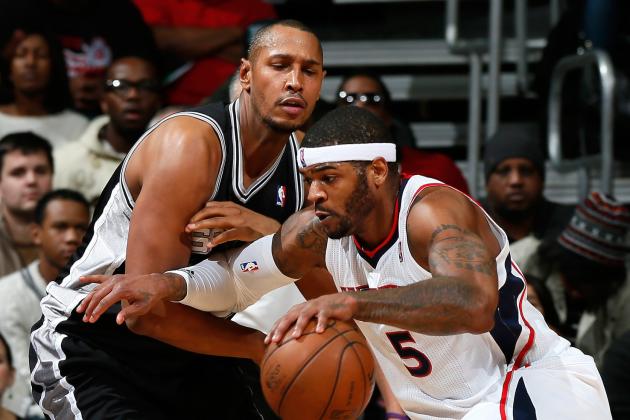 Kevin C. Cox/Getty Images

If we're talking about compelling players with expiring contracts, Atlanta Hawks forward Josh Smith tops the list.
Smith is widely viewed as one of the league's premier two-way players, as he boasts a particularly strong defensive game that's aided by his elite athleticism.
Currently ranking sixth in the NBA in blocks (2.26 per game), Smith continues to flash the All-NBA defense that makes him one of the league's most intriguing players.
Smith is in the thick of his prime at 27 years old, and he will be one of the most sought-after commodities in free agency should he hit the open market this summer.
Unfortunately, Smith's impending free agency has left Atlanta in a difficult position.
As ESPN's Chad Ford mentions, the Hawks would prefer to hang on to their dynamic forward because he makes the team more appealing to other free agents in the long term:
The Hawks have been fielding calls, but have been reluctant to trade him because they believe Smith's presence in Atlanta could be a powerful lure for Dwight Howard this summer. But with Howard's situation up in the air, the time seems right for the Hawks and Smith to move on.
Danny Ferry is one of the smartest front-office minds in the NBA, and he's well aware of what's at stake when it comes to Smith's future.
According to Ken Berger of CBSSports, the Hawks are doing their due diligence on the market for Smith:
Multiple rival executives confirmed that the Hawks have participated in trade conversations with several teams regarding Smith, a 27-year-old game-changing defender when engaged.
Considering all that the Hawks have to lose if Smith walks for a better opportunity in free agency, a trade doesn't appear out of the question.
Verdict: Fact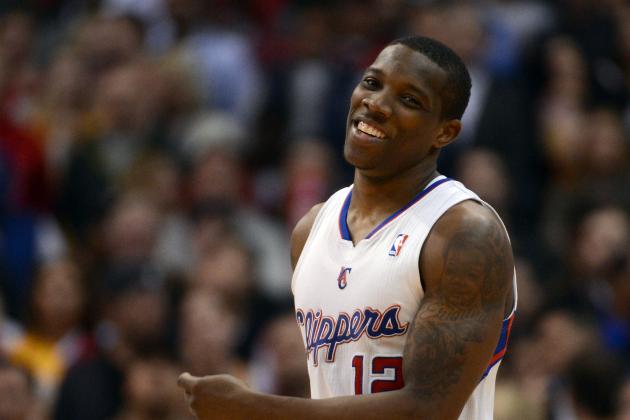 Harry How/Getty Images

Eric Bledsoe represents a new breed of guard in the NBA, possessing a combination of dynamic speed, quickness and athleticism that sets him apart from his peers.
Bledsoe has made a living playing air-tight defense, posting a career-best defensive rating of 98 (number of points allowed per 100 possessions) this season, per Basketball-Reference, while his offensive numbers have ballooned as well.
According to Basketball-Reference, Bledsoe is also averaging career highs in points (16.4), steals (2.9) and blocks (1.3) per 36 minutes.
Now that Bledsoe has firmly established himself as an explosive backcourt presence (one who's severely underused), a market seems to be developing for his services.
According to Chad Ford of ESPN, Bledsoe's impending label as a restricted free agent is making it likely he won't be playing on the Staples Center hardwood next season:
The problem is there is almost no chance that Bledsoe is wearing a Clippers uniform next year. A restricted free agent in the summer of 2014, he will get a major offer from a team under the cap, and the Clippers already know they won't be able to afford to match it.
It would be best for the Clippers to keep Bledsoe around for a potentially fruitful postseason run, but the reality is that a deal would ultimately benefit the guard and ensure that the Clippers would not come away from this whole situation empty-handed.
Verdict: Fact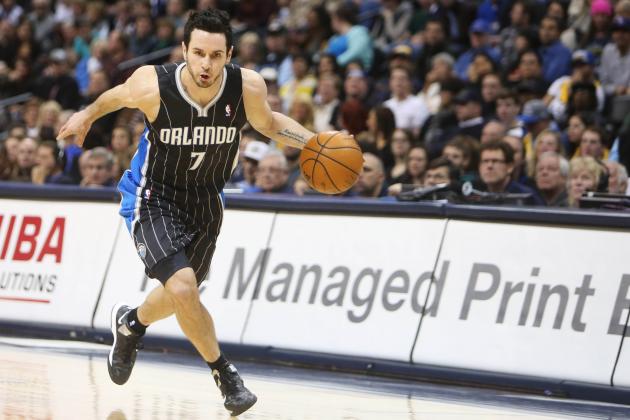 USA TODAY Sports

The Boston Celtics are in a world of hurt, and the blame can be placed squarely on the team's offense, which ranks 23rd in the NBA in scoring at 94.6 points per game.
Doc Rivers' bunch has shot a collective 45.8 percent from the field, with notoriously strong shooters Paul Pierce and Jason Terry each shooting below 43 percent from the field.
That's why it should come as no surprise that ESPN's Marc Stein is reporting the Celtics are looking into a potential deal for Orlando Magic sharpshooter J.J. Redick:
Hearing Celts, even before season-worst 7-for-32 shooting from 15+ feet in NYK loss, have ramped up their interest in Magic's J.J. Redick

— Marc Stein (@ESPNSteinLine) January 25, 2013
Redick's contract is set to expire at season's end, and that, among other reasons, makes him an appealing fit for the struggling Celtics.
The real problem for Danny Ainge and Boston's front office will be piecing together a package that Orlando will ultimately be interested in.
Avery Bradley is really the only appealing contract the C's have to offer, as Jeff Green and Jason Terry are both due hefty money over the next three-plus years.
While the odds don't appear to be in Boston's favor, it's difficult to doubt Ainge's ability to get a deal done, as he's come through on several big occasions in the past.
Verdict: Fact