Mohamed Diame Should Stay at West Ham Despite Arsenal Interest
Use your ← → (arrow) keys to browse more stories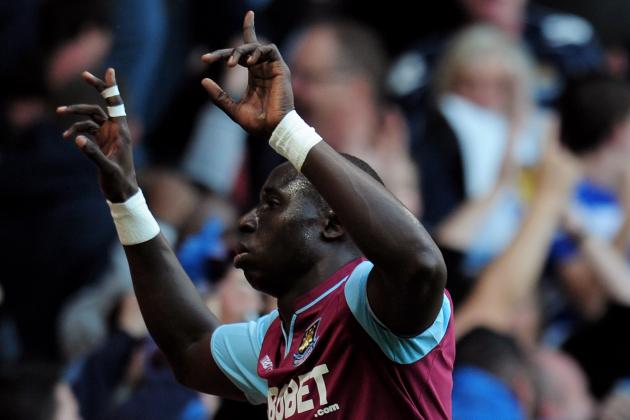 Shaun Botterill/Getty Images
Mohamed Diame celebrates his goal for West Ham against Arsenal this season.
Mohamed Diame might be unhappy at West Ham United's "tactics" over a potential move to Arsenal, according to the Daily Mail, but there is an argument that the Upton Park club would be looking after itself and the midfielder.
The 25-year-old has found his feet quickly in East London after agreeing to join the Hammers from Wigan Athletic in the summer after the expiry of his deal at the DW Stadium.
The Senegal international will, according to reports, be the subject of a £3.5 million bid by Arsenal manager Arsene Wenger as he seeks to bolster his midfield in the wake of an injury to Mikel Arteta, who has been one of the very few highlights at the Emirates Stadium this season.
However, while a figure of £3.5 million for a good player is laudable business, it is still far away from the money being shelled out for the success Arsenal supporters crave.
Should Diame risk the reputation he is building at West Ham for a possible squad place with the Gunners?
West Ham manager Sam Allardyce has also expressed surprise at the possibility of Diame joining the Gunners, as ESPN reported recently.
I can't see where he would fit into their side.
The Hammers boss has a point. Diame has the world at his feet at Upton Park after a great first half to his opening Premier League campaign under Allardyce.
The defensive midfielder has played his part in helping the club steady itself in a mid-table position in the top flight after earning promotion from the Championship through the playoffs in May.
Diame has dominated midfield for West Ham and has deservedly earned praise for his work in that role. The Hammers have a steady look about them this season with the Senegalese player in their starting lineup.
Diame retains possession and his tackling is precise, which offers West Ham comfort in front of their defense. His absence from the team over the Christmas period was obvious with only the win over Norwich offering a three-point haul during the six matches he was missing with a hamstring problem.
Arteta will soon return for the Gunners from a calf injury and his form prior to that offered little to suggest he was a problem selection. The former Everton midfielder is a key figure for Wenger alongside Jack Wilshere, who is unlikely to be dropped after a season in which he has also emerged with some credit.
If the Gunners are to be serious contenders to Manchester City, Manchester United and even Chelsea, they need to be approaching their spending power in the transfer market or at least tentatively put a dent in the bank with world-class talent.
Diame may cost a bargain £3.5 million but aren't Arsenal and Wenger playing into the hands of critics who want to see them throw some financial caution to the wind in pursuit of honours?
Should Diame leave West Ham for Arsenal? Let us know below.