3 Biggest Changes the New York Giants Should Make This Offseason
Al Bello/Getty Images
Once again, the champion New York Giants (for two more weeks, at least) find themselves sitting at home during the playoffs after another promising first half of the season.
After grinding out a 6-2 start, the Giants went on a signature second-half slide and ended the season at 9-7 and out of the playoffs. In the two Super Bowl seasons over the past five years, the Giants have squeaked into the playoffs thanks to a superb Week 17 game. This Week 17 victory would then give them the confidence that inexplicably eluded them to go on a run to the championship.
Nevertheless, this last-second ticket to the playoffs strategy did not work out this year, and as a result changes will be made.
Here are three of the biggest Giants players who could and should be gone this offseason, along with their potential replacements.
1. Osi Umenyiora Out; Sam Montgomery in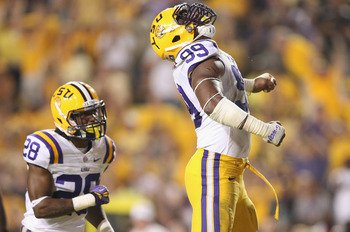 Montgomery (right) celebrates during a game against then-No. 3 South Carolina.
Ronald Martinez/Getty Images
Osi Umenyiora has to go.
He is one of the most overrated and overpaid players on this team, and possibly in the league.
After clamoring for more money the past four years, he finally received the pay raise he thought he has been worth. Next, he went out and gave the Giants one of the worst seasons of his career.
Despite the ruthless schedule the Giants played, Umenyiora sporadically played somewhat well, but only recorded two sacks against playoff teams. One of these sacks was a gift where he went untouched to Green Bay Packers quarterback Aaron Rodgers.
According to an article by Sam Borden of the New York Times, Umenyiora got pressure on the quarterback 11 percent of the time this season.
That won't cut it for a supposedly "elite" pass rush.
His potential replacement, Sam Montgomery from LSU, is well worthy of his current status as a mid-first-round draft pick.
Montgomery, measuring 6'5" and 260 pounds, has been ruthless the past two years in college. Known for his pass-rushing skills and incredibly high motor, this season he recorded eight sacks in 12 games. Six of those sacks came against SEC opponents, and another was in the Chick-fil-A Bowl against ranked Clemson, so Montgomery is clearly a big-game player.
Eli Manning may be the centerpiece of the Giants, but this team goes as the pass rush goes.
With the disappointing season from Umenyiora and the declining health of fellow end and captain Justin Tuck, the Giants would be wise to add Montgomery for some much-needed youth and talent into the pass rush.
2. Ahmad Bradshaw Out; David Wilson in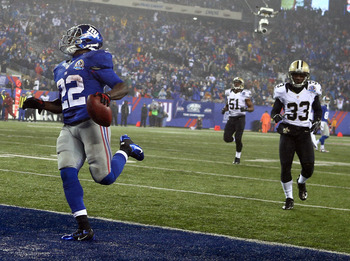 Wilson scores one of his two rushing touchdowns in Week 14 against the Saints.
Elsa/Getty Images
This change can stay in-house.
David Wilson showed late this season why the Giants drafted the speedster in the first round, and Ahmad Bradshaw showed he may never play consistently due to the numerous injuries he suffers.
To his credit, Bradshaw deserves endless praise for his desire to fight through his chronic foot and neck injuries. He showed this toughness all season, perhaps most impressively in Week 6, when he returned after one week from a neck sprain to rush for 116 yards and a touchdown against the dominant San Francisco 49ers' run defense.
Football, though, is still a business. At this point, his inconsistency and health are too much of a liability, and he has to go.
Fortunately for the Giants, they do not have to search too hard for a replacement.
Wilson may not have had the start to an NFL career he dreamed of, fumbling his first snap and then not getting significant touches for weeks. But he quietly fought through it, and by the end of the season was one of the lone bright spots of the second half, especially as a kick-returner. He even had his first career 100-yard game against the New Orleans Saints, and finished the season averaging five yards per carry.
Wilson is certainly the running back of the future for the Giants. If he had the great pass-blocking talent that Bradshaw has, he arguably could have earned much more playing time this season.
General manager Jerry Reese even claimed earlier this month that he believes Wilson can be a feature back.
Since Bradshaw is a question mark every week, the time is now to see if Wilson can back up Reese's support.
3. David Diehl Out; Jake Long in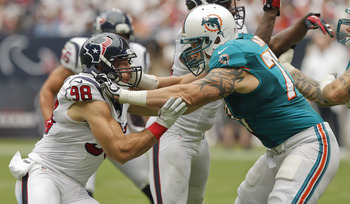 Long (right) blocks during a game against the Houston Texans in Week 1.
Bob Levey/Getty Images
It seems like the Giants need help every offseason with their offensive line.
After a fairly successful first half of the season, they struggled down the stretch, much like the rest of the team.
Two seasons ago, Pro Football Focus rated David Diehl as the worst pass-blocking guard and tackle in the entire league. While Diehl did not make that list this time around, he still did not have a very positive season. Having turned 32 this past September, he is likely beyond his prime, too. Even worse, the normally durable Diehl suffered a knee injury early in the season, playing only 13 games and starting nine of them.
By the time he returned, backup Sean Locklear was outperforming him. Much like Bradshaw, he has become an immense liability.
However, the Giants are not generally inclined to make any high-profile or costly moves. Jake Long, the 2008 first-overall draft pick, would certainly fit that.
According to Pro Football Focus, Long ranked 21st in pass-blocking efficiency last season, a vast improvement from the abilities of Diehl.
It is worth noting that Long is still recovering from a left triceps injury he suffered in Week 13, which put him on injured reserve. While on IR, his replacement, rookie Jonathan Martin, performed surprisingly well. If the Dolphins are convinced that they no longer need Long because of the emergence of Martin, then the Giants could potentially sign him for a substantially lower price.
Regardless, Diehl is on the decline and must unfortunately be cut this offseason. Long may not be the answer to this predicament, but Reese will likely find a good one through free agency or the draft.
Keep Reading

New York Giants: Like this team?