49ers vs. Falcons: San Francisco's Winners and Losers in NFC Championship Game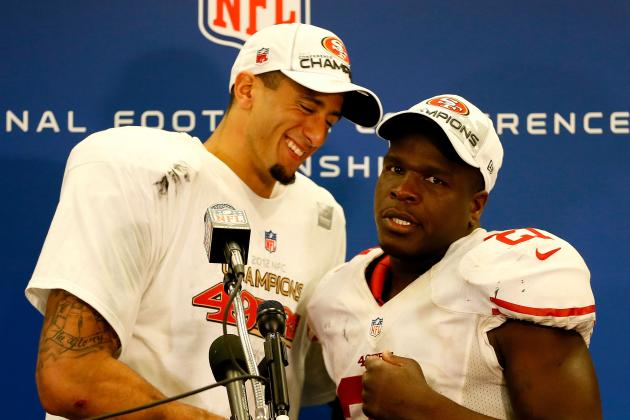 Kevin C. Cox/Getty Images
Colin Kaepernick and Frank Gore were one productive duo on Sunday.
Winning the NFC Championship Game generally doesn't lend itself to evaluating losers—especially when the San Francisco 49ers go head to head with the Atlanta Falcons.
The 49ers emerged victorious 28-24 on Sunday afternoon in rather exhilarating fashion.
After suffering an early 17-0 deficit, San Francisco established its patented punch-you-in-the-mouth, ball-control, keep-the-opposing-quarterback-on-the-sideline-approach to the game.
It withstood the initial blitzkrieg by the Falcons offense, and methodically took it to the opposition in the way a Super Bowl hopeful knows best.
That would equate to pounding the rock, using a smothering defense and making the big play, in case you were wondering.
With a winning, but objective, mentality in mind, let's highlight the biggest winners and (unfortunately) losers from the 49ers win over the Falcons.
After a two-day reflection period, it's time to get to it.
Note: The overwhelming majority of the team earned a positive assessment. The entire linebacker corps was a winner, for example. For our purposes, though, we'll limit this list to a more manageable number (well, kinda).
Begin Slideshow

»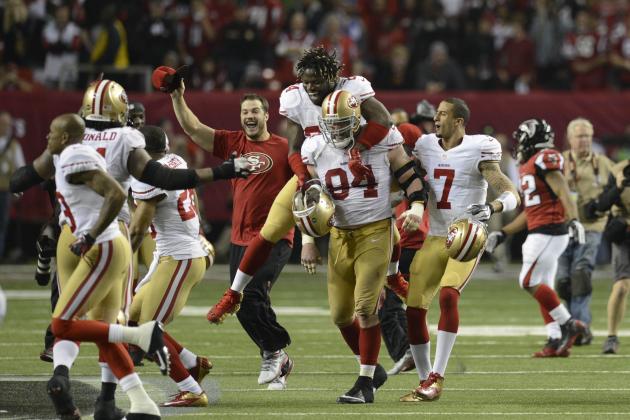 John David Mercer-USA TODAY Sports
Hint: No. 94 just might be included on this list.
Loser: K David Akers
This grade is a little harsh considering all five Akers' kickoffs went for touchbacks. Missing yet another field goal, especially inside of 40 yards; however, will not benefit his already fragile psyche moving forward.
Push: WR Michael Crabtree and CB Chris Culliver
Crabtree led the San Francisco 49ers with six receptions, including a 33-yarder to the Atlanta Falcons' 10-yard line. But a fourth-quarter fumble at the goal line two plays later knocks him down to a push.
Culliver, for his part, gave up drive-advancing completions of 15, 16 and 23 yards. All three helped lead to two Falcons' touchdowns. His fourth-quarter interception set up a potential game-tying field-goal drive. Akers unfortunately missed the 38-yard attempt. Culliver's improved play in the second half saves him from a losing status.
Winner: DE Justin Smith
CSN Bay Area's Matt Maiocco reminded us that Justin Smith dropped Michael Turner with just one arm on the very first play from scrimmage (h/t CSNBayArea.com). That arm had a partially torn triceps tendon. He played 96 percent of defensive snaps with said arm.
Winners: OLBs Ahmad Brooks and Aldon Smith
Brooks broke up two passes and knocked Matt Ryan to the turf in the fourth quarter. All three plays directly altered the game in the 49ers' favor.
Smith didn't record a sack, but grabbed a big-time fumble recovery and led San Francisco with seven QB pressures. Most occurred in crucial second-half moments.
Winner: CB Carlos Rogers
Rogers broke up a third-quarter pass intended for Roddy White at the goal line. He also pushed Tony Gonzalez out of bounds before he could pick up a first down on 3rd-and-6 in the final frame. Atlanta punted shortly thereafter.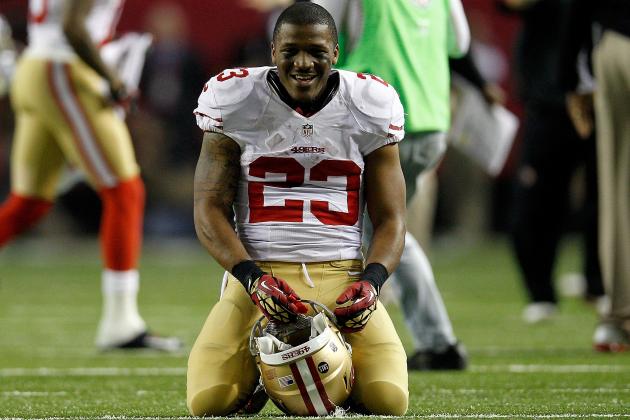 Chris Graythen/Getty Images
The look on LaMichael James' face paints the picture of one happy rookie.
The San Francisco 49ers' first-year running back flashed his prolific NCAA talents in the biggest game of his young career.
James amassed a 6.8-yard average and a huge second-quarter touchdown. It put the 49ers on the board and provided momentum to an otherwise lifeless game for San Francisco in the early goings.
He served as the perfect change-of-pace, outside rusher in the way that Kendall Hunter once did so well before sustaining a season-ending injury. He complemented Frank Gore with the dynamics of speed and small-bodied elusiveness.
Jim Harbaugh could not ask for a more capable backup in a run-first, pistol-heavy offense.
Colin Kaepernick would agree.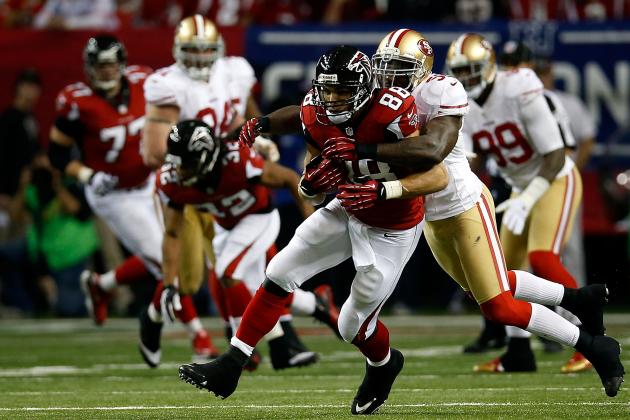 Chris Graythen/Getty Images
Patrick Willis receives the winning nod despite allowing a few Tony Gonzalez receptions.
Patrick Willis' performance on Sunday was far from perfect. The All Pro linebacker would certainly admit as much.
Tight end Tony Gonzalez beat Willis for five receptions, 43 yards and a touchdown.
But the reason No. 52 deserves a positive grade is the resilient mentality he imparted on his teammates when positive outlooks were hopeful at best.
Willis quarterbacked the defense into shutting out Atlanta for the entire, yes, entire second half. Interceptions, punts and offensive failure—when it mattered most—occurred under this All-Pro's veteran leadership.
While not quite validating what linebackers strive for in their gridiron dreams, Willis' team-leading 12 tackles were at least worthy of a Monday morning reverie. The same went for his shutdown play in run defense, including a critical fourth-quarter rundown of Matt Ryan.
And for the Willis stat of the day, the dominant backer surrendered just 13 yards after the catch while working in coverage.
When someone needed to go down, Willis was the man for the job.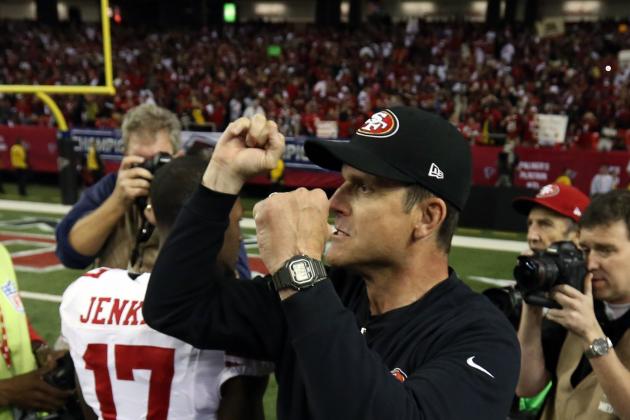 Matthew Emmons-USA TODAY Sports
This was the most attention A.J. Jenkins received over the weekend.
Some would look at this inclusion and throw out the skeptical eyebrow. A.J. Jenkins did not register a single offensive snap.
What gives?
Well, that's entirely the point.
The San Francisco 49ers' 2012 first-round pick was No. 3 on the wide receiver depth chart. Yet, Ted Ginn logged 11 plays and Chad Hall—yes, former practice-squader Chad Hall—even once served as a target for Colin Kaepernick.
Said head coach Jim Harbaugh: "A.J. was ahead of Chad on the depth chart had something happened to Michael [Crabtree] or Randy [Moss]" (h/t CSNBayArea.com).
Okay, so, why didn't he play?
While he may not have been needed, it just goes to show that the No. 30 overall selection isn't ready. For a team with two key receivers being lost for the season, Jenkins' lack of playing time doesn't reflect well on the young wideout.
We wish him the best moving forward.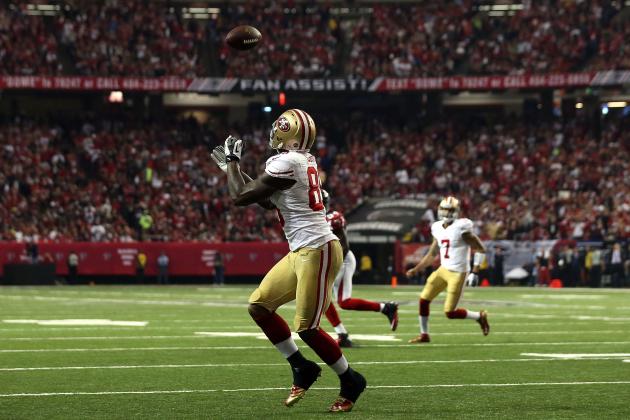 Streeter Lecka/Getty Images
Vernon Davis prepares to haul in a deep sideline pass.
Oh Vernon Davis, where have you been all our life?
Mr. Certifiable Mismatch himself finally performed as such on Sunday.
Davis racked up 106 yards, one touchdown and an eye-popping 21.2 yards per catch. He continually beat linebacker Stephen Nicholas and free safety Thomas DeCoud.
He then put the proverbial icing on the cake with a TD against strong safety William Moore.
Furthermore, it was the first time since Week 13 that Davis caught more than one pass, and his first 100-yard receiving total since early October.
The insanely talented tight end was San Francisco's consistent—and prolific—deep threat throughout the game. He hauled in passes of 27, 19, 25 and 31 yards.
Let's not also forget his fantastic work as a blocker, both in pass protection and on running plays.
Fans can take particular solace in their team's most dynamic offensive weapon materializing in ultra form, not to mention doing so on one of the biggest stages.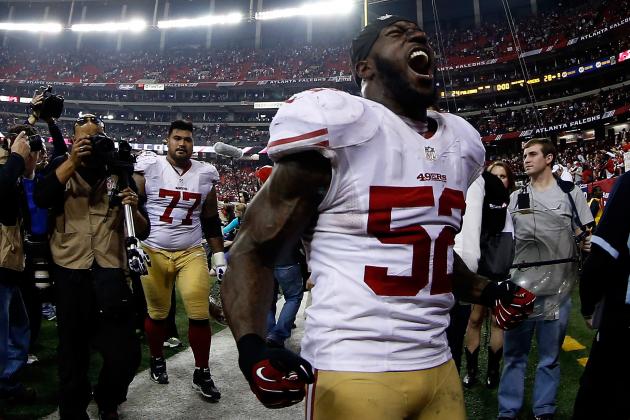 Chris Graythen/Getty Images
Mike Iupati (No. 77) will defer to Willis on this one.
Placing any sort of a negative term next to Mike Iupati would generally leave that person with a black eye, sore ribs so some other comparable injury.
The terms preeminent, top-five and league's best would normally describe the third-year left guard.
Those qualities; however, were not readily apparent in the NFC Championship Game.
Atlanta's defensive front outmatched Iupati more often than not, particularly on a sack by Corey Peters for a nine-yard loss in the first quarter. He allowed three additional QB hurries as well according to Pro Football Focus (membership required).
His blocking in run assignments was adequate, but certainly not up to his usual standards.
In short, four QB pressures, a 10-yard holding penalty and a negative-5.7 by PFF warrants a critical evaluation for the otherwise stellar offensive lineman.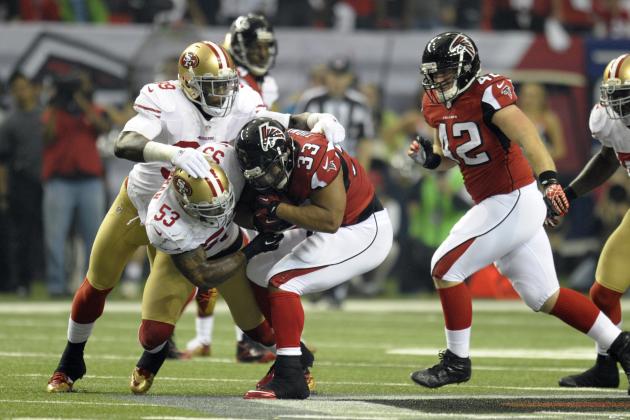 Dale Zanine-USA TODAY Sports
NaVorro Bowman helps bring down the Falcons' Michael Turner.
Pro Football Focus awarded NaVorro Bowman with the second-highest grade for the San Francisco 49ers at positive-4.6.
We happen to agree with that assessment.
Bowman was an unstoppable menace patrolling the gridiron. He only had four tackles, but covered sideline-to-sideline at an elite level.
He made short order of the Atlanta Falcons' rushers and broke up all three passes thrown his way.
Most significantly, Bowman, a middle linebacker no less, maintained excellent coverage on WR Roddy White during a fourth-down play in the red zone. He timed his pursuit perfectly and swatted a pass out the air at the last possible moment.
And, if you're one Matt Maiocco—the fine 49ers scribe for CSN Bay Area—Bowman made the play of the game in the first quarter.
The inside backer broke free from a pick set up by Julio Jones, covered an extensive amount of ground and extended his left hand to break up a pass intended for Jacquizz Rodgers just in time.
It forced a field goal and mitigated the damages created by Atlanta's quick-strike offense in the early-goings.
Bowman was one of, if not, the most important player for a 49ers defense that stifled the Falcons offense for the final two quarters.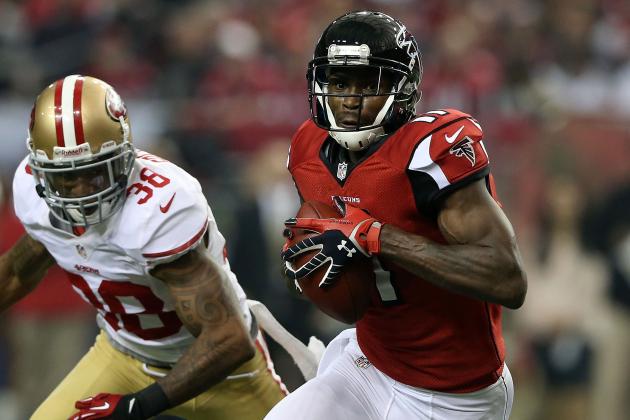 Streeter Lecka/Getty Images
Julio Jones burned Dashon Goldson for an early Falcons' touchdown.
San Francisco's hard-hitting free safety wasn't horrible, but he was bad enough to earn a losing grade.
Ryan went 4-of-4 when throwing into Goldson's area of the field. The first two of those passes, though, hurt the San Francisco 49ers as much as any other.
Goldson surrendered a 16-yard gain to Roddy White on 3rd-and-9 during the first drive of the game. Two plays later, he was responsible for a 46-yard touchdown by Julio Jones.
Despite Tarell Brown's poor decision on a coverage assignment, Goldson failed to offer a preventative presence deep in "center field." The Atlanta Falcons built an early lead in an all-too easy fashion.
NaVorro Bowman then saved Goldson on the subsequent drive after he gave up another huge gain on third down to Jones.
Goldson shored up his pass coverage for the better part of the game. He also lit up White on a absolutely devastating tackle.
His initial gaffes; however, were much too blatant for our liking.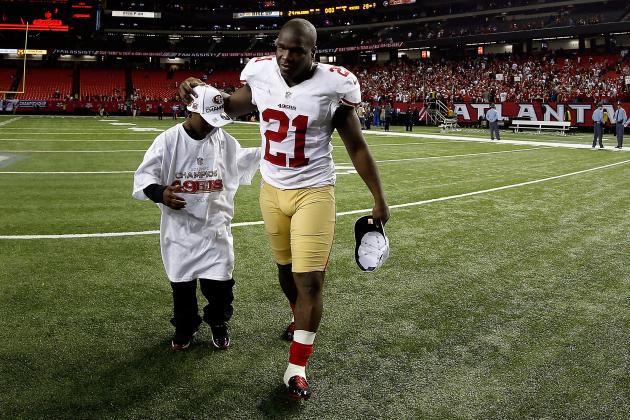 Chris Graythen/Getty Images
Frank Gore is the consummate class act in professional sports.
Whether highlight-worthy, the unglamorous type or merely of the just-getting-it-done variety, Frank Gore was a star in the NFC Championship Game.
Behind the scenes, Gore helped relay defensive reads to the San Francisco 49ers offense. He also was a coach's dream in pass protection.
His constant blitz pickup enabled Colin Kaepernick to compile a 137.2 passer rating and one touchdown when throwing under pressure (via PFF).
Now for the stuff that would better impress the girlfriend, or general non-sports enthusiast.
Gore was the 49ers' leading rusher with 90 yards on 21 carries for a near 5.0 average.
He established the team's offensive identity by continually, and successfully, pounding the rock. That included barreling through Atlanta's D for San Francisco's first 20 yards after being down 17-0.
Gore demanded the ball during circumstances that would not normally dictate a running back getting any action.
And he provided all of the second-half scoring, including the game-winning TD.
To invoke a Stephen A. Smith go-to, Gore was a bad man.
He crushed Atlanta in both the read-option and more traditional running formations. He stopped any Atlanta Falcon with delusions of sacking his quarterback. He scored, and scored again.
Gore was simply the man in his usual no-nonsense manner.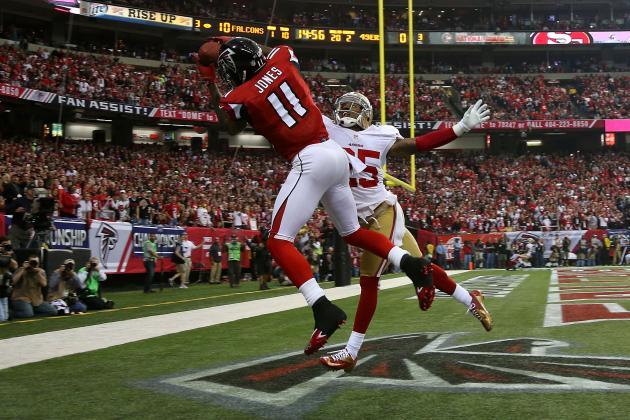 Chris Graythen/Getty Images
Despite great coverage, Tarell Brown is still partly responsible for this touchdown.
Giving the most underrated San Francisco 49er a losing grade is an unfortunate necessity. It's fair to say Atlanta would disagree.
The Atlanta Falcons targeted Tarell Brown throughout the game. He allowed a game-high 11 catches for 126 yards and a Julio Jones touchdown (near-perfect coverage notwithstanding).
San Francisco's No. 2 cornerback had not given up a passing TD all year.
Brown employed technically sound defense, recorded a pass deflection and gave Atlanta's prolific wideouts the requisite respect. Worse yet, he was usually the recipient of perfectly timed connections between Matt Ryan and his outside weapons.
That said, the Falcons' best outgunned, well, the best San Francisco had to offer at cornerback.
Brown is better than what materialized on the Sunday gridiron—and he knows it.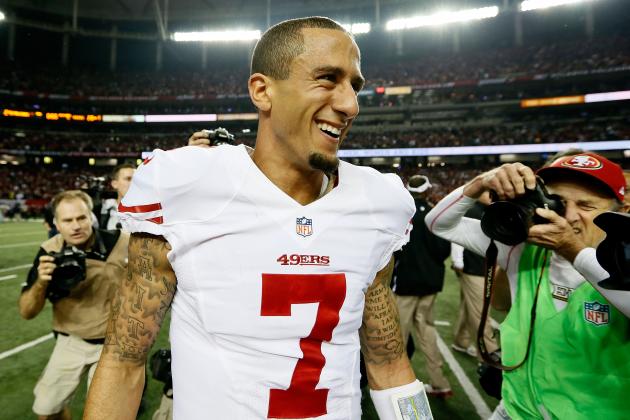 Kevin C. Cox/Getty Images
Colin Kaepernick has taken the sporting world by storm.
Colin Kaepernick was 1-of-3 on his first three attempts, including two failed conversions on third down.
That's where the missteps end, and near-flawless play begins.
The San Francisco 49ers' second-year quarterback completed his next five passes, another seven consecutive following an incompletion and was 16-of-21 overall. Throw in six connections of 20-plus yards, two for 30-plus and an 11.1-yard average.
Can you say the anti-dink-and-dunk, downfield passer?
Kaepernick amassed a 127.7 efficiency rating and even more impressive 92.6 (out of 100) QBR on the afternoon.
But, most of all, Kaepernick did not turn the ball over, caused only one delay of game penalty and orchestrated the read-option—and offense in general—with an utter veteran savvy.
He did not make poor decisions or rely on his legs unnecessarily. He read the Atlanta Falcons' defensive personnel correctly—throwing his receivers open and astutely handing off to Frank Gore and LaMichael James for all three rushing touchdowns.
Moreover, Kaepernick established a productive connection with the 49ers' best offensive weapon. He and Vernon Davis were on the same page all game long.
Minus one ill-advised throw to Randy Moss in triple coverage, San Francisco's quarterback of the future operated as the quarterback of the here and now. He played as one capable of bringing home a Vince Lombardi Trophy.
Securing the illustrious 49ers franchise with its sixth Super Bowl title, in his 10th career NFL start no less?
We'd call this latest outing a winning performance based on that potential alone.
Streeter Lecka/Getty Images
The 49ers plan on making Jim Harbaugh smile just one more time at game's end.
The San Francisco 49ers flexed their collective muscle by not forsaking their identity, sticking to the game plan and generating a 17-point comeback in the NFC Championship Game.
Offensive coordinator Greg Roman brought in the team's heavy package and ran four-straight times after falling behind 17-0. San Francisco committed to hitting the Atlanta Falcons in the mouth and wearing down their defense, in spite of the substantial deficit.
It succeeded.
Its own D accomplished the same in a second-half shutout of Atlanta's No. 7-ranked scoring offense. The performance was nothing short of remarkable.
All of this reveals the 49ers' strength, resolve and ability to beat the Baltimore Ravens in the Super Bowl. Holding the Falcons high-powered attack beneath their season average would indicate San Francisco's ability to do the same against Baltimore's inferior offense.
Yes, the Ravens have indeed scored 90 points in three playoff games. But the 49ers' defense is better than Denver's and far superior to the Indianapolis Colts' and New England Patriots' units.
Plus, they have averaged 36.5 in two contests themselves, good for No. 1 in the postseason.
We'll provide a more in-depth analysis later in the week. But as it stands, the 49ers are rightly favored over a terrific, yet overachieving Ravens club.
Follow me on Twitter @jlevitt16