The San Diego Chargers' Offseason Shopping List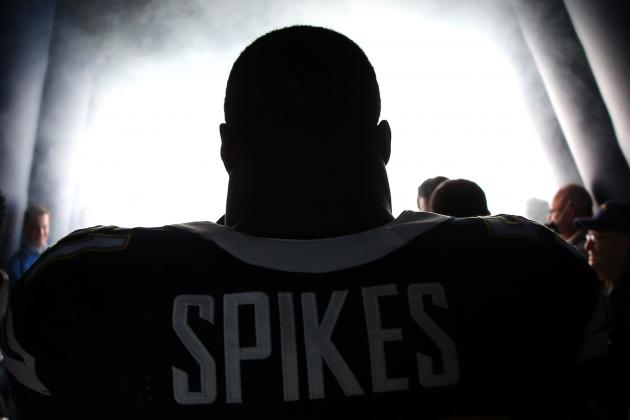 Stephen Dunn/Getty Images
Takeo Spikes can't do it all alone.
The San Diego Chargers have a new general manager, new head coach and the coaching staff is coming together. Some of the most important decisions have been made, but none of the people hired will actually play a snap for the Chargers in 2013.
The front office and coaching staff are vital to any team's success, but the players play the game, and many get paid big bucks to do it. The Chargers need to bring in impact players to compete in the AFC West in 2013, and they need those impact players at several key positions.
The Chargers aren't particularly young or deep at any position, and some positions are so void of talent that finding an upgrade will not be a challenge. The Chargers are going in a new direction this offseason, and if they were making a shopping list, it might look a little like the following list.
Begin Slideshow

»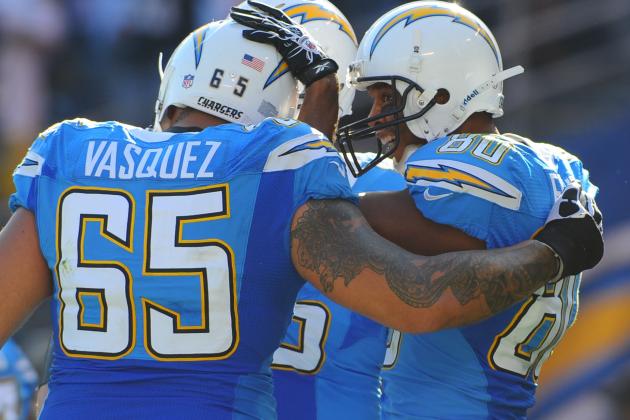 Christopher Hanewinckel-US PRESS
The Chargers will have to re-sign Louis Vasquez if they want to retain his services.
The Chargers need a left tackle and a right tackle. While the Chargers might be able to survive with the interior offensive line consisting of Tyronne Green (free agent), Nick Hardwick and Louis Vasquez (free agent), there is little doubt they need to get better on the edges.
Finding interior players is also significantly easier than finding quality tackles with the left, blind-side tackle being the toughest to find. San Diego's offensive line needs a lot of work, but they will have to be careful not to devote too many resources trying to fix it at the expense of other positions.
Fixing Philip Rivers starts with giving him the confidence to stand in the pocket and make throws. Rivers' decline in production mirrors the decline of the offensive line. The Chargers also need an offensive line that can run block and give Rivers the threat of play action.
There are several top offensive tackles who will be available in the first round of the 2013 NFL draft, and the Chargers would be wise to pick one up. The Chargers should be able to re-sign Vasquez and Green or find comparable guards on the open market.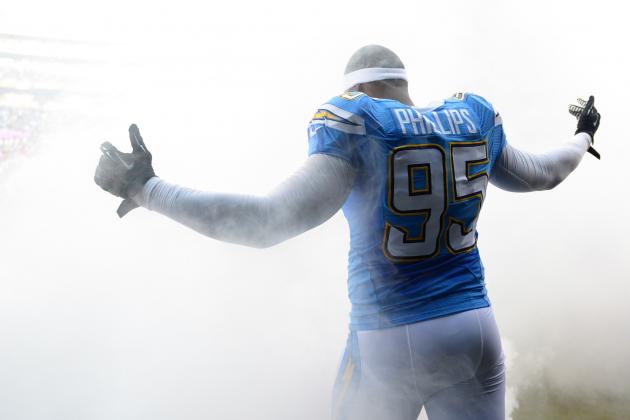 Jake Roth-USA TODAY Sports
Shaun Phillips was San Diego's best pass-rusher in 2012.
Shaun Phillips and Antwan Barnes are free agents. Phillips led the team in 2012 in sacks and Barnes led the team in sacks in 2011. The Chargers had a sack parade against the New York Jets in Week 16 that inflated their overall stats.
The Chargers actually had a lot of trouble pressuring the quarterback in 2012. Another year with Corey Liuget, Kendall Reyes and Melvin Ingram should help, but they really need to find a stud pass-rusher. Re-signing Phillips is one option, but he's become a liability against the run.
Phillips had the worst run-stop percentage in 2013 among 3-4 outside linebackers who played 25 percent of his team's snaps against the run according to Pro Football Focus.
Despite a decent sack total, Phillips hasn't generated a lot of total pressures to make up for his lack of presence in the running game. The Chargers shouldn't overpay for the services of the veteran linebacker.
The Chargers need to find another pass-rusher to replace and take the pressure off the aging Phillips. A strong pass rush can also help cover up some warts in the secondary which the Chargers will have some trouble healing in only one offseason.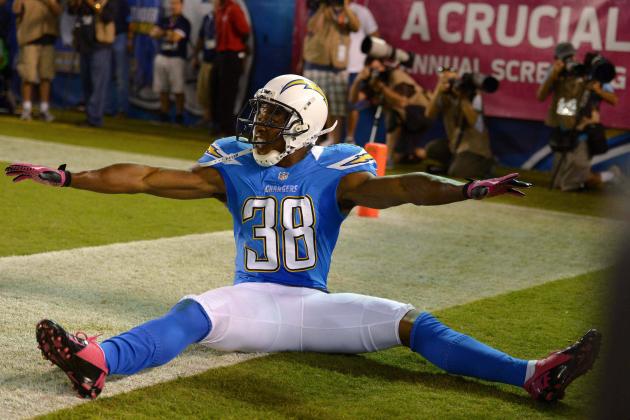 Jake Roth-USA TODAY Sports
Marcus Gilchrist looks ready to become a starter.
Both Quentin Jammer and Antoine Cason are free agents, and the Chargers may not be eager to re-sign them. Jammer could potentially find a home at safety, but the team will have to decide if that makes sense given his skills, age and relative cost.
The Chargers will be banking on Marcus Gilchrist and Shareece Wright being ready for an expanded role in 2013, but even if both of them are ready to start, the team will need a solid nickel cornerback. The nickel cornerbacks play a very important role in today's pass-heavy NFL.
It would make sense for the Chargers to use a draft pick and try to address the position through free agency. Adding a quality player and also good depth will be important and becomes vital if the team is unable to bring in a pass-rusher to complement Phillips.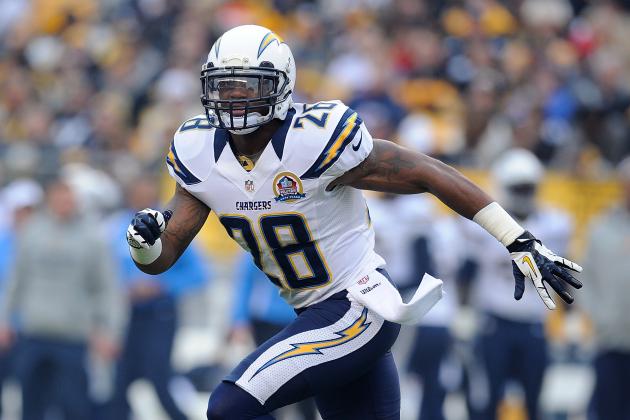 Joe Sargent/Getty Images
Brandon Taylor faces a long rehab process.
The Chargers finished the season by starting Corey Lynch at strong safety after losing Atari Bigby and Brandon Taylor to injuries. Both players will return in 2012, but Taylor might not be 100 percent by the start of the season, and the team will have to decide if Bigby is an adequate starter for one more season.
Taylor had trouble getting on the field in 2012 before tearing his ACL in his first career start. Bigby is notoriously injury-prone and struggled in pass coverage, despite having some opportunities for interceptions in 2012.
It's possible the Chargers could look to bring in a free agent like Kenny Phillips, or they could even address the position in the draft. It's also entirely possible the Chargers will try to put a bandage on the position until the team can determine if Taylor is going to become a factor.
The team could opt to stick with Bigby or opt to sign a veteran like Jim Leonhard to solidify the position until the Chargers have the resources to find a permanent starter.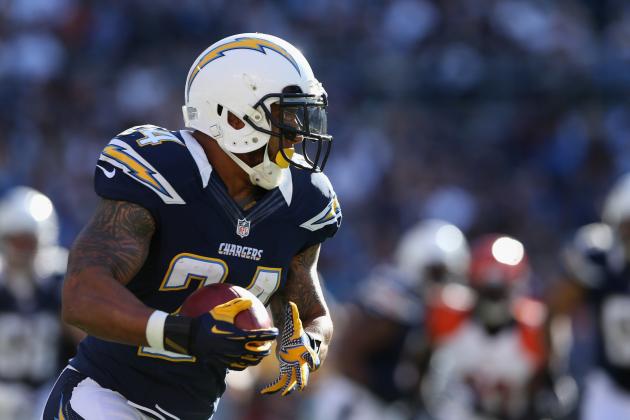 Jeff Gross/Getty Images
Ryan Mathews didn't produce in 2012, but he'll probably get another chance in 2013.
Ryan Mathews took a lot of heat in 2012 for his durability, ball security and production. Mathews managed to play in 12 games in 2012, despite two broken clavicles, but he failed to record a 100-yard game, and he had just one touchdown.
The Chargers will probably give Mathews another season, but the team may have given up on him as a franchise running back who can carry the team. Mathews will have to earn the job in 2013, but there are no serious challengers under contract.
Ronnie Brown and Jackie Battle were brought in to complement Mathews, and both will be free agents. The good news: Running backs are easy to find and come cheap compared to pass-rushers, left tackles and cornerbacks.
Don't expect the Chargers to go crazy by targeting Reggie Bush, but there are plenty of free-agent running backs whom the team can target. It seems like every year a running back drafted later in the draft turns into a productive starter, and the Chargers might also consider burning a draft pick on the right running back.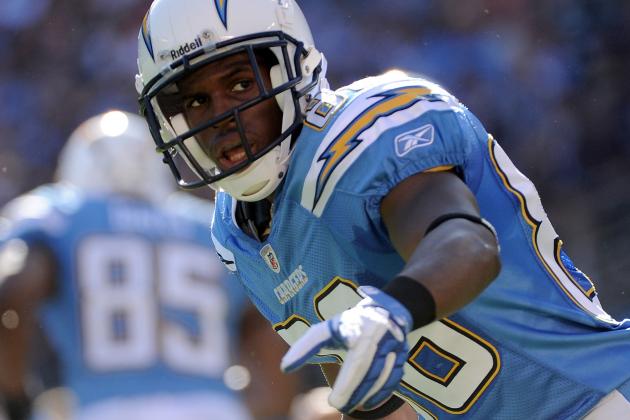 Harry How/Getty Images
Vincent Brown will help the Chargers, but they could use another guy to make plays.
The Chargers don't have an offensive guy who can make plays on a consistent basis. Malcom Floyd is a consistent No. 2 option, but Antonio Gates isn't getting any younger, and Danario Alexander shouldn't be relied upon as a team's No. 1 option. Vincent Brown will be coming back from injury and will certainly help in 2013, but the Chargers can't rely on him either.
There are plenty of wide receivers hitting free agency in 2013 who could be enticing for the Chargers. Mike Wallace, Wes Welker, Greg Jennings, Dwayne Bowe and Danny Amendola will all be free agents if not re-signed or given the franchise tag by their respective teams.
It's also possible that the Chargers look to draft a playmaker in the first couple rounds of the draft. Tavon Austin would make sense as a versatile offensive weapon who can play in the slot, outside or takes snaps as a running back. Keenan Allen or Cordarrelle Patterson also seem like playmakers at the next level.
Since the Chargers have a lot of players at wide receiver, they may opt to roll into 2013 with the weapons they already have. The weapons the Chargers already have are potentially adequate if they can all stay healthy, and Rivers has time to get them the ball, but they shouldn't pass on the opportunity to bring in player who can make plays.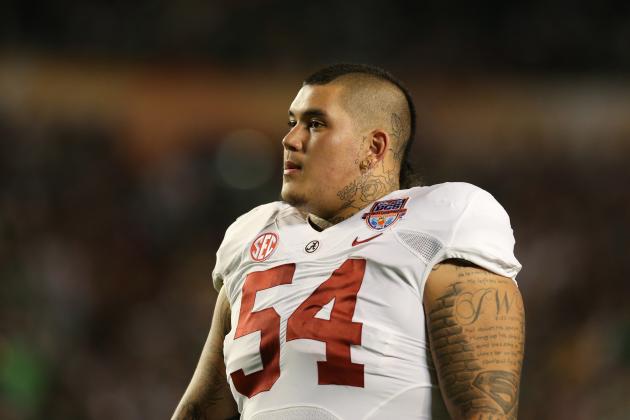 Matthew Emmons-USA TODAY Sports
The Chargers could use Jesse Williams' skills, hair at nose tackle.
The simple solution to San Diego's problem at nose tackle is to just re-sign Aubrayo Franklin. Antonio Garay hardly stepped on the field in 2012 as Cam Thomas played most of the snaps.
Not having a stud nose tackle makes it nearly impossible to play a true 3-4 defense. The Chargers had a lot of guys in the mix at the position in 2012, but lacked that elite nose to really make John Pagano's defense take off.
The Chargers could look to the draft to find their nose tackle as several players have the size and strength to play that position. Star Lotulelei will likely be gone by the time the Chargers pick in the first round, but both Jonathan Hankins and Jesse Williams would be good fits as nose tackles in the 3-4.
If the Chargers wanted to wait until the second round, they could opt for Johnathan Jenkins, or they could always gamble on a big nose tackle in the later rounds. A guy like Kwame Geathers with NFL bloodlines seems to make sense in the middle or late rounds if the Chargers go that route.
At least finding a player to rotate with Thomas is necessary whether that be through the draft or free agency. Considering the draft is full of quality defensive linemen, and several prospects have the required size to play nose tackle in the NFL, it would make sense if the Chargers went after one this year.