NFL Rookies Who Flew Under the Radar in 2012, but Will Be Stars in 2013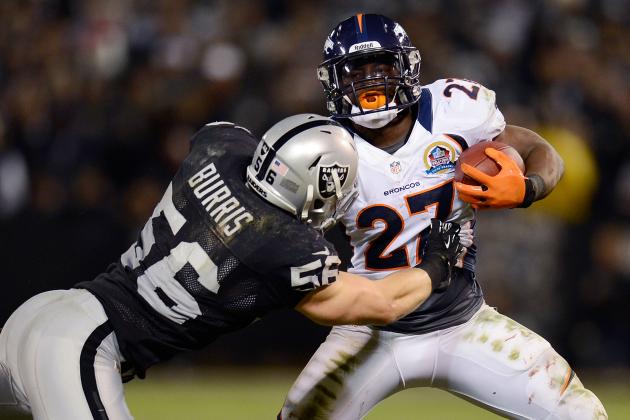 Thearon W. Henderson/Getty Images

The 2012 NFL season was home to some of the best individual performances from first-year rookies that we've seen in the past few seasons.
The first and second picks of the NFL Draft—Andrew Luck and Robert Griffin III—both took their teams to the NFL playoffs in their first year under center whilst another quarterback, Russell Wilson, also managed to pick up a wild-card berth.
Yet as good as these performances were throughout the season, several other rookies starred in their debut seasons in the NFL but didn't receive the same attention.
Their performances might not have been as game-changing as the Luck's and Griffin's of the NFL, but they were still crucially important to their team in 2012.
Here's a handful of rookies who flew under the radar last season but have the potential to break out as stars of the National Football League in 2013.
Begin Slideshow

»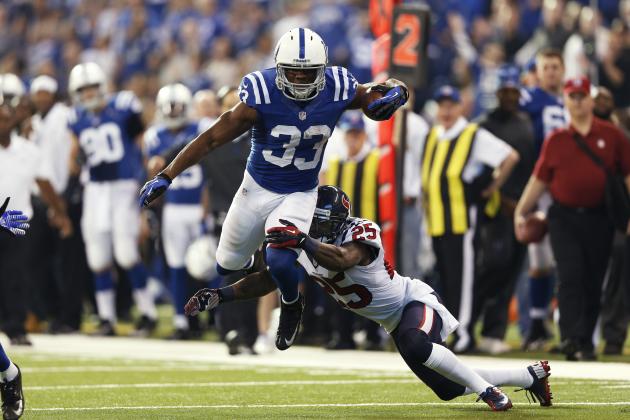 Joe Robbins/Getty Images

Indianapolis Colts' running back Vick Ballard finished the 2012 season with just under 1,000 rushing yards on the year—totaling 814 yards on the ground during the regular season.
Despite this performance, you'd have to think that Ballard is set to improve in 2013, simply because he'll see more of the football than he did throughout 2012.
Andrew Luck attempted a lot of passing during the season which meant that the running back only saw 589 snaps. By contrast, Oakland's Darren McFadden—who was injured for most of the season—saw 608 snaps, with 15 other players also totally more snaps than Ballard.
Luck has a strong ability to make throws in the pocket, but teams will be starting to figure out how to contain the second-year quarterback now, which means that Indianapolis will have to start relying on the run a whole lot more in 2013.
Look for Ballard to make the Colts' running game a real strength of their attack once more in 2013 to complement the great aerial game of Luck.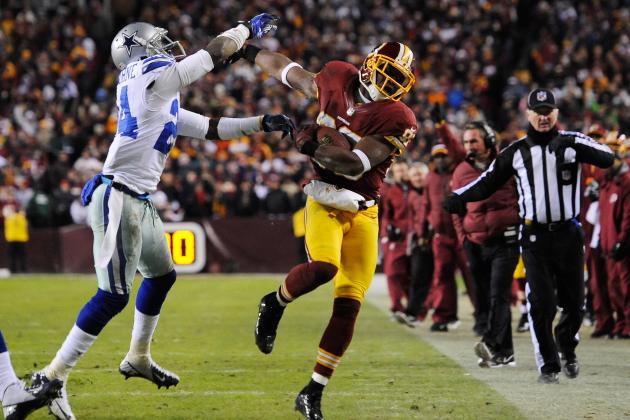 Patrick McDermott/Getty Images

The Dallas Cowboys moved up to the fifth overall pick in the 2012 NFL Draft so that they could get cornerback Morris Claiborne, but the rookie really didn't live up to the hype this season.
Claiborne finished the year as the league's 82nd ranked cornerback (according to Pro Football Focus), with a number of key penalties hurting his chances at moving up that list—ranking inside the top 10 for penalties conceded by cornerbacks in the NFL.
For the most part, Claiborne was fairly solid in his coverage, though he did finish the season allowing 70 percent receptions in his coverage. Having said that, the defender did only allow a season-long pass of 26 yards, which showed that he wasn't going to be busted open for the big play like several others.
Claiborne would finish the year with seven pass deflections and a touchdown, and only allowed four touchdowns in his direction all season long.
He is a talented defender who can make some incredible plays on the ball, but seemingly could not handle it in his opening year in the NFL.
I'd back Claiborne to show exactly what he is capable of next season—particularly highlighting his ability to defend and make plays when out on his own.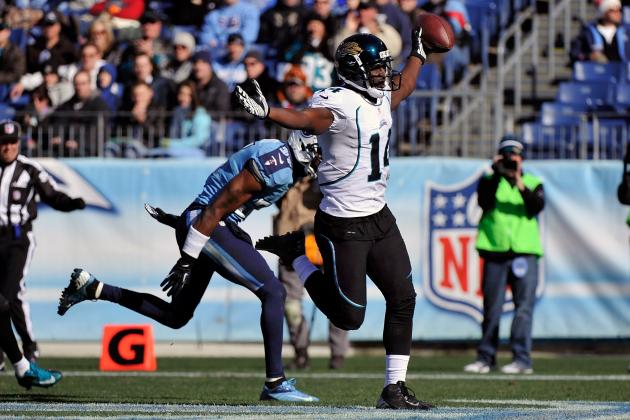 Frederick Breedon/Getty Images

Yes, the presence of Jacksonville Jaguars wide reciever Justin Blackmon does mean that I called him under the radar throughout 2012. And yes, I do know that he caught 865 receiving yards and five touchdowns as well, but I'd still say he flew under the radar.
At least, under the radar of what was expected anyway.
Having spend such a high draft pick to get the receiver, Blackmon finished the year barely inside the top 100 receivers in the year according to Pro Football Focus.
The rookie finished with a less than 50 percent target to reception ratio for the year, which, put simply, is nowhere good enough for any starting wide receiver in the league. And his five touchdowns are great, but when he allows six interceptions on him and drops eight passes during the year, his five touchdowns do seem somewhat insignificant in comparison.
2012 simply wasn't a good year for Blackmon. Yet for all the failures, the receiver will recover and post some much stronger numbers in 2013 for the Jaguars.
Gus Bradley and Jedd Fisch will be the new head coach and offensive coordinators respectively in Jacksonville, and both will aid Blackmon's production.
But more importantly, Blackmon was already starting to come good in the back of the 2012 NFL season and will simply continue that natural progression in the league.
The receiver totaled just 250 yards and a touchdown through his first 10 games in the league, compared to 615 yards and four touchdowns in his final seven games.
Expect that to continue on in 2013.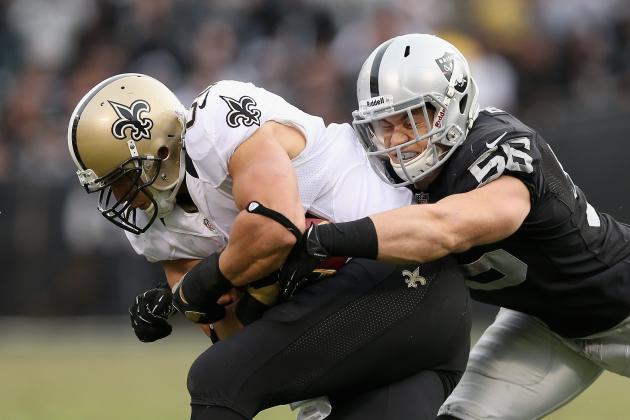 Ezra Shaw/Getty Images

Miles Burris played as part of a bad defensive unit for a bad Oakland Raiders team that spent an awful lot of time out on the field, which probably didn't help his production levels at all.
The linebacker finished the year with the lowest overall rating from any defensive player the Raiders had, despite finishing third in the team for tackles made.
Burris will benefit from the Raiders bringing in some new young talent, and could be one of the real surprise breakout stars of the year in 2013—providing he can fix up some of the coverage issues that haunted his game throughout the season.
He finished just four stops behind Philip Wheeler for the most stops made by a Raiders defender in 2012, and yet he played significantly less snaps than Wheeler.
Burris could be one of the real surprise breakouts of the 2013 season.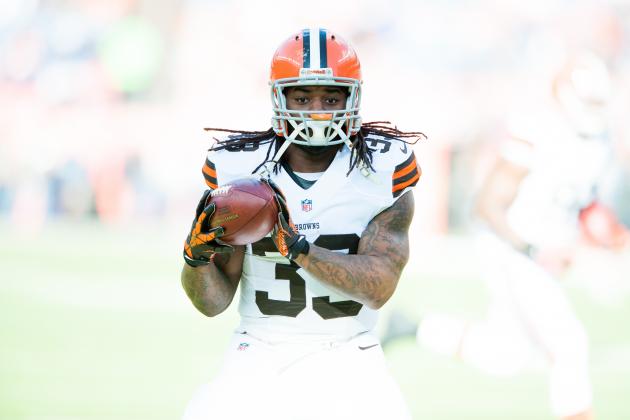 Dustin Bradford/Getty Images

All the talk about Doug Martin and Alfred Morris as the most spectacular rookie running backs that the world has ever seen has meant that much of the attention has skipped over Trent Richardson.
And whilst I'm not for a minute suggesting that Richardson didn't have a very strong 2012, the fact that he will continue to produce those numbers throughout the 2013 season will make people stand up and take notice of him. And that will make him truly impressive in 2013.
Richardson is an explosive running back who is arguably the best offensive weapon that the Cleveland Browns have right now—meaning that he'll get lots of touches and lots of short yardage plays to carry the ball on throughout the next few seasons.
Richardson flew under the radar in 2012 largely because people ignored his brilliance and consistency in favor for the likes of Martin and Morris. Expect the Browns running back to turn the tables on that in 2013 and prove himself to be one of the premier every-down backs in the league.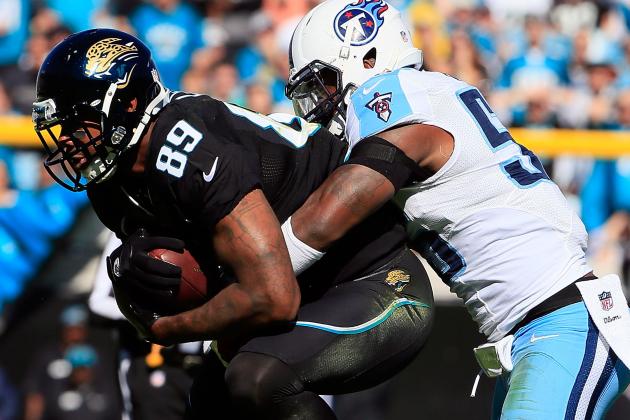 Sam Greenwood/Getty Images

Zach Brown's numbers throughout 2012 for the Tennessee Titans are strong, but they become even more noticeable when you see how many snaps the linebacker has played.
Had he played the entire season, he would certainly have been noticed more than he has because his numbers would have been truly incredible.
On just 750-odd snaps this year, Brown recorded five sacks, 66 tackles and 35 stops—numbers that rank him amongst some of the best players on this Titans roster.
You'd have to think that Brown would get more playing next year following his very strong performances for the Titans—meaning that his numbers will rise and he'll become somewhat of a breakout star.
Theoretically speaking, anyway.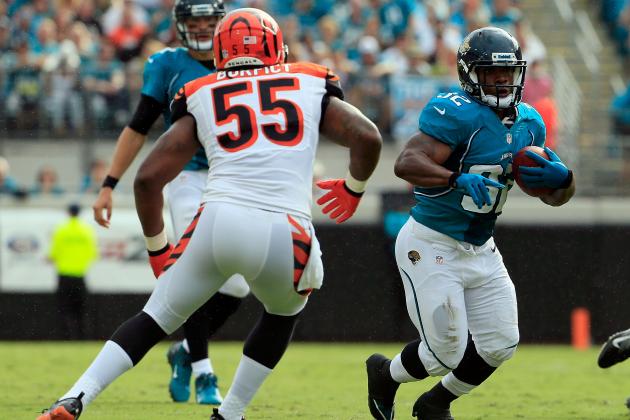 Sam Greenwood/Getty Images

Vontaze Burfict, to me, was nearly one of the best rookies all season long, for the constant pressure and involvement that be brought to the Cincinnati Bengals defense.
He was active, he was physical and he chalked up very strong numbers—yet nobody is seemingly talking about him as one of the stars in 2012. He has simply flown below the radar.
We're talking about a guy here who was part of a playoff defense—chalking up the second-highest amount of tackles in his debut year in the NFL with a mammoth 89.
The linebacker accounted for the third-most stops on this Bengals defense as well, and showed great awareness in his first season as to the timing and circumstance of certain plays, and what was needed from him in those individual contexts.
His interception against Tim Tebow was a great example of that.
If the Bengals can once again challenge for that playoff berth they've achieved for two years in a row now and muster up some solid defense again, expect Burfict to start receiving a lot more of the credit.
He has been strong and talented, and in his first year in the league, has shown that there is plenty of potential that has still not been reached. Expect Burfict to have an incredible year in 2013, and show why he is one of the best young linebackers in the game.
Which 2012 rookies do you think are set for breakout years in 2013?
Comment below or hit me up on Twitter: Follow @dantalintyre