Kansas City Chiefs 2013 NFL Draft Wish List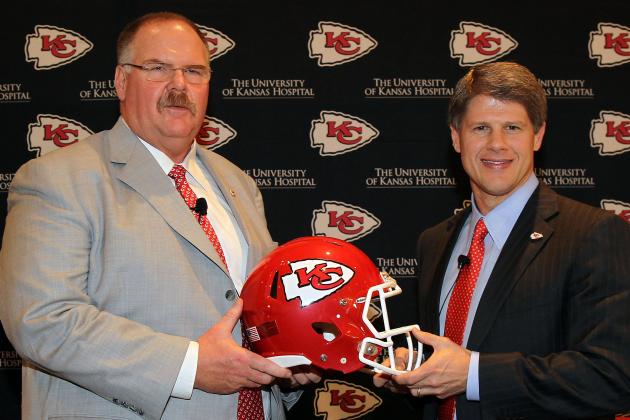 Jamie Squire/Getty Images

The NFL playoffs are down to two teams, as the Baltimore Ravens and San Francisco 49ers will meet in New Orleans for the Super Bowl on February 3. While their agenda is set on winning a championship, the remaining 30 franchises are solely focused on improving enough over the next few months to put themselves in a similar position next season.
The offseason is filled with the hirings and firings of coaching staff and front office personnel, player evaluations and enough number crunching to make a statistician's head spin.
The most attention-grabbing element of the offseason, however, is anything that is related to the looming draft.
From the Senior Bowl, to the combine, to individual and group pro days, and everything in between, April's NFL draft is the climax of the offseason.
For the Kansas City Chiefs, owning the top pick will have everyone in and around the organization on pins and needles in anticipation.
While a 2-14 season would lend itself to the assumption that the Chiefs are in for numerous changes, this franchise honestly isn't too far away in terms of becoming competitive once again.
Kansas City set out to revamp its coaching staff and front office this offseason, replacing head coach Romeo Crennel with former Philadelphia Eagles front man Andy Reid and swapping out general manager Scott Pioli for the Green Bay Packers' John Dorsey.
Though there are some in-house roster decisions to be made—wide receiver Dwayne Bowe, left tackle Branden Albert, defensive lineman Glenn Dorsey and punter Dustin Colquitt among others—the Chiefs will have their hands full with how to approach this year's draft, namely with handling the No. 1 overall pick.
While free agency will offer some aid in filling out the roster, the Chiefs will be looking to add players who can make a solid contribution as soon as 2013. Depth has been an issue in Kansas City recently, making each and every choice critical to reversing this team's fortunes.
Here are the biggest positions of need for the Chiefs and some potential names to look for as the draft approaches.
Begin Slideshow

»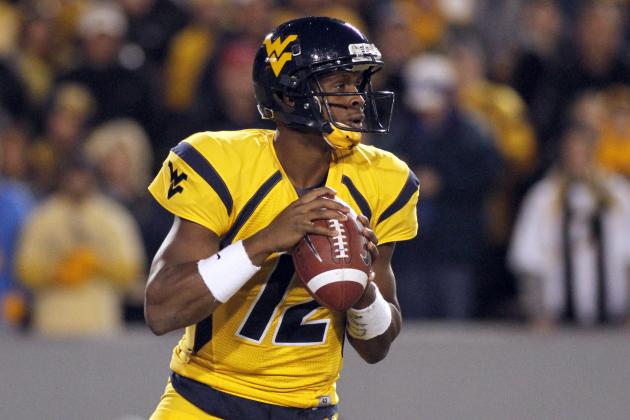 Justin K. Aller/Getty Images

The Kansas City Chiefs have largely steered clear of developing their own quarterback through the draft.
Since taking Todd Blackledge with the seventh pick in 1983, Kansas City has drafted a signal-caller just three times in the top three rounds (Mike Elkins, second round 1989; Matt Blundin, second round 1992; Brodie Croyle, third round 2006).
Poor quarterback play is the main culprit for the Chiefs' abysmal 2012 season. While Matt Cassel is still under contract, it is imperative this team brings in players who are capable of leading this team—preferably at least one through the draft.
While there may not be a clear-cut quarterback available with the top pick, Kansas City must find their guy on Day 1 of the draft.
Look for Geno Smith, Tyler Wilson, Matt Barkley or even Mike Glennon as potential Chiefs come draft day.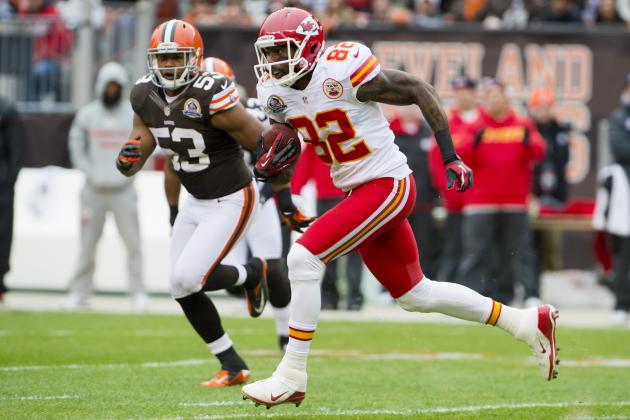 Jason Miller/Getty Images

With Dwayne Bowe's future as a Kansas City Chief up in the air—though the team can place the franchise tag on him again—and 2011 first-round pick Jon Baldwin not quite panning out just yet, wide receiver will be a hot position for this team as the draft approaches.
While there are some big names on the free-agent market—Greg Jennings and Mike Wallace to name a couple—the Chiefs must add depth in a spot that is becoming increasingly more important in this league.
Though the Chiefs have other pressing needs up and down the roster, they should look at wide receiver fairly early in the draft—especially if they aren't able to snag one via free agency.
New head coach Andy Reid will bring his West Coast offense to Kansas City, putting more pressure on this organization to find the right offensive fits at the position.
The Chiefs should be looking at wide receiver in the second or third round. Wideouts that could be available are Tavon Austin, Terrance Williams, Justin Hunter, Markus Wheaton and Quinton Patton among others.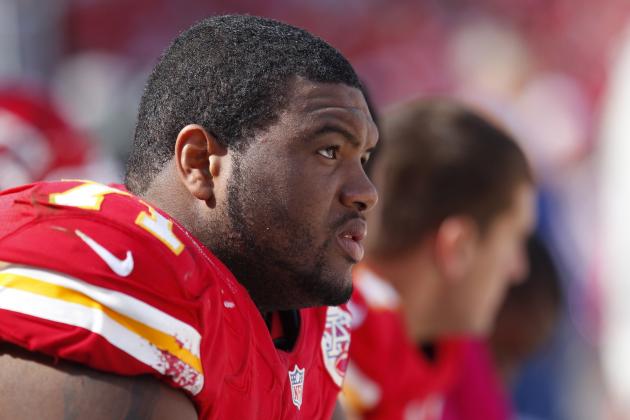 Kyle Rivas/Getty Images

The Kansas City Chiefs expended plenty of effort and money on their offensive line last offseason, signing right tackle Eric Winston and drafting Jeff Allen and Donald Stephenson.
While all three are in the plans for 2013, there is never enough depth in the trenches in the NFL. Look for the Chiefs to continue adding players along the offensive line.
Assuming Kansas City chooses to re-sign Branden Albert to play left tackle, this team will look toward bringing in another building block on the line's interior.
If the Chiefs decide to let Albert walk, left tackle becomes the immediate need and Kansas City could sway that way with the top pick.
As it stands, the Chiefs should still add an interior lineman somewhere in the middle of the draft. Names to look for are Larry Warford, Alvin Bailey, Hugh Thornton and Sam Brenner among others.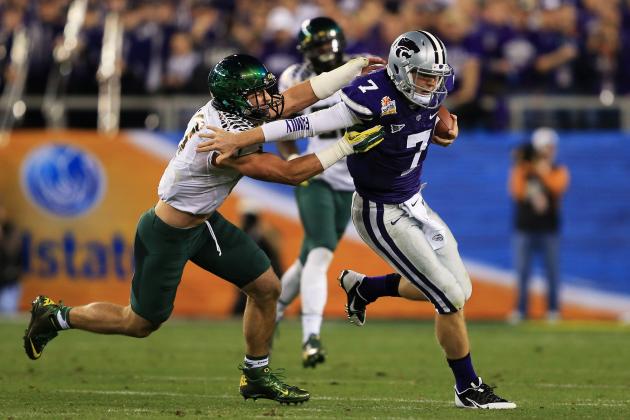 Doug Pensinger/Getty Images

Since moving to the 3-4 defense prior to the 2009 season, the weakest link on the Kansas City Chiefs defense has arguably been at middle linebacker.
The Chiefs never got the chance to draft Luke Kuechly—the top linebacker in last year's draft—who was taken with the ninth pick by the Carolina Panthers.
While Kansas City isn't looking to take an inside linebacker that high this year, it will be imperative this team brings in someone to play alongside Derrick Johnson.
With Johnson, Tamba Hali and Justin Houston manning the other three spots, the Chiefs could look to add a gritty linebacker to balance out the athleticism. Look for names like Jon Bostic, Nico Johnson, Kiko Alonso and A.J. Klein in the middle rounds.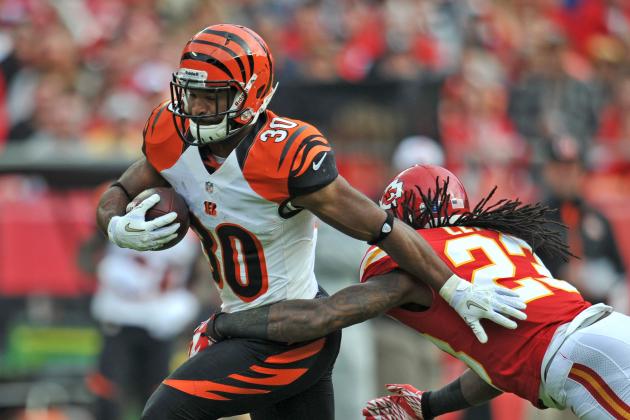 Peter Aiken/Getty Images

While a shoulder injury could be the culprit for free safety Kendrick Lewis' subpar 2012 season, the Kansas City Chiefs should look to add competition and depth to the position in the upcoming draft.
To allow Eric Berry to become a more versatile figure at the strong safety position, it is imperative the Chiefs bring in someone comfortable enough to man the third level all by himself.
This player should have solid cover skills and be able to attack the ball-carrier once past the second level of the defense.
While Kansas City should look longer at other positions, the team might fill the need early leaving a wide range of options at free safety in the draft. Look for Eric Reid, Phillip Thomas, Bacarri Rambo and T.J. McDonald to be talked about in Chiefs camp.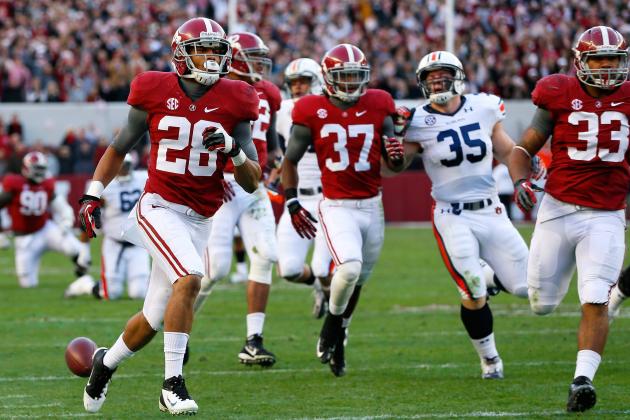 Kevin C. Cox/Getty Images

After allowing cornerback Brandon Carr to leave via free agency and join the Dallas Cowboys last offseason, the Kansas City Chiefs found out just how valuable having a solid player opposite of Brandon Flowers was.
The Chiefs failed with their signing of Stanford Routt, and the jury is still out on both Javier Arenas and Jalil Brown.
Cornerback will be tricky in this draft, but the Chiefs must evaluate this position whenever their turn comes up in any round.
Other than quarterback, Kansas City's greatest position of need might just be at cornerback. Look for the Chiefs to use a high pick on one in April.
Names like Dee Milliner and Xavier Rhodes will be hot, but Johnthan Banks, Jordan Poyer, Desmond Trufant and Logan Ryan could be more likely.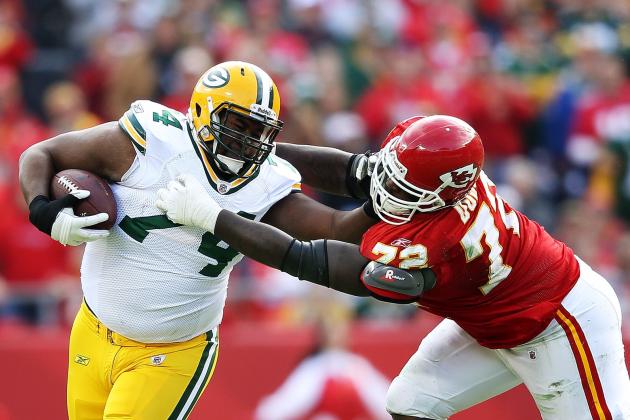 Jamie Squire/Getty Images

Since 2002, the Kansas City Chiefs have selected a defensive lineman with their top pick five times—including Glenn Dorsey in 2008, who is an unrestricted free agent this offseason.
The fanbase may not agree with another top pick being used as such, but there will be a need for a starter and depth should the Chiefs let Dorsey walk (similar to cornerback Brandon Carr last year).
Defensive end is a position that tends to dominate the top of the draft, but the Chiefs have enough other needs to lean other ways in the first round. Look for Kansas City to scour the position early, however.
Names such as Datone Jones, Margus Hunt and Malliciah Goodman could pop up. Should the Chiefs go the route of defensive tackle and shift the defensive line around a bit, look for Akeem Spence, Jordan Hill and Bennie Logan as possibilities.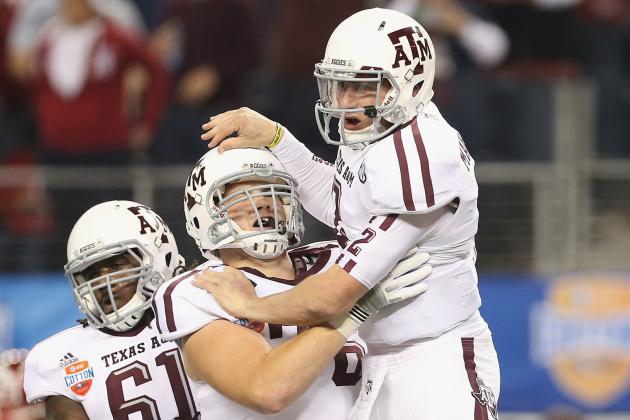 Ronald Martinez/Getty Images

The Kansas City Chiefs are in a peculiar position with this year's draft. They need a quarterback first and foremost, but this isn't 2012 when Andrew Luck and Robert Griffin III tipped the scales at the top.
Secondly, there is no other clear-cut No. 1 prospect just yet, making the Chiefs' decision that much more difficult.
Though there are plenty of players who will draw attention as the draft approaches, the Chiefs best bet is that another team falls in love with a guy and is willing to give up something of value for the top pick.
Kansas City can't scale back too far in the first round, however, as this team does need as many impact players as it can get.
New general manager John Dorsey is a best-available-player type of guy, so it will be interesting to see just what the Chiefs do with the No. 1 pick come April.
Follow Jeremy on Twitter.