Highlighting Some Memorable Peyton Manning Moments of the 2012 Season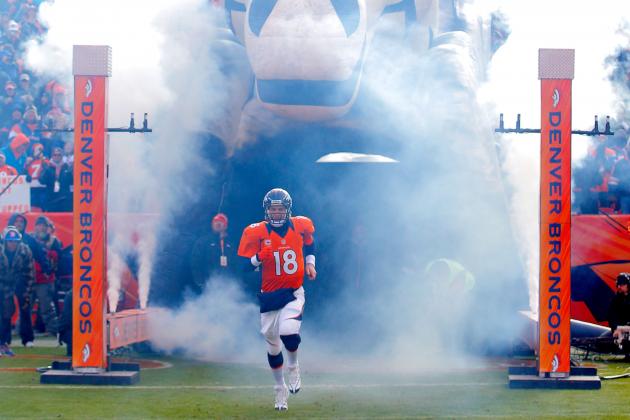 Doug Pensinger/Getty Images

The 2012 season was an incredible ride for Bronco fans, and No. 18 was an enormous part of that journey.
While Peyton Manning was responsible for many standout plays in Denver's 13-3 run in 2012, this article will primarily focus on some memorable incidents that took place off the field for the future Hall of Fame quarterback.
Here's a look at some of those moments.
Begin Slideshow

»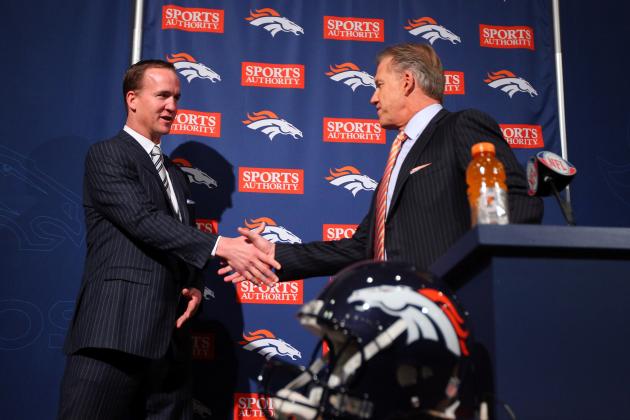 Doug Pensinger/Getty Images

Peyton Manning surprised many in the football world when he decided to take his talents to the Mile High City in March 2012.
After a strong sales pitch by former Broncos quarterback John Elway, Manning inked a $96 million deal with $18 million of that money guaranteed for the 2012 season. At the time, it was somewhat of a gamble based on the question marks surrounding Manning's neck and arm strength.
Despite his age and health concerns, Manning's performance this season was a record-setting one with the Broncos, earning a Pro Bowl nod as well as getting his name on a short list for league MVP honors.
For loyal fans of the Broncos, Manning's choice to finish out his illustrious career in an orange-and-blue jersey was certainly a momentous one and a highlight of the 2012 season.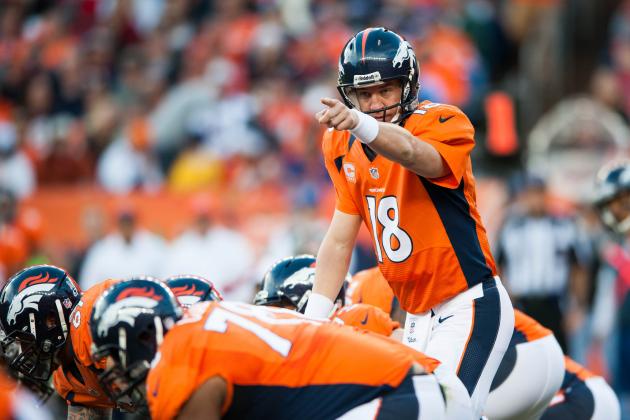 Dustin Bradford/Getty Images

When Peyton Manning talks, Bronco fans listen.
During the Week 13 game against the Tampa Bay Buccaneers, Manning asked the 76,432 people in attendance at Sports Authority Field at Mile High to pipe down and stop doing the wave.
"I'm all for excitement, but in a no-huddle offense, when you are calling something at the line, the quieter the crowd can be, it certainly is helpful," Manning told The Denver Post after the game.
Bronco fans were so excited about having the elite quarterback in town that they forgot about crowd-noise etiquette while on offense.
Not too many signal-callers can get such an immediate response from that big of a crowd; however, Bronco fans complied and took their seats.
Now that's respect.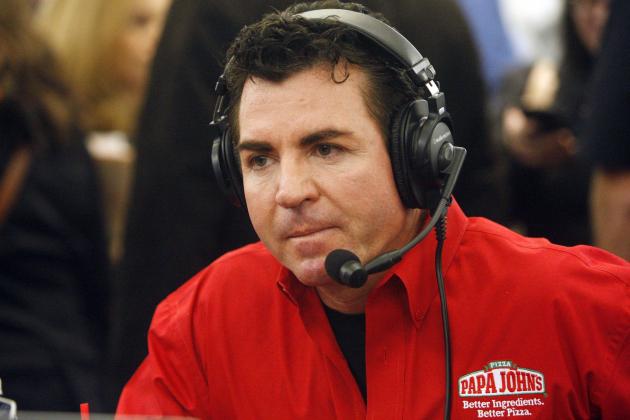 Jerry Lai-USA TODAY Sports

Is it great timing or all part of his master plan that Peyton Manning announced the purchase of 21 Denver area Papa John's franchises just two weeks before Amendment 64 made marijuana legal in the state of Colorado?
After all, Manning does have one of the best football minds to ever play the game.
Either way, Manning's acquisition was a great way to put money into the community and earn him a little dough on the side. "It's a smart investment now and will be long after I'm done playing football," Manning told NBC Sports in October after investing in the pizza chain.
It is exciting for Bronco fans to see the future Hall of Famer planting some roots in town and also assisting with the late-night munchies that may or may not occur as a result of Amendment 64.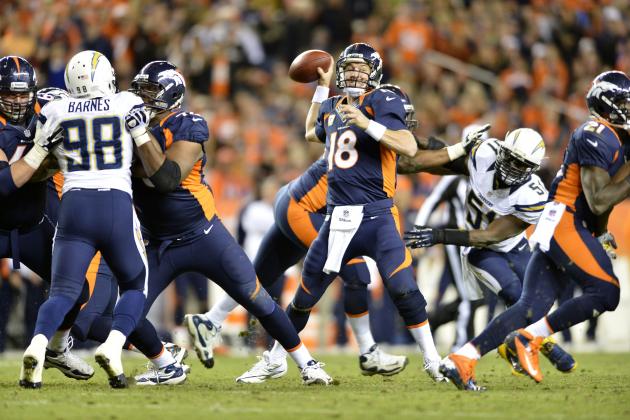 Ron Chenoy-USA TODAY Sports

Peyton Manning had many memorable moments on the field in 2012; however, the Monday night game versus San Diego in Week 6 was arguably the defining moment of the season for the Broncos.
Denver came into that matchup with a 2-3 record and was one game behind San Diego in the AFC West. Heading into the half, the Broncos were down 24-0, being outperformed on both sides of the ball by the Chargers.
Whatever magic happened in the Broncos locker room at the half sparked not only one of the most amazing comebacks in NFL history but also an 11-game win streak to finish out the regular season.
Manning orchestrated the Denver offense to score a total of 35 points in the second half and finished the game with 309 yards and three touchdowns.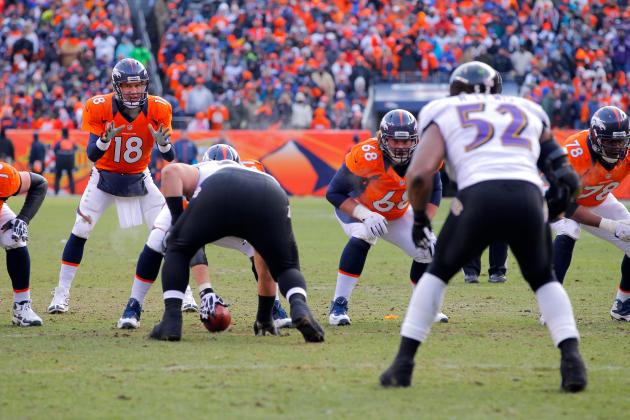 Doug Pensinger/Getty Images

After a heartbreaking loss in double overtime to the Baltimore Ravens in the AFC divisional playoff game, Peyton Manning waited around an extra hour-and-a-half to talk to and congratulate Ray Lewis on their victory.
Ravens' director of PR Chad Steele was there to capture the moment, showing just what a stand-up guy Manning is.
Great moment @ 1.5 hours after the game, Peyton Manning and his family waited to congratulate @raylewis52.com #ravens twitter.com/CSteele32/stat…

— Chad Steele (@CSteele32) January 13, 2013
Even in a tough loss, Peyton Manning showed what a class act he is and what he has brought to the table in Denver.