The Oklahoma City Thunder entered Tuesday night's matchup with the Los Angeles Clippers holding just a half-game advantage at the No. 1 spot over their Western Conference.
They left Staples Center with a resounding 109-97 victory over the Chris Paul-less Clippers (bruised right knee-cap).
Kevin Durant paced the Thunder (33-9) with 32 points, seven rebounds and seven assists. Russell Westbrook added 26 points, and Serge Ibaka finished with 17 points and nine rebounds.
Blake Griffin led the Clippers (32-11) with 31 points and 11 rebounds, but no other player reached 15 points for L.A.
With the win, Oklahoma City cemented its standing as the best team in the Western Conference. The Thunder have all of the elements of a championship contender.
They have the best offensive force in the business in Kevin Durant, a near seven-footer who can score in every conceivable way. He shoots over the top of smaller defenders, beats bigger ones off the dribble and dunks over defenders of all shapes and sizes.
But the reigning three-time scoring champion has continued his evolution from one of the game's best scorers to one of the league's best players.
With the offseason departure of James Harden, Durant's accepted more of the playmaking responsibilities than in years past. He's also bolstered his defensive stock, understanding the obvious advantages afforded to him thanks to his length and athleticism.
Playing the role of ultimate complementary piece is the dynamic Russell Westbrook.
His combination of quickness and athleticism would be hard enough to defend on their own. But when combined with an underappreciated jumper, it leaves one wondering where his offensive numbers could go if not for sharing the floor with the reigning three-time scoring champion.
And he's been one of the league's premier defenders since he first stepped foot on the NBA hardwood in 2008.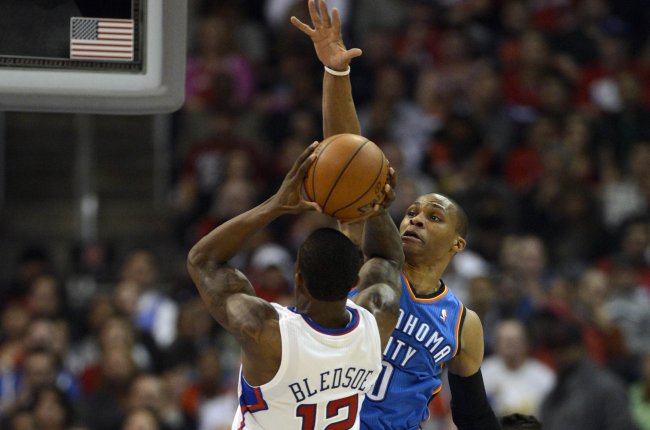 Richard Mackson-USA TODAY Sports
Rounding out Oklahoma City's perimeter is the tenacious defender Thabo Sefolosha. He relies on his instincts and toughness to harass his opposition, often drawing the toughest perimeter assignment. And he's no slouch on the offensive end, either, with a reliable three-point shot (41.2 percent) and a willingness to attack the glass.
Bolstering their perimeter defenders are the intimidating interior presences of Kendrick Perkins and Serge Ibaka. Perkins plays the role of abuser, utilizing each one of his 270 pounds to bully opposing bigs. Ibaka is the shot-blocking threat, possessing the kind of athleticism that no 6'10" power forward should ever have.
And Oklahoma City's defenders just so happen to blend seamlessly into coach Scott Brooks' game plan to stop the prolific Clippers.
Paul is a tough matchup for any defender, but even his shifty handles won't create a lot of separation between he and Westbrook. Not to mention that the natural point guard talents of the former Wake Forest star can be, at times, detrimental to his team. He makes every effort to involve his teammates, despite the fact that he might be the best scorer on the roster.
Thunder vs. Clippers in a 7-game series: Who ya got?
Griffin's still developing as a go-to scoring threat, and his free-throw shooting (64.3 percent) and decision-making (team-high four turnovers in the game) leave plenty to be desired. He's evolving his post offense, but he's been known to back away from the kind of physical play that Brooks employs.
The Clippers' biggest advantage in this matchup lies in their depth. Between Jamal Crawford, Eric Bledsoe, Matt Barnes, Grant Hill and Lamar Odom, coach Vinny Del Negro's bench has more firepower and experience than any other reserve group in the league.
But don't discredit what Thunder coach Scott Brooks holds on his own bench.
The potent Kevin Martin has kept the offense flowing when Durant and Westbrook leave the floor. Nick Collison has made a career off out-hustling his opponents, while Hasheem Thabeet has given this club the shot-blocking presence it used to lack during Ibaka's breathers.
L.A. jump-started its transformation by bolstering its young, developing talent with championship-experienced players (Odom, Barnes, Butler and Chauncey Billups). But its collective success has been largely relegated to the regular season, save for a series victory over the Memphis Grizzlies in the opening round of the 2012 playoffs.
The Thunder, meanwhile, returned a strong contingency of the players who have led this club to back-to-back appearances in the Western Conference Finals. In other words, the Clippers might know that they're capable of winning postseason games, but the Thunder know firsthand that they can win playoff series together.
These teams appear destined for a future meeting in the 2013 Western Conference Finals. And in that potential series, I'm still buying the Thunder.
It's a superstar league, so I'll take the ridiculous star power of Oklahoma City over the depth of Los Angeles.