2012-13 NFL MVP: Adrian Peterson or Peyton Manning?
Andy Lyons/Getty Images
The age-old competition of running back versus quarterback re-emerges as Adrian Peterson and Peyton Manning vie for this season's NFL MVP.
Many names had been tossed around, like Aaron Rodgers of the Green Bay Packers, Tom Brady of the New England Patriots and J.J. Watt of the Houston Texans. However, it is clear that Peterson and Manning are the front-runners.
Both have had incredible seasons, putting their teams back on the map. Both are deserving of the title. Obviously, it's a tight race. Here, we break down what each player has done this season and how that will play into the decision for the award.
Peyton Manning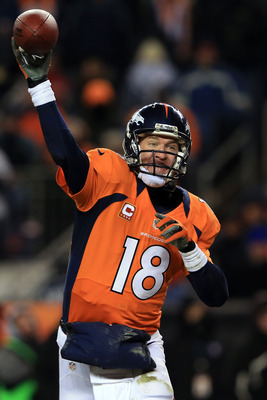 Doug Pensinger/Getty Images
Is there really any doubt that Peyton Manning has restored life into the Denver Broncos?
Though Manning had 37 touchdowns and a 68.6 percent completion rate on the regular season, the Denver Broncos were certainly not predicted to be where they ended up. By the end of the season, however, they were predicted to win the Super Bowl.
While that isn't the case now, it surely does not mean that Peyton Manning has not been one of the league's best players this season.
One of the very reasons he has become a front-runner for MVP is his sheer will to win and his leadership. Manning led his team to the postseason as a No. 1 seed after a preseason ranking at No. 10. If that isn't valuable, then I don't know what is.
Denver ended the regular season 13-3 and went undefeated in the AFC West, which is an incredible turnaround from an 8-8 record in 2011. Many wondered whether or not Manning would be able to adjust well in Denver, especially after leaving the Indianapolis Colts while also recovering from a neck injury. Many counted him out just as they had counted out Denver.
It was clear that Manning thought differently. With his efficiency, maturity and pure respect for the game, Peyton Manning has every shot to win this season's MVP.
Adrian Peterson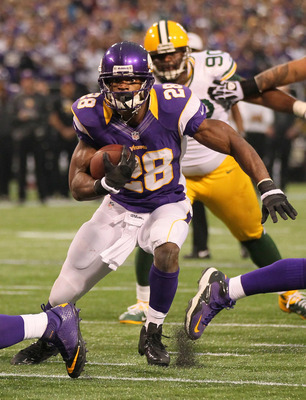 Andy King/Getty Images
Running back Adrian Peterson certainly has had quite a season. It is certain to be one he and the rest of the league will remember.
Peterson too led his team all the way to the playoffs. Perhaps the only difference between him and Manning would be that Peterson was the biggest and possibly the only threat on his team.
The Minnesota Vikings were never thought to be in the position they were in, in the final moments of the season. While Peterson continued to shred through defenses, his team brought him no help.
However, Peterson's strength and beast-like ability to power through defensive lines would have his team right where no one dreamt they would be: in the playoffs.
Coming off of a knee injury that many believed would never allow Peterson to be the same seemed to fuel him as he continued to perform at an incredible level week after week. One blink, and you would miss him. Don't try matching him up to one man; it will take much more than one man to bring him down.
Perhaps the biggest statement for his MVP bid will be the 2,097 yards he earned in the regular season. Coming within only nine yards of Eric Dickerson's record (NINE YARDS), Peterson was clearly making a statement. Even Eric Dickerson himself was closely watching Peterson.
While he didn't break the record, his record for this season is earth-shattering enough. Peterson's unstoppable runs and harrowing strength have made him just as much of a front-runner as Manning.
Running Back vs. Quarterback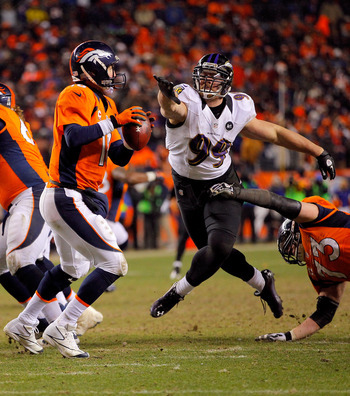 Doug Pensinger/Getty Images
There's no reason why either one does not deserve the honor. Both have represented their teams well during the regular season, putting them in a position that many believed would not happen. Both have improved not only themselves but their teams as well.
It is anyone's race at this point. With the disappointing impression left on fans' minds during the playoffs, it will all come down to the regular season and just what kind of impact Peterson and Manning have had.
Will Adrian Peterson be able to break the iron-grip hold on the MVP award that quarterbacks have had for the past five years? Will Peyton Manning once again take the coveted award, adding to his previous four?
Will the two share the award, especially in light of what has been a remarkable season for both?
We will all just have to wait and see.
Keep Reading