Every MLB Team's Key Player Most Likely to Disappoint This Season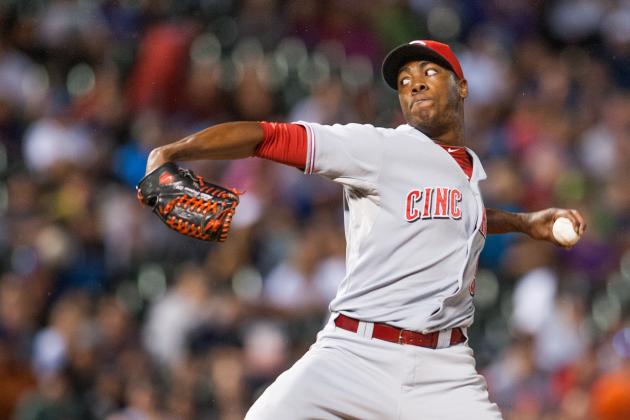 Dustin Bradford/Getty Images

Every spring, there are a handful of players on each team who appear poised for a breakout season, whether they are prospects finally making a big league impact or big league regulars poised to take the next step in their careers.
There is another side to that too, though, as there are players who also find themselves in danger of a disappointing season. Players coming off of breakout seasons who are expected to come back to Earth or free agents whose new contracts have raised expectations both fall into the category as potential disappointments.
So here is a look at the one key player from each MLB team who is most likely to disappoint this coming season.
These selections don't necessarily indicate that I think these players will be disappointments this coming year, but simply that they enter the season in a position where disappointment is a real possibility.
Begin Slideshow

»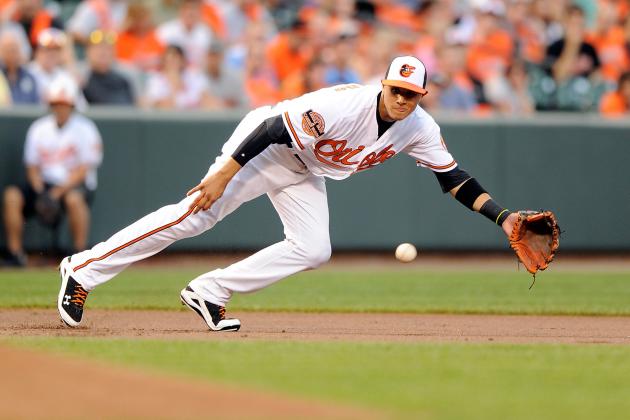 Greg Fiume/Getty Images
Orioles third baseman Manny Machado.
Baltimore Orioles: 3B Manny Machado
Let me preface this by saying that I think Machado is a future star in this league. However, I think the 20-year-old will take some lumps in his first full big league season.
He hit .262 last season with seven home runs and 26 RBI in 191 at-bats, but he walked just nine times for an on-base percentage of just .294. That lack of plate discipline should be expected out of someone as young as he is, but it could be a source of some struggles this coming season.
Boston Red Sox: RF Shane Victorino
A three-year, $39 million contract has left expectations relatively high for Victorino in his first season in Boston. And if last season is any indication, he could have a hard time living up to those expectations.
The 32-year-old posted career-low triple-slash numbers of .255/.321/.383 last season. While he remains a solid power/speed threat, the Red Sox will be counting on him to be a catalyst out of the No. 2 spot in the lineup.
New York Yankees: 3B Alex Rodriguez
At this point, I think it would be a legitimate surprise if Rodriguez didn't disappoint Yankees fans both this coming season and subsequent seasons for the foreseeable future.
Due $114 million over the next five years, along with another $30 million in milestone bonuses, Rodriguez will be a useless drain on the Yankees' payroll if he can't get healthy. He's slated miss the first half of the season after offseason hip surgery.
Tampa Bay Rays: RF Wil Myers
The hype that will accompany Myers when he inevitably debuts with the Rays will be substantial, as he earned Minor League Player of the Year honors last season and also cost Tampa Bay right-handers James Shields and Wade Davis.
As good as he was last season, there are still holes in Myers game, most notably the fact that he struck out 140 times in the minors last season. His strikeout rate is likely to increase in his first taste of big league action, so there could be a significant learning curve for the 22-year-old.
Toronto Blue Jays: SP R.A. Dickey
It's hard to imagine that Dickey's follow-up campaign to his 2012 Cy Young season won't be at least something of a disappointment.
He'll still be the ace of the Blue Jays staff and should be a solid arm to anchor their rotation, but it's hard to imagine Dickey matching last season's production. His second-half line of 8-5, 3.09 ERA, 8.5 K/9 seems like a best-case scenario moving forward.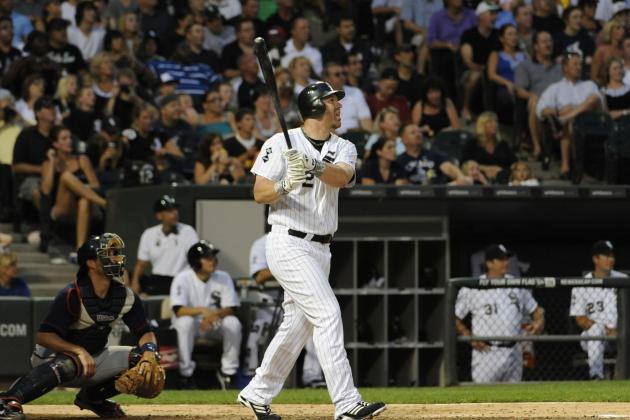 David Banks/Getty Images
White Sox slugger Adam Dunn.
Chicago White Sox: DH Adam Dunn
After ranking as perhaps the worst everyday player in the majors in 2011, Dunn bounced back nicely last season with 41 home runs and 96 RBI.
His ridiculous 222 strikeouts were offset by a league-high 105 walks, and he had a respectable .333 OBP, despite hitting just over .200. His second-half numbers were poor, though, as his OPS dropped 130 points. That is certainly cause for concern entering 2013.
Cleveland Indians: SP Ubaldo Jimenez
Since his breakout 2010 season in which he went 19-8 with a 2.88 ERA, Jimenez has been nothing short of terrible, going 19-30 with a 5.03 ERA.
Last season, he went 9-17 with a 5.40 ERA in his first full season with the Indians. While the team picked up what was a reasonable $5.75 million option to bring him back this season, he appears to be a shell of the pitcher that dominated the league just three years ago.
Detroit Tigers: SP Anibal Sanchez
Nothing like a five-year, $80 million contract to inflate expectations for your No. 4 starter, as that is the money the Tiger shelled out to bring Sanchez back in free agency this winter.
He's a solid starter who should give the Tigers double-digit wins and somewhere in the neighborhood of 200 innings, but he's going to have a tough time proving to be worth $16 million annually.
Kansas City Royals: SP Jeremy Guthrie
Few players did more to boost their free-agent value down the stretch than Guthrie, as he went 5-3 with a 3.16 ERA in 14 starts with the Royals after coming over from the Rockies at the deadline.
That helped overshadow the fact that he was 3-9 with a 6.35 ERA in 19 appearances for the Rockies and was coming off of a league-worst 17-loss season in 2011. His three-year, $25 million contract could wind up being a big mistake for Kansas City if the veteran regresses.
Minnesota Twins: 1B Justin Morneau
Maybe at this point Twins fans have simply accepted the fact that anything you can get out of Morneau is a bonus and can no longer be disappointed by him.
However, for those out there who think he may pull out a solid season in a contract year, it would be wise to temper those expectations. He stayed relatively healthy last season, but hit just .267 with 19 home runs and 77 RBI over 505 at-bats. Another season of those numbers would be a plus at this point in his career.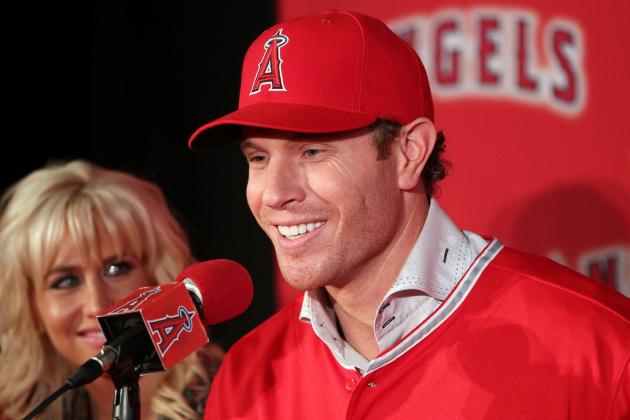 Victor Decolongon/Getty Images
Angles $125 million man Josh Hamilton.
Houston Astros: DH Carlos Pena
It's going to be hard for anyone to be classified as a disappointment in Houston this season, as expectations probably couldn't get any lower this season
The team signed Pena to serve as DH in its inaugural season in the American League and will likely look to flip him at the deadline if he plays well enough to garner interest from contenders. After hitting .197 with a .684 OPS last season, I wouldn't hold my breath on that one.
Los Angeles Angels: RF Josh Hamilton
Hamilton is undoubtedly one of the top sluggers in the game today, and he's coming off of a terrific season in which he launched 43 home runs and drove in 128 runs.
However, given the fact that he's as injury prone as any star player in the league, is leaving the hitter's paradise that is Texas and was given a huge five-year, $125 million contract, there is plenty of opportunity for disappointment in his first season in L.A.
Oakland Athletics: 1B Brandon Moss
Entering the season, Moss was a career journeyman with a .236/.300/.382 triple-slash line and 15 career home runs in 678 at bats. Needless to say, it was a shock to see him hit .291 with 21 home runs in just 265 at bats.
While he'll open the season as the A's cleanup hitter, he'll need to prove his breakout season at 28 years old was no fluke.
Seattle Mariners: SP Danny Hultzen
The second overall pick in the 2011 draft, Hultzen was viewed as the most polished, big league-ready pitcher in the draft and was expected to move quickly.
He was stellar in 13 starts at the Double-A level, going 8-3 with a 1.19 ERA, but struggled with a 5.92 ERA in 12 starts at Triple-A. He'll likely debut at some point this season, but it may not be as smooth a transition to the big leagues as some may expect.
Texas Rangers: DH Lance Berkman
After missing out on Josh Hamilton and Justin Upton, among others, the Rangers clearly hit a point of desperation as far as their offense was concerned when they signed Berkman to a one-year, $10 million deal.
The 36-year-old played in just 32 games last season, and while he is a potential bounce-back candidate, counting on him to hit third in the lineup and be a key run producer is asking a little much at this point in his career.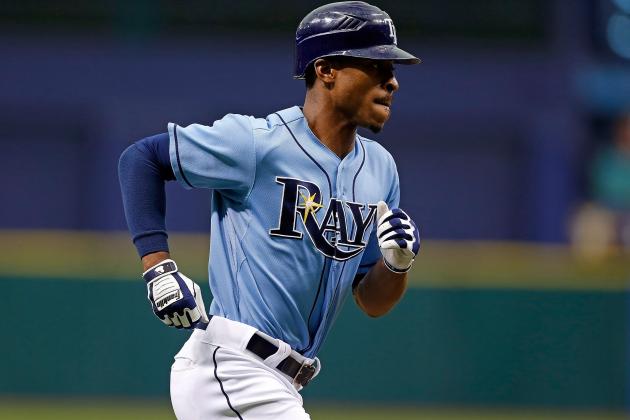 J. Meric/Getty Images
Can B.J. Upton possibly live up to his five-year, $75.25 million deal?
Atlanta Braves: CF B.J. Upton
It's been said to death, but I'll say it here again: The Braves paid for potential, not production, when they signed Upton to a five-year, $75.25 million deal.
The 28-year-old had 28 home runs and 31 steals last season, but he hit just 246 with an unacceptably low .298 on-base percentage thanks to 169 strikeouts.
Miami Marlins: SP Ricky Nolasco
The Marlins are a little thin on star-caliber players after an offseason fire sale, but one veteran who is still around and could find himself under a microscope is Nolasco.
The 30-year-old will be a free agent at season's end, so he's all but assured of being dealt between now and the July deadline. As a result, he'll be frequently brought up in the rumor mill, and his play and trade value could suffer as a result.
New York Mets: C Travis d'Arnaud
While it's never an ideal situation when it comes to a team having to trade the reigning Cy Young winner, the Mets got the most out of trading R.A. Dickey with a solid prospect package from the Blue Jays.
Travis d'Arnaud was the marquee name, as he has the potential to be a franchise catcher and got off to a terrific .333 BA, 16 HR, 52 RBI line through 67 games last season before a season-ending injury. As a result, he'll likely be brought along slowly and may not see the major at all in 2013. Expectations should be tempered, but he has a bright future.
Philadelphia Phillies: CF Ben Revere
The Phillies gave up a good deal to get their center fielder, trading Vance Worley and Trevor May to the Twins for Revere.
The 24-year-old has plus speed and is a good defender, but he has yet to homer in 989 career at bats and has a subpar .319 on-base percentage in three big league seasons. The Phillies expect him to be a catalyst atop the lineup, but he may very well wind up being a bottom-of-the-order hitter.
Washington Nationals: SP Dan Haren
Haren had his $15.5 million option declined by the Angels at the start of the offseason. He went 12-13 with a 4.33 ERA last season after ranking among the best starters in the league for the past several seasons.
The Nationals signed him to a one-year, $13 million deal to replace Edwin Jackson in the rotation. While he could wind up being a major bargain, he could just as easily struggle once again with injuries and ineffectiveness.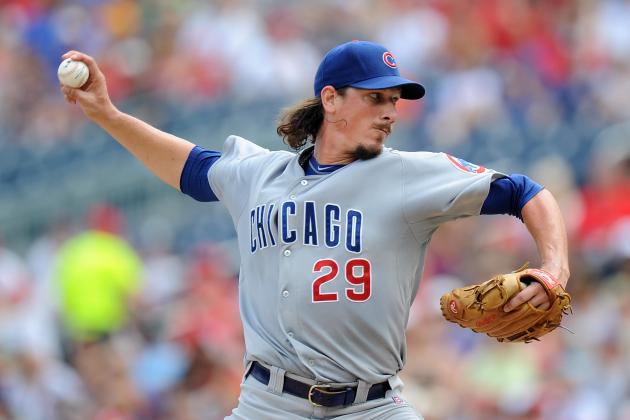 Greg Fiume/Getty Images
Is Jeff Samardzija a future ace or will he regress in 2013?
Chicago Cubs: SP Jeff Samardzija
After four seasons of bouncing between the bullpen and rotation, Samardzija was finally given a rotation spot for an entire season, and he responded by going 9-13 with a 3.81 ERA and 9.3 K/9.
As a result, he will find himself in the role of future staff ace in the Cubs' rebuilding efforts if he can duplicate that success in 2013. He has the stuff to fill that role, and this will be an important season for Samardzija's future.
Cincinnati Reds: SP Aroldis Chapman
The move from bullpen to rotation has been a popular one over the past few seasons—one that's offered results ranging from the dominant performance of Chris Sale of the White Sox to the major struggles of Daniel Bard of the Red Sox to the injury-riddled frustrations of Neftali Feliz of the Rangers.
Chapman put up video-game numbers in the closer's role last season, but he'll be moved to the rotation after the team re-signed Jonathan Broxton to close. So which of the three above-mentioned pitchers will Chapman's transition most resemble? Only time will tell.
Milwaukee Brewers: RP John Axford
The Brewers had the worst bullpen in baseball last season. Though they have taken steps to improve it with the additions of Mike Gonzalez, Burke Badenhop and Tom Gorzelanny, the team will once again rely on Axford to close games.
After leading the NL with 46 saves in 2011, Axford posted a 4.67 ERA and went just 35-of-44 on save chances last season. If the bullpen is truly going to turn things around, Axford will need to return to form.
Pittsburgh Pirates: C Russell Martin
Not ones to spend big in free agency, the Pirates signed Martin away from the Yankees with a two-year, $17 million deal.
While he'll be a positive veteran influence on the staff and an offensive upgrade over Rod Barajas, Martin didn't exactly tear the cover off the ball last season (he hit .211), and he could prove to be a major flop.
St. Louis Cardinals: RF Carlos Beltran
Beltran looked like a brilliant signing during the first half of 2012, hitting .296 with 20 home runs and 65 RBI for an impressive .924 OPS. That earned him an All-Star start and helped offset the loss of Albert Pujols.
However, he hit just .236 in the second half, and his OPS plunged to .742, as he was a completely different player after the All-Star break. If he struggles like he did in the second half, that may pave the way for Oscar Taveras to make his big league debut.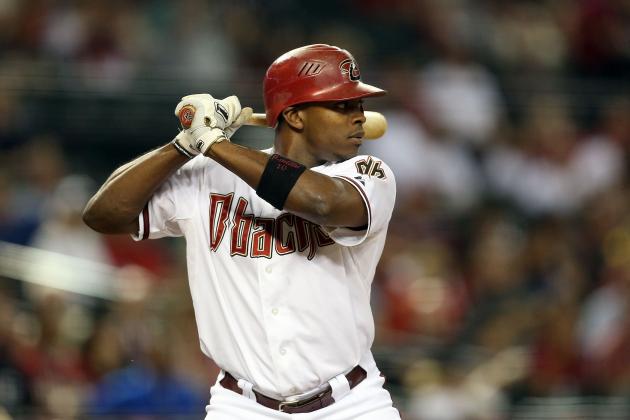 Christian Petersen/Getty Images
Trade rumor magnet Justin Upton.
Arizona Diamondbacks: RF Justin Upton
After an offseason filled with trade rumors, Upton remains in Arizona, and he'll look to get back on track after a disappointing 2012 season.
Though he wasn't traded this offseason, the trade rumors aren't likely to stop any time soon, and that could take a toll on Upton as he looks to get back on the track to superstardom.
Colorado Rockies: SP Jorge De La Rosa
Despite having the worst staff in all of baseball last season, the Rockies have been quiet this offseason on the starting pitching front. They'll count on the returns of Jorge De La Rosa, Jhoulys Chacin and Juan Nicasio to bolster the staff instead.
With a 54-50 record and 4.96 ERA in nine big league seasons, De La Rosa is far from a staff ace. If his return is the best the team can do for improving the staff, it could be another long season in Colorado.
Los Angeles Dodgers: SP Hyun-Jin Ryu
The 25-year-old Ryu has spent the past seven seasons with the Hanwha Eagles of the Korean Baseball League. He has a career line of 98-52 with a 2.80 ERA and 8.8 K/9 during his time with the team.
The Dodgers signed him to a six-year, $36 million deal after paying a $25.7 million posting fee. While he had solid success overseas, Ryu does not have lights-out stuff and will need terrific control to avoid getting shelled in the majors.
San Diego Padres: C Yasmani Grandal
One of the top young catchers in the league, Grandal hit .297/.394/.469 over 192 at-bats last season and looked as though he would step into the everyday catching job in 2013.
Instead, he'll serve a 50-game PED suspension to kick off the 2013 season. One has to wonder how he'll return from that and whether or not he'll be able to pick up where he left off.
San Francisco Giants: 2B Marco Scutaro
A phenomenal deadline pickup and postseason hero, the Giants' re-signing of Scutaro was a no-brainer this offseason. However, the 37-year-old was worth about $10 million less than the three-year, $20 million contract the Giants gave him.
He's not going to hit .362 over a full season like he did in 61 games with the Giants last season, and at his age, he could be in for a steep drop-off at any point over the length of the contract.