NHL Free Agents: 10 Players Eying a Salary Bump This Summer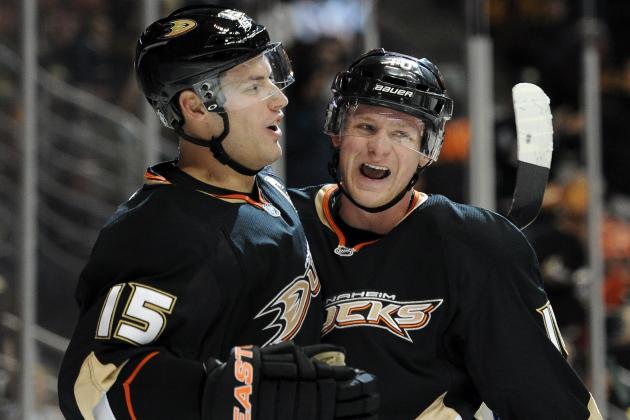 Harry How/Getty Images
Ducks superstars Corey Perry and Ryan Getzlaf.
The 2013 NHL free agency has quite a few interesting names—among them being Anaheim Ducks All-Stars Corey Perry and Ryan Getzlaf. These players, whether restricted or unrestricted free agents, will see a salary bump if their teams would like to re-sign them.
Entry level contracts of some of the NHL's most promising young goaltenders are coming to an end. With that, those players will no longer be bound by the cap placed on entry level contracts.
Certain teams will seek to retain players to maintain either offensive or defensive depth.
Let's take a look at what upcoming free agents will be eying noticeable increase in their salaries.
Begin Slideshow

»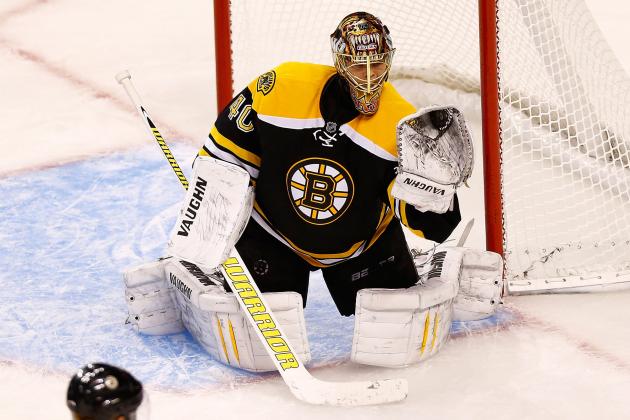 Jared Wickerham/Getty Images
With Tim Thomas taking the season off, Tuukka Rask gets to shine.
Tuukka Rask will be a restricted free agent at the end of the 2013 season.
Rask has been a staple of the Boston Bruins franchise. With Tim Thomas taking this season off, Rask will be the team's premiere goalie in an abbreviated season that will be hard on netminders.
If he can handle this task, the Bruins shouldn't have to think twice about renewing his contract.
If and when he does get re-signed to the Bruins, he should see a modest increase in his pay, which is currently $3.5 million.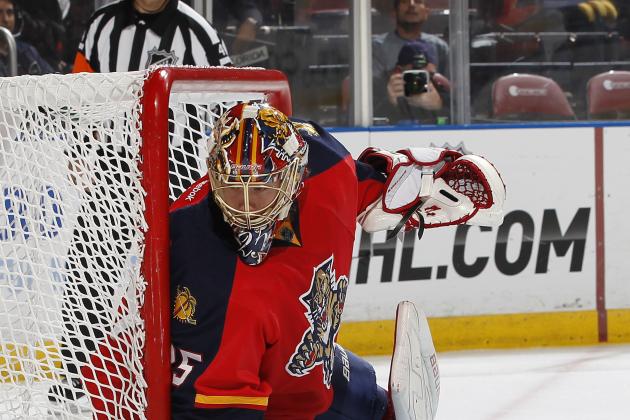 Joel Auerbach/Getty Images
Jacob Markstrom is another young goalie definitely eyeing a salary increase this summer.
Jacob Markstrom's entry-level contract with the Florida Panthers concludes at the end of this season.
While he hasn't had much chance to showcase his talent at the NHL level, he's been a standout goaltender in the AHL. In the 27 games he's played with the San Antonio Rampage this season, he has a 2.70 goals against average and .917 save percentage.
With the amount of wear 48 games in 99 days can have on an NHL goaltender, there's a chance Markstrom could get to start a few games for the Panthers this season.
Scott Clemmensen and Jose Theodore are 35 and 36 years old, respectively. The Panthers are going to want to hang on to this young goalie, meaning he could definitely see a bump in his $1.3 million salary.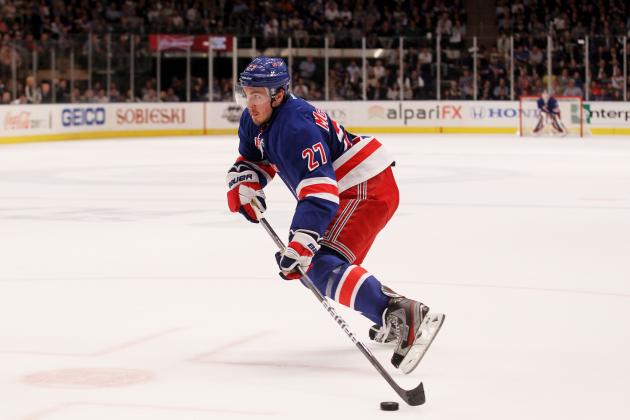 Bruce Bennett/Getty Images
Ryan McDonagh's consistency could be of value to any team, but the Rangers will likely retain this RFA.
Ryan McDonagh is another player with an expiring entry-level contract this season. The New York Rangers will likely throw him some more money to make sure he stays with the team.
The 23-year-old is quickly becoming one of the Rangers' most reliable blueliners. He played a full 82-game season in 2011-12, scoring seven goals and 32 points.
McDonagh still has a lot of upside. As an RFA, the Rangers will likely try to re-sign him before other clubs have the chance to negotiate with him, leading to a nice bump in his current $1.3 million salary.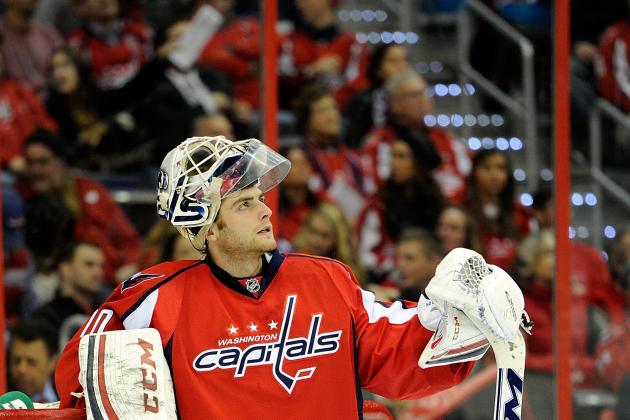 Greg Fiume/Getty Images
This Capitals standout is yet another goalie with an expiring entry level contract.
Yet another soon-to-be RFA with an expiring entry-level contract, the Washington Capitals' standout netminder went from occasional call-up to bona fide starter in the blink of an eye last season.
Holtby's numbers in the 2012 playoffs alone warrant an increase in his salary. He's currently making only $637,777, but excelled with 1.95 GAA and a .935 save percentage in the Capitals' 14 postseason games.
Along with Michal Neuvirth, Holtby is the franchise's goalie for the foreseeable future. That said, he'll probably see one of the greatest salary bumps of all upcoming free agents this season.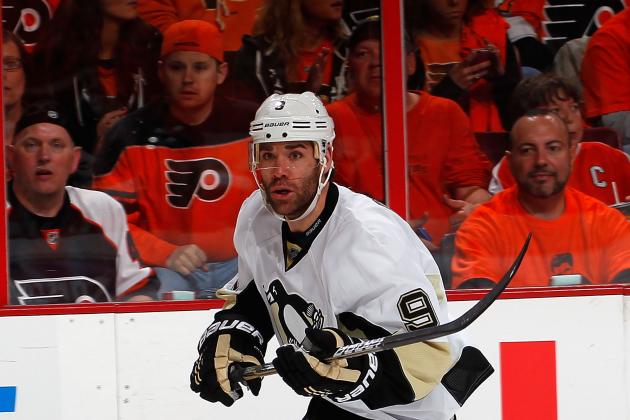 Paul Bereswill/Getty Images
The Penguins will fight to re-sign Pascal Dupuis so as to keep their phenomenal offensive depth.
Pascal Dupuis will enter the offseason as a 34-year-old unrestricted free agent.
After having a career season in 2011-12 with 25 goals and 59 points, the Pittsburgh Penguins have put him in a position for success by pairing him with Chris Kunitz and Sidney Crosby.
If Dupuis can continue to perform at such a high level, he will be a hot free agent. The veteran winger could plausibly fit in with any team on the second line. Some teams may even want to pursue him as a top-line winger.
However, the Penguins will likely attempt to sign him to a more lucrative one-year deal. Having Dupuis on the roster for one more season will take the pressure off of younger wingers like Tyler Kennedy and Beau Bennett.
To sign Dupuis to a one-year contract, however, the Penguins will need to give him a considerable raise. If they really want to maintain their depth for another season while their younger wingers grow, they'll shill out the money.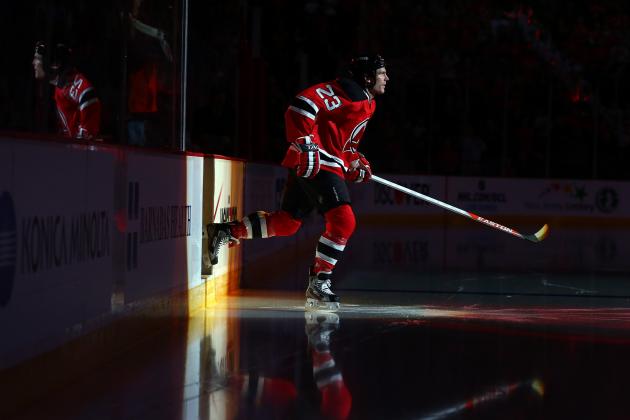 Elsa/Getty Images
The Devils need David Clarkson's goal scoring prowess and will pay to keep it.
When the New Jersey Devils signed David Clarkson to a three-year deal, he was coming off a relatively impressive 32-point season. At the time, that warranted a salary of $2.66 million a year.
Last season, Clarkson shattered his NHL-high of 17 goals in the 2008-09 season by scoring 30 goals in an 80-game campaign.
With former superstar Zach Parise now donning a Minnesota Wild jersey, the Devils will need all the firepower they can get.
At only 28-years-old, the Devils would be wise to bump up Clarkson's salary to closer to $3 million a year and locking him into at least a three-year contract. They can't afford to lose another important goal scorer to free agency.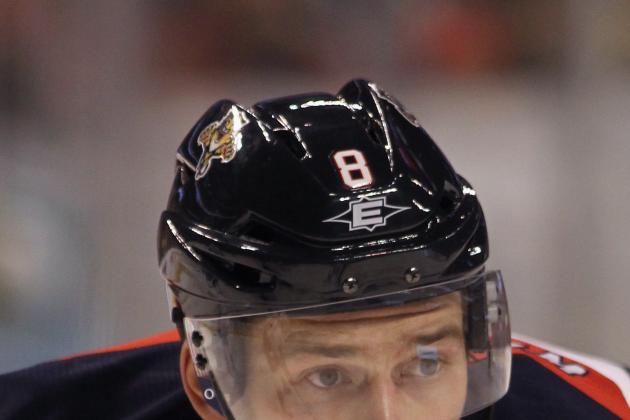 Bruce Bennett/Getty Images
This former Panther is now playing for divisional rivals Washington Capitals.
Wolski was once capable of easily posting 40 points in a season. However, he was tossed around the league like a hot potato.
The Washington Capitals is Wolski's fifth home in two years. If he can click with Adam Oates' offensively-oriented system, he shouldn't have much trouble returning to his former scoring pace.
The 26-year-old winger has a lot of untapped potential as a top-six forward that the Capitals can exploit. If he can prove to be of value for years to come, expect him to see a very nice raise from the $600,000 he's currently being paid.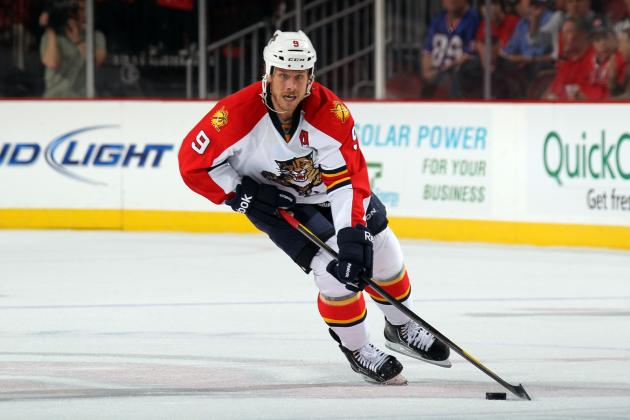 Bruce Bennett/Getty Images
Stephen Weiss is a valuable top-three forward for the Panthers.
Stephen Weiss will be an unrestricted free agent at the end of this season. The 29-year-old center is looking at a nice pay increase if the Florida Panthers want to keep him around.
It's not hard to believe the Panthers wouldn't be willing to do what it takes to keep Weiss. He played an integral role in the Panthers winning the Southeast Division this past season.
CapGeek.com projects the Panthers to have just over $20 million in cap space. This should be more than enough to give Weiss a considerable raise from his current $3.1 million a year contract.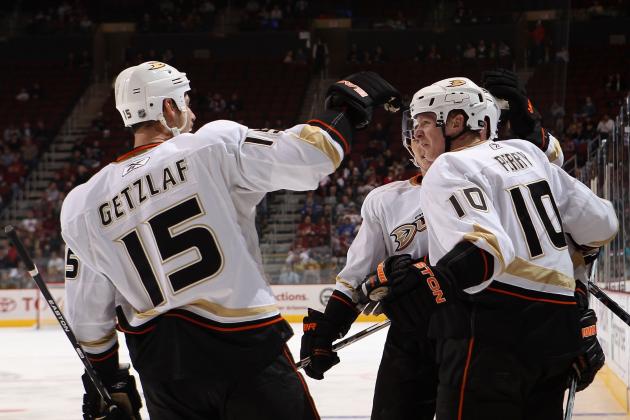 Christian Petersen/Getty Images
Expect the Ducks to use their massive leftover cap space to lock in this successful tandem.
The Anaheim Ducks' top-line center and right winger will be unrestricted free agents this season.
Both 27-year-old superstars are making $5.33 million a season. The Ducks will need to give each of them a nice salary bump to keep them around for the future.
The good news is that the Ducks have close to $30 million in projected cap space, according to CapGeek.com.
The Ducks can't afford to lose these two top-tier players if they hope to be contenders in the near future. In addition, with Teemu Selanne likely approaching retirement sooner rather than later, the Ducks would be depleted of star power without Perry and Getzlaf.
If one or both of these men sign elsewhere, the salary increase will certainly be even greater.
Michael Prunka is a Bleacher Report Featured Columnist. Stay up to date with him by liking his Facebook page and following him on Twitter.