2013 NFL Mock Draft: Predicting the Entire First Round with Trades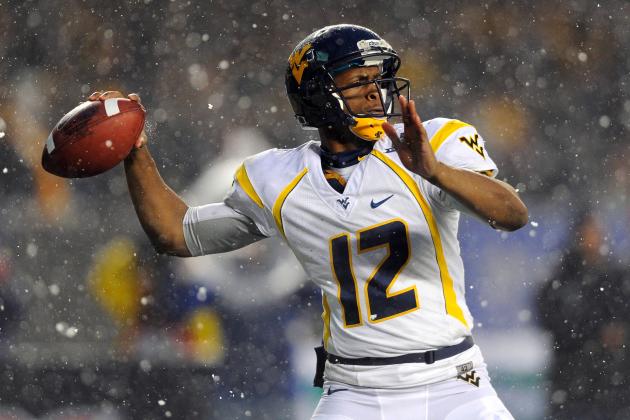 Rich Barnes-USA TODAY Sports

With just the Super Bowl remaining in the 2012 NFL season, all but two teams have officially entered the offseason. And with the offseason comes the 2013 NFL draft. With that comes mock drafts.
Most mock drafts will project each team's players at their given draft slot. This one is a little different, as it features trades.
At this point, it is even more impossible to predict trades than picks themselves, but there is nothing wrong with trying. At the very least, their inclusion makes mock drafts more interesting.
The draft is still a long ways off, but it's never too early to start predicting picks.
Begin Slideshow

»
2012 was a disastrous season for the Chiefs, and it showed beyond a doubt that neither Brady Quinn nor Matt Cassel is the answer at quarterback. In order to win in 2013, Kansas City will need some new blood under center.
Andy Reid is all too aware of the need for a good quarterback, and Geno Smith looks like his guy. Smith, an accurate passer with solid physical ability isn't Andrew Luck, but he is worthy of the No. 1 overall pick.
Smith's pocket presence is outstanding, and he is superb at evading pressure while keeping his eyes downfield. He will need to adjust to an NFL offense, but he's smart enough to start as a rookie.
If Branden Albert leaves in free agency, the Chiefs could target Luke Joeckel. Arkansas quarterback Tyler Wilson is also possible.
Steven Bisig-USA TODAY Sports

Jacksonville's entire team is a mess. Its best options are either to draft a quarterback or the best player available.
Here, they go with the second choice.
Star Lotulelei is among the draft's best prospects and has star potential. The 6'4", 320-pounder is exceptionally powerful and nearly immovable in the run game.
Lotulelei isn't just a run-defender, however. He is also athletic and explosive enough to penetrate the backfield and make plays.
The Jaguars could opt for Tyler Wilson or Mike Glennon at quarterback, and Bjoern Werner remains an option on defense.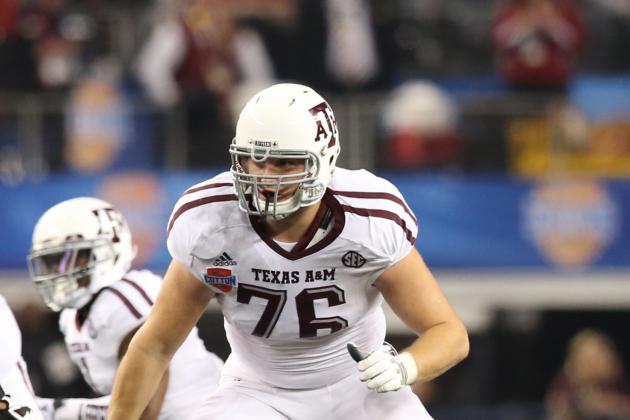 USA TODAY Sports

It's no secret that Arizona's offensive line is among the worst in the NFL. The team has desperately needed help there for years, and it decides to trade up to secure it.
Luke Joeckel is considered by many to be the draft's best player, and given the Cardinals' obvious need, the trade is worth it. If they stand pat, they will miss out on Joeckel and will have to settle for Eric Fisher.
Joeckel is a superb pass-blocker with franchise left-tackle upside. Few linemen possess his combination of athleticism and technique in pass protection.
If Joeckel is available, Arizona will pick him. The question is whether it sees a big enough difference between Joeckel and Fisher to justify the cost.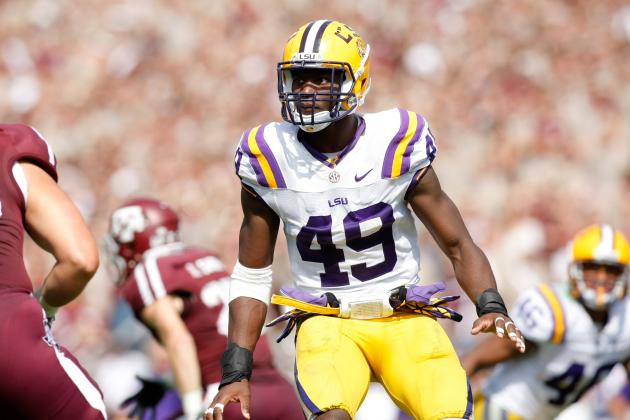 Brett Davis-USA TODAY Sports

Philadelphia misses out on Luke Joeckel, forcing it to switch directions to defense. If the Eagles switch to a 3-4 defense, they will need help at outside linebacker. Even if they don't, their defensive ends could use some bolstering.
Barkevious Mingo is a bit one-dimensional, but his explosive ability puts him in the top five anyway. The 6'5", 240-pounder is more powerful than one might expect for a player of his size, but he is definitely better off in a 3-4 scheme.
Mingo is an excellent athlete with shocking speed and burst. His pass-rushing potential is through the roof, and he could be a star in the NFL.
The Eagles could select Eric Fisher with Joeckel off the board. Another defensive end or even Tyler Wilson is possible as well.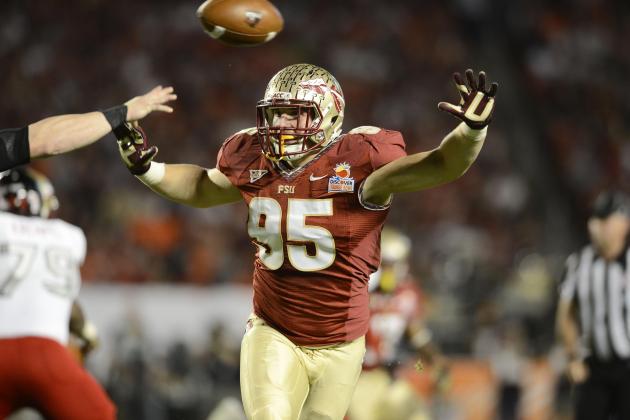 Ron Chenoy-USA TODAY Sports

With Cliff Avril likely out in Detroit, the Lions desperately need a defensive end. The team lacks a single legitimate starter at the position.
Bjoern Werner is an outstanding athlete with excellent burst. His first step is perhaps the best in the draft, and he has the lateral ability to dominate as a pass-rusher.
As a rookie, Werner could rack up double-digit sack numbers. He's just decent against the run, but his pass-rushing ability makes him a potential star.
The Lions could prefer Ezekiel Ansah over Werner, but that seems unlikely given the team's nine-wide defense. This seems like an obvious pick.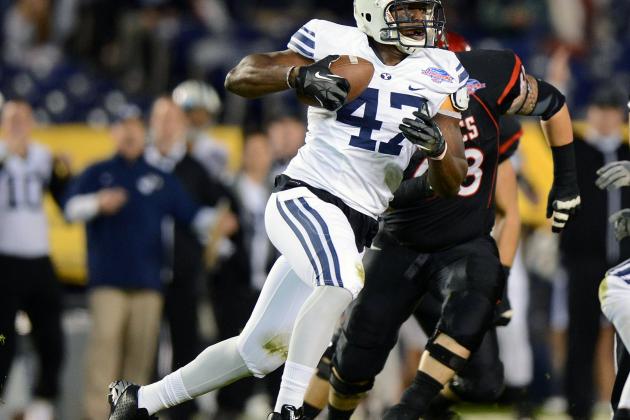 Jake Roth-USA TODAY Sports

The Browns are likely to switch to a 3-4 scheme under new defensive coordinator Ray Horton. If they do so, the they will need to add some pass-rushers. Even if Cleveland doesn't switch, it still needs a defensive end.
Ezekiel Ansah is a fit in either scheme.
Ansah is an outstanding athlete. At 6'6", 270 pounds, he's bigger than the typical outside linebacker, but he has played in that position at BYU and is athletic enough to pull it off.
Ansah is shockingly fast and plays with great power. He excels against the run, though he does need to work on his technique. Ansah's experience at defensive tackle, defensive end and linebacker will prove valuable in a 3-4 or hybrid defense.
The Browns could look to add a cornerback like Dee Milliner to play opposite Joe Haden, and Dion Jordan could fill the same role as Ansah.
USA TODAY Sports

Because of their many holes, the Raiders choose to move back a few picks. Oakland adds a couple of draft picks and still brings in a top-level player.
Oakland's defensive ends are atrocious, and its entire defensive line needs an overhaul. In a draft loaded with defensive-line talent, the Raiders have no choice but to address the issue early.
Damontre Moore isn't an exceptional talent, but his terrific motor overcomes any physical flaws. At 6'4", 250 pounds, Moore is somewhat undersized but plays with surprising strength and power.
In the NFL, Moore has only above-average pass-rushing potential. However, he should be solid in every aspect of the game.
The Raiders could also add Sheldon Richardson to play defensive tackle. If the team doesn't have faith in Carson Palmer, it could select Tyler Wilson or Mike Glennon as well.
Does anyone believe Ryan Fitzpatrick is the answer in Buffalo? The Bills need a new quarterback, and they have options.
At 6'6", 232 pounds, Mike Glennon has terrific size and excellent arm strength, but he isn't mobile and struggles in the face of pressure.
Mechanically, Glennon is solid. He is talented and has many of the finer parts of playing quarterback down. The end results—especially as they relate to completing passes and not throwing interceptions—aren't always great, however.
There are flaws with Glennon. But the Bills don't have too many other holes, and they need to try something new at quarterback.
Mark Sanchez is awful. Everyone knows this, right?
In order to win, the Jets need to add a quarterback. That's not to say the team is perfect—it's not—but its problems start there.
Many aren't projecting Tyler Wilson to go this high, but he should. The 6'2", 218-pounder is an outstanding athlete with excellent arm strength.
Wilson has as much potential as any quarterback in this draft. He will throw some interceptions, but he will also make plenty of big plays. That's often an underrated aspect of playing quarterback.
New York could still draft a pass-rusher such as Dion Jordan, and it could use help at wide receiver, too.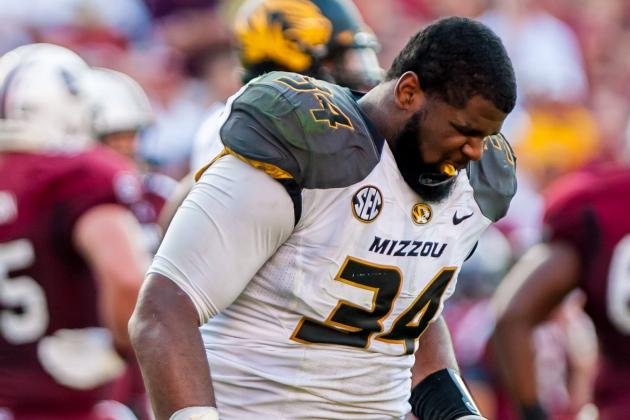 Jeff Blake-USA TODAY Sports

Tennessee's run defense and pass rush both need help. No player in the draft addresses both problems quite as well as Sheldon Richardson does.
Richardson comes in at 6'4", 295 pounds and, though he primarily plays defensive tackle, can kick outside to end. He is a valuable pass-rusher from either position and could reach double-digit sacks.
Against the run, Richardson explodes off the ball and penetrates the backfield with ease. He isn't overly powerful, but his quickness and athleticism are huge assets.
At this point, Tennessee's options are limited. The team could draft an offensive lineman, but Richardson is clearly its best option.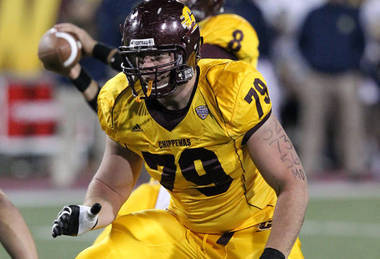 Picture courtesy of Central Michigan
The Chargers have many flaws, but their biggest is along the offensive line. Philip Rivers' struggles have been amplified by the unit's terrible play.
Eric Fisher may not be quite as good as Luke Joeckel is, but he isn't far off. The 6'8", 305-pounder is long and athletic, but needs to add bulk.
Too often, bigger defensive ends overpower Fisher. His height hurts him in that he easily surrenders leverage, and his lack of girth doesn't help, either. On the whole, though, his athletic ability helps him dominate pass-rushers.
San Diego could look to add a wide receiver, given the lack of success from Robert Meachem. If Fisher is available, though, he seems like the easy pick.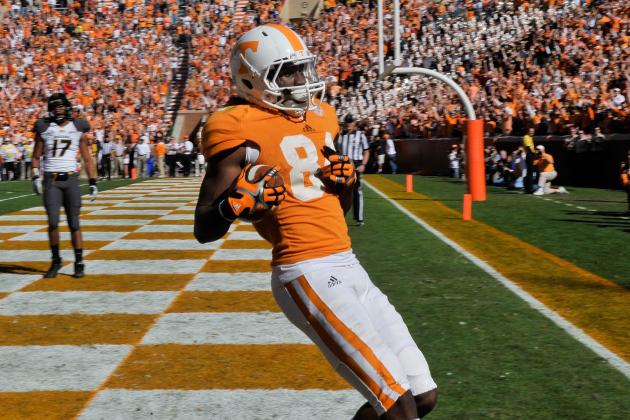 Jim Brown-USA TODAY Sports

With Ryan Tannehill, Brian Hartline and Reggie Bush, the Dolphins have potential on offense. However, they still need to add another weapon.
Cordarrelle Patterson isn't refined, but he has the potential to compensate for it. At 6'3", 205 pounds, he's big and fast. Those are two nice qualities to have at wide receiver.
Patterson won't immediately play at a high level, but with time, he could be incredible. Players with this type of ability aren't found just anywhere.
If Sean Smith leaves in free agency, Miami could look at Dee Milliner. The team would also like to add a defensive end to play opposite Cameron Wake.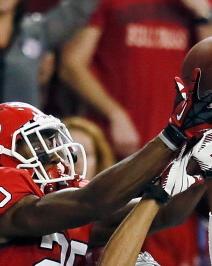 Kevin C. Cox/Getty Images

Tampa Bay's last-ranked pass defense was its biggest flaw in 2012. The problem is easy to find. It's the team's terrible cornerbacks.
Many have projected Dee Milliner as a top-10 pick, but he falls to the Buccaneers here. Milliner is solid in just about every aspect of the game, and he should be a good player in the NFL.
Though Milliner is solid, he doesn't possess elite upside. He lacks the outstanding athletic ability to really become elite given his lack of physical play.
The Buccaneers desperately need a cornerback here. It's difficult to say where they will turn if they are unable to secure Milliner.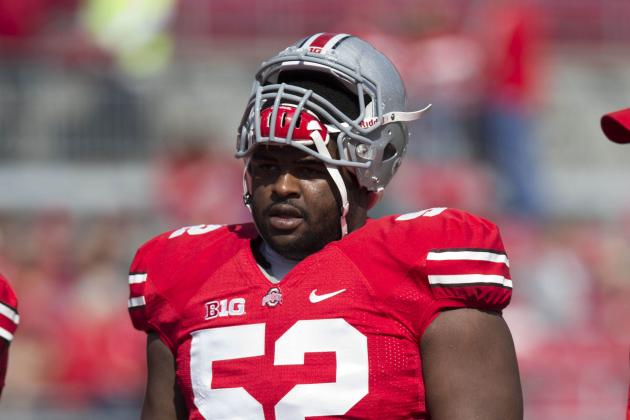 Greg Bartram-USA TODAY Sports

Despite having a terrific linebacking corps featuring Luke Kuechly and Jon Beason, the Panthers run defense was nothing extra in 2012.
The problem? Their awful defensive tackles.
Loaded with potential, Johnathan Hankins can play either 1-tech or 3-tech for Carolina. The 6'3", 322-pounder obviously has great size and is surprisingly athletic.
The biggest problem with Hankins is his lack of a mean streak. He has the talent to be a star, but he needs to play meaner and more passionately.
Carolina could prefer Jesse Williams over Hankins, but it's hard to imagine the team not going with a defensive tackle.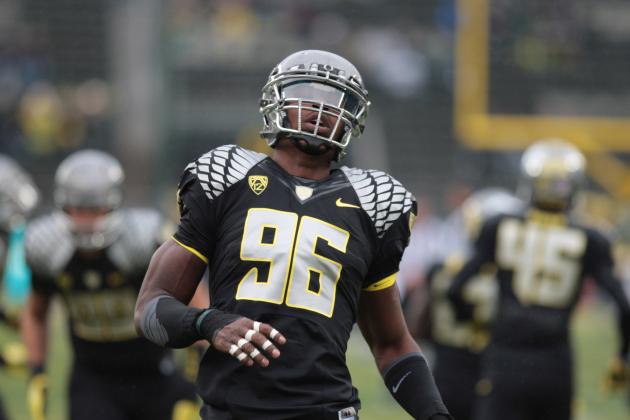 Scott Olmos-USA TODAY Sports

In 2012, New Orleans was No. 31 in pass defense, No. 32 in run defense, No. 32 in overall defense and No. 25 in sacks. In other words, the Saints could use help at just about every level of defense.
Dion Jordan can help.
A brilliant athlete, Jordan is an explosive pass-rusher with the ability to terrorize quarterbacks. However, he is also superb in coverage and can play outside linebacker in a 4-3 scheme despite his 6'6" frame.
Jordan's potential is almost unlimited, and he could help the Saints in a variety of ways. He would immediately make their offense more versatile, dynamic and terrifying.
New Orleans could also opt for defensive tackle Jesse Williams or linebacker Jarvis Jones.
Matthew Emmons-USA TODAY Sports

The Rams offensive line could use some help. In a perfect world, St. Louis would add a franchise tackle here, but there isn't one available. So it settles for a dominant guard.
Chance Warmack is a guard worth settling for, though. The 6'3", 320-pounder plays with power (as the above gut may suggest) and would immediately improve the Rams' run game.
Warmack isn't as athletic as some other guards, but his run-blocking ability is simply incredible. That's not to say Warmack can't play in space or pass block; they just aren't his forte.
St. Louis could still reach for an offensive tackle like Lane Johnson, or it could look to wide receiver, where Keenan Allen is still on the board.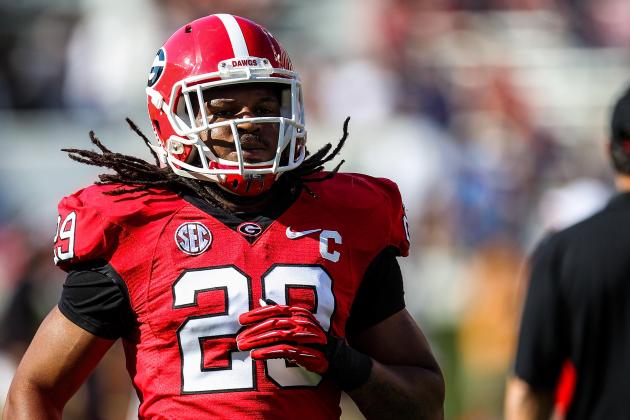 Daniel Shirey-USA TODAY Sports

This is about the perfect pick for the Steelers. James Harrison is likely out in Pittsburgh, and though the team's defense is still at the top of the NFL, it must continue to add youth.
Generally, Pittsburgh prefers short, high-leverage pass-rushers on the outside of its 3-4 defense. Jones stands at just 6'3", with his lack of length often cited as a weakness.
An athletic player with surprising power, Jones has great pass-rushing potential. He isn't Von Miller like many had hoped, but that's not really a fair criticism either. Jones' balance, strength and burst give Dick LeBeau yet another dangerous weapon.
The Steelers could also look at nose tackle, where Jesse Williams is on the board. An inside linebacker such as Arthur Brown, Manti Te'o or Alec Ogletree would make sense as well.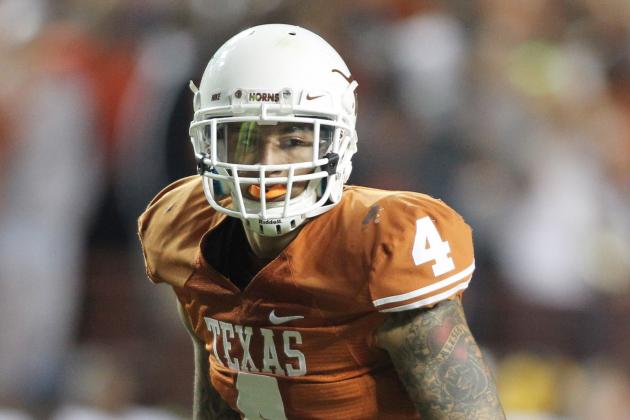 Tim Heitman-USA TODAY Sports

Dallas is switching to a 4-3 defense under Monte Kiffin. It's hard to say how similar his defense will be to the Tampa 2 he is best known for, but he'll be looking for a new safety regardless.
Kenny Vaccaro would certainly be an upgrade for the team. The 6'1", 218-pounder is an excellent athlete with superb coverage ability.
Vaccaro can also defend the run, though. His ability to match up with wide receivers puts him in first-round discussion, but his all-around ability secures his status.
With Anthony Spencer possibly leaving in free agency, the Cowboys could be looking for a defensive end to replace him. A defensive tackle or guard is also possible.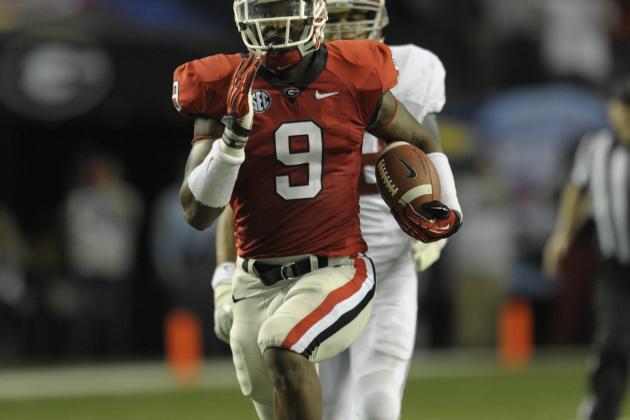 USA TODAY Sports

When a team allows 4.6 yards per carry, it may want to look at upgrading its front seven. That's exactly what the Giants will be doing in the 2013 NFL draft.
Alec Ogletree is a freakish athlete at linebacker. He can rush the passer, play coverage and pursue running backs at a high level. His upside is terrific for a linebacker.
Ogletree's ability to shed blocks isn't great, but he's big and strong enough to improve there. His speed and instincts still make him a good run defender.
The Giants might prefer Arthur Brown or Manti Te'o at linebacker, and they could also add a defensive tackle or defensive end.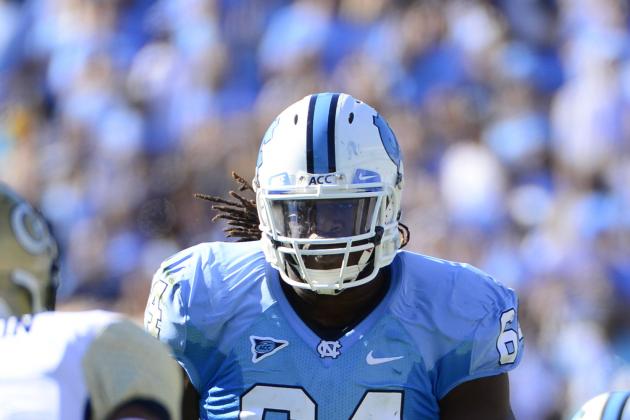 USA TODAY Sports

There is plenty of talent on Chicago's offense, but a porous offensive line seriously hinders the unit. The team's weak efforts to address the line haven't worked, so it must try again.
Jonathan Cooper is a great athlete who excels at the second level. He attacks linebackers and defensive backs, rarely missing his target in the open field.
However, at 6'3" and 295 pounds, Cooper also possesses power. He can play at the point of attack and doesn't have any glaring weaknesses.
The Bears could look at offensive tackle, where D.J. Fluker and Lane Johnson are both on the board. A linebacker such as Manti Te'o or Arthur Brown wouldn't be shocking, either.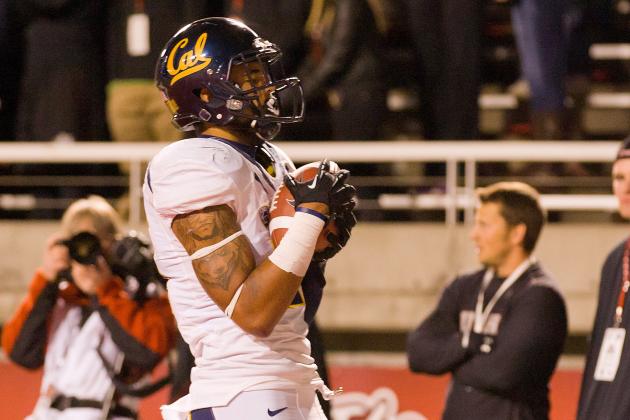 Russ Isabella-USA TODAY Sports

Clearly, A.J. Green is a fantastic wide receiver and a huge weapon for Cincinnati. However, Andy Dalton isn't so good that he can survive with just one weapon at wide receiver.
An excellent athlete, Keenan Allen isn't a great vertical threat, but he compensates in other areas. Allen possesses terrific yard-after-the-catch ability and can run through or around nearly any defensive back.
He has occasionally struggled with drops, but Allen makes some truly incredible catches. Though he doesn't have No. 1 wide receiver upside, Allen should develop into a solid weapon.
The Bengals might also look for a defensive end here. The team could opt for a different wide receiver as well.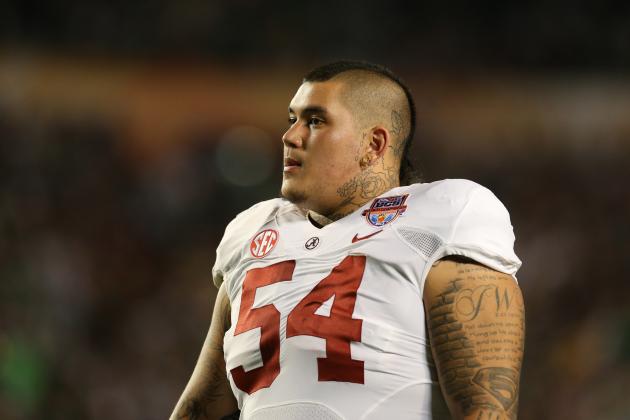 Matthew Emmons-USA TODAY Sports

Denver's run defense was fantastic in 2012. However, its defensive tackles are still awful, and the team's defense could be unbelievable with upgrades there.
Jesse Williams fell too far for the Broncos to not move up. He fits a huge need and is a great talent.
Williams is the type of defensive tackle who doesn't move in the run game. He plays with terrific power and leverage. Just as important, he's too good to fall this far.
Though he isn't a great athlete, Williams can move and will play in the backfield. Don't expect huge sack numbers, though.
The Broncos don't have many other big needs. If a great value falls, they will likely jump at it.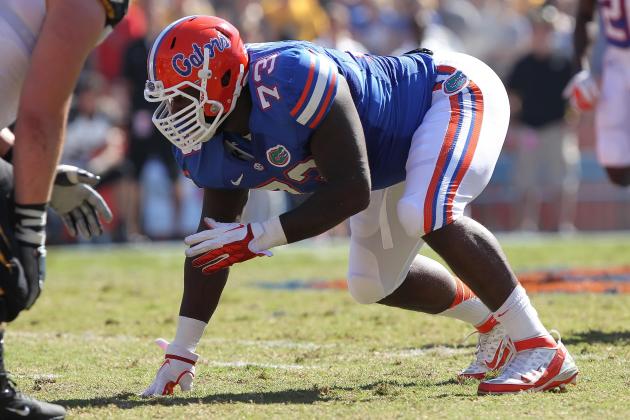 Kim Klement-USA TODAY Sports

Minnesota is far removed from the days of the Williams Wall. Now, the Vikings could actually use some upgrades at defensive tackle.
Sharrif Floyd's best fit is probably in a 3-4 defense, but he is more than capable of playing in a 4-3. The 6'3", 303-pounder is athletic and powerful, so he can play either the 1-tech or 3-tech position.
Floyd isn't exactly a penetrating defensive tackle, but he's explosive enough to make an impact in the backfield. His power and ability to stop the run are also valuable.
The Vikings do need help at wide receiver, especially if Percy Harvin is traded. They could definitely target a wideout here.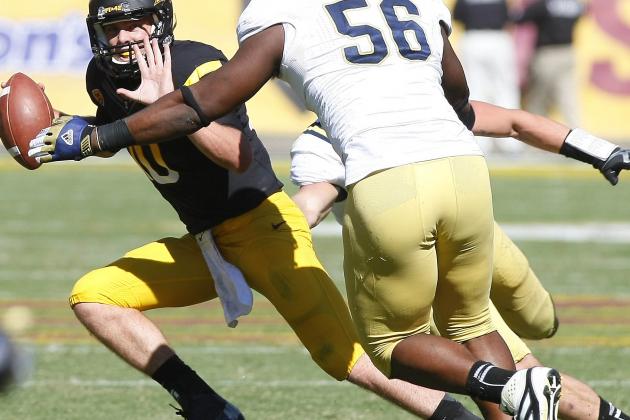 Rick Scuteri-USA TODAY Sports

Indianapolis is still adjusting to the 3-4 defense, and it needs talent along each level of the defense. Perhaps the most concerning unit, however, is its defensive line.
Datone Jones is a legitimate option at defensive end. At 6'4", 280 pounds, Jones will need to bulk up some, but he really isn't much smaller than Smith himself.
Jones is a great athlete with excellent versatility. He is more than capable of rushing the passer or defending the run, and he could prove a valuable weapon down the line.
In Baltimore, Chuck Pagano made use of Pernell McPhee, and in Jones, he could have his new version.
The Colts could look to add Arthur Jones or Manti Te'o at linebacker, and they need help at cornerback as well.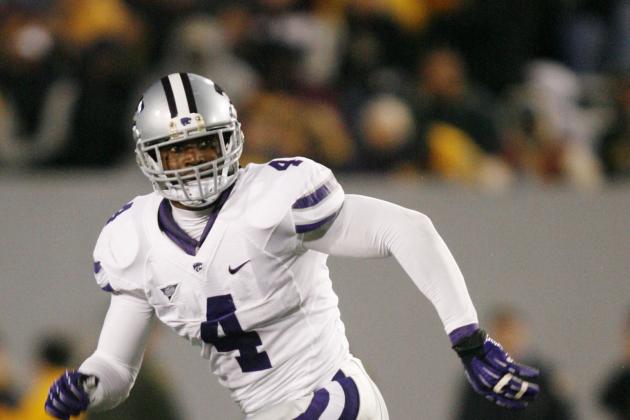 Charles LeClaire-USA TODAY Sports

Baltimore hasn't had great options next to Ray Lewis over the past few years, and with Lewis now retiring, the Ravens need to add an inside linebacker. Arthur Brown is worth trading up for.
Brown's small size would leave many to suggest he struggles against the run, but that is far from the case. In fact, Brown does a great job of shredding blocks, always looking to tackle the ball-carrier.
Brown's speed and instincts make him a frequent presence in the backfield. His playmaking potential is incredible, and he could be a star in Baltimore's defense.
The Ravens don't have many glaring needs, and inside linebacker is probably the team's priority. This is a superb fit.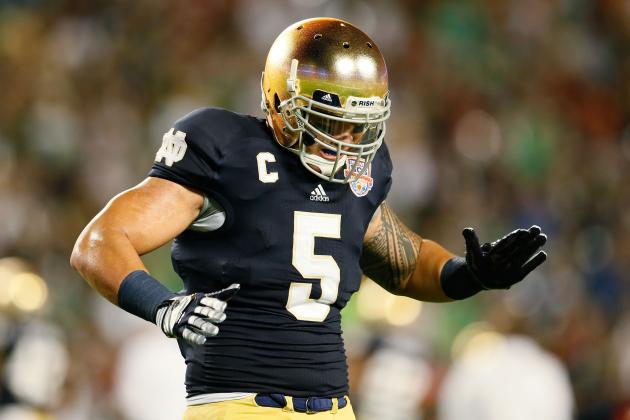 Kevin C. Cox/Getty Images

Green Bay allowed a terrible 4.5 yards per carry in 2012. The Packers have some explosive talent on defense, but the team desperately needs to improve against the run.
Manti Te'o should help there.
The 6'2", 255-pounder plays with power and does a great job of shedding blocks and attacking against the run. He will frequently stop running backs within just a few yards on the line of scrimmage.
Te'o isn't great in coverage, but his ability against the run makes up for it. He would immediately start for the Packers and improve the team's dreadful run defense.
Green Bay's secondary also needs improvement, and either Eric Reid or one of many cornerbacks could help.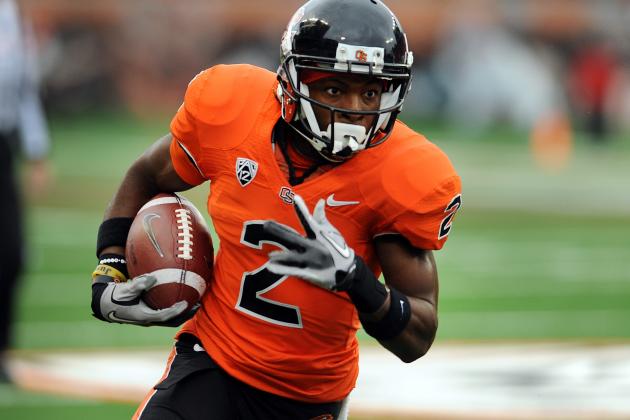 Steve Dykes/Getty Images

Houston has needed a threat opposite Andre Johnson for a few years now. Thus far, the team has made only half-hearted attempts at finding one. That has to change in order for the Texans to make the next step as a team.
At 5'11", 183 pounds, Markus Wheaton is undersized but explosive. He is incredibly quick with the ball in his hands, and his deep speed is fantastic. Few cornerbacks can keep up with him vertically.
Wheaton may not be a complete wide receiver, but he is a legitimate weapon. Defenses will fear him and must account for him at all times. That's what Houston needs.
The Texans could prefer a different wide receiver such as DeAndre Hopkins or Tavon Austin. Houston might look to upgrade at right tackle, where D.J. Fluker and Menelik Watson are available.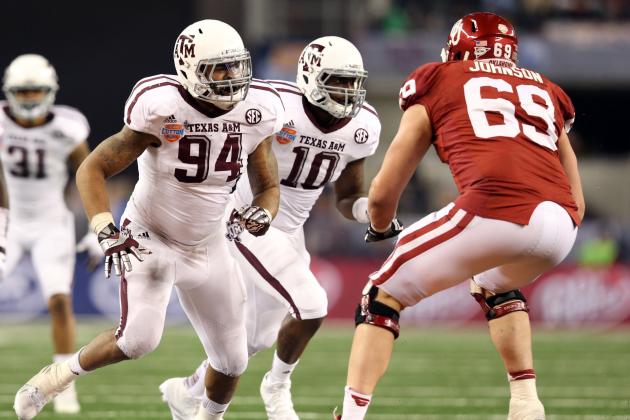 USA TODAY Sports

As was mentioned earlier, St. Louis' offensive line has some problems. So, even after adding Chance Warmack at guard, the Rams go back to the offensive line. The Rams felt like they could address this later than No. 22, so they moved back for a few more picks.
Lane Johnson is an excellent athlete. At 6'6", 302 pounds, he has great length but could stand to add some bulk.
Johnson's quickness makes him a potentially great pass-blocker, but he needs to work on his technique. His lack of power is also concerning.
The Rams could use help at wide receiver, and there are still some legitimate options on the board, though it's hard to say who they would prefer.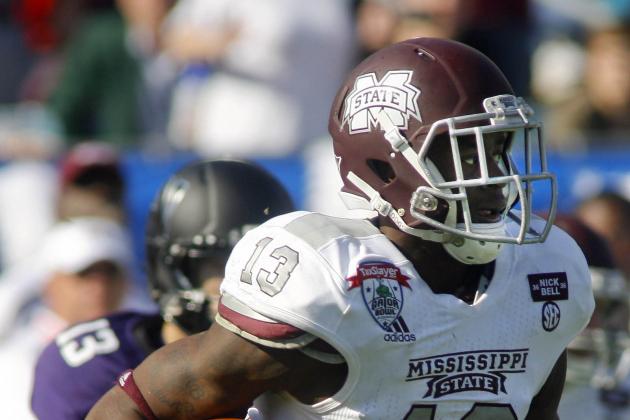 Phil Sears-USA TODAY Sports

New England seems to draft a cornerback every year, and it isn't really working so far. If the Patriots bring back Aqib Talib, they will have one legitimate, though unreliable, starting cornerback. The other spot isn't so certain.
Johnthan Banks is far from a perfect player, but he's talented. The 6'2" cornerback is an impressive athlete with considerable upside moving forward.
Because of his large frame, some have projected Banks to safety, but he's quick enough to remain on the outside. His long arms, athletic ability and ball skills could lead to high interception totals in the future.
The Patriots could go a number of ways here. They could add a wide receiver, a defensive tackle, a linebacker or a safety. And of course, they could trade back.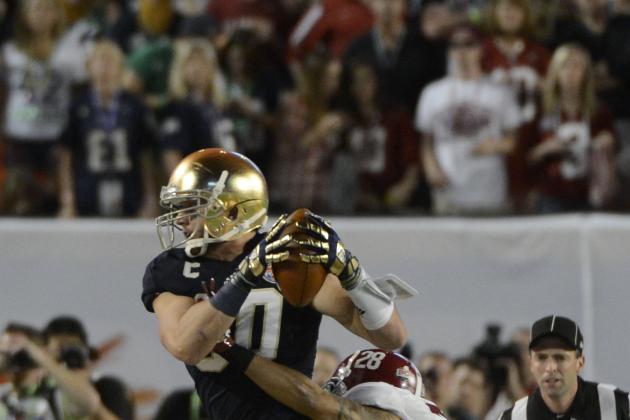 Eileen Blass-USA TODAY Sports

Tony Gonzalez's career just might be over, and Atlanta will need to replace him. The Falcons relied on him as their No. 3 target, and their offense wouldn't be the same without a receiving tight end.
A big body and athletic pass-catcher, Tyler Eifert is a borderline first-round talent worthy of the pick here. He doesn't have elite vertical speed, but the Notre Dame star is more than capable of getting open.
Eifert's size and body control make him a fantastic red-zone target. He can work out of the slot or in tight, and his versatility adds a dimension to Atlanta's offense.
The Falcons could prefer a different tight end such as Zach Ertz or Travis Kelce. Atlanta could also use a defensive end, as the team is incredibly weak there.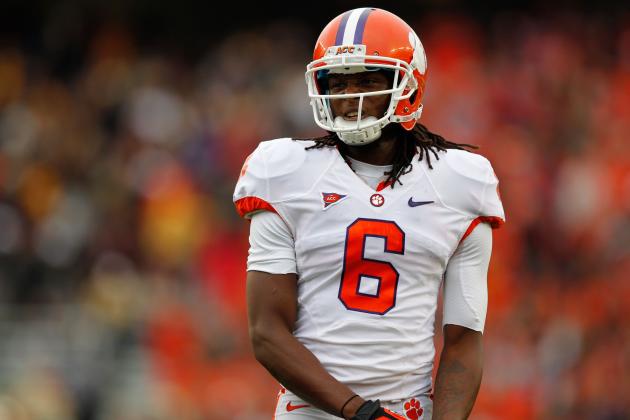 Greg M. Cooper-USA TODAY Sports

Russell Wilson performed brilliantly as a rookie, but the Seahawks offense won't really be elite unless the team adds some more wide receivers. The team isn't overly talented there and could especially use a playmaker.
DeAndre Hopkins is definitely a playmaker.
An explosive athlete with decent size, Hopkins is a legitimate deep threat who is quick enough to gain yards after the catch as well. The Clemson wideout is simply explosive.
Hopkins is just 6'1", which limits his upside some. He still projects as at least a playmaking No. 2 wide receiver, though, and would be a great addition for Seattle.
Seattle really doesn't have many other flaws. It could use an offensive lineman maybe, but it will probably either go best player available or wide receiver.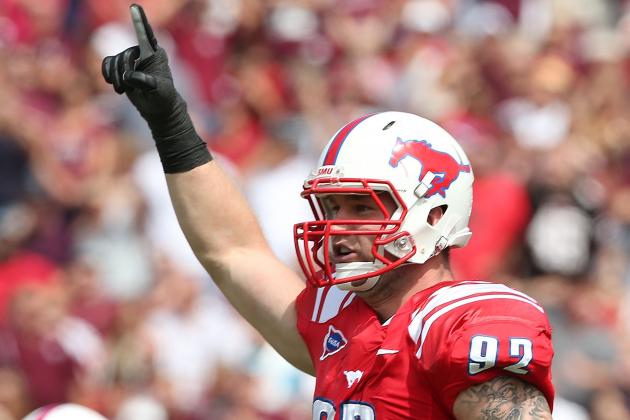 Ronald Martinez/Getty Images

San Francisco's defense is terrific. However, there are some positions that could use upgrades. Defensive end is an issue only because of Justin Smith's age and growing injury problems, but it is a concern.
At about 6'8", 280 pounds, Margus Hunt is full of potential. He will need to bulk up in order to play in a 3-4 defense, but he clearly has the frame to add weight.
Hunt's potential is incredible. He's a former track star and frequently showcases brilliant if unrefined physical ability. He needs work, but the 49ers could get a star out of him.
San Francisco could go with a different defensive lineman such as Kawann Short or Sylvester Williams. The team also needs help at safety and cornerback.