5 Controversial Decisions That Deserve Rematches in 2013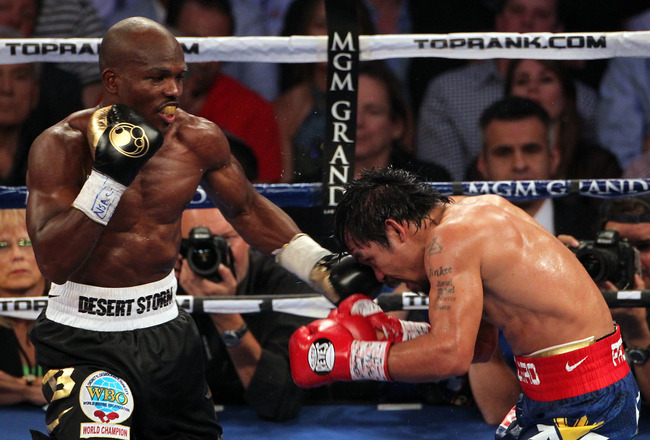 Tim Bradley lost to Manny Pacquiao in the eyes of nearly all observers.
Jeff Bottari/Getty Images
Boxing is unfortunately known for its bad decisions. They happen far too often and harm the image of the sport.
Worse yet is that many of these bad calls never get corrected. Rematches are rare in cases where both fighters aren't big names, so many fighters who get robbed never get a second shot.
In 2012, and even thus far in 2013, boxing gave its fans their share of bad calls, controversial finishes and just awful scoring.
On a more positive note, sometimes fights were just good enough, or close enough, that we would like to see them again.
These are five fights that deserve rematches in the coming year.
Brandon Rios vs. Richard Abril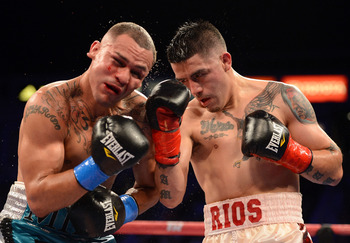 Rios toughed it out against Alvarado but he got a win he didn't deserve over Richard Abril.
Harry How/Getty Images
Brandon "Bam Bam" Rios did a great job of making people forget how bad his 2012 started out when he scored a gutsy knockout of Mike Alvarado in October.
Before that fight he was known for a highly controversial, and in truth ridiculously bad, split-decision win over Richard Abril in April.
The decision made Pacquiao vs. Bradley look reasonable as Rios was lethargic and Abril put forth the best performance of his career in what should've been a winning effort.
It seemed virtually impossible to find more than four rounds to give Rios, but judges Jerry Roth and Glenn Trowbridge went even further.
They somehow, someway found not just four, but seven and eight rounds, respectively, to give "Bam Bam" a ridiculous and undeserved victory. It was so bad that the WBA, who sanctioned the fight, allowed Abril to keep the interim title despite a loss.
Richard Abril deserved to win, and if not, then he at least deserves a rematch—though it's likely he'll end up with neither.
Manny Pacquiao vs. Timothy Bradley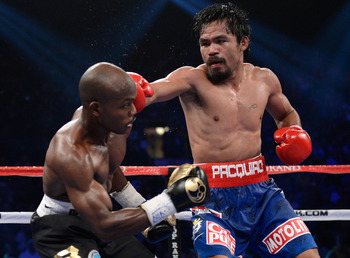 Manny Pacquiao's 2012 did not go well.
Kevork Djansezian/Getty Images
Manny Pacquiao had a rough 2012 inside the boxing ring.
Before being knocked unconscious by rival Juan Manuel Marquez in December, he was the victim of one of the biggest blown calls in recent boxing history.
When the final bell sounded at the end of the 12th round on June 9, it appeared that Pacquiao was on his way to a dominant unanimous decision over a game but outclassed challenger.
Judges Duane Ford and C.J. Ross had other ideas, inexplicably scoring the bout in favor of Bradley.
The decision was widely panned in the boxing media, as well as the mainstream sports press and athletes from boxing and other sports.
In the immediate aftermath, the WBO convened an expert panel of judges to re-score the fight and they unanimously decided in favor of Pacquiao.
With a legitimate and clear loss now on his record, the Pac-Man might be more interested in righting this wrong before seeking a decisive rematch with his rival Marquez.
Peter Quillin vs. Hassan N'Dam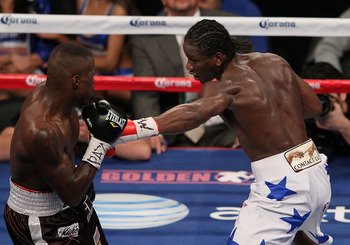 Quillin vs. N'Dam was one of the strangest fights of the year.
Alex Trautwig/Getty Images
Peter Quillin won his first world title in the inaugural boxing card at the Barclays Center on October 20 by defeating WBO champion Hassan N'Dam by decision.
The bout was certainly one of the oddest of the year, with Quillin scoring six knockdowns over the course of the 12-round bout.
You might be thinking, "How could a fight where one guy was dropped six times possibly warrant a rematch?"
The answer is simple. In virtually every round in which he wasn't knocked down, Hassan N'Dam absolutely outboxed Peter Quillin.
You could easily have had a situation where the fighter who won the majority of the round lost the fight. And for his gutsy performance and never-say-die attitude, N'Dam deserves a rematch.
Carl Froch vs. Mikkel Kessler
Froch and Kessler appear on a collision course.
Scott Heavey/Getty Images
The result of the first Carl Froch vs. Mikkel Kessler fight isn't exactly controversial, but it was a very close fight between the best two super middleweights on the planet not named Andre Ward.
With Ward on the shelf for the time being due to shoulder surgery, the 168-pound division is more wide open than it's been in some time. It's a great opportunity to someone to stake their claim as the biggest threat to the reigning champion.
It appears that this is one fight that will definitely come off sometime this year. It's all a matter of negotiations and getting the sanctioning bodies out of the way.
The winner of the rematch would become the unified IBF/WBA super-middleweight champion.
Rocky Martinez vs. Juan Carlos Burgos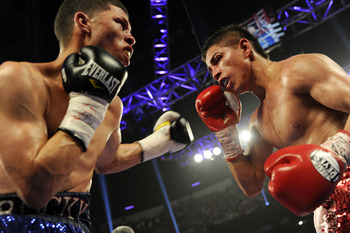 Martinez got a gift draw over Juan Carlos Burgos to start 2013.
Jeff Bottari/Getty Images
Rocky Martinez is a tremendous, all-action warrior. But he did not earn a draw against Juan Carlos Burgos to open the 2013 boxing calendar on HBO's Boxing After Dark on Jan. 19.
Burgos controlled the action for the majority of rounds, outlanding the champion and connecting with the more telling blows.
It seemed as the fight wore on that Martinez couldn't find an answer for the challenger's body attack which he consistently employed from the opening bell.
When the scorecards were read, including the ludicrous 116-112 score in favor of Martinez, there was a stunned disbelief amongst the assembled boxing media and HBO analysts.
Most, if not all, on press row felt Burgos won the bout by anywhere from two to five points and should've won his first world title.
His people have already petitioned the WBO for an immediate rematch, and they deserve it.
Keep Reading