New York Giants: Examining Big Blue's 2013 NFL Draft Wish List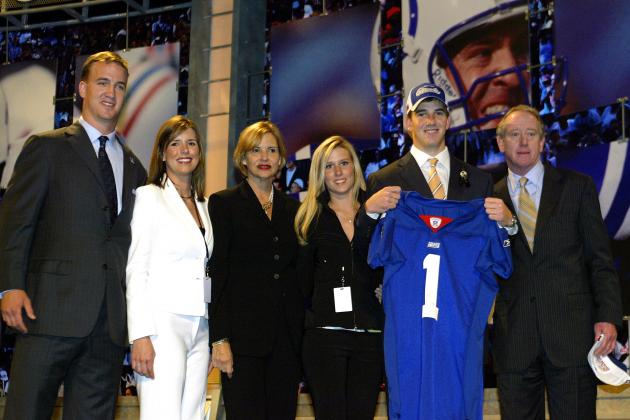 Chris Trotman/Getty Images

Over the next two weeks, most football fans' attention will be on the upcoming Super Bowl.
For many New York Giants fans, their attention is on free agency and the 2013 NFL draft.
A lot of the diehard fans had already been preparing once the second-half skid happened during the month of December and started their wish list for next season.
In this coming April's draft, the Giants will have the 19th pick of the first round.
We've all debated on who the team should go with regarding their first pick, along with all of their other picks.
In this slideshow, we will break down and determine the Giants potential wish list for the upcoming NFL draft in April.
Begin Slideshow

»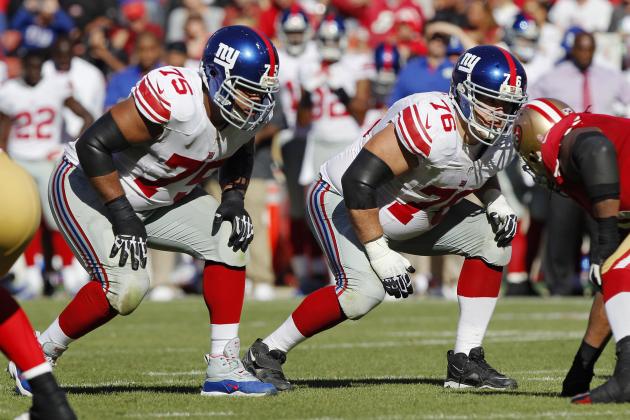 Brian Bahr/Getty Images

The Giants offensive line has gotten old, and it's time to revamp it.
The left side of the line is pending free agency with Will Beatty and Kevin Boothe.
David Baas and Chris Snee are set at the center and right guard positions, but the right tackle position is not set.
I have a feeling David Diehl may be cut this winter, and Sean Locklear is recovering from a broken leg but could be brought back as veteran leadership and depth.
Even if they bring Locklear back, the Giants have to draft someone they can plug into the starting lineup in a year or two.
James Brewer has yet to impress the coaches enough to get the starting job, so I think Giants GM Jerry Reese needs to look towards drafting a right tackle.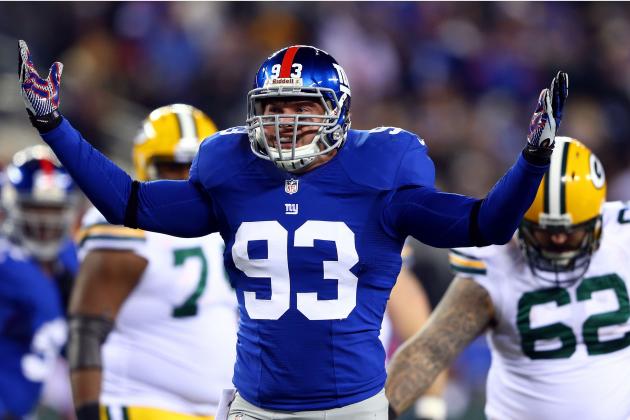 Al Bello/Getty Images

The linebacker situation for the Giants is a cause of concern.
Keith Rivers is a free agent, as is Chase Blackburn.
Michael Boley is also getting up in age and has dealt with injuries in recent time.
Jacquian Williams dealt with injuries all of 2012, and Mark Herzlich was relegated to backup duties behind Blackburn.
Plus, Mathias Kiwanuka may end up be moving back to defensive end with the likely departure of Osi Umenyiora.
What does all that mean? The Giants need help at the position.
I know there is a certain linebacker from Notre Dame that could be an interesting pick, but that topic is for another day.
The last time the Giants drafted linebackers in the first round was Lawrence Taylor back in 1981 and then Carl Banks in 1983, and those moves worked out well for the team.
I don't know if Jerry Reese will use one of his first few picks on a linebacker, but I trust Reese's judgment in evaluating talent.
Hopefully, his knack for finding talent can land him an impact player at linebacker this April.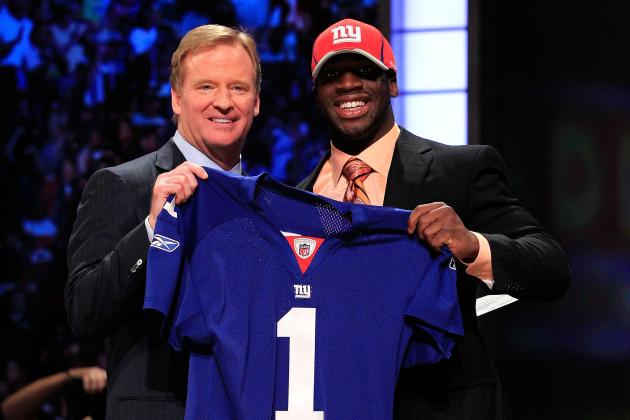 Chris Trotman/Getty Images

Two years ago, the Giants drafted Prince Amukamara with their first-round draft pick.
He's still a work in progress for the Giants, as he has dealt with injuries in his first two years on the team.
The Giants also have to make a decision on Corey Webster, who is in the final year of his contract and is owed a lot of money.
If Webster doesn't take a pay cut, he could be shown the door, which would make the already-thin Giants secondary even more thin.
They also have Jayron Hosley who, like Amukamara, is in his development stages as well.
The secondary was an area where the Giants struggled in during 2012, especially at cornerback.
Terrell Thomas' knee injury didn't help either, and there's a chance that he could be moved to safety if he makes a comeback with the team in 2013.
Michael Coe and Justin Tryon certainly weren't the answers for the team in 2012, and this is an area that has to be addressed in the draft.
The secondary needs help, and don't be surprised if Jerry Reese goes with a corner in one of the first two rounds.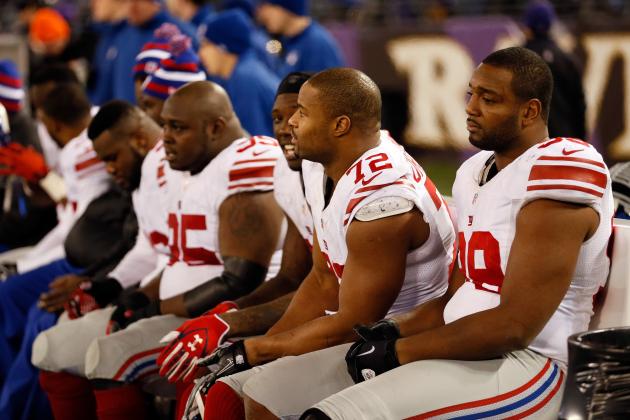 Rob Carr/Getty Images

The strength of the Giants defense is their front four.
For the last couple of years, the group of Jason Pierre-Paul, Justin Tuck, Osi Umenyiora and Mathias Kiwanuka put fear into opposing offensive lines, coaches and quarterbacks.
However, in 2012, the defensive line was an utter disappointment, as JPP had 6.5 sacks, Umenyiora had six sacks, Tuck had four sacks and Kiwanuka also had four sacks.
Normally, this group is in the high teens with their sack totals, and this unit may see some big changes in 2013.
We all know Umenyiora is a free agent and will not be back. Tuck is in the final year of his deal, and I think he needs to have a bounce-back season to save his job.
What the Giants need to do is draft another pass-rusher that can make an impact and get to the quarterback.
The Giants line was always at its best when they rotated in fresh bodies who could cause havoc, and they need to get back to that.
I don't think the Giants would go with a pass-rusher in the first round, but then again, I said the same thing back in 2010 and they drafted JPP.
So what does that tell you?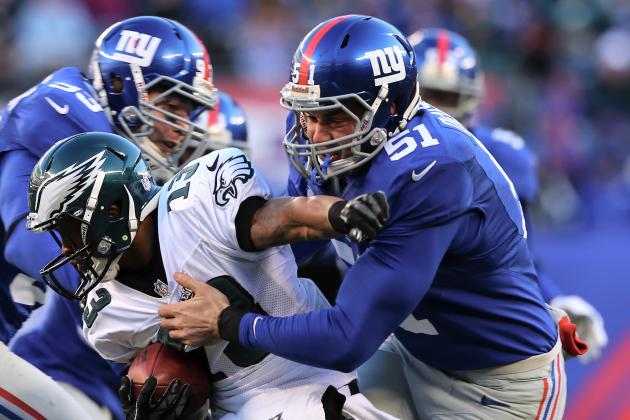 Elsa/Getty Images

A big reason why the Giants have been successful in the past is their role players.
Names like David Tyree, Devin Thomas, Jay Alford and Dave Tollefson have all helped the Giants in one way or another during their time with the team.
All four of those players have moved on, and the Giants need to find players who can not only be solid backups but be called upon to start occasionally.
Zak DeOssie is a good example of being a strong role player, as he not only is just a backup linebacker, but is also the Giants long-snapper on special teams.
Domenik Hixon is another example. Hixon started out as primarily a kick and punt returner and eventually developed into a decent option at wide receiver.
These kinds of players can always be found in the later rounds, but if Jerry Reese can find them in the draft and put them into the lineup for 2013, the Giants will be a much better team going forward.