2013 NFL Draft: Most Rugged Running Backs in This Year's Class
Streeter Lecka/Getty Images
Eddie Lacy is perhaps the toughest back in this year's NFL class.
The 2013 NFL draft class of running backs features a lot of players who can withstand the wear and tear of an NFL running back.
From the bone-crushing hits up the middle to their legs being taken out from under them on the edge, these players are as tough as they come.
Here's a look at the most rugged running backs in this year's class.
Begin Slideshow

»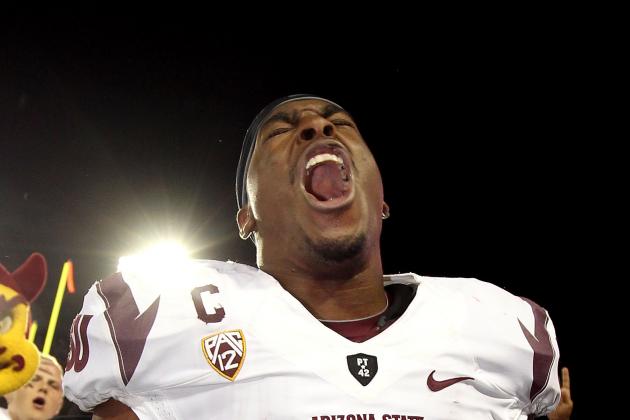 Christian Petersen/Getty Images
Marshall likely won't hear his name called in the draft.
Every year, there are undrafted players who surprise everyone.
The most notable at running back was Arian Foster, who is now one of the best backs in the league.
Cameron Marshall from Arizona State has the ability to be a surprise running back who goes undrafted, too.
What hurt him the most was adjusting to the new offensive scheme run in Tempe. It took him almost half of the season to get going.
Once he did, his stats still weren't eye-popping, but that was due to the system.
When Marshall had the ball in his hands, he was efficient.
Outside of games against Arizona and UCLA, Marshall averaged at least 4.1 yards per carry in the season's final nine games.
He has the ability to be an every-down back in the NFL. He just needs a little more coaching and someone to take a chance on him.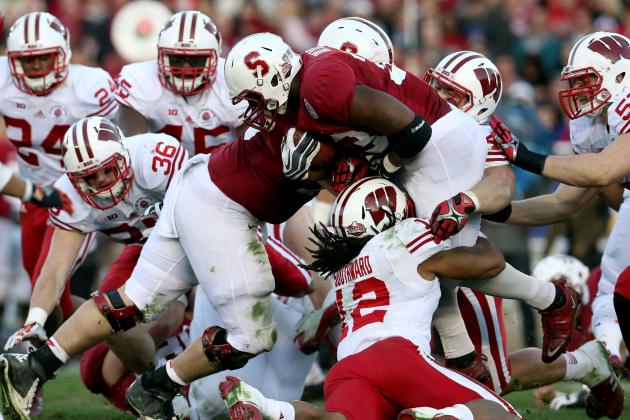 Stephen Dunn/Getty Images
Taylor finally had his time to shine this year.
Stepfan Taylor was a workhorse all through college and he could be a workhorse in the NFL as well.
Although he didn't have the same success in 2012 that he did in previous seasons, Taylor has shown he can run the ball powerfully with consistency.
He ranked fourth in the NCAA in carries (322) and 10th in rushing yards (1,530).
Some team will take him at the beginning of the third day of the draft and will be very happy they did.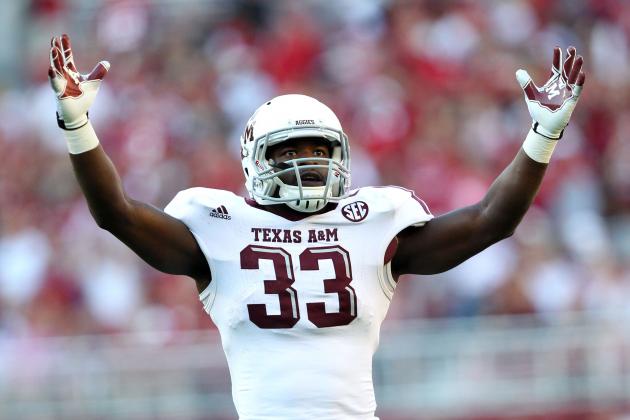 Mike Zarrilli/Getty Images
Michael was lost in the shuffle with Johnny Football under center.
Somewhere along the way, Christine Michael got lost in the shuffle when Johnny Manziel took over at Texas A&M.
Michael had some issues with his attitude, which landed him in Kevin Sumlin's doghouse (via CBS Sports), but he was still able to produce on the goal line.
His 12 touchdowns show he can still find the end zone and some NFL team will find him valuable in those situations as well.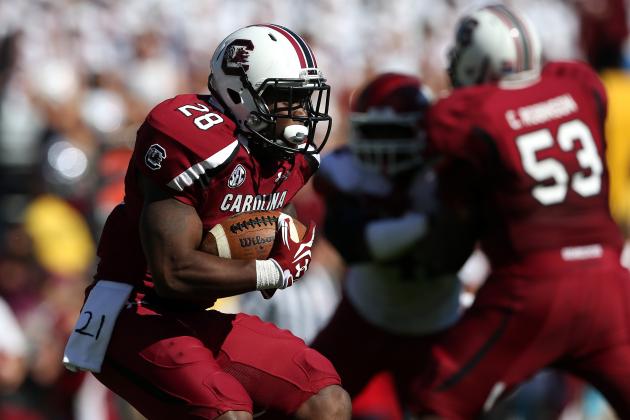 Streeter Lecka/Getty Images
The one knock against Lattimore is his history of injuries.
If it wasn't for Marcus Lattimore's history of injuries, he would be at the top of this list.
However, the fact that he's torn a knee ligament and suffered another knee injury doesn't help his draft stock.
When healthy, Lattimore is one of the most rugged runners in all of the college ranks.
Throughout his three years at South Carolina, he changed the course of games and became the Gamecocks' primary weapon.
In the NFL, he could do the same.
The only question is, what team will take a chance on him and where?
Willis McGahee suffered the same type of setbacks prior to the start of his NFL career, but everything turned out good.
Maybe the same will be true for Lattimore.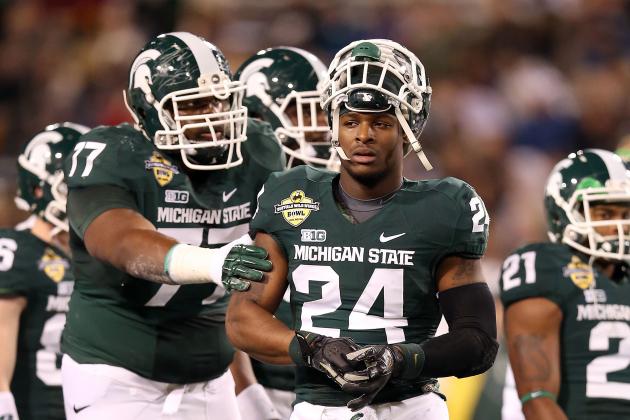 Christian Petersen/Getty Images
Bell has shown great pad level throughout his college career.
When it comes to understanding pad level, there is none better in college than Michigan State's Le'Veon Bell.
Bell has the perfect size, balance and strength to be an NFL running back and he'll have a lot of success.
Where he has trouble is sideline-to-sideline, but in between the tackles he's one of the best.
Bell will never amaze you with blazing speed, but he's a good, consistent runner through the middle.
He's more of a Michael Turner-type back, but with better balance.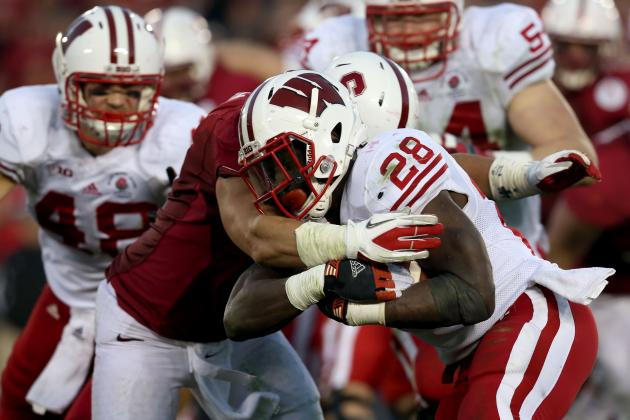 Stephen Dunn/Getty Images
Ball has been one of the best college backs the last two years.
Montee Ball has already had a lot of wear and tear on his body at Wisconsin, but he still has a lot left in him for the NFL.
Ball has been one of the best running backs in college football over the last two years and projects well as an NFL running back.
He benefited from an offensive line that was dominating, helping him gain 3,753 yards over the last two years. Couple that with 55 touchdowns and there's no doubt he can find the end zone.
What lands Ball in the No. 2 spot is what he overcame at the beginning of the season.
He was attacked by three men and sustained a concussion and facial injuries a few weeks before the start of the season.
If that's not rugged, I don't know what is.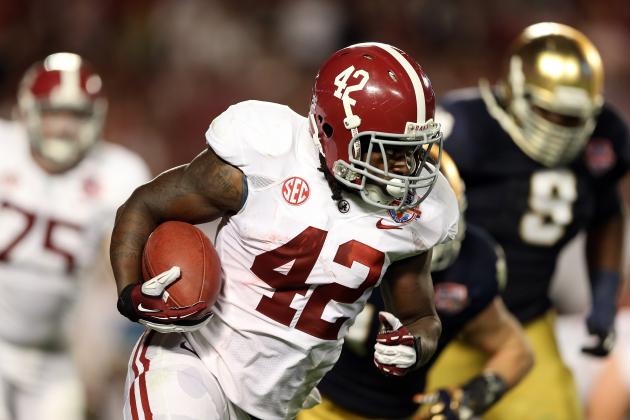 Streeter Lecka/Getty Images
Eddie Lacy is the most rugged back available in this year's draft.
For those who question how rugged Eddie Lacy is, all you have to do is watch some of his highlights.
Throughout the season, Lacy could be seen trucking defenders and throwing them aside like it was nothing.
Lacy stands at 5'10", 220 pounds and could easily bulldoze many NFL linebackers.
While he doesn't have the credentials that former teammate Trent Richardson does, Lacy will still be able to hold his own in the NFL.
He'll likely throw down a linebacker or two as well.