West Virginia Football Recruiting: Mountaineers' National Signing Day Wish List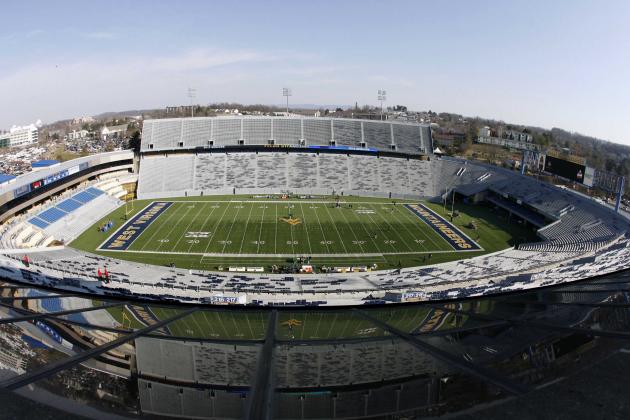 Charles LeClaire-USA TODAY Sports

As you read this, West Virginia's Milan Puskar Stadium is likely sitting relatively empty. Come August, when the recruiting season and offseason practices are over and done, that very same stadium will be brimming with gold- and blue-clad Mountaineer fans—which is a virtual certainty.
The only uncertainty is which student-athletes will be emerging from the tunnel and onto Mountaineer Field.
With the Feb. 6 signing day approaching, the answer to that question is still in up in the air.
The commitments and decommitments of a handful of high school and junior college athletes will provide the answer.
Here's a look at some of the answers WVU will be looking for on national signing day.
Begin Slideshow

»
Shelton Gibson verbally committed to West Virginia on Jan. 16.
However, as we all know, a verbal can mean as little as the "girlfriend" you had in first grade.
Gibson was down to WVU, Ohio State, Kentucky and Tennessee before he chose the Mountaineers.
OSU can never really be counted out with in-state recruits like Gibson. UK, meanwhile, has come on as strong as just about any team in the country late in the recruiting season.
The biggest threat to Gibson's commitment may be Tennessee, though. Gibson paid a visit to UT just two days after his verbal to WVU.
If I had to make a prediction, I'd say Gibson will be in gold and blue next season.
If he stays committed, he'll certainly be one of the crown jewels of this class. So, West Virginia must make sure that happens as signing day approaches.
West Virginia missed out on Florida transfer Jacoby Brissett, who ended up taking his services to North Carolina State.
The Mountaineers are still certainly in the mix for McEvoy, however.
WVU's biggest competitor for the former South Carolina signal-caller is Oregon, which has stayed on him through the coaching change.
The Ducks may be going after him even harder now, though, since newly appointed head coach Mark Helfrich was his recruiter from the start.
Wisconsin has also entered the picture. Evan Flood of 247Sports.com tweeted that the Badgers—still apparently incapable of developing a quarterback the old-fashioned way—would be meeting with McEvoy.
It seems like McEvoy is content to take his time with the recruiting process since he won't be able to enroll until the summer, so WVU might have to wait it out past signing day.
Still, he remains a top target for the Mountaineers, as he could not only add depth under center, but see some playing time as well if Ford Childress falters.
On the surface, it seems unlikely that Denver Kirkland will end up at WVU.
This is a wish list, though.
Kirkland tweeted out his six finalists earlier this month, with a shoutout to the Mountaineers included.
Last But Not Least S/o To WVU THEY BUILDING SOMETHING OVER THERE
— Denver kirkland (@15HARLEM_BOSKI) January 14, 2013
Looking at the other five finalists' tweets, the one for WVU is the longest, with the others just including the teams' nicknames.
I'm no psychologist, so you can rack your brain on that if you feel the need.
When you're finished, just take a look at the Miami native's other five finalists: two SEC schools and three Florida schools.
It's unlikely that Kirkland ends up a Mountaineer, but he would add a lot to an offensive line unit that is a question mark heading into the spring.
" };

Currently a Syracuse commit, Malik Brown is a prospect who has seen his stock boom late in the process.

He has picked up a number of offers recently, including one from West Virginia.
West Virginia just called and offered!!!🏈🏈🏈
— Malik Brown (@brownmalik99) January 19, 2013
Brown seemed pretty thrilled to receive the offer.
While he remains committed to the Orange, it would seem logical that he would shrug off the offer if he was a lock to be at Syracuse.
The Mountaineers really only have one defensive line commit as it stands, unless Darrien Howard makes the transition to the front line.
Regardless, WVU struggled at times to generate a consistent pass rush last season, which put more unnecessary pressure on the already suspect pass defenders.
A talented rusher, Brown has the potential to see the field early, so his addition would be huge for this class.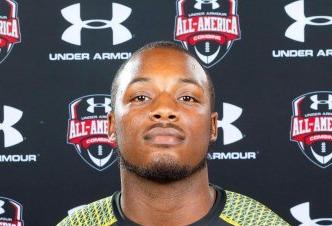 Photo Credit: http://combines.underarmour.com/football/athletes/14658
Paul James has been relatively quiet about his recruitment process, but West Virginia has been considered his leader throughout most of it.
He's a very versatile defensive line prospect, so he should do very well in WVU's versatile front seven.
James, one of the more highly-touted defensive line prospects, carries offers from a number of top programs including Alabama, Tennessee, Florida State and Miami.
Unlike fellow Miami prospects Denver Kirkland and Matthew Thomas, the Mountaineers have an excellent shot at landing James.
With a slot opening up on the defensive line and a thin 2013 defensive line class for West Virginia, he could challenge for playing time as soon as next year.
Additionally, his commitment would help to make up for the loss of De'Asian Richardson and the few JUCO defensive linemen that chose to go elsewhere over WVU.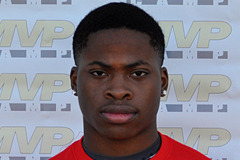 Photo Credit: http://blogs.clarionledger.com/recruiting/2012/12/10/jeremy-tyler-names-top-3/
If you peruse the Twitter feed of Terrell Pinson, who was supposed to be an early enrollee at West Virginia, you'll see a few interesting things.
Higher up on the page, you'll notice a retweeted shot of new WVU running back Dreamius Smith and another picture of what looks like some delicious fish tacos.
Scrolling on down the page, you'll notice that he was a couple of credits shy of qualifying with the NCAA to enroll early at West Virginia and that he may now wind up at Kentucky.
He also isn't listed in the WVU student directory.
The loss of Pinson opens up another safety slot in this class.
Enter, Jeremy Tyler, a prospect who West Virginia has not coincidentally made a late run for.
And according to 247Sports.com, Tyler "fell in love" with WVU when he visited in mid-January.
Tyler may not be a home run haul for the Mountaineers, but he'll do a lot to add depth at the safety position.
West Virginia has been going hard at Marquion Lane for a while now.
Many schools are tabbing him as a wide receiver, but he could also project as a corner.
Considering WVU's needs at that position, that move wouldn't come as a surprise.
However, a 6'2" athletic prospect like Lane may be tough to keep out of the receiving corps.
Regardless of where he ends up, he's a huge target for the Mountaineers.
Lane has been coveted by a number of teams, including Illinois, Arkansas and Florida State and wherever he ends up on the field if he chooses WVU, he'll be an excellent addition to the class.
Cornerback is a big position of need for West Virginia, as last season, nobody seemed eager to step up and show that they can lock down in coverage for the Mountaineers.
That need makes Lamar Robbins (yet another Miami prospect) a priority for the Mountaineers.
Robbins will decide between WVU, Louisville, Oklahoma and Arkansas.
It may be tough for the Mountaineers to pull him away from the three schools that have just about every shade of red covered between them.
However, the Mountaineers are certainly in the mix and he would add a lot to this class.
WVU really doesn't have anyone like him (6'3") at corner and given the wide-open nature of this upcoming season's CB race, Robbins could come in and take one of those jobs right away.
Can the new WVU secondary staff pull in Robbins late in the race?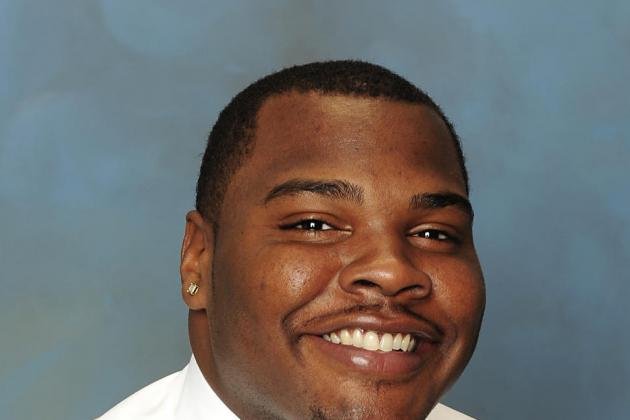 Photo Credit: http://www.mlive.com/sports/flint/index.ssf/2013/01/savage_life_flint_native_diont.html
Earlier in the season, Baylor flipped a WVU offensive line commit, Tyler Edwards.
Now, WVU will have a chance to return the favor.
Dionte Savage is a BU commit, but is slated to visit West Virginia on Feb. 1—just a few days before signing day.
The Mountaineers will have plenty of open and uncertain slots on the offensive line, so there's no question about the need for Savage.
Additionally, at 6'5" 340 pounds, he's already bigger than every current Mountaineer offensive lineman.
Trading Edwards for Savage would be an overall win for WVU.
Now Bill Bedenbaugh and the WVU staff needs to make the deal.