Michigan State Bests Wisconsin for B1G Road Win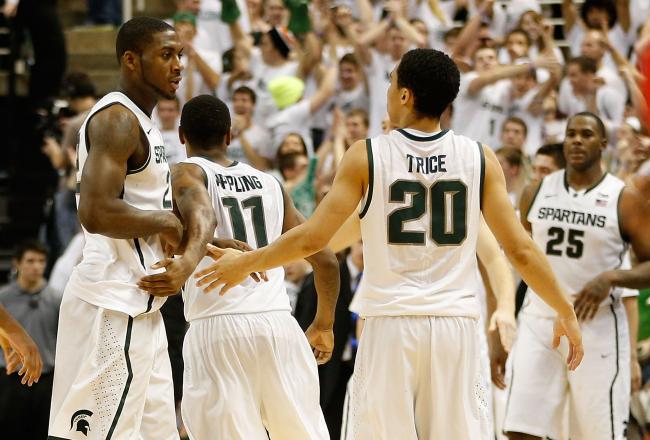 Gregory Shamus/Getty Images
Michigan State 49, Wisconsin 47, FINAL
Wisconsin's arena staff left the lid on the wrong team's basket.
The Badgers struggled to make shots all night, but still nearly pulled out the victory over No. 13 Michigan State at the Kohl Center. Michigan State (17-3, 6-1 Big Ten) hung on for the 49-47 victory, sending UW to its second straight loss.
Wisconsin (13-6, 4-2 Big Ten) shot exactly 29.6 percent from the floor and from three-point range, but most galling was the 7-of-18 display from the free-throw line. Even for a team that came in shooting 62 percent, those figures are ugly.
Michigan State was led by the duo of Branden Dawson and Keith Appling. Dawson manhandled the Badgers for a double-double of 18 points and 13 rebounds. Appling carded 19 points and six rebounds, although he did make only six of his 17 shots.
Mike Bruesewitz led the Badgers with 10 points and seven rebounds. Jared Berggren added nine points and nine boards. Berggren has great cause to be frustrated with his performance, though, as he shot 3-of-10 from the floor and 2-of-8 from the line.
Michigan State travels to Bloomington to face No. 7 Indiana on Sunday, while the Badgers host 12th-ranked Minnesota on Saturday.
ESPN Stats and Info suggests that maybe Tom Izzo's voodoo is stronger than Bo Ryan's voodoo:
Wisconsin is 0-4 vs Michigan State, 39-12 vs others over the last 2 seasons

— ESPN Stats & Info (@ESPNStatsInfo) January 23, 2013
Michigan State blog The Only Colors sums up a night in Wisconsin:
Beating Wisconsin is less like winning a game and more like narrowly avoiding a car spinning out in front of you.

— Heck Dorland (@HeckAtTOC) January 23, 2013
One more from the Free Press's Joe Rexrode. Is he poking fun at Pat Forde's prediction from earlier?
That's a final, and it didn't take the first one to 50 to win. MSU's 2nd straight in Madison. Spartans still alone in 1st. This was big.

— Joe Rexrode (@joerexrode) January 23, 2013
Michigan State 49, Wisconsin 47, FINAL
MSU gets the ball inbounds and manages to get it all the way upcourt, eluding the pesky Badger defenders.
So, yay, no more free throws?
Not the prettiest game ever, especially in the second half. A win at the Kohl Center is precious currency, though, so Michigan State will take it.
Anyone else get the feeling that the last two minutes have taken as long as the entire first half?
Michigan State 49, Wisconsin 47, :03.5 2nd Half
Marshall misses the second free throw so badly that it doesn't even hit the rim, so no scrum for the rebound.
Sparty ball, and let's brace for another trudge down to the opposite foul line.
Michigan State 49, Wisconsin 47, :03.5 2nd Half
UW freshman George Marshall misses the first of two foul shots, and Bo Ryan needs to talk it over.
Looking for a tip-in?
Michigan State 49, Wisconsin 47, :10.2 2nd Half
MSU freshman Gary Harris to the line for a pair. He splits them, despite being a 79-percent shooter.
Wisconsin trying to capitalize on some Kohl Center voodoo and pull one out late.
Michigan State 48, Wisconsin 47, :16.7 2nd Half
MSU's Derrick Nix simply dares the Badgers' Ryan Evans to spot up for a three.
Evans, a 5.6-percent shooter from deep this season (and no, that's not a typo), coolly drains the basket. Of course he does.
Michigan State 47, Wisconsin 44, 2:09 2nd Half
No field goals in more than four minutes. Evans hammers Dawson to the floor on a drive, showing us exactly why.
Knew the second half couldn't be as quick as the first.
As an addendum to that last update, a salient point from the Free Press's Joe Rexrode:
Wisconsin in double bonus rest of the way. But not taking advantage. MSU still 3 fouls from one-and-one.

— Joe Rexrode (@joerexrode) January 23, 2013
Michigan State 47, Wisconsin 44, 3:45 2nd Half
Wisconsin came into the game as a 62.4-percent free throw shooting team. Tonight? 7-of-16.
Jared Berggren's one of their better charity men (76 percent), and he's 2-for-8 after blowing a pair.
That won't help you win close games, now will it?
BTN's Tom Dienhart enjoying the Branden Dawson Show tonight. Dawson's up to 17 and 13, by the way:
Branden Dawson is as strong and explosive as any player in the #B1G. He's flat getting after it tonight. #Spartans

— Tom Dienhart (@BTNTomDienhart) January 23, 2013
Michigan State 45, Wisconsin 43, 7:45 2nd Half
The good and bad of college hoops: Bruesewitz fights off everyone for a pair of tip-in tries, finally getting one to go. Then, Keith Appling throws one to Manti Te'o's girlfriend and it ends up in the backcourt.
Badger ball after the timeout.
Michigan State 45, Wisconsin 41, 8:07 2nd Half
Think the Wisconsin crowd is chanting something we shouldn't be hearing on TV after Appling leans in and draws a foul for two shots. Both are good, and Sparty goes up four. Appling's up to 19 points, nine in second half.
Michigan State 39, Wisconsin 39, 10:56 2nd Half
Branden Dawson up to 13 points and 13 rebounds, but also with three fouls and he's guarding Mike Bruesewitz. Lucky not to get foul number four on a block under the rim.
Detroit Free Press writer Joe Rexrode seems to be implying the Badgers employ some ref-baiting chicanery here:
That last one was a flop, but Byrd stuck that arm out and made it easy for the official. 8-2 Wisconsin run and 4 quick MSU turnovers.

— Joe Rexrode (@joerexrode) January 23, 2013
Wisconsin 39, Michigan State 38, 11:27 2nd Half
George Marshall throws up a three-point prayer as the shot clock expires and gets his first basket. Again, sometimes Wisconsin doesn't intend to work the whole clock, it just happens that way.
Michigan State 37, Wisconsin 34, 13:11 2nd Half
To underscore Dawson's rebounding, he's up to 12. Next high man for Sparty is Appling with...three.
Branden Dawson already with a double-double, according to BTN:
Michigan State G Branden Dawson: 10 reb, 11 pts | MSU 32 WISC 30 17:48 2nd Half

— Big Ten Network (@BTN_Wisconsin) January 23, 2013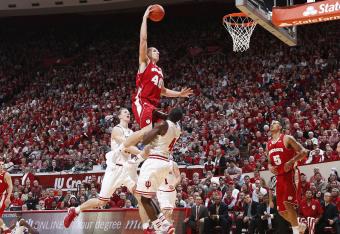 Michigan State 35, Wisconsin 33, 15:33 2nd Half
Once per game, Jared Berggren surprises everybody with an unstoppable move to the basket. He just split two Spartans, leaving them both flat-footed, and gets to the rack for a layup.
It's not quite as "WOW" as when he posterized Victor Oladipo last week (see right), but still impressive.
Michigan State 32, Wisconsin 31, 17:15 2nd Half
Traevon Jackson getting to the basket regularly for Wisconsin, just not always finishing when he's there.
Michigan State 29, Wisconsin 28, 18:45 2nd Half
First score of the second half comes from Keith Appling. What, you expected Magic Johnson?
Detroit News writer Matt Charboneau bemoans the Spartans' big men coming up small:
MSU big men a non-factor. Payne has 2 points, Nix hasn't taken a shot... Gauna got 5 minutes and Costello 4 in first half

— Matt Charboneau (@mattcharboneau) January 23, 2013
Wisconsin 28, Michigan State 27, Halftime
Last Badger basket comes on a goaltend.
Only eight turnovers and nine fouls in the first half. That's total for both teams, not one or the other.
Michigan State has all of six points and five rebounds from guys not named Branden Dawson or Keith Appling.
For some reason, the Badgers want to rain threes all night. 17 of their 27 shots have been from long range, making six. Surprising, considering they got Derrick Nix out of the game early with two fouls.
Both teams shooting 37 percent from the floor, but otherwise it's been a pretty solidly played game.
This article is
What is the duplicate article?
Why is this article offensive?
Where is this article plagiarized from?
Why is this article poorly edited?