6 NHL Teams That Benefit Most from Lockout-Shortened 2013 Season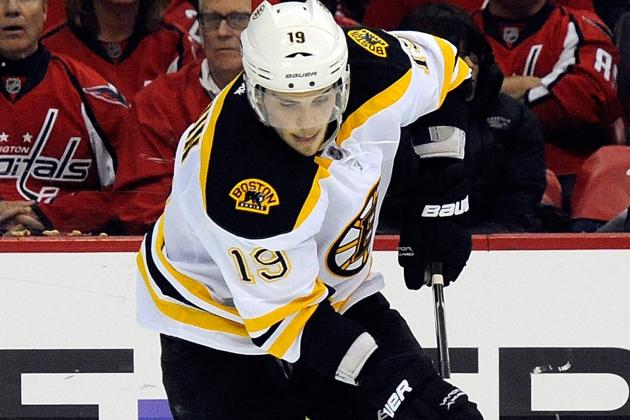 Patrick McDermott/Getty Images
Tyler Seguin could help the Bruins get off to a quick start.
Trying to figure out which teams will benefit from the NHL lockout is an exercise in speculation.
However, there are certain characteristics that will favor certain clubs in the shortened season.
Factors like veteran leadership, coaching, shootout proficiency and remaining competitive could all be huge factors that would help a team in a shortened season.
All of those factors are mitigated by talent and team health.
Here's a look at six teams that stand to benefit from this year's adjusted schedule.
Begin Slideshow

»
The Bruins have a solid core that has been together for years and won the Stanley Cup in 2011.
A first-round knockout in last year's postseason should provide plenty of motivation.
Claude Julien is one of the best head coaches when it comes to strategy and using his players wisely. He is not going to tire out his best players merely so he can get an extra regular-season win or two.
In the strike-shortened 1994-95 season, teams played an inordinate number of tie games. CBC.ca writer Tim Wharnsby pointed out that the Vancouver Canucks played to 12 ties in 48 games that season.
If teams follow the same pattern, many of those ties will become shootouts. The Bruins were 9-3 in shootouts last year and are already 1-0 in that category this year. Tyler Seguin went 6-of-12 on shootouts last season while Patrice Bergeron was 5-of-8.
Experience? No.
Solid coach? No.
Shootout success? No.
Young legs and explosive talent? Yes.
New head coach Ralph Krueger has to do something to build this team's confidence and belief in its own talent. There's just too much of it for this team to languish.
The Oilers should be one of the most exciting offensive teams. If they can find a way to capitalize on their opportunities, they could be faster and quicker than their opponents on most nights.
When the schedule is grinding out three and four games per week, the youth of the Oilers could serve them well.
The Pittsburgh Penguins have dominating talent.
Can any team match the Penguins' star power with Sidney Crosby, Evgeni Malkin, James Neal and Kris Letang?
The Penguins have a core of superstar players who are at the top of their game.
They are also motivated after getting pummeled in the first round of the playoffs last year by the Philadelphia Flyers.
Head coach Dan Bylsma is one of the top motivating coaches in the league, and that could become a huge issue when fatigue sets in during the final weeks of the regular season.
The Penguins were 9-3 in shootouts a year ago, and their skill level should keep them at a high level in that regard this season. Malkin was a remarkable 8-of-11 on shootout attempts in 2011-12.
The St. Louis Blues have momentum.
They also have plenty of talent.
The combination of Jaroslav Halak and Brian Elliott in goal gives them the top tandem in the league by a wide margin.
Even on nights when the Blues don't play well, head coach Ken Hitchcock knows he can count on his two goalies to play stellar hockey.
Hitchcock demands a nonstop, high-energy game. That helps teams compete when they don't have a lot of talent.
However, the Blues have plenty of ability, and they added explosive rookie Vladimir Tarasenko to upgrade their goal-scoring ability.
The Blues saw the Los Angeles Kings roll to the Stanley Cup last year. This year, they could use the pain of their second-round loss to the Kings as motivation for a championship showing of their own.
Could two victories in their first two games indicate that the Ottawa Senators are ready to become a dominant team?
Don't make the mistake of just calling them a flash in the pan.
Last season was a confidence builder for them. They gathered a real identity, as Erik Karlsson became the best offensive defenseman in the NHL and won the Norris Trophy. He should only get better from this point forward.
Paul MacLean had complete support from his players as a head coach in his first season. It seems that his players may believe in him even more after the Senators earned a playoff spot last year.
The veteran leadership of Daniel Alfredsson, Jason Spezza and Milan Michalek could make this team formidable on many nights.
The Senators were 6-4 in shootouts in 2011-12, with Alfredsson going a remarkable 5-of-6 for the season.
The Chicago Blackhawks may have the added benefit of extra motivation to win this season.
The individual feeling that motivation the most may be head coach Joel Quenneville. At present, the 2010 Stanley Cup seems like it was ages ago.
The Blackhawks followed their title run with two first-round exits. That's not good enough.
The Blackhawks made some changes to their coaching staff, and Quenneville could be next if things don't turn around this year.
The talent level is high with Jonathan Toews, Patrick Kane, Patrick Sharp, Marian Hossa, Duncan Keith and Brent Seabrook leading the way.
A decent showing by goaltender Corey Crawford could get this team back to the top.