Greatest Recruiting Classes in College Football History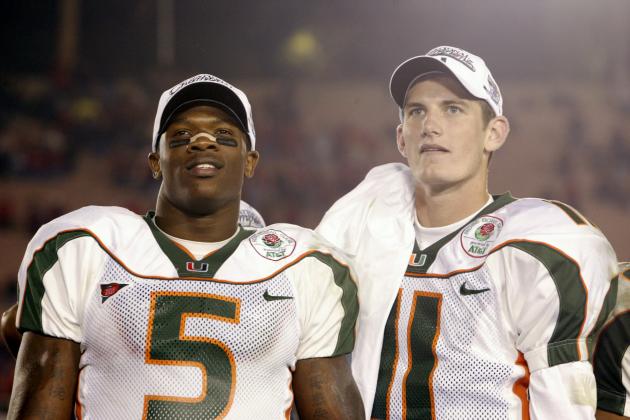 Brian Bahr/Getty Images

A great recruiting class can drastically alter the future of a college football program, and there have been some very epic recruiting classes through the course of college football history.
What is it that makes a great recruiting class?
Some say it's all about big names and 5-star recruits. Others say it has to do with coaching.
Myself, I think it's a little bit of everything. Great recruiting is part hype, part skill, part coaching and even part luck—not to mention production on the field and winning football games.
If the best recruiting class on paper doesn't win anything that matters, it's hard to consider that class anything but a failure.
With that in mind, let's look back at the 10 greatest recruiting classes of all time.
Remember: While this is primarily focused on what the classes were at the time, resulting accomplishments of said classes were also factored in when determining this list.
Note: Hat tip to a previous ranking done by Andy Staples of SI.com in 2010 for historical information.
Begin Slideshow

»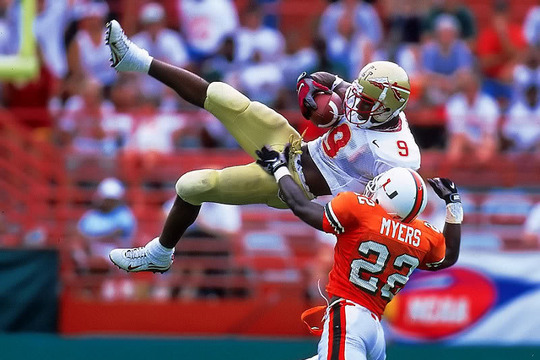 Peter Warrick Via Bob Rosato/ 6magazineonline.com
Many members of the Florida State recruiting class of 1995 played integral roles in the Seminoles' national championship win in 1999.
Chief among these players was wide receiver Peter Warrick, who went on to have a decent NFL career. He was considered to be one of the best receivers in college football at the time.
Other great players who came from this class and went on to have success at the NFL level include defensive tackle Corey Simon and offensive tackle Walter Jones.
In all, the members of this class played in three national championship games, winning one.
Getting to three championship games as a class is quite impressive.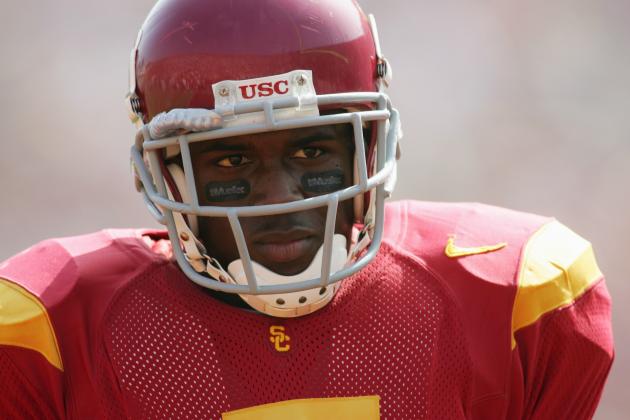 Donald Miralle/Getty Images
Reggie Bush
The USC Trojans' 2003 recruiting class was packed with future college-level stars as well as a few NFL-bound players.
Reggie Bush is undoubtedly the marquee recruit of this class. He came in as a 5-star recruit out of San Diego, Calif., at 6'0'', 180 pounds. He ran a 4.4-second 40-yard dash, according to Rivals.com. The impact Bush had on college football was undeniable, and he's arguably one of the more explosive and exciting runners to ever play the game at the college level.
He ran for 908 yards and six touchdowns in 2004 when USC went on to win the national championship (although that was vacated), and he rushed for 1,740 yards and 16 touchdowns in 2005 when he won the Heisman trophy (although that was taken away as well).
Bush was the highlight of this 2003 class, but it also featured 4-star running back LenDale White, who was a star for USC, lineman Ryan Kalil, receiver Steve Smith (of New York Giants fame) and another future NFL player in defensive end Lawrence Jackson.
That's just to name a few of the notable players to come from this epic class.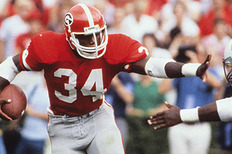 Herschel Walker Via Stack.com
The 1980 class brought Georgia a player who will forever be talked about in the history of not just the Bulldogs program, but also the NCAA in general: running back Herschel Walker.
Other great players from this class include tight end Clarence Kay and defensive end Freddie Gilbert. In all, Georgia's 1980 class eventually sent seven players to the NFL draft (per Staples/SI).
Walker is obviously the main attraction here. He went on to become one of the best running backs to ever play college football, winning the Heisman Trophy in 1982.
This class went on to win the SEC and the national championship in 1980, and then won two straight SEC titles after that.
When you talk about elite recruiting classes, you'd be remiss not to mention the 1980 Georgia Bulldogs.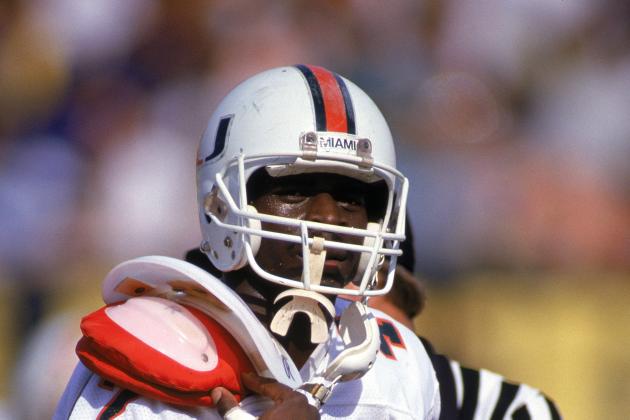 Getty Images/Getty Images
Michael Irvin
Coming off of a national championship win over Nebraska in 1983, University of Miami coach Howard Schnellenberger was able to put together an extremely impressive recruiting class. He then went on to coach for the USFL, and this guy named Jimmy Johnson inherited all of the talent brought in by Schnellenberger.
Needless to say, things worked out for Miami.
The main recruit from this 1983 class was wide receiver Michael Irvin, who went on to be a star at Miami and in the NFL.
Other notable players who came from this class include cornerback Bubba McDowell, safety Bennie Blades and linebacker Randy Shannon, to name a few.
Miami went on to win another championship in 1987, thanks to this class.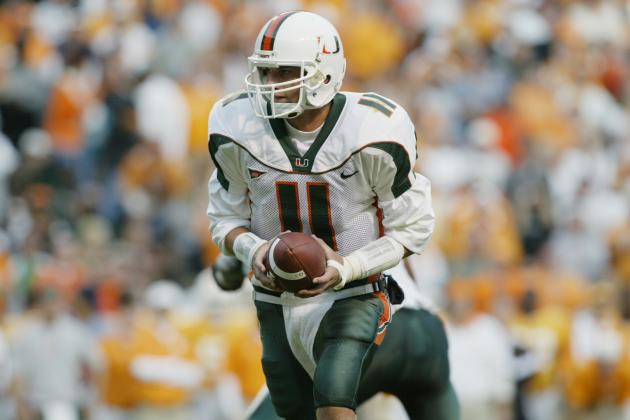 Andy Lyons/Getty Images

Miami's 1999 class is one of the most impressive classes of all time on paper, not to mention the success it had on the field.
The core of this class was a major reason Miami went on to win the national championship in 2001.
Quarterback Ken Dorsey is the main recruit to talk about here, as he was one of the better quarterbacks in college football during his playing time with Miami. The 1999 class also featured receiver Andre Johnson, who is now one of the best wide receivers in the NFL.
Speaking of NFL, longtime star running back Clinton Portis was a part of this class.
Other notable players include Jarrett Payton, Phillip Buchanon and Bryant McKinnie.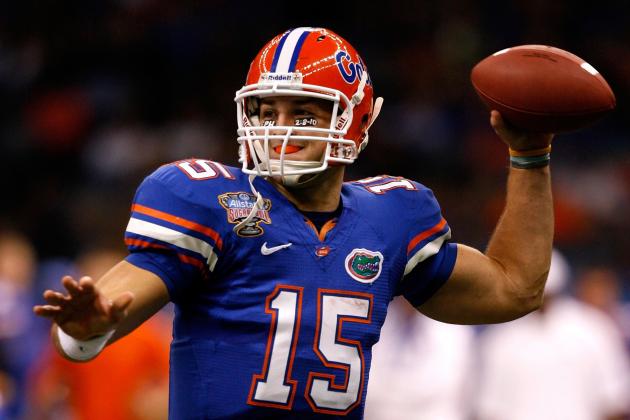 Matthew Stockman/Getty Images

Say what you will about NFL quarterback Tim Tebow, because there's no doubt he's one of the best college football quarterbacks of all time.
Tebow was one of the members of a very talented Florida Gators 2006 recruiting class.
He's obviously the marquee recruit from this class, and he went on to lead the Gators to two national championships while winning a Heisman Trophy.
He's not the only star born from the 2006 class, though.
The Gators were also lucky enough to land the commitment of 5-star wide receiver Percy Harvin, who was the No. 1 recruit in the nation, according to Rivals. Harvin went on to post 3,781 total yards and 32 total touchdowns in three seasons. He's now considered to be one of the most explosive players in the NFL.
This class also featured notable players like linebacker Brandon Spikes and Riley Cooper.
Overall, this class made a monumental impact not just at Florida, but also on the college football world in general.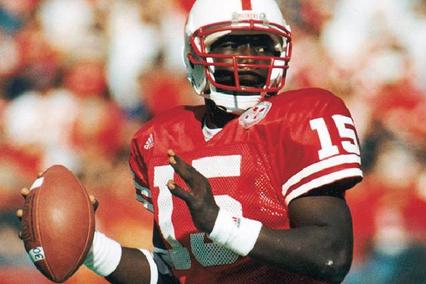 Tommie Frazier Via NU Media Relations/Huskers.com
The Nebraska Cornhuskers' 1992 class was dominant, playing huge roles in back-to-back national championships in 1993 and 1994.
Quarterback Tommie Frazier was the star player on those squads, and he's the marquee player from Nebraska's 1992 class.
Other big-time players from the 1992 class include Mike Minter, offensive tackle Chris Dishman and quarterback Tyrone Williams.
This is a great example of a class that came in and had an immediate impact for a program.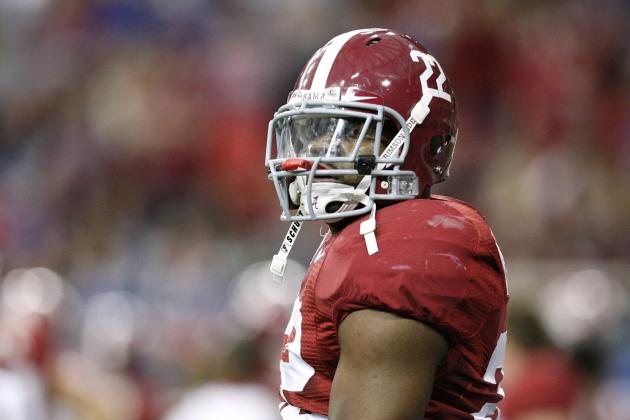 Kevin C. Cox/Getty Images
Mark Ingram
Alabama's 2008 class featured a plethora of superstar players, including 2009 Heisman Trophy winner Mark Ingram.
Ingram came to Alabama as a 4-star athlete who was 5'10", 195 pounds and ran a 4.4 40-yard dash, according to Rivals. He left with a Heisman Trophy and national championship.
Another star player from this class was undoubtedly wide receiver Julio Jones. He was a 5-star wide receiver who checked in at 6'4'', 215 pounds and ran a 4.48 40-yard dash, according to Rivals. Jones became one of the best receivers in the country.
He was so good, in fact, the Atlanta Falcons decided to trade five draft picks to the Cleveland Browns in order to move up 21 spots to draft Jones in the 2011 NFL draft.
Other players from this class include athlete/safety Mark Barron, defensive tackle Terrence Cody, superstar defensive tackle Marcel Dareus, linebacker Dont'a Hightower and linebacker Courtney Upshaw.
This is easily one of the best recruiting classes of the modern era.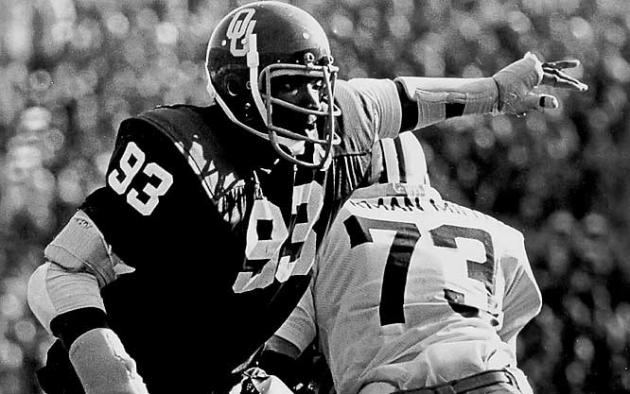 Lee Roy Selmon Via the bluegrassspecial.com
Oklahoma's 1972 recruiting class was easily one of the most impressive of all time, winning two consecutive national championships in 1974 and 1975. This was also the last class recruited by Chuck Fairbanks.
It all started with brothers Dewey and Lee Roy Selmon, who started getting looks from Oklahoma in 10th grade. Lee Roy Selmon was drafted No. 1 overall by the Tampa Bay Buccaneers in the 1976 NFL draft.
This class also featured Tinker Owens and running backs Horace Ivory and Joe Washington.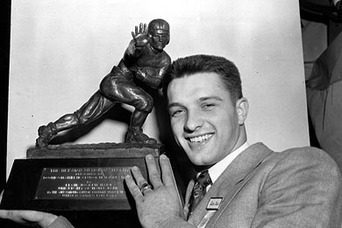 Leon Hart Via AP Photo/ESPN.com
Notre Dame's 1946 class featured 1949 Heisman Trophy winner Leon Hart and played a huge part of the Irish's three national titles and 36-0-2 record.
Andy Staples of SI.com references Notre Dame historian Lou Somogyi:
According to Notre Dame historian Lou Somogyi, 17 members of the class became starters or regulars in an era when players played on both sides of the ball. As in most classes of the era, some freshmen were a bit older because they didn't go to college until after they served in World War II. One of those was future Hall of Famer Jim"Jungle Jim" Martin, an end/tackle who served in the Marines before coming to South Bend.
Seventeen starters or regulars from one class?
It's very hard to argue with history here: This is the best college football recruiting class of all time.