5 Things Houston Rockets Must Do to Reach Full Potential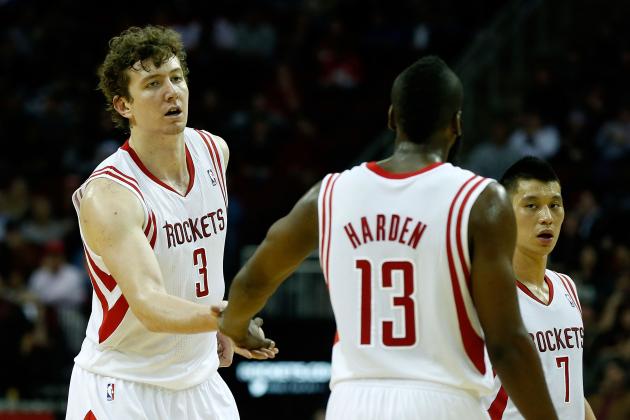 Scott Halleran/Getty Images

The Houston Rockets are a team on the rise in the NBA. Maybe not in 2012-13, but in the near future they will have what it takes to become a true contender in the Western Conference.
What needs to happen in order for them to continue on their ascent and reach their full potential?
Some things can happen from within. Others will take outside sources.
But rest assured, there are pieces in place that can have the Rockets in the upper echelon of teams very soon.
Begin Slideshow

»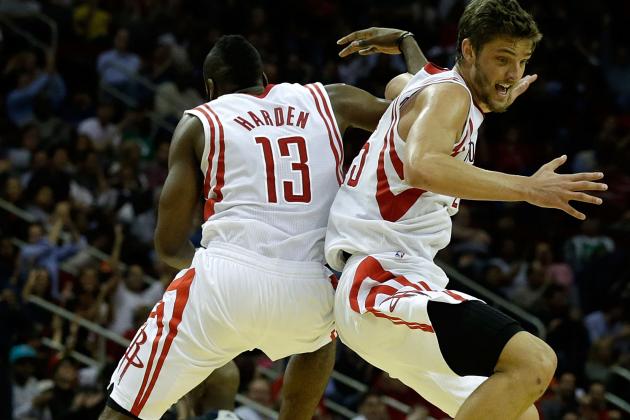 Scott Halleran/Getty Images

This Rockets team is a young team.
There is just one player over the age of 26 (Carlos Delfino is 30 years old), and the average age of the entire roster is just 22.4 years.
With so much youth, they all have a lot in common. And it shows.
This team genuinely seems to like each other. There doesn't seem to be any real bickering on the floor. Smiles are often found and guys are pulling for each other.
And being so young, they are all growing together and experiencing everything for the first time all at once.
Chemistry is the ultimate intangible. If the Rockets can continue to build theirs, it could go a long way toward elevating them in the standings.
Scott Halleran/Getty Images

For the most part, the core of the Houston Rockets team is set.
Jeremy Lin, James Harden, Omer Asik and Chandler Parsons all seem to be pieces to the solution. As such, it is imperative that all four guys continue to enhance their games in order to elevate the team to new levels.
For Lin, continue to become more efficient and cut down the turnovers.
Harden needs to continue to evolve in his role as "The Man" and be able to carry the load each and every night.
Asik has to develop a jump shot, stay out of foul trouble and improve his hands so that he can be used more in the two-man game.
Parsons needs to take his balanced skill set and become that much better in each facet of his game. Shoot a little better, rebound a bit more, distribute more often and defend a bit more intensely. Parsons is the perfect candidate to be the glue guy for Houston.
These four are already the best four players on the team. But the best teams are the ones that are able to get their best players to raise their level of play to heights they have never reached before.
For a team with championship aspirations down the road, the Rockets will have to have their good players become great.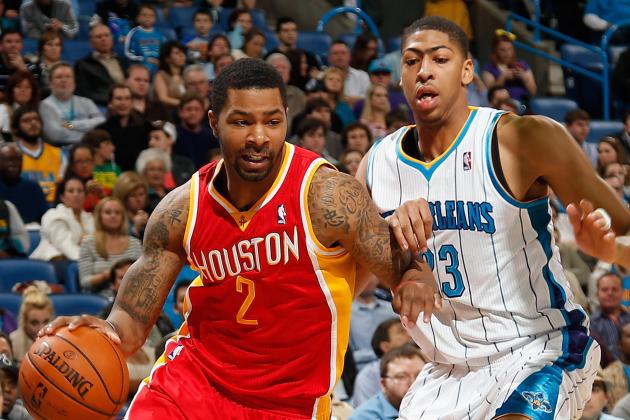 Chris Graythen/Getty Images

Yeah, I know. They are all young.
The "youngsters" in this scenario are those "young" in NBA experience.
The Rockets had three first-round draft picks in 2012, selecting Jeremy Lamb, Royce White and Terrence Jones.
Lamb was sent to Oklahoma City in the James Harden trade, and Royce White's anxiety problems have been well-documented.
That leaves Jones as the lone 2012 first-rounder with hope of contributing for Houston.
While Jones has averaged just 3.1 points and 8.3 minutes in 11 games this season for the Rockets, he has flourished in the NBA D-League. In 12 games for the Rio Grande Valley Vipers, Jones averages 19.1 points and 9.8 rebounds per game.
Same thing goes for Donatas Motiejunas. The 22-year-old has appeared in 14 games for Houston, totaling 22 points. But for the Vipers, he has dominated with averages of 23.5 points and 8.3 rebounds. That would leave many to believe there is some potential to be uncovered for both of those guys.
Add them to Marcus Morris (8.8 PPG this season after averaging 2.4 PPG in his rookie season) and Greg Smith (5.8 PPG, 4.4 RPG in 14.4 MPG for Houston) and there are those assets general Daryl Morey loves to accumulate.
Either they will provide help for the Rockets or enable Houston to use them to make a trade for more known commodities.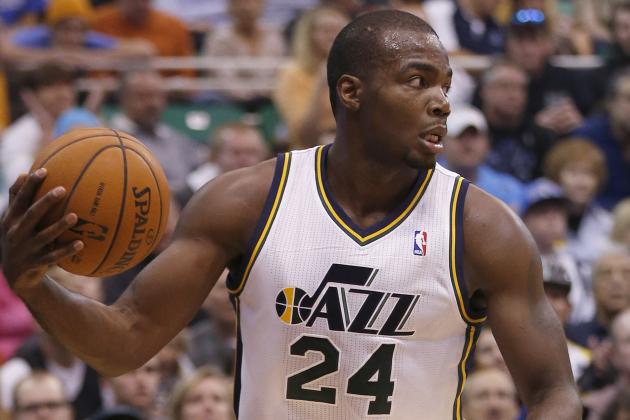 George Frey/Getty Images

As I laid out earlier this week, the Rockets could use an upgrade at power forward.
This may not happen this season. Honestly, it would behoove the Rockets to sit tight and wait for free agency to roll around in the summer of 2013 or even 2014 when the free-agent lists are bountiful.
There is no doubt about it, though. To get to where they want to go, the Rockets will need more than Patrick Patterson and Marcus Morris lining up at the power forward spot.
To be able to go out and get a free agent like Paul Millsap in the summer without having to send any young talent to another team would give the Rockets a pretty solid starting five and would also preserve bench pieces for added depth.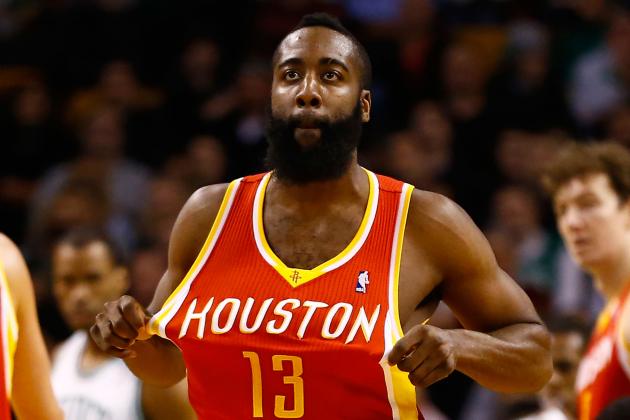 Jared Wickerham/Getty Images

Rome wasn't built in a day.
Applying that to NBA terms, championships aren't built overnight.
Michael Jordan's Chicago Bulls teams had to take their bumps and bruises from the Detroit Pistons before they reached the championship mountaintop. The Big Three in Miami got bounced in the NBA Finals by the Dallas Mavericks in 2011 before LeBron James and the gang were able to get redemption and win the 2012 title.
In the NBA more than any other professional sport, the playoffs are won by the best team. It is not the NFL or MLB, where a hot team can find its way into the playoffs and then ride a wave to a championship.
The NBA playoffs are a six-week grind-it-out, best-team-wins-the-series format. The road to the top is a slow and steady one.
The Rockets finished two games over .500 in the lockout-shortened 2011-12 season. After losing seven in a row recently, the Rockets find themselves again hovering around the break-even point. To find their way into the playoffs this season would be the incremental step needed in 2012-13.
If they can get the improvements from the veterans and the youngsters and add a piece here or there, they will enter the discussion of the best teams in the Western Conference.
Looking ahead to the next two or three seasons, ESPN puts out an NBA Future Power Rankings. The last one was published in August 2012, and it ranked the Rockets 13th. That, obviously, was before the Harden trade.
Apply a little revisionist history and let's go back and look at the 12 teams ahead of Houston on the list:
12. Cleveland: Kyrie Irving is good but that team is going nowhere fast.
11. New Orleans: They are young and the wins are not coming
10. Boston: A team that is getting old and seeing its championship window closing ever more.
9. San Antonio: Every time you think they are getting old, they churn out a top seed in the playoffs.
8. Chicago: Holding down the fort while Derrick Rose has rehabbed shows they are in good hands.
7. Denver: Has played well at home but do not seem like a serious threat to contend
6. Dallas: Owner Mark Cuban is in complete sell mode as they panic to rebuild a contender while Dirk Nowitzki is still productive.
5. Indiana: They have completely taken on coach Frank Vogel's identity, and Paul George is becoming a star.
4. Utah: A lot of nice pieces, but also don't seem to be a serious contender yet.
3. Los Angeles Lakers: A team full of stars in complete disarray.
2. Oklahoma City: They will be there in the end every year for the foreseeable future.
1. Miami: With its current construction, will be a threat to win the title every year. But 2014 free agency could see any or all of LeBron James, Dwyane Wade or Chris Bosh bolt for other teams.
Of all those teams, the Heat, Thunder, Bulls and Spurs seem like they will be at or above the Rockets' level in the next couple years. That puts the Rockets in the range of one of the top five or 10 teams in the league within a couple seasons, depending on how optimistic you want to be.
We are embarking on a time in the NBA where, outside of Oklahoma City and Miami, there are no teams capable of repeating as champions year after year. Traditional powerhouses like the Lakers and Celtics have fizzled back to the pack. The label of serious contender is there for the taking.
The window of opportunity is just opening for this Rockets team. Collectively, each person (from the players to the coaches to the front office executives) must do his part to better himself and, thus, the team.
If the players can improve themselves, the coaches can adapt and bring a winning philosophy and the front office can improve the roster as a whole, the Rockets could be right in the thick of the championship contender discussion.
And, if they can hit their stride in the next couple of seasons, they will do so at a time when there is a greater opportunity for success across the entire NBA landscape than in years past.