NHL Free Agency: Why All Eyes Will Be on the Anaheim Ducks in 2013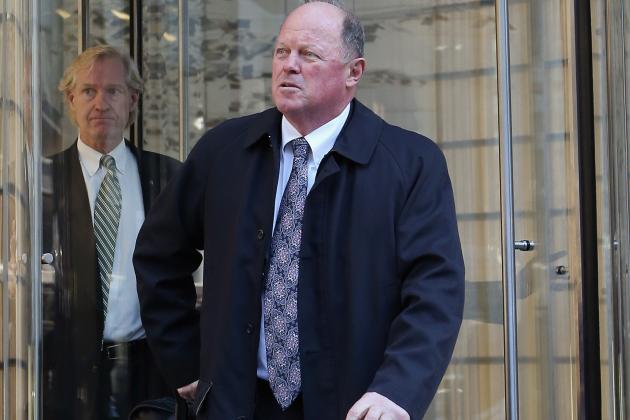 Bruce Bennett/Getty Images
General manager Bob Murray may have difficult decisions to make this season.
The misery of 2011-12 is over for the Anaheim Ducks.
After making the playoffs in five of the previous six seasons, the Ducks found themselves on the outside looking in last year.
Head coach Randy Carlyle was fired and replaced by Bruce Boudreau, who had been fired by Washington just a couple of days before he was brought on board in Anaheim.
The Ducks never found any consistency last year and the team finished 13th in the Western Conference and 25th overall.
The Ducks have won their first two games in 2013 and while that gives them some hope that they may turn things around, it's not enough to mean the team is off to a significant start.
General manager Bob Murray will have to react quickly this year if his team can't sustain early success. Two of his best players will be free agents at the end of the season and that could trigger several moves for the team.
Begin Slideshow

»
Corey Perry is in the final year of a contract that is paying him a prorated salary of $5.325 million this season (source: CapGeek.com).
Perry scored 37 goals last year and is two seasons removed from scoring 50 goals.
GM Bob Murray would love to have Perry as one of his cornerstone players, but if the Ducks can't sustain their impressive start, Murray will have to consider trading him to a contender rather than risk losing him through free agency and getting nothing for him.
If Corey Perry is the Ducks' best sniper, Ryan Getzlaf is their best set-up man.
Like Perry, Getzlaf is in the final year of a deal that pays him a prorated $5.325 million this season (source: CapGeek.com)
As long as the Ducks play winning hockey and find themselves with a reasonable shot of making the postseason and making a good showing, the Ducks are likely going to keep Getzlaf around.
He's a sensational player who makes those around him better.
However, if the Ducks fall down the standings and are not going anywhere, look for Murray to make a deal because he does not want to lose Getzlaf's services and fail to get anything in return.
Bobby Ryan is not going to be a free agent at the end of the season.
He is earning $5.1 million this year (prorated) and he has two more years left on his contract at the same salary.
Ryan has scored 30 or more goals in each of the last four seasons. He's got a vicious wrist shot and he can also score the dirty goals in tight.
However, Ryan has asked for a trade in the past. While he has come off that stance (source: OCRegister.com), could Murray be interested in moving him once the Ducks become unhinged? (source: THN.com)
With two more years under contract, Murray could receive a sizable offer for the star winger.
It's easy to be an NHL general manager when your team is winning, all your key players are under contract and the prospects in the pipeline are solid.
However, when you have a team in transition and you are coming off a four-month lockout, it's anything but easy.
General manager Bob Murray wants his team to win so he can keep his players together and make a run at the playoffs.
However, tomorrow is just around the corner. Unless he really thinks that the Ducks have a legitimate chance to advance deep into the playoffs, doesn't he have to make his decisions based on the team's long-term prospects?
It may be nice to keep his stars together, but he is better off making the tough decisions and getting something for them rather than holding out hope against a great run and getting nothing for them.
He is funny, quick, clever and foul-mouthed. Bruce Boudreau proved he could be a very entertaining coach during the HBO 24/7 series when he prepared the Washington Capitals for their 2011 Winter Classic meeting with the Pittsburgh Penguins.
But it's not about one liners or cursing like a longshoreman.
It's about winning hockey.
Boudreau's identity is somewhat confusing. His background is that of as an offensive coach. However, in his last one-and-one-half seasons in Washington, Boudreau preached defense.
His players in Washington got confused. His players in Anaheim may do the same thing unless he can keep his message consistent (THN.com).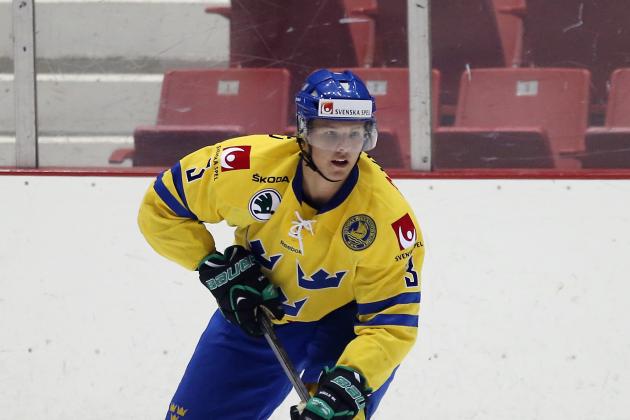 Bruce Bennett/Getty Images
Top prospect Hampus Lindholm may be a future star for the Ducks.
The Ducks' pipeline is filled with young talent.
Some of the team's brightest prospects include 2012 first-round draft pick Hampus Lindholm on defense, right wing Rickard Rakell (2011 draft pick), defenseman Sami Vatanen, right wing Emerson Etem, right wing Kyle Palmieri and goalie John Gibson.
Murray does not want to go into a complete rebuilding project, but if his team starts to struggle, it could force his hand.