UFC on Fox 6 Preview: Donald Cerrone's 5 Best Moments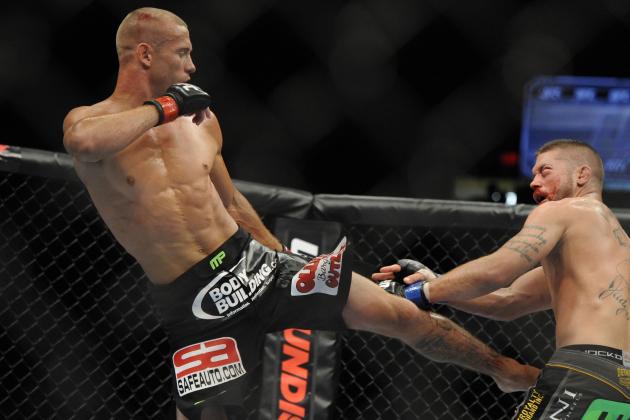 Rafael Suanes-USA TODAY Sports

Donald "The Cowboy" Cerrone's violent career in the UFC and the WEC is one of brilliant flash.
He's considered to be one of the most exciting fighters in the lightweight division because of his Muay Thai style and brass, balls-to-the-wall mentality out of the cage.
With piston right hands and flexible, swerving hips, Cerrone has created memorable moments with his striking under the Zuffa brand. The same can be said about his opponent Anthony Pettis, as both highly touted strikers will engage this Saturday on UFC on Fox 6.
So before these two WEC veterans and top UFC lightweight contenders square off on network television, let's go back and take a quick look at Cerrone's brightest moments.
From dominant victories against Jeremy Stephens, Charles Oliveira and Dennis Siver in the UFC to his emotional encounters with the likes of Jamie Varner in the WEC, Cerrone has had quite the storied MMA career. But what are his greatest moments in the WEC and UFC?
Begin Slideshow

»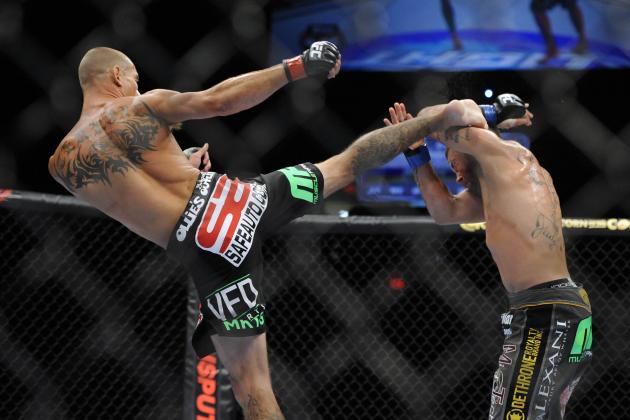 Rafael Suanes-USA TODAY Sports

Flawless victories are somewhat mythological.
What is a flawless performance? Would it be a knockout victory within the first eight seconds? Or would it be a five-round mauling over a fighter who is obviously much less talented?
Guess it's just a matter of opinion, but if you really wanted to describe a flawless victory, Donald Cerrone vs. Jeremy Stephens would serve as a good example.
In this bout, Cerrone battered Stephens with an onslaught of kicks. Stephens could not adjust, and the flurry of strikes continued for three straight rounds.
With improved foot movement and accurate striking, Cerrone picked Stephens apart to earn a unanimous (30-27) decision victory.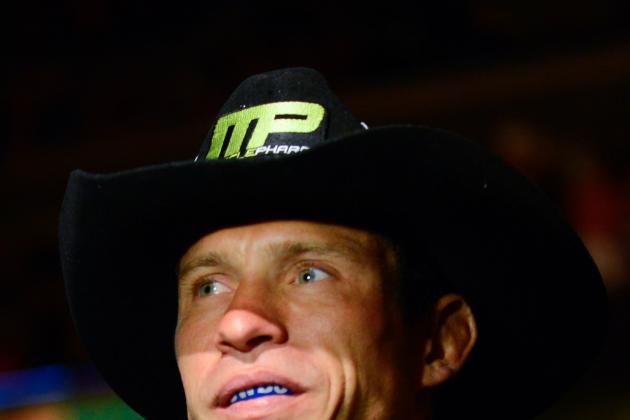 Ron Chenoy-USA TODAY Sports

Watching Donald Cerrone take on Rob McCullough at WEC 36 was a lot like playing Rock'em Sock'em Robots when you were kids.
Those robots were never known for their defensive techniques, but boy, it was fun to play a small game of give-and-take with those things.
Cerrone and McCullough played a similar game in 2008.
In one of the more entertaining bouts of the year, momentum transitioned back and forth between both competitors, as both fighters constantly rocked the other.
It wasn't Cerrone's most technical performance, but it showed fans that he is a guy who has a lot of heart and enjoys a good scrap. Cerrone defeated McCullough with a unanimous decision that night.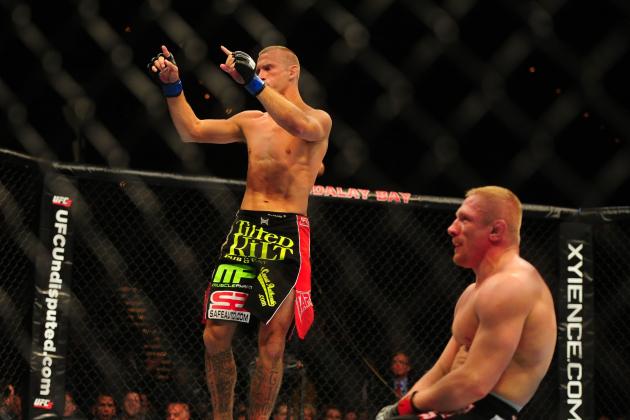 Mark J. Rebilas-USA TODAY Sports

Donald Cerrone vs. Dennis Siver on paper looked like a three-round striking battle.
In the cage, it was a quick, dominant victory for Cerrone. Like Cerrone, Siver is well respected for his striking ability in the UFC, so fans were right to sense a back-and-forth battle of two strikers testing each other's will.
Instead, Siver ran into an onrush of kicks that he was not prepared for in 2011. Easily, this could be considered Cerrone's greatest performance of his career.
With a high-level assailment of low kicks and high kicks, Cerrone sent Siver trembling down to the canvas and finished him off with a rear-naked choke in the first round.
Simply put—Siver ran into a train that night, and that train was engineered by a cowboy.
It was the best of times, it was the worst of times.
While fighting in his hometown at UFC 150, Cerrone nearly tasted defeat against his former training partner and friend, Melvin Guillard.
Guillard came out guns blazing, as he knew he was a significant underdog in this bout. He clipped Cerrone early and had him in all sorts of trouble. But hey, Cerrone had been there, done that.
Cerrone regathered himself and kept fighting on. He landed a devastating head kick that sent shivers all the way down Guillard's body.
Guillard tried to back away on wobbly legs and Cerrone caught him flush with a perfectly placed right hand. The fight lasted just over a minute, but there wasn't a second that fight fans weren't on the edge of their seats. It was a great showcase of Cerrone's resolve and growth as a fighter.
This has to be Cerrone's most gratifying victory.
Most fighters who participate in MMA tend to have a rivalry with a fellow competitor, and Cerrone's was undoubtedly Jamie Varner.
Cerrone had a personal vendetta with Varner after their championship encounter ended in controversy. The Cowboy landed an illegal knee toward the end of the fight, and Cerrone said it was Varner's comments after that fueled this rivalry. He said that Varner implied that he was not on Varner's level.
After emotions boiled over and the rematch was set over a year-and-a-half after their early 2009 battle, Cerrone came out and shocked Varner with his wrestling skills.
Cerrone went after Varner with flying knees, punches and kicks, but it was his improved wrestling that solidified a decision victory against his most hated opponent under the Zuffa brand. In other words, he beat Varner at his own game.
Cerrone's best moment came in defeat.
In 2009, Cerrone competed against Benson Henderson in what would turn out to be the fight of the year. Cerrone threw everything he had at Henderson, and Henderson showed great resiliency as he was able to defend every submission Cerrone locked up.
Henderson came out and controlled the fight immediately. He used his wrestling skills to put Cerrone on his back and threw one punch after another on the top position.
It wasn't until the fourth round that Cerrone started to turn the tide. He started stuffing takedowns, pushing the pace more, and he locked up numerous submissions.
He fell just short on a very close decision but it was undoubtedly Cerrone's best fight of his career, and it's his brightest moment under the sun with Zuffa.