Syracuse Basketball: Blueprint to Clinching a No. 1 Seed in March Madness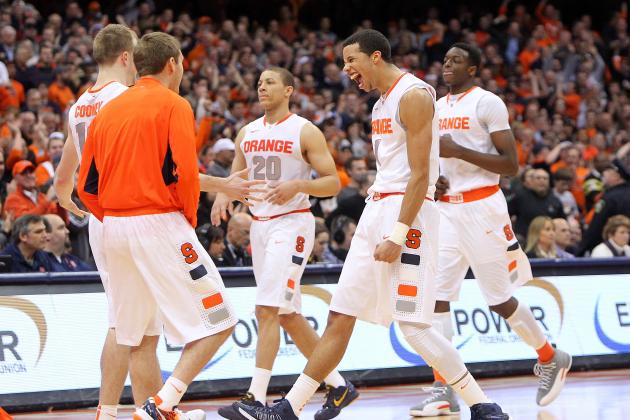 Nate Shron/Getty Images

What does the Orange have to do to secure a No. 1 seed in the NCAA tournament? Many Syracuse fans would ask a very different question.
Why would we want to be a No. 1 seed in the NCAA tournament?
While Syracuse certainly would like to be a No. 1 seed, it's understandable that some would pose that question. In both 2010 and 2012, the Orange earned that distinction only to lose critical players on the eve of the tournament.
Arinze Onuaku's knee and Fab Melo's academic issues cost the Orange legitimate chances at a second national championship. Big-men Rakeem Christmas, DaJuan Coleman and Baye Moussa Keita must be looking at each other wondering if one of them will be this year's casualty.
I'm going out on a limb and predicting that James Southerland's eligibility issue is the lone crisis to hit the team this year. While there is a long way to go, it certainly looks like Jerami Grant will help ease the loss of Southerland should he not come back.
So Rakeem, DaJuan and Baye can relax. Brandon Triche will get to go out with a solid shot at a championship if the team follows this blueprint to a No. 1 seed.
Begin Slideshow

»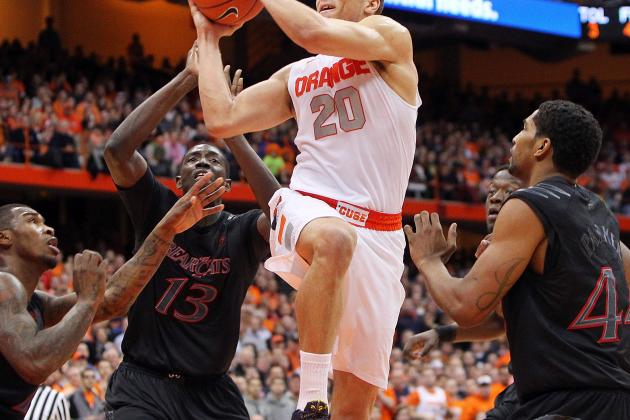 Nate Shron/Getty Images
Triche has to continue his aggressive play
Syracuse needs Triche to play like he is one of the best players on the court, which he is. In the past, Brandon would doubt that if he struggled. He is a very serious, intense player who can be guilty of spending a bit too much time in self-analysis.
That's changed this season. Brandon has played with his head up and the confidence that a player with his skills should have. He's reverting to his high school days when he was the "man" for four years, winning two state championships at local Jamesville-DeWitt.
This year he is much more aggressive and taking the ball to the rim more than he has in previous seasons. His 6'4" 200 pound NBA-body suits him well inside as does his ability to deftly use either hand. When you combine that driving ability with a perfect-form outside shot, you have a serious offensive weapon.
Brandon has started every game in his four-year career. He's unquestionably the leader of this young team that relies on two sophomores and three freshmen. As he goes, the Orange goes.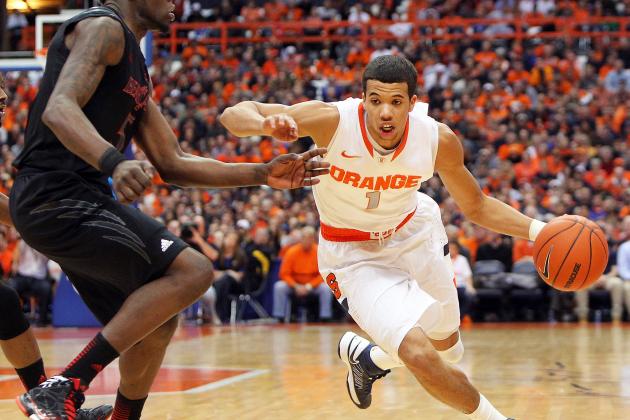 Nate Shron/Getty Images
Michael Carter-Williams must play well
It's always been said that you need great point guard play to win the NCAA championship. I know that Orange fans remember Carmelo Anthony's 20 points and Hakim Warrick's amazing block as the keys to Syracuse's 2003 title win over Kansas.
Let me refresh your memory about the first half of that game. Freshman point guard Gerry McNamara made six three-pointers in that first half. Read that again, I'll wait...
Syracuse needs Michael Carter-Williams to continue being one of the very best point guards in the country. Through 19 games, he is averaging 9.2 assists per game with a terrific 2.4 assists for every turnover.
The Orange rely on their transition game to trigger their offense. Obviously, MCW is the leader of the break with an ability to take the ball all the way to the rim that makes the Syracuse running game so explosive.
His ability to penetrate and hit enough outside shots to keep the defense honest makes him one of the, if not THE, best point guards in the country. The Orange will need him at the top of his game in March.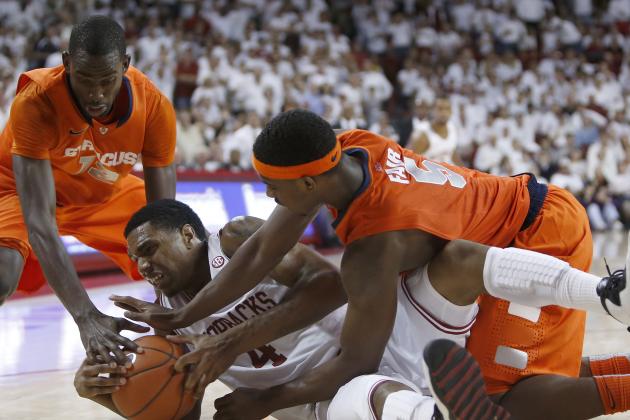 Wesley Hitt/Getty Images
Orange defense has to be active
The Orange have struggled to make shots in some games this season. Their half-court offense has been stagnant from time to time. To overcome that, Syracuse needs to get out and run to score in transition. In order to do that, the defense has to be active and create turnovers.
Jim Boeheim has his kids buying into his very active and aggressive 2-3 zone. They understand that playing that tough defense leads to turnovers which lead to run-outs and easy baskets. That, they really understand and like.
The key to the Orange zone is the length and active play of guards Triche and Carter-Williams. They get their hands on a lot of passes and then take off for easy baskets. The guys on the wings in the back of the zone...CJ Fair, Rakeem Christmas and Jerami Grant...have been terrific at getting involved and getting some steals also.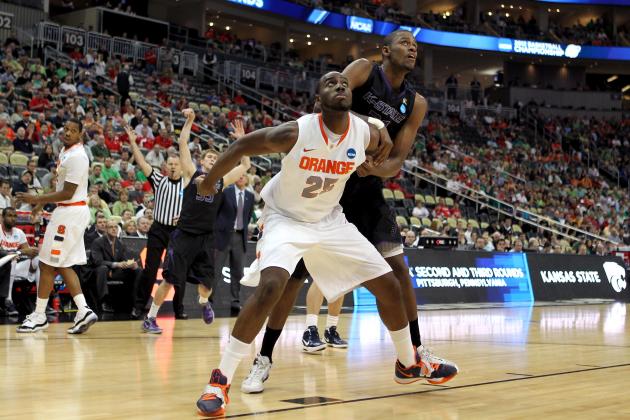 Gregory Shamus/Getty Images
Good box out by Rakeem Christmas
In addition to making steals to get the transition game going, the Orange will have to rebound the ball. They've been doing a great job of that this season, with the third best rebound margin in the Big East at plus-7.7.
The key will be for Syracuse to be diligent about boxing out, always a challenge when playing a zone rather than man-to-man. So far, the big guys for the Orange have done a great job of that.
The athleticism of the wings...Christmas, Fair and Grant... along with the size and effort of the centers... Coleman, Christmas and Keita...puts the Orange in great rebounding shape along the back line.
The size of 6'4" Triche and 6'5" Carter-Williams helps the backcourt do a great job of helping out underneath.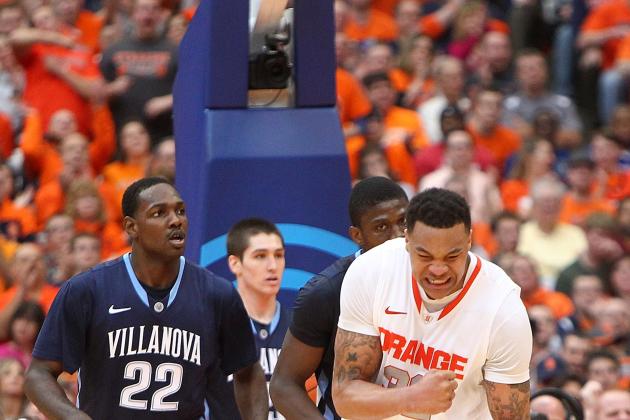 Nate Shron/Getty Images
DaJuan Coleman
The Orange have been too reliant so far on perimeter scoring in the halfcourt offense. Without a great three-point shooter, that is an iffy situation. CJ Fair has been the Syracuse inside threat and needs help.
DaJuan Coleman arrived on campus with high expectations as a McDonald's All-American. He has not yet lived up to the hype. He can. He needs to adjust to the stronger and more physical inside game he's facing now. He puts the ball on the floor a bit too much and gets it knocked out of his hands far too often for a 6'9" 288 pound force.
Rakeem Christmas certainly has the ability to score more inside. He needs to play a bit stronger and rely less on a fade away jump shot.
Jerami Grant has provided an inside spark since seeing his playing time increase. That's a good sign for the Orange as they continue their pursuit of a No. 1 seed for March Madness.