Washington Redskins: Grading the 2012 Draft Class After Year One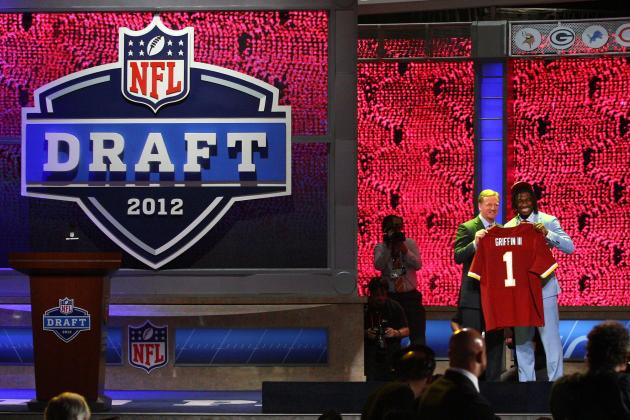 Chris Chambers/Getty Images

Draft classes usually are not graded accurately until three or four years have passed, but there's no fun in waiting that long. Plus, the 2013 scouting combine doesn't start until Feb. 20 so Redskins fans have time to kill. The 2012 NFL Draft was one of the most anticipated drafts for the Washington Redskins and it did not disappoint, producing several players who contributed in their first year.
Begin Slideshow

»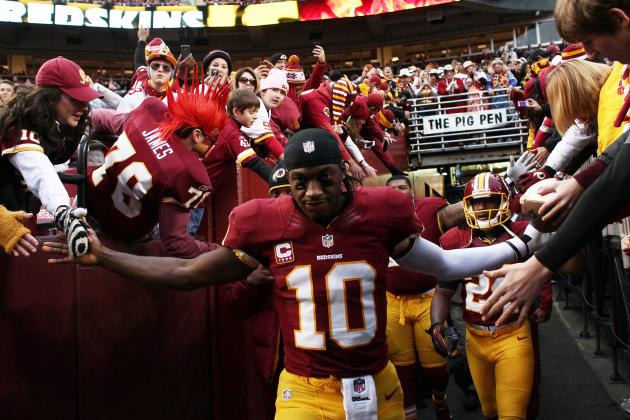 Win McNamee/Getty Images

The Redskins went all in with their first pick and shipped three first rounders and a second rounder to the St. Louis Rams in order to move up and select quarterback Robert Griffin III out of Baylor. RG3 proved to be worth every pick as he spent the season dropping jaws around the league with his athletic ability.
RG3 threw for 3,200 yards and 20 touchdowns and was the only rookie quarterback selected to the 2013 Pro Bowl outright. His 815 yards rushing was a new league record for a rookie quarterback, beating Cam Newton's previous record of 706 yards. RG3 also tallied seven rushing touchdowns to give a total of 27 on the year.
He only threw five interceptions all year, which is spectacular for a rookie quarterback. He did suffer a serious knee injury in the Wild Card against the Seahawks tearing his LCL and ACL, but with his work ethic and drive he can be back in time for the 2013 season.
Robert Griffin III every bit of his "A" in his first year.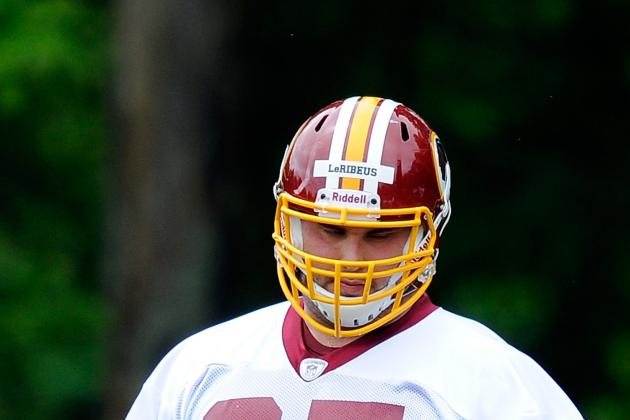 Patrick McDermott/Getty Images
LeRibeus played well when called upon.
When the Redskins selected Josh LeRibeus out of SMU in the third round they addressed one of their biggest needs at the guard position. The Redskins offensive line has been dismal the past couple of years and the only bright spot has been left tackle Trent Williams.
LeRibeus saw limited action but showed some promise when he came in for injured left guard Kory Lichtensteiger against the Dallas Cowboys in week 17. LeRibeus drew praise from Williams after the game according to the Washington Post.
LeRibeus still has a lot to prove but at a first glance he has a lot of potential and gets a "B" after his first year.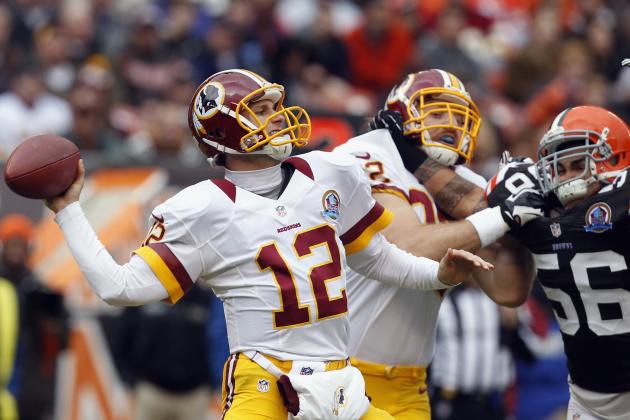 Matt Sullivan/Getty Images

Kirk Cousins is a player that many scrutinized the Redskins for drafting with their third pick in the draft. He was a fourth round selection but many felt that Washington should have addressed other needs with this pick since they had already selected RG3 in the first round.
Cousins proved to be a great pick though by providing some insurance for the Redskins when RG3 was injured. Cousins saw playing time in three regular season games and played well. His most notable performance came against the Cleveland Browns where he completed 26 of 37 passes for 329 yards, two touchdowns and an interception.
Washington won the game 38-21 as Cousins kept their playoff hopes alive while RG3 was trying to recover from a grade-one sprain that he suffered the week before against the Baltimore Ravens.
Cousins played great down the stretch and was everything that a coach would want in a second-string quarterback. He hasn't played enough games to prove that he can be a full-time starter yet, but he is on his way.
He gets a "B" after his first year.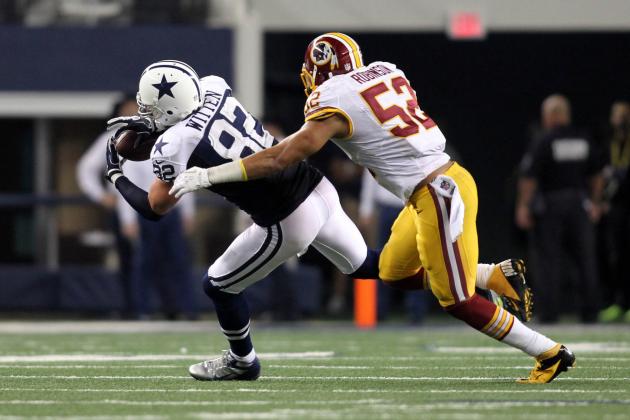 Tim Heitman-USA TODAY Sports

The Redskins selected linebacker Keenan Robinson out of Texas in the fourth round hoping to find a replacement for London Fletcher down the line when the four-time Pro Bowler decides to finally call it a career.
Unfortunately, Robinson didn't see much playing time and only recorded 11 tackles on the year before tearing a pectoral muscle against the Cowboys on Thanksgiving.
The Redskins had the right idea in drafting someone to potentially take over for Fletcher, but due to the lack of playing time it is hard to tell if Robinson will be a viable option.
For now, Robinson gets a "C" after his injury-shortened season.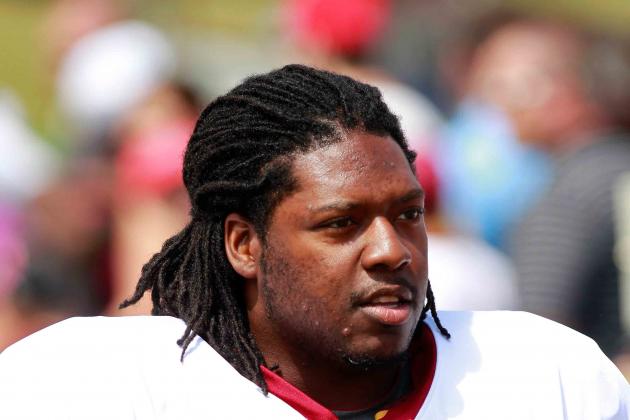 Geoff Burke-USA TODAY Sports

The Redskins addressed their offensive line again in the fifth round and selected guard Adam Gettis out of Iowa. Gettis never saw any playing time but at 6-foot 2-inches and 292 pounds, he is the perfect size to excel in Head Coach Mike Shanahan's zone-blocking scheme.
Gettis sat the bench all year and gets a "C" until he can play his way onto the field.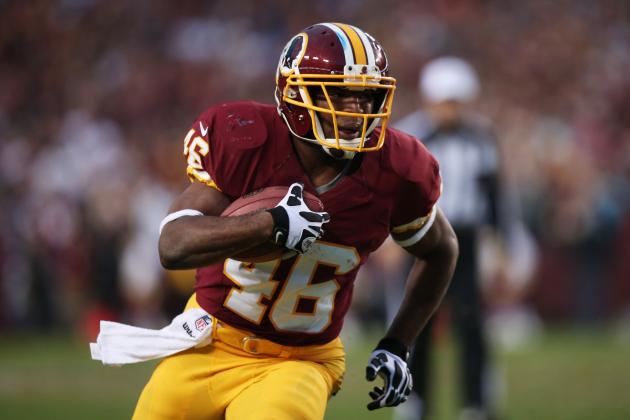 Win McNamee/Getty Images

Alfred Morris blew the doors off the league and was perhaps Washington's best pick in the 2012 draft. Morris came in as a sixth-round pick out of a little-known school called Florida Atlantic and won the starting job by week one.
Morris rewarded the Redskins by breaking the franchise rushing record with 1,613 yards and 13 touchdowns. Morris was also second in the league in rushing behind Adrian Peterson who ran for a ridiculous 2,097 yards.
The Redskins hit a home run with Morris who gets an "A" after his first year.
Jonathan Daniel/Getty Images

Washington selected tackle Tom Compton out of South Dakota in the sixth round to try to add some depth to their offensive line. Compton remained on the practice squad for most of the year, but was promoted to the 53-man roster in week 14 and remained there for the rest of the season.
Compton didn't get to contribute much this year, but the fact that he got himself promoted late in the year will keep him around a little longer.
He gets a "D" after his first year but still has potential.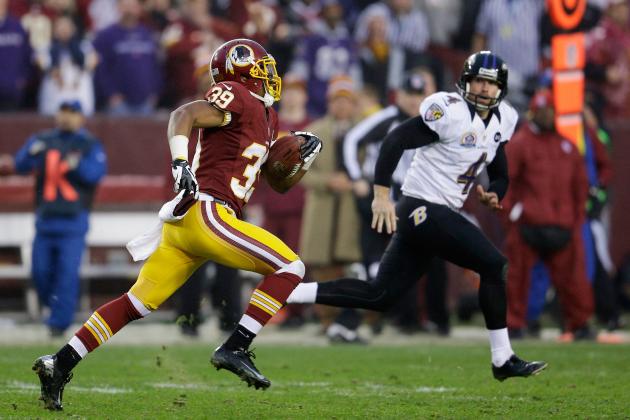 Rob Carr/Getty Images

The Redskins found some value in the seventh round when they selected cornerback Richard Crawford out of SMU. Crawford really stepped up late in the season and made some big plays while the Redskins were making their playoff push.
In week 14 against the Ravens, Crawford returned a punt 64 yards in overtime to set up a game-winning field goal that saved the Redskins season. Crawford also had an interception against Dallas in week 17 in a win that made Washington the NFC East Champions.
Crawford was a big special-teams contributor late and made plays when the Redskins needed them, but he still needs to develop.
With his late-round value, Crawford gets a "B" after his first year.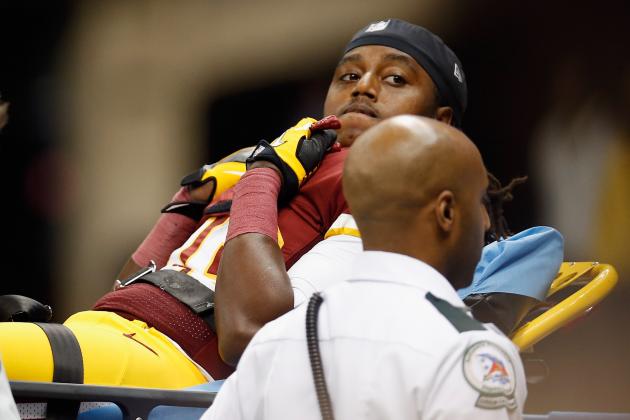 Chris Graythen/Getty Images

With their final pick in the 2012 NFL Draft, the Washington Redskins selected safety Jordan Bernstine out of Iowa. Bernstine showed some promise in preseason with 11 tackles, 2 pass deflections and an interception, and he even made the opening day 53-man roster against New Orleans.
Unfortunately, Bernstine suffered a serious knee injury in that game and tore his ACL, MCL and PCL. Bernstine missed the rest of the year and was replaced by safety Jordan Pugh. Bernstine showed a lot of promise early on, but after a serious knee injury it's hard to tell if he will be able to be a force in the future.
The Redskins made a good pick with Bernstine but had bad luck. He gets a "D" after his first year.