MLB: Best Free Agent Pitchers Still Available and Who Needs 'Em
Christian Petersen/Getty Images
As the dump trucks continue pouring money all over the estate's of Zack Greinke and Anibal Sanchez, we seem to forget that there is still a handful of legitimate pitching to be had in free agency.
For whatever reason, a number of quality arms have yet to be wrapped up. As teams wind down their offseasons and begin to set sights on Spring Training just a few short weeks away, these pitchers are still looking for the team that they will call home this coming season.
Kyle Lohse
Christian Petersen/Getty Images
Lohse had an outstanding season for the Cardinals in 2012, going 16-3 and finishing fifth in the NL with a 2.86 ERA.
Considered to be among the upper echelon of free agent pitchers this year, Lohse is a Scott Boras client, who appears to be holding out for a multi-year contract. At age 34, teams are clearly wary of doling out big money over the course of a long contract to him. Additionally, teams will have to forfeit a first-round draft pick for his services.
His career season at an advanced age during a contract year could have been an aberration, as teams are not willing to risk big money on Lohse because he may revert back to the norm. His career ERA sits at 4.45.
Lohse is still a big-time innings eater who has shown consistency over the last few seasons. While he may not be an ace that will rack up 200 strikeouts, he is still a very valuable number two or three starter that can help a team tremendously. He is unlikely to get the contract he desired, and will likely receive something more along the lines of Ryan Dempter's 2-year/$26.5 million deal with the Red Sox.
Who Needs 'Em - Baltimore Orioles
Shaun Marcum
Mike McGinnis/Getty Images
The 31-year-old Marcum had a solid 2012 season despite making only 21 starts due to injury. He has been a consistent reliable pitcher since having Tommy John surgery in 2009, posting ERA's in the mid-3's.
How Marcum projects to perform in the future is uncertain. He has posted staggering home/road splits, showing a propensity for pitching much better away from Miller Park with the Brewers. Over his two seasons with Milwaukee, he has pitched to a 4.69 ERA at home as compared to 2.67 on the road.
Marcum can be a very reliable starter on any number of teams. How he would do in the American League is seemingly less of an issue given his past history with the Toronto Blue Jays. Although his fastball rarely touches 90 mph, his past success in the vaunted AL East is comforting.
Many high profile teams have already filled their pitching needs, however there have still been a handful of clubs in contact with Marcum. Look for him to sign soon.
Who Needs 'Em - Pittsburgh Pirates
Joe Saunders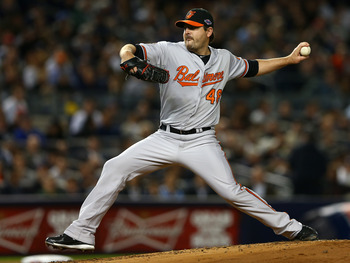 Elsa/Getty Images
Saunders really came on strong for the Orioles after a late season trade from Arizona. He pitched to a 3.63 ERA with Baltimore in the AL East, and stepped it up with two very strong playoff performances.
The lefty has amassed over 170 innings in each of the last 5 seasons. While he will not wow anyone with Verlander-esque numbers, he will be a vital member of a pitching staff. He keeps the ball on the ground consistently and would be a very nice number four or five starter for a contender.
Despite having a losing record each of the last three seasons, Saunders' peripherals garner enough attention to overlook his win-loss record. A reliable ground-ball pitcher with playoff experience? Sign me up.
Who Needs 'Em - Texas Rangers
Brian Wilson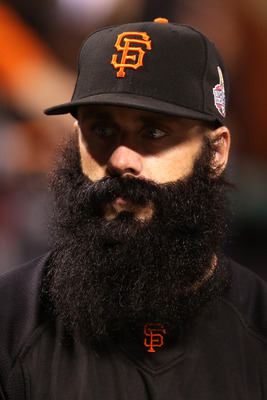 Christian Petersen/Getty Images
The beard is back.
Arguably the best remaining closing option still available, Wilson missed all but two games of the 2012 season after undergoing a second Tommy John surgery. GM's may have a hard time going after Jose Valverde after his implosion in the playoffs, so Wilson is the top remaining option.
There was no doubting his ability before the surgery, as Wilson was one of the most dominant closers in baseball. The Giants have already moved on, so he will be taking his talents elsewhere. He can provide a team with a substantial upgrade both in the ninth inning and in the clubhouse, as his outlandish personality could revitalize a listless franchise in need of a spark.
Wilson is probably looking at a one-year deal to prove his health, but it would be the epitome of low-risk, high-reward for whoever is willing to roll the dice.
Who Needs 'Em - New York Mets
Keep Reading