2013 NHL Season: Predicting the Carolina Hurricanes' Scoring Leaders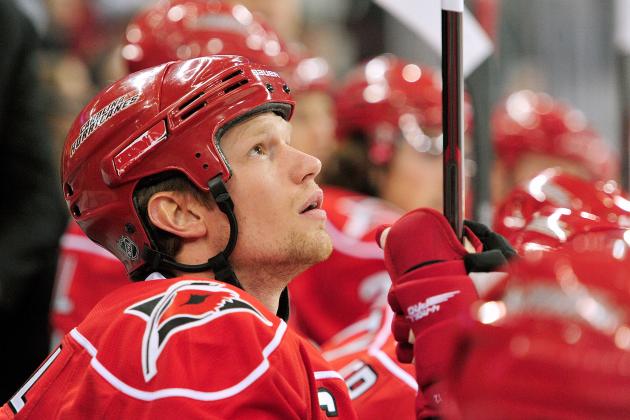 Grant Halverson/Getty Images

The Carolina Hurricanes' lockout-shortened 2012-13 season hasn't begun they way they had hoped.
Two games, two goals and nine goals against. A 1-for-11 power play. An 8-for-12 penalty kill.
Zero wins.
With newcomers Jordan Staal, Alexander Semin and Dan Ellis in the fold, and promising youngsters Zac Dalpe, Drayson Bowman, Zach Boychuk and Bobby Sanguinetti also working their way up, losing wasn't supposed to be the norm this season.
But it has. And that needs to change.
Staal and Semin must start making a difference. Cam Ward and Eric Staal must start playing like they did back in 2006. And all of the pieces in between—from Patrick Dwyer, an early-season bright spot,to Joe Corvo, living up to his unreliable reputation—must start taking responsibility for their roles, as well
All of the 'Canes—but, in particular, these seven cornerstone players—must be beyond satisfactory in 2012-13 to hoist this team from an 0-2 trainwreck to a playoff contender. How can they pull it off? A look at the stats the 'Canes must expect from their best players in order to make the playoffs falls on the coming slides.
Begin Slideshow

»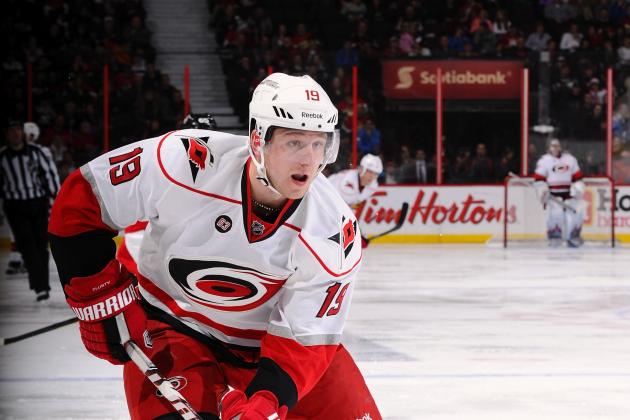 Phillip MacCallum/Getty Images

Despite playing alongside Tomas Plekanec and Jaromir Jagr in the Czech Republic during the lockout, Jiri Tlusty has bounced around inconsistently during the 'Canes opening games and has yet to register a point.
The 24-year-old former first-round pick is coming off a career 2011-12 season, however, quadrupling his previous career high with 36 points. If Tlusty can restore his chemistry with Eric Staal and earn a spot on the first line, his defensive responsibility could help ease the loss of Tuomo Ruutu in Carolina's top-6.
Projection: 44GP, 9G, 11A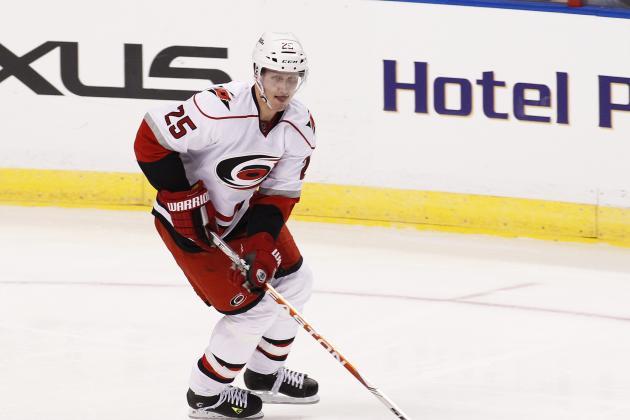 Joel Auerbach/Getty Images

Joni Pitkanen has been one of the Hurricanes' few bright spots through two games.
He's worn his welcome thin in recent years as injury problems and defensive woes (a minus-28 rating since 2009) have arisen, but the 29-year-old set up Carolina's first score of 2013 and—despite playing over 24 minutes a night—has been on the ice for only two of nine goals against.
An eye-opening rebound campaign from Pitkanen would provide a much-needed boost for a defensive unit struggling to pull together.
Projection: 40GP, 4G, 17A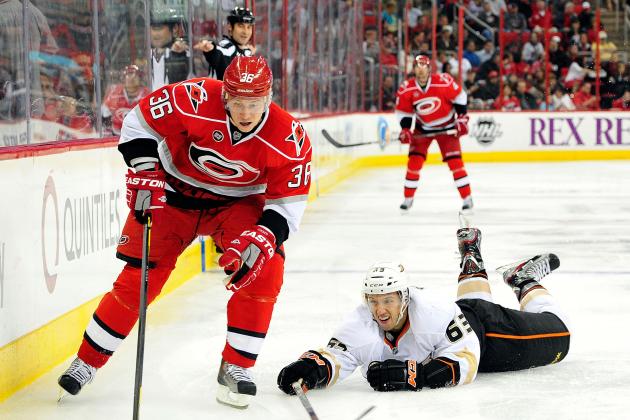 Grant Halverson/Getty Images

Along with the rest of the team, Jokinen has struggled in the Hurricanes' first two games, recording a minus-two rating, two minor penalties and zero points.
He's been another victim of Carolina's line instability, as well, spending time as both third-line center and second-line wing. The 29-year-old also had a disappointing campaign last season, tallying just 12 goals, and he'll need to catch fire soon to stay in good sitting with head coach Kirk Muller.
Projection: 45GP, 6G, 18A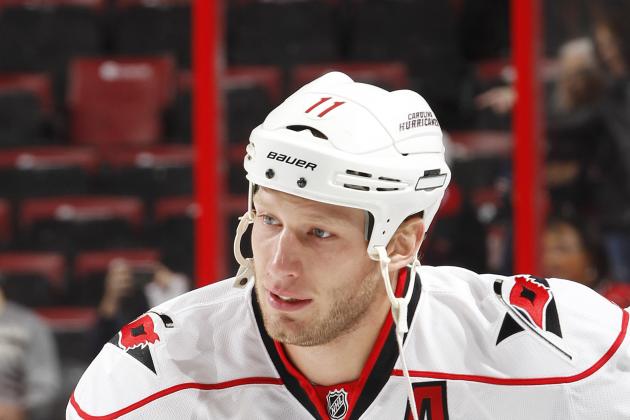 Joel Auerbach/Getty Images

Jordan Staal has looked nervous (at best) during Carolina's home and away openers, demonstrating little of the brotherly chemistry expected between him and Eric and proving why he wasn't used as an offensive mainstay in Pittsburgh.
The 24-year-old center picked up the secondary assist on Jeff Skinner's Tuesday score, but has had a difficult time adjusting to his large role in Raleigh. Staal's speed and effectiveness in transitioning into a top-tier star could prove crucial in the Hurricanes' potential turnaround.
Projection: 48GP, 14G, 14A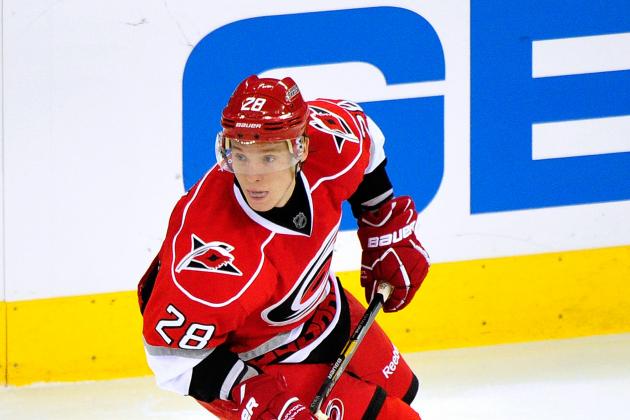 Grant Halverson/Getty Images

Alexander Semin's Carolina debut has produced a somewhat mixed bag of results. He's seemed involved and motivated in offensive sequences, especially on the power play, but he also whiffed on a gaping goal Tuesday night and still looks a bit unfamiliar with the Hurricanes' system.
The coming weeks will be crucial for Carolina's lone Russian—who registered his first point of the season against Tampa Bay—as he fights to live up to his $7 million price tag.
Projection: 41GP, 17G, 13A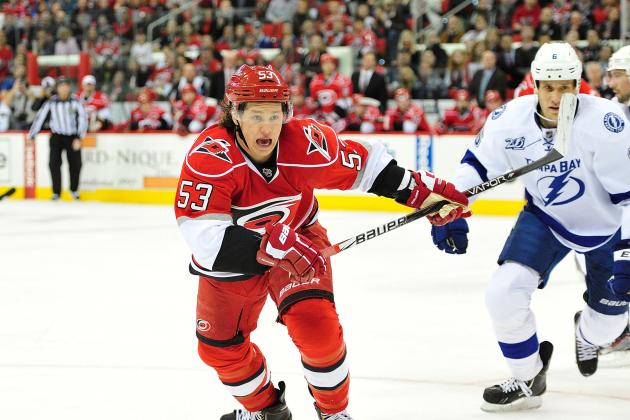 Grant Halverson/Getty Images

Young fan-favorite Jeff Skinner has been—without a doubt—the Hurricanes' best forward through two games. The 20-year-old's hustle and quickness has stood out well above the rest, and he was rewarded with the Hurricanes' second goal of the season during Tuesday's home opener.
Attempting to come back from a concussion-plagued sophomore season following his 2010-11 Calder Trophy campaign, Skinner's success during a rough first week bodes well for his statistics once the Hurricanes get rolling. He truly has the potential to become Carolina's leading scorer over the course of the season.
Projection: 41GP, 16G, 15A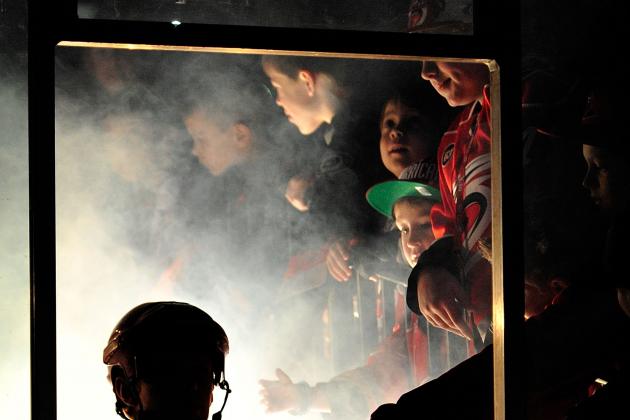 Grant Halverson/Getty Images

From a box suite view, Eric Staal looked energetic Tuesday night, racking up a whopping seven shots and even dropping the gloves for a few seconds.
With the Hurricanes 0-2 and Staal scoreless, however, a portion of the blame must fall on his shoulders simply due to his captaincy position alone. Something must change in Raleigh soon, and—to an extent—it's his responsibility to execute that.
The family reunion is over. It's time to get to work.
Projection: 46GP, 17G, 24A