2013 MMA to-Do List for Each Top 10 Light Heavyweight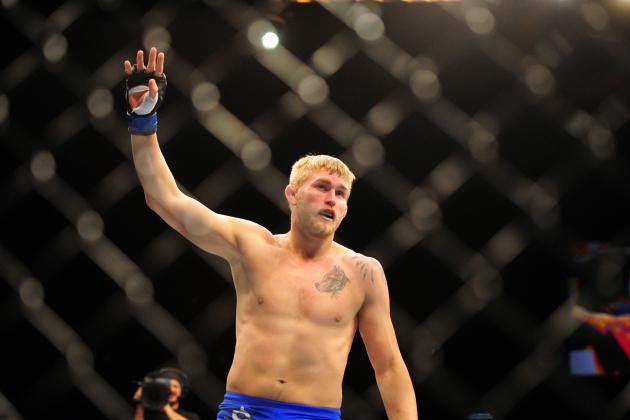 Mark J. Rebilas-USA TODAY Sports

The 2013 calendar year is well underway, and the MMA action is already in full swing.
Here we'll take a look at the sport's current top 10 light heavyweight competitors and examine what they should be looking to accomplish by the time December 31 rolls around.
For each inclusion, I've assigned three "to-do" goals that are reasonably achievable within a 12-month time frame.
The rankings used for the purpose of this list are of my own design.
Note that both Dan Henderson and Antonio Rogerio Nogueira are absent from the list because they have both been out of action for over a year.
Begin Slideshow

»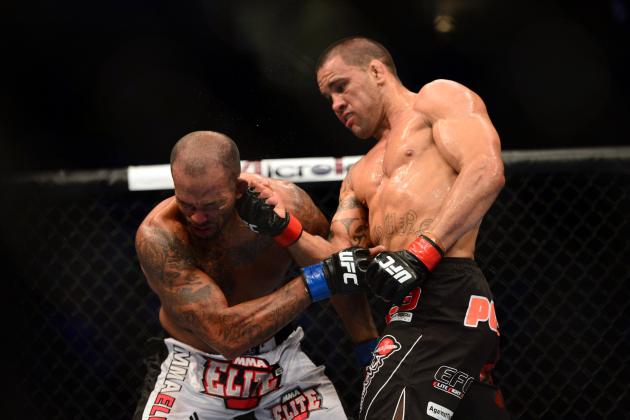 Kyle Terada-USA TODAY Sports

Show Ryan Jimmo Who the Harder Puncher Is
James Te Huna vs. Jimmo is set for UFC on Fuel TV 7, this February 12. Though Jimmo recently debuted in the UFC with a spectacular 0:07 knockout, it's Te Huna who is reputed as the more dangerous striker. And for good reason.
So if Jimmo gets any ideas about trying to build on his legend from last time out, it will be incumbent upon Te Huna to show him how things really are.
Drill Your Takedown and Submission Defense Like There Is No Tomorrow
Other than a disqualification loss from 2005, Te Huna's only defeats have come via submission. On the other hand, seven of his last eight wins have come via knockout.
There is no mystery as to where Te Huna's strengths and weaknesses lie. He just has to make sure that it isn't easy for opponents to avoid his power and access his Achilles' heel.
Enter the Top 10 Legitimately
Te Huna only makes this list because Dan Henderson and Antonio Rogerio Nogueira have been out too long to be eligible. But if Te Huna keeps knocking people out in 2013, it will be hard to argue that he isn't a top-10 light heavyweight purely based on merit.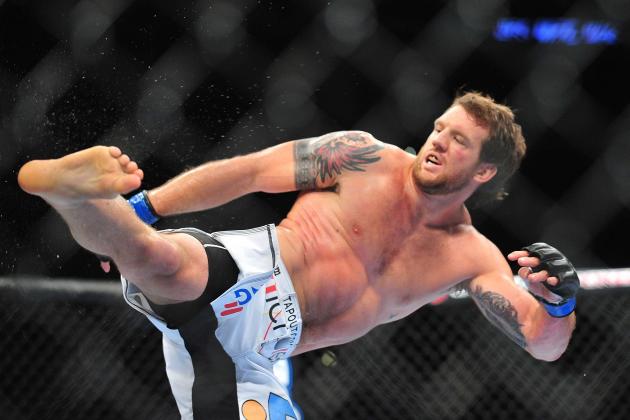 Gary A. Vasquez-USA TODAY Sports

Take Care of Business at UFC on Fox 6
Coming off a win over Quinton Jackson and what was supposed to have been a title eliminator against Lyoto Machida, Vladimir Matyushenko has to be kind of a letdown opponent for Ryan Bader.
Matyushenko hardly carries the name recognition of Bader's last opponents, nor has he achieved a comparable rank. That translates to a lesser challenge for "Darth," but it doesn't mean Matyushenko will be a cakewalk.
In fact, this will be a very dangerous fight for Bader. If he's overlooking Matyushenko in favor of bigger and better things, he might just be in for a disappointing night.
Rely More on Your Wrestling
He's become a dangerous striker, but not an elite one at 205. Bader is, however, an elite wrestler at 205, and I'd like to see him rely on his primary weapon a bit more in 2013.
He's not as guilty of falling in love with his striking as some wrestlers, but he'll only become a better all-around fighter if he goes to the well on a more regular basis.
Start a Win Streak
Beating Matyushenko at UFC on Fox 6 would be a nice start for Bader in 2013, but that won't be enough to make it a good year for him.
With a victory, Bader could earn himself another chance at a top-tier opponent, and how he fares then will decide whether 2013 is a success or a failure.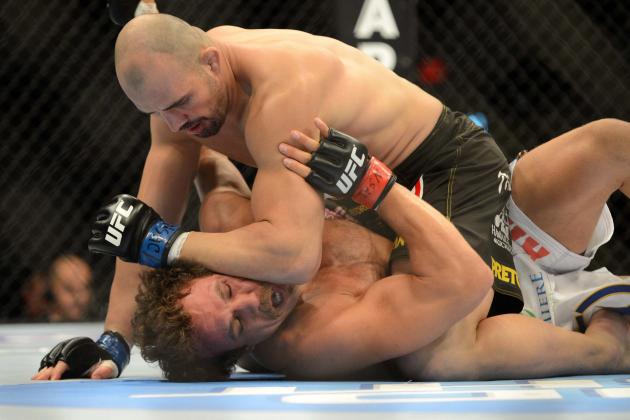 Ron Chenoy-USA TODAY Sports

Spoil Rampage Jackson's Farewell Party
A win over Rampage doesn't count for what it once did, but it would still be an accomplishment for Glover Teixeira.
Not only would it be his most meaningful victory to date, it would also put him into the title picture, even if not front and center.
Don't Get Used to Getting Hit
Though Teixeira's standup has looked tremendous as a member of the UFC, he was tagged a couple times by Fabio Maldonado, who at the time of impact was already in full-out zombie mode.
It's been no harm, no foul so far, but Teixeira won't want to leave himself exposed when he begins competing against the class of the 205-pound weight division.
For now It seems a picky criticism—considering how terrific Teixeira's been since 2006—but it's not something to ignore as he starts brushing shoulders with opponents that let no mistake go unpaid for.
Prove You're the Real Deal
Most obviously, Teixeira's 2013 will be defined by whether he sputters out against top competition or begins mowing through the fray.
At this point, there aren't many critics that would deem him anything less than a good fighter. But the jury is still out on just how good he truly is.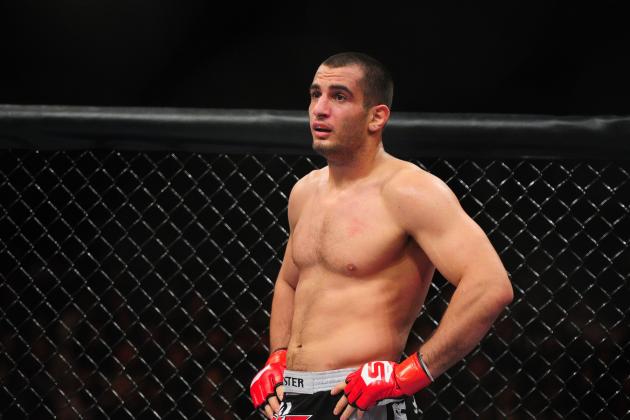 Mark J. Rebilas-USA TODAY Sports

Enter the UFC on a High Note
Gegard Mousasi heads to Sweden this April, where he'll make his UFC debut against Alexander Gustafsson.
It's just his first contest under the UFC banner, but the UFC on Fuel TV 9 affair has title implications, (though not necessarily immediate ones) for Mousasi.
A win would make him an instant sensation and maybe even earn him a title eliminator bout by the conclusion of summer.
Stay Consistent
Though he's posted a stellar 9-1-1 record since winning the Dream Middleweight Gran Prix back in 2008, Mousasi has looked pretty ordinary at times.
When he's aggressive and looks to mix takedowns in with his strikes, he's tough for anyone to beat, but that's not always how he fights. Sometimes, he looks lethargic and disinterested in putting any thought into the tactics he employs.
If he wants to hack it on the big stage, he'll need to avoid these kinds of lapses. Top-tier UFC competition can be most unforgiving.
Take Out a Pair of Top UFC Light Heavyweights
Gustafsson would be one, yet that leaves Mousasi plenty of time to bag another trophy before the year's end.
Where exactly he fits into the division's title scene is uncertain at this point, so all that should be on his mind is winning, and winning against talented, big-name opponents.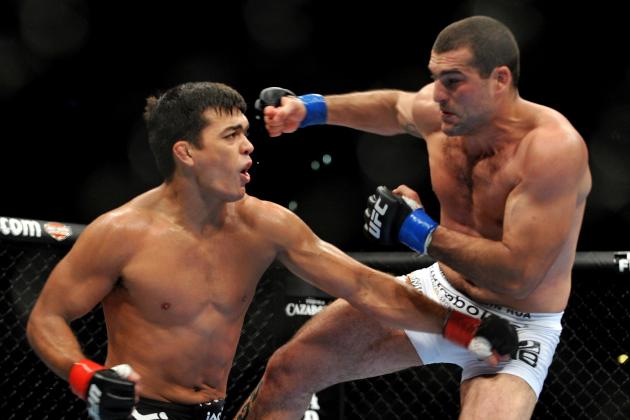 Jon Kopaloff/Getty Images

Stay Healthy
Not that he has a choice, but staying healthy will decide whether the backslide of Shogun's career is a gentle slope of jagged cliff.
Already in decline, though still competing at a high level, staying away from the surgeon's knife might not mean another UFC title for Mauricio Rua, but it may allow him to win a few more fights over quality opponents.
Continue the Trend of Win-Loss, Win-Loss
Fun fact about Rua's UFC career: Other than a brief two-fight win streak in 2009, he has neither won nor lost more than one contest in a row.
Since he's now coming off a loss, it naturally follows that his next result should be a win. If he can continue the trend, that is.
Add Another Knockout to Your Highlight Reel
I don't believe Rua will ever be a champ again. I don't believe he can resurrect his career by peeling back his aggressiveness without sacrificing effectiveness. I also don't believe retirement is on his mind just yet.
That sort of puts him in limbo. Frustrating, but wouldn't yet another awesome finish look good on Rua's resume before he calls it quits?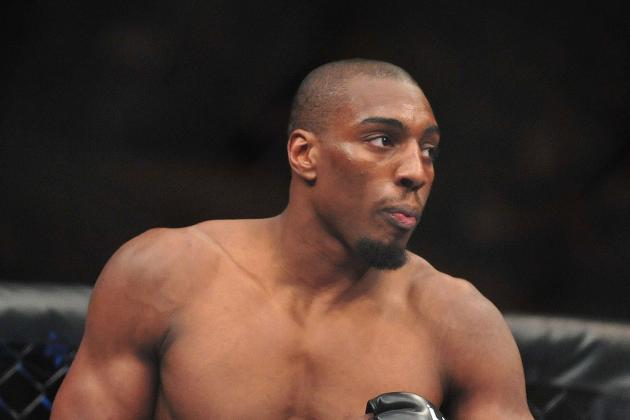 Gary A. Vasquez-USA TODAY Sports

Demonstrate Improved Striking
Phil Davis' outstanding wrestling game can only take him so far at 205, and the likelihood of him adding a complementary striking game seems to diminish with each passing year.
If he doesn't do it in 2013 he may be forever relegated to mid-tier status, which would be a waste given just how much potential "Mr. Wonderful" truly has.
Get a Signature Win
Davis has some nice wins in the UFC, but none have come against a true title contender. Except maybe his 2010 victory over Alexander Gustafsson, but at that time both Davis and Gustafsson were little more than high-ceiling prospects.
Antonio Rogerio Nogueira, Brian Stann and Tim Boetsch are also nice names on Davis' resume, but two now fight at 185 and the other is but a fringe contender at 205.
In 2013, Davis needs to get himself a win over a top-five opponent.
Get into Title Talks
If Davis does get himself a career-defining win in 2013, chances are he'll have at least positioned himself close to a title shot by the end of the year.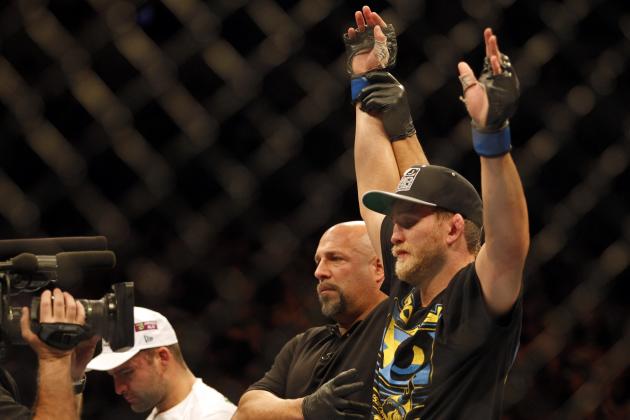 Joe Nicholson-USA TODAY Sports

Welcome Gegard Mousasi to the UFC with a Loss
The hype surrounding Mousasi has lessened from what is was when he captured the Dream Middleweight Grand Prix in 2008, but he's still a dangerous fighter. A 9-1-1 record since achieving the honor proves that.
If Gustafsson is able to pull out a W over Mousasi when he welcomes him to the Octagon this April, it will do big things for the Swede's career.
Exemplify Staying Power
Even if beating Mauricio Rua doesn't mean what it once did, Gustafsson's victory over the Brazilian in 2012 was his signature performance to date. In taking down a legend, he proved his vast potential has become legitimate effectiveness.
Now what he has to do is prove that he's not only good enough to make it to the upper echelon of the 205-pound division, but good enough to stay there as well.
Earn a Title Shot
There is much uncertainty regarding the title picture at 205, but Gustafsson is undoubtedly a very real player there.
With a maximum of, say, two more wins, it will be difficult to justify keeping him out of a title match.
And picking up two wins in 2013 is certainly no pie in the sky endgame for the Swede.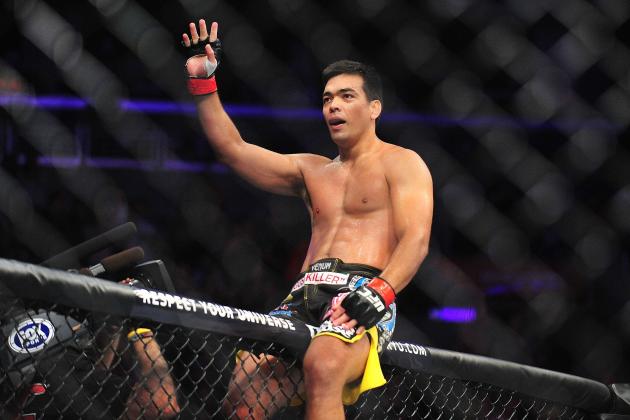 Gary A. Vasquez-USA TODAY Sports

Beat Dan Henderson at UFC 157
It's a pretty basic objective, but one fundamental to Machida's career.
A loss would mark his fourth defeat in six fights. A win might get him a title shot. The outcome of Machida's UFC 157 bout can therefore take his career to two very different places.
Establish Yourself as the No.1 Contender
The next step in the Lyoto Machida program is to win another fight. He might get a title shot for beating Henderson, but there's no guarantee. He may have to take on someone like Phil Davis, Rashad Evans or the winner of Alexander Gustafsson vs. Gegard Mousasi first.
However it pans out, Machida just needs to keep winning.
Win the UFC Light Heavyweight Title
I've outlined an ambitious agenda for Machida's 2013, but not one that is unrealistic. In fact, anything less than regaining his long-lost UFC strap this year would probably be very disappointing to Machida himself.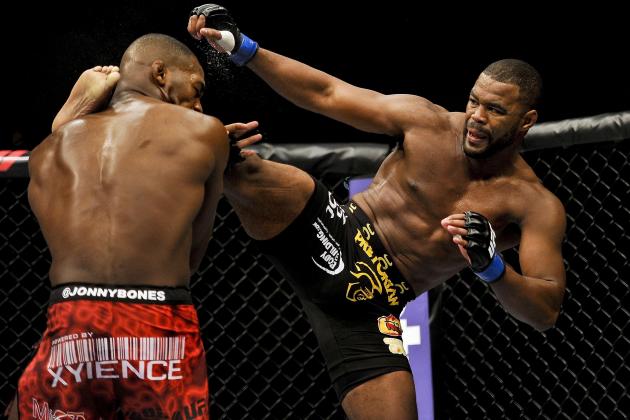 Paul Abell-USA TODAY Sports

Get Back on Track with a Win at UFC 156
Evans has not competed since losing to Jon Jones last April, so it will be important for him to start 2013 out in winning fashion.
He'll get that chance February 2, against Antonio Rogerio Nogueira.
Get Back in the Light Heavyweight Title Picture
With a win at UFC 156, Evans will get him himself back into title talks, even if it's unlikely he'll get another crack at the belt before picking up an additional win or two beyond that.
Still, he's too good of a fighter to linger outside the main pack of Chael Sonnen, Dan Henderson, Lyoto Machida and Alexander Gustafsson, who current form the division's top contenders.
Evans needs to reassert himself as the best 205-pounder not named Jon Jones if he hopes to once again compete against his nemesis.
Or Drop Down to Middleweight
Evans has flirted with dropping to 185 for ages now, and perhaps 2013 will be the year he finally takes the plunge.
There is a lot of clutter in the middleweight division, but Evans would enter the fray near the very top. Chances are he'd need just one win, if that, before fighting for UFC gold.
And given Evans's belief that he's the man to dethrone Anderson Silva, it sounds like a move worth making.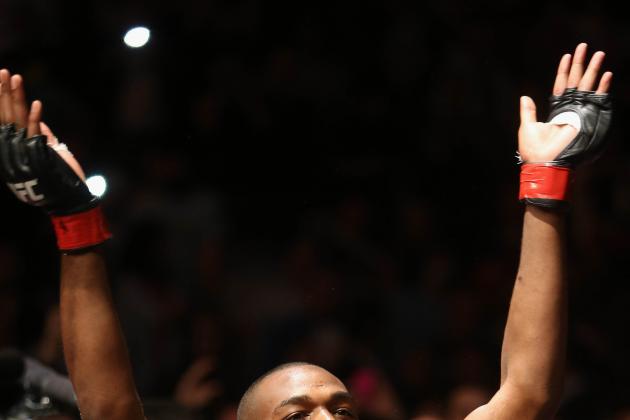 Tom Szczerbowski-USA TODAY Sports

Clear Out as Much of the Light Heavyweight Division as Possible
Right now that entails defeating Chael Sonnen in the spring, then taking out at least two of Alexander Gustafsson, Dan Henderson, Glover Teixeira, Lyoto Machida for a second time and possibly Daniel Cormier.
The order and exact lineup here will be determined by how those on the list fare in early 2013.
Just Don't Do Anything to Further Alienate the Fans or Your Employer
While 2012 was another good year inside the Octagon for Jones, it was an utter disaster outside of it. He'd be wise to keep it low key in 2013.
That is, of course, easier said than done when you coach The Ultimate Fighter, but that exposure does present an opportunity.
Put in a Good Showing on The Ultimate Fighter
Though the show was filmed 2012, it didn't make it to the air until this year. So I'm counting it here.
The weekly national exposure Jones will get for his coaching efforts will afford him the opportunity to exhibit personal growth. No doubt Chael Sonnen will do what he can to get under the champion's skin, so there will be ample time to prove his skin has thickened since 2012.
That is, if it has thickened.
Ultimately, how he is presented during the TUF season will go a long way to either solidifying Jones as a villain, or putting him nearer the good graces of MMA fans.
Also, having one from his roster win the show would be a nice feather in the cap for 2013.
Also checkout: