Ohio State Football: 10 Reasons Buckeyes Will Go Undefeated Again in 2013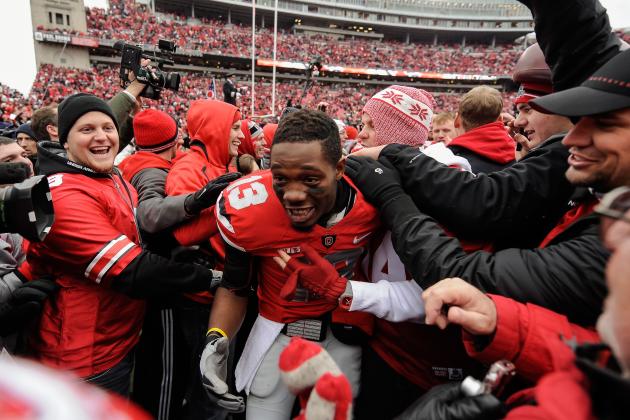 Jamie Sabau/Getty Images

With the exception of maybe the Crimson Tide, you'd be hard pressed to find another program with bigger expectations placed before it than Ohio State. The Urban Meyer-led Buckeyes finished 12-0 in his first season in Columbus, and in college football, good results always return lofty expectations.
Now it's an extremely tall order to expect a program to finish any season undefeated, let alone two in a row. The Buckeyes are losing two key starters on the defensive line along with a few other positions. They struggled against some inferior opponents throughout the 2012 season and at times looked very underwhelming.
All this being said, Urban Meyer and his team finished this past season unscathed and have plenty of talent to bring to the table in 2013. Returning starters like Braxton Miller, Carlos Hyde, Ryan Shazier and Bradley Roby have some serious unfinished business to attend to this season.
And in the grand scheme of things, the Buckeyes have a serious shot at running the table, for a number of reasons.
Begin Slideshow

»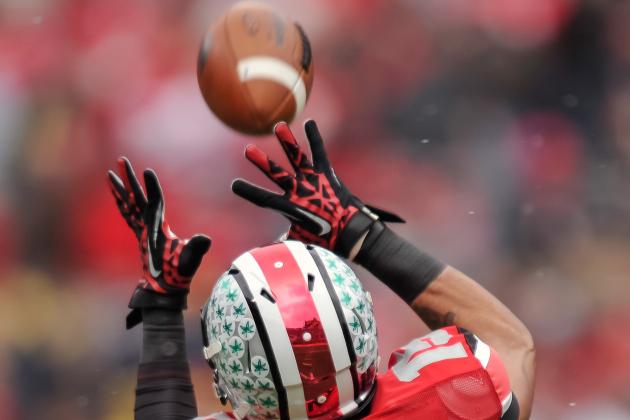 Jamie Sabau/Getty Images

Early in the 2012 season, Braxton Miller was asked to do a lot for his offense. The athletic QB carried the ball far too much in the first few games, and the passing game was nearly nonexistent, short of a few big pass plays.
As the season progressed, wideouts like Philly Brown and Devin Smith became an integral part of the offense. Brown especially showed out towards the end of 2012 and really became a reliable target for Miller. This is evidenced by his really impressive performance against the Wolverines to end the season.
In fact, the improvement of their receiving corps is evident in the numbers. In 2011, Philly Brown only pulled in a measly 14 receptions as opposed to the 60 catches he netted in 2012. Devin Smith more than doubled his receptions and yards under Meyer last season, and if this increase in production continues, the Buckeyes could have a very dangerous offense in 2013.
Now OSU still needs a reliable third option to emerge. Whether that be from a third receiver or a tight end of some sort doesn't really matter. The Buckeyes just need to diversify their passing game a little more and take the pressure off Miller's legs as much as possible.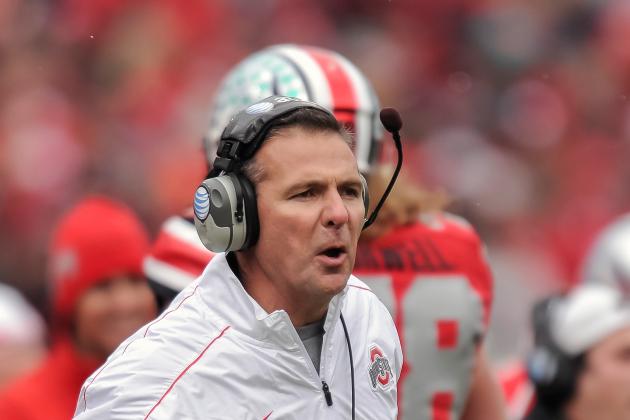 Jamie Sabau/Getty Images

The anticipation surrounding the offense Urban Meyer was bringing to Columbus was well deserved. It delivered results as well.
The Buckeyes' offensive production in 2012 compared to 2011 was like night and day. Buckeye Nation can finally be confident in its offense and live on the offensive as opposed to the defensive. Meyer's offense puts players in a position to succeed, and with another whole offseason of recruiting and practice ahead, this O could get scary in 2013.
Braxton Miller has two seasons under his belt, one with Meyer, and he's the prototypical QB to perform in this system. The running game became more diversified towards the end of the season and the passing game is coming along.
I expect big things from this offense in 2013, and this system can do wonders when maximized to its full potential.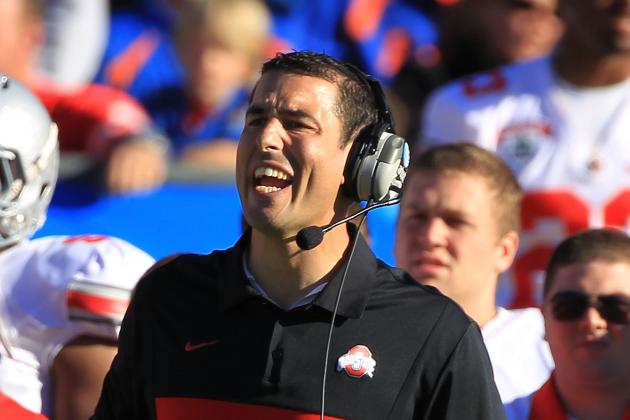 Scott Halleran/Getty Images

Considering successful head coaches like Dan Mullen and Charlie Strong come from the Urban Meyer coaching tree, it was plausible to fear losing one of his current staff members. Luckily for Ohio State, Meyer weathered the offseason storm and shouldn't be losing a member of his staff this year.
The impact of this can't be overlooked. Meyer and his staff now get to put together another full offseason of work, uninterrupted by surprise departures or new hirings.
If there's one thing that can really setback a team with big expectations, it's a musical chairs game with assistant coaches. Urban Meyer has stressed the importance of a solid staff his entire career, and the fact that he gets to keep his assistants around for his second season in Columbus is huge for this team's chances in 2013.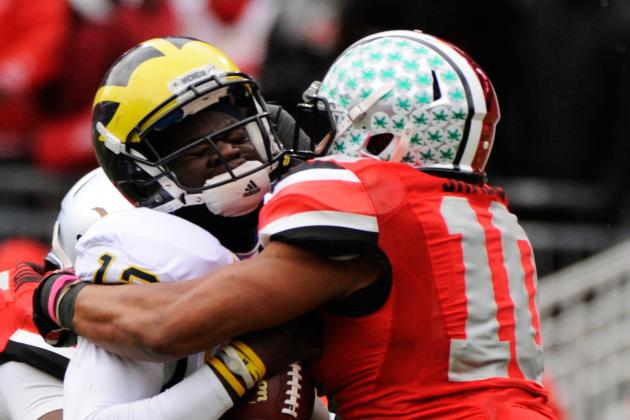 Jamie Sabau/Getty Images

Ryan Shazier has never really gotten the respect he deserves. In fact, he wasn't even the highest rated linebacker in his recruiting class. Now after starting since the middle of his freshman year, and performing at an extremely high level, the soon-to-be junior still hasn't received much national recognition for his performance.
Shazier finished the 2012 season with an impressive 116 tackles, five sacks, one interception and one defensive touchdown.
That's quite the season for a true sophomore and this Florida native is just getting started.
Heading into his junior season, Shazier will be looked upon to take on a more serious leadership role and has the potential to exceed in this area. He's got speed, toughness, a strong feel for the game and loads of experience under his belt. With the departure of John Simon, Etienne Sabino and Jonathan Hankins, Shazier must set the tone for this team's front seven.
And if the past has taught us anything, it's clear that Shazier won't disappoint.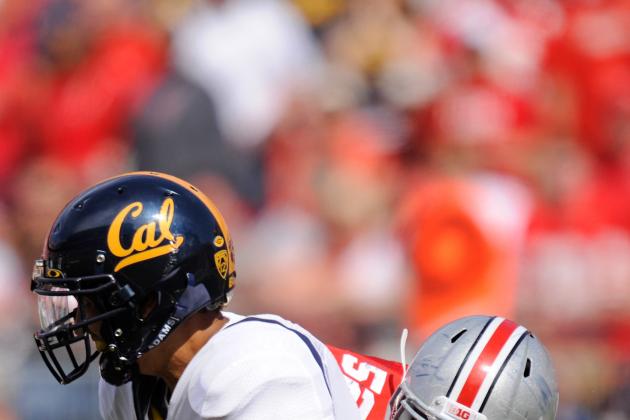 Jamie Sabau/Getty Images

Now before Ohio State fans hunt me down or opposing fans only highlight this slide, let me preface my point.
No schedule in major college football is a cake-walk. Any team on the Buckeyes' schedule can take them out on any given day. As a matter of fact, there are some tough games on OSU's schedule.
All I mean by "manageable" is simply that, manageable. I think it's safe to say that the Buckeyes will more than likely be favored in every game on their schedule. As I scan down OSU's schedule I'm hard-pressed to find a team on there that really scares me.
Their out-of-conference games should go over smoothly, and with Nebraska off their schedule this season, their conference schedule just got a bit more favorable.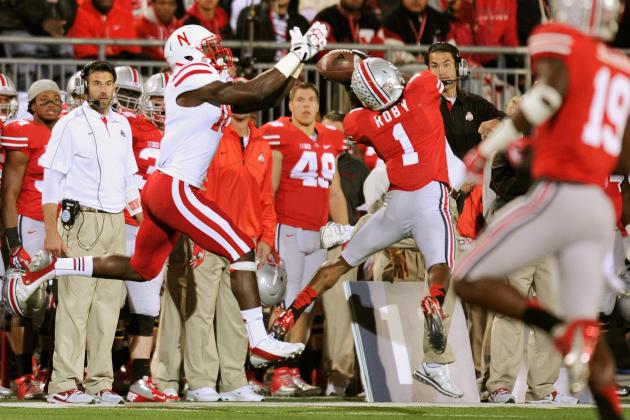 Jamie Sabau/Getty Images

After Bradley Roby announced he was returning for the 2013 season, Ohio State may have solidified one of the strongest secondaries in the nation. With the exception of Travis Howard, the Buckeyes return their entire secondary and they have a ton of experience.
C.J. Barnett returns for his senior season with more than two years of playing experience under his belt and a world of leadership to offer. Christian Bryant brings a ton of fire and playmaking ability to this defense as well and has improved with every game he's played. Doran Grant will most likely take over for Howard and was challenging Howard for his starting spot last spring.
In fact, with the exception of Doran Grant, this entire secondary possesses at least two years of playing experience.
The scariest thing is, I haven't even started on Bradley Roby. The Georgia native is one of the best CBs in all of college football and his decision to return gives OSU a sure-fire shutdown corner.
With the loads of experience, athleticism and a shutdown corner in Roby, this secondary is gonna be difficult to throw on to say the least.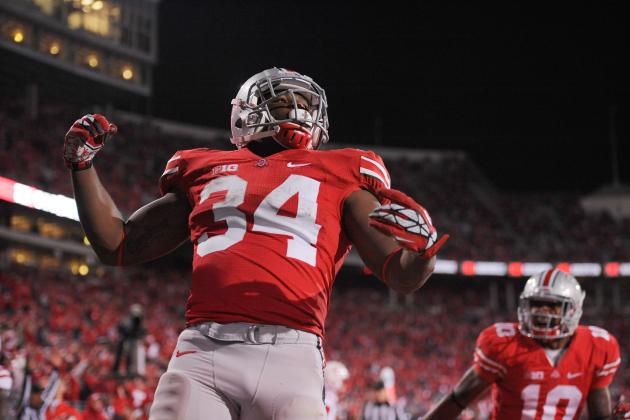 Jamie Sabau/Getty Images

In the first few games of the 2012 season, Braxton Miller was almost the Buckeyes' entire offense. The dual-threat QB was forced to carry the ball an astronomical amount and wasn't going to make it through the season at that rate. Neither was the Buckeyes' offense.
But midway through the season something changed.
It was the emergence of Carlos Hyde. The junior running back rushed for 970 yards and an impressive 16 touchdowns in 2012. Even more noteworthy is the fact that Hyde managed to rush for 125 plus yards in four of OSU's last seven games.
It was obvious that the junior saw the light halfway through the season, and with a whole season ahead of him, it's scary to think what he'll do in 2013.
On top of that, the Buckeyes recently learned that Jordan Hall will be awarded a medical redshirt for his injury-ridden season in 2012. With a healthy Hall, this Buckeye offense now offers a solid change of pace in the running game and another option on the ground.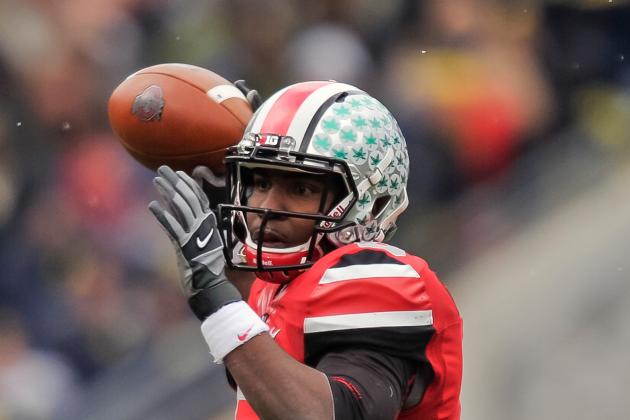 Jamie Sabau/Getty Images

Where to start with Braxton Miller?
The product out of Huber Heights, Ohio has been everything and more since his lofty expectations followed him into Columbus more than two years ago. Since his freshman year, Miller has been making big plays at the QB position and was a major reason for the Buckeye's undefeated season in 2012.
He's the perfect fit for Meyer's spread offense, and his throwing arm has been improving to match his dazzling running ability.
But Miller's physical skills aren't even his greatest attribute.
The guy's a flat out winner.
His competitiveness is unquestioned, and with every year of experience, he becomes an even better leader. Miller is a true gamer, and with several late-game heroics under his belt, he instills confidence in his team every time he steps on the field.
In the end, this team will go as far as Miller can lead them, and as of now, he seems very up to the task.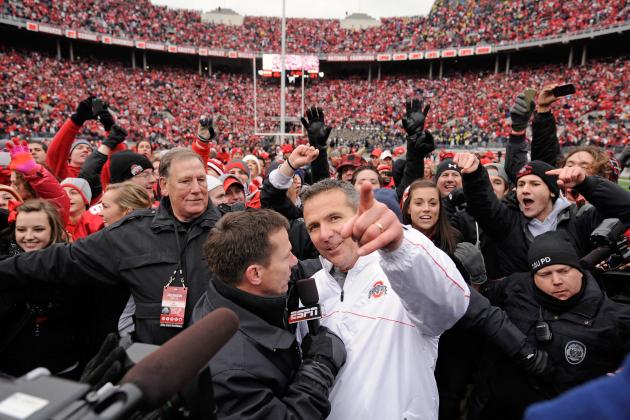 Jamie Sabau/Getty Images

Ohio State wouldn't be in the position it's found itself in if it weren't for Urban Meyer, and that's just the plain truth.
The highly successful coach is 116-23 through 11 seasons as a head coach at four different programs. He's won two SEC championships, four BCS bowls, two of them being national championships, and just led a 6-7 team to an undefeated record.
Needless to say, the guy can flat out coach.
He's changed the aura around this program and has instilled an insane amount of confidence in his players. His initial recruiting efforts have been outstanding, and his system fits this team better and better every day.
Oh and by the way, his records in "big" games are ridiculous.
The Ohio native is 18-1 against his traditional rivals at Florida and Ohio State, 2-1 in SEC championship games, 4-0 in BCS bowls and 2-0 in national championship games.
Bottom line is, Meyer won't panic as the pressure mounts and as the stage lights illuminate brighter; he's a proven winner.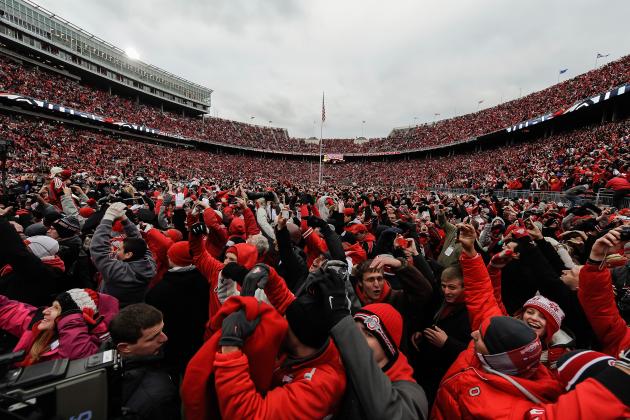 Jamie Sabau/Getty Images

Things have changed in Columbus.
A few years ago this program was rocked with a scandal that forced the early exit of a great coach and a very talented QB, along with the suspensions of several prominent players. The Buckeyes returned in 2011 but struggled to a 6-7 record that left all of Buckeye Nation highly concerned.
But after all this turmoil, the Buckeyes erupted to a 12-0 season behind the leadership of Urban Meyer.
Now, with the wind at its back and the fresh sting of missing out on its shot at a national title fresh in its minds, this team is a freight train.
The current players at Ohio State have been through some tough battles in their careers and this builds chemistry. They know what to do in tight spots, and as they continue to rack up "W's," they'll just become more and more dangerous.
Meyer has instilled an aura of excellence at Ohio State, and every time this team steps out on the field their confidence exudes. It firmly believes that it's the toughest, most prepared and best team on the field anytime it make its way through the tunnel.
Normally, big expectations can ruin teams in the preseason, but this team is feeding off its own momentum. The Buckeyes will play with a chip on their shoulder this season, and I wish their opponents the best of luck.