Mike Goldberg Explains UFC 155 Absence: Dismisses Drug Abuse Rumours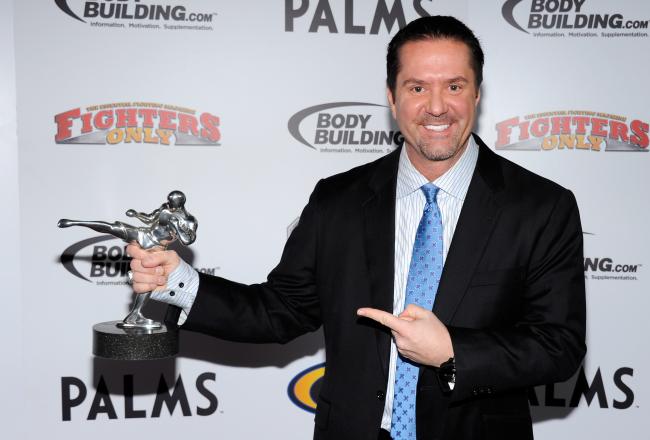 Ethan Miller/Getty Images
Long-time UFC play-by-play commentator Mike Goldberg has been the subject of relentless speculation since he unexpectedly had to bow out of his duties at UFC 155 because of what he described as "a complicated health issue."
The mystery surrounding those health issues sparked rumours that Goldberg was sent to rehab to treat a drug addiction - specifically for adderrall.
Now the man himself has spoken of the reasons why he had to pull out of his first UFC event. In an interview on Ariel Helwani's MMA Hour he said (h/t MMA Fighting):
"I ended up coming home from Brazil with a virus, an upper respiratory infection, I ended up being hospitalized a couple times for it, just because they were making sure they could get my lungs open," Goldberg said. "And just the complications of, I'm an asthmatic, I have been since high school, the complications with trying to get proper medications to get this virus out of my body, I'm not the first guy to come back from Brazil not feeling 100 percent, it just kind of spiralled."
"Goldie" vehemently denied any addiction to drugs, and blamed the rumour on an unnamed "gossip" website as well as on lazy journalists who went with the story.
"This is the society that we live in today," Goldberg said. "Everybody's got a Twitter, everyone pays 500 bucks for their website and all of a sudden, they're a 'reliable source.' And one of those websites said something that was not true, and what disappointed me was how many 'reliable sources' ... how many renegade websites and then legit websites just went with this gossip-site sources and assumed the worst, instead of checking their sources like they teach you in journalism 101 and make sure that the story is true.
Goldberg said he was disappointed and hurt by some of the reaction, but the out-pouring of support by the majority of the people on social media site Twitter was very heartfelt and appreciated.
Goldberg has been working with the UFC since 1997 alongside colour commentator Joe Rogan and has become a familiar name in MMA. In his absence, Fuel TV presenter Jon Anik filled the void and provided play-by-play commentary for the Junior Dos Santos/Cain Velasquez rematch last December.
But the issue might not end there. Goldberg also told Helwani that he was talking to his legal representation regarding what can be done against the gossip site likely Terez Owens, which first reported the story.
Terez Owens has since taken down the unsubstantiated story, but that might not be enough to placate Goldberg's lawyers.
The man himself is set to return his commentary role at UFC on Fox 6 next Saturday. Goldberg assures us that he is now back to 100 percent.
This article is
What is the duplicate article?
Why is this article offensive?
Where is this article plagiarized from?
Why is this article poorly edited?