Notre Dame Football Recruiting: Power Ranking Irish's Early Enrollees for 2013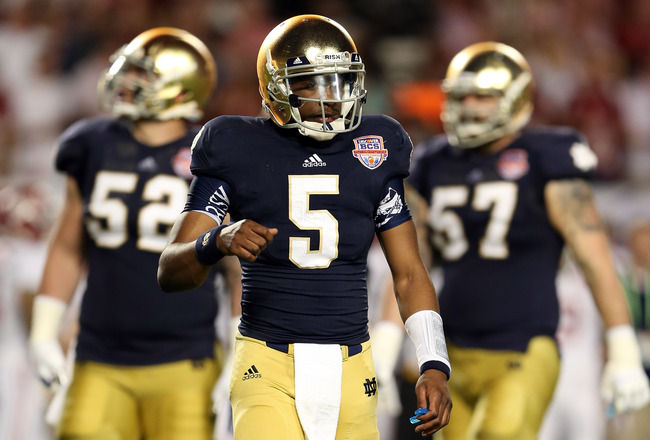 Streeter Lecka/Getty Images
Notre Dame has been pulling in top talent for the past few seasons with this year looking like the best class in recent history. The Irish have five early enrollees for the spring semester, and each will be provided with an opportunity for early playing time.
This is a look at the five early enrollees and how they stack up as possible early impact players.
Malik Zaire will be an outsider but competitor in the assumed quarterback competition that will unfold this spring, and Mike Heuerman has a shot at becoming a solid tight end for the Irish in his first year.
These are the five early enrollees for the Irish.
No. 5: James Onwualu, Receiver, 6'2", 205 Lbs.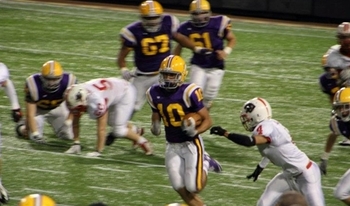 Photo via 247Sports.com
James Onwualu is an early enrollee at the receiver position for the Irish this spring. Notre Dame is looking for playmakers in the passing game after having a mediocre year through the air last season.
Onwualu will have the chance to earn playing time by coming in early, but of all the early enrollees he is the least likely to avoid a redshirt season.
As the Irish progress through spring and into the summer, the future of Onwualu for this season will become clear. He has solid ability, but he has a long hill to climb to crack the receiver lineup for 2013.
No. 4: Corey Robinson, Receiver, 6'4", 205 Lbs.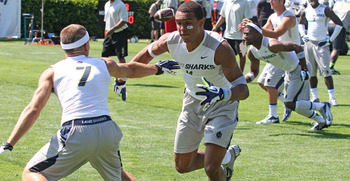 Photo via 247Sports.com
Corey Robinson is one of the most famous recruits in the 2013 recruiting class. He is the son of David Robinson which adds an interesting dynamic to his recruiting profile, but his play will separate himself from his father's legacy in short order once he arrives in South Bend.
Robinson is a stud at the receiver position out of the state of Texas. He chose Notre Dame because the opportunity to make an early impact is there. Enrolling in spring will help him make waves.
As the Irish search for playmakers at the receiver position, Robinson will get a solid look during the spring and summer. He has a shot at cracking the lineup early because of his unique blend of height and athleticism.
No. 3: Mike Heuerman, Tight End, 6'4", 220 Lbs.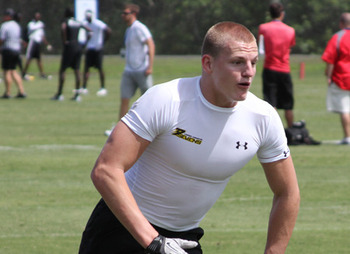 Photo via 247Sports.com
The loss of Tyler Eifert will be big for this Notre Dame offense, but Mike Heuerman has the skills to replace the departed Mackey Award winner. There is a chance he will be called on early to make an impact, and enrolling this spring should help make that happen.
Heuerman has the size to walk in and play right away this spring. As the Irish continue to bring along a young offense and develop the passing game they will need the easy, dump-off throws to be there.
This spring will be huge for Heuerman. He will study under two experienced options at the tight end position, but he should be able to haul in a few catches in his first season with the Irish.
No. 2: Steven Elmer, Offensive Tackle, 6'6", 315 Lbs.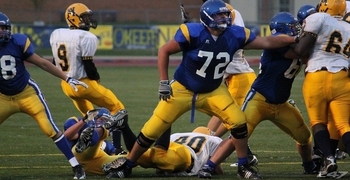 Photo via 247Sports.com
The Notre Dame offense will lose four of its starting five offensive linemen as it heads into the 2013 season. The Irish will need players that can step in right away and play, and Steven Elmer should be one of those guys.
He is already on campus at Notre Dame and will use the spring practice session to earn a starting job for the Irish. There is only one tackle that is departing, but all three interior linemen are leaving which could open up a position for Elmer to start at as a freshman.
This will be a development to watch for Irish fans. There have been a number of freshmen that have made major impacts on the line in the recent past, so this could be a solid fix to a major problem for the Irish this fall.
No. 1: Malik Zaire, Quarterback, 6'1", 185 lbs.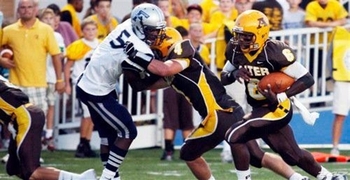 Photo via 247Sports.com
Malik Zaire is an early enrollee for the Irish at the quarterback position and has a shot at becoming a darkhorse candidate for the role entering the 2013 spring practice session.
He is a dangerous dual-threat and could be a star in the offense for the Irish. They are in need of playmakers that can move the football, and at this point no quarterback has taken over the offense.
Everett Golson did get much better as the season progressed and played well against Alabama, but there is still a gap in production. Zaire will challenge Golson and the rest to get better, or get out of the way.
Keep Reading

Notre Dame Football: Like this team?