WWE Royal Rumble 2013: 5 Rumble Records in Danger of Falling This Year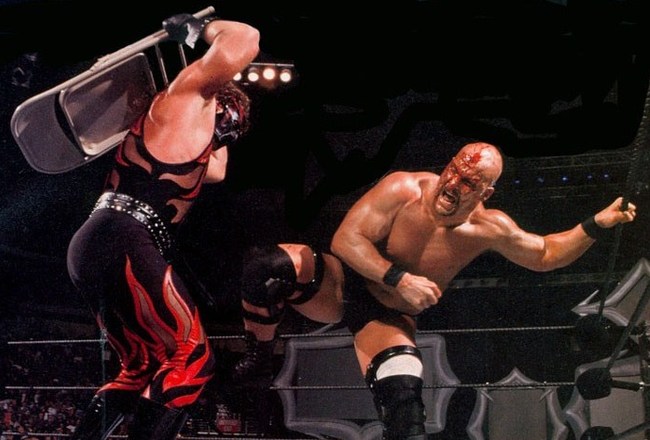 Photo courtesy of WWE.com

The Royal Rumble match is one of the most popular contests in all of professional wrestling for several reasons, and there is no question that history comes into play. There have been 25 Rumbles over the course of WWE history and that means it has a fairly extensive record book that fans love to delve into.
There are some records that may never be broken, including "Stone Cold" Steve Austin's three Rumble wins and Kane's 15 career Rumble appearances, but there are others that are constantly in danger of being surpassed. After a fairly lackluster Royal Rumble in 2012, I fully expect the WWE to go all out in 2013 and that could lead to some record-breaking performances.
Not only is the Rumble great in terms of pushing a star to new heights by winning, but it doesn't even necessarily take a win in order to move up the ladder. Simply having an impressive showing is often good enough to grab the attention of the fans and generate a big push, so there is any number of superstars who could shine on Sunday.
The Rumble is always unpredictable, but with so many records potentially on the brink of obliteration, the 2013 Royal Rumble should be fantastic. Here are the top five records that could certainly be broken in Phoenix.
Shawn Michaels' Most Career Eliminations
With two career Royal Rumble victories, Shawn Michaels is among the greatest Rumble competitors of all time. Perhaps his greatest accomplishment, however, is his career record for Royal Rumble eliminations, which currently stands at 40, according to WWE.com. Michaels competed in the second-most Rumbles of all time with 12, so it certainly makes sense that he would top the elimination list.
As impressive as the Heartbreak Kid's record is, there is a rather large and destructive monster breathing down his neck. Considered by most to be the greatest Rumble performer to never win one, Kane is just three eliminations shy of tying Michaels' career record and four away from breaking it. Kane could have broken it last year, but he wrestled John Cena on the undercard and didn't enter the Rumble match, which left many fans with a bad taste in their mouths.
Kane is once again on the undercard this year as he and Daniel Bryan are set to defend their Tag Team Championships against Team Rhodes Scholars, but Kane essentially announced his Rumble candidacy on Raw. Kane's persona has softened compared to his past Rumble appearances, but he is still a force to be reckoned with in the ring.
Since Kane is a veteran who is entering the twilight of his career, I don't expect him to be a factor in terms of winning. I can easily see the WWE giving him the nod in terms of setting the elimination record, though, so look for Kane to toss out at least four men on Sunday to become the new king of Royal Rumble dispatches.
Rey Mysterio's Most Time Spent in a Single Rumble
Over the course of Royal Rumble history, two men have won the prestigious match from the No. 1 slot, while two more have triumphed after entering No. 2. Perhaps the most impressive among them was Rey Mysterio in 2006. Mysterio entered that Rumble No. 2 and lasted for one hour, two minutes and 12 seconds, according to WWE.com. That broke a record previously held by Chris Benoit by just 42 seconds, so Mysterio is viewed as the all-time Rumble iron man.
It may seem unfathomable to some that the record could potentially be broken, but there does appear to be a decent chance of that happening this year. Dolph Ziggler won a beat-the-clock challenge on Monday night with the stipulation being that he could pick his Royal Rumble entry number. Vickie Guerrero revealed to Dolph that he couldn't pick any number he wanted, however. He had to pick between No. 1 and No. 2, which obviously hold the same exact disadvantage.
Although that was a convoluted and lame way to make Ziggler an early entrant, I agree with the premise. Ziggler hasn't been booked particularly well since winning the Money in the Bank contract, but he is an absolute workhorse and would look great if he could enter first and last until the waning moments. Ziggler won't win since he already has a ticket to the World Heavyweight Championship, but a record-breaking performance is quite possible.
In addition to that, John Cena could very easily enter No. 2 since he and Ziggler have been feuding for the past several weeks. Cena is the odds-on favorite to win the Rumble and he is definitely a guy who could go wire-to-wire and set the new record for most time spent in the ring. Whatever the case, Mysterio's record is very much in jeopardy this year with Ziggler and Cena as the main candidates to break it.
Kane's Most Eliminations in a Single Rumble
As previously mentioned, Kane is unquestionably the best Royal Rumble performer to never prevail, but the fans don't think any less of him because of it. In fact, most older fans still remember his showing in the 2001 Rumble fondly. In that particular match, Kane entered at No. 6 and absolutely dominated the field. He fell short of his ultimate goal as "Stone Cold" Steve Austin eliminated him to win, but he left plenty of destruction in his wake with 11 total eliminations.
Those 11 eliminations broke a record that was previously set at 10 by Austin in 1997. Kane ultimately tossed out everyone who entered the Rumble from No. 7 through No. 13 with The Rock being his biggest victim. A number of hardcore wrestlers attempted to use kendo sticks, trash cans and everything under the sun to slow down Kane, but he absorbed all of the punishment and dished out plenty of his own.
Kane even hit The Honky Tonk Man with his own guitar in a spot that remains one of the most memorable in Royal Rumble history. It wasn't until a battered and bloodied Austin hit Kane with a steel chair several times and clotheslined him over the top rope that The Big Red Machine was finally stopped. he may not have won the match, but Kane's Royal Rumble 2001 performance is more iconic than most Rumble wins over the past 25 years.
It would take an incredible effort to surpass Kane's single-Rumble record, but one man who can certainly do it is Ryback. The big man has developed into a top star over the past year, but his momentum has definitely slowed a bit due to a few pay-per-view losses as well as a loss to CM Punk on Raw a couple weeks ago. Ryback is still extremely popular, though, and he has the makeup of a guy who looks like he can toss out 12 competitors. It's far from a lock, but Ryback has the best chance of surpassing Kane's mark since it was set a dozen years ago.
Santino Marella's Least Time Spent in a Single Rumble
For every impressive Royal Rumble record such as most wins, most eliminations and most time spent in the match, there are some equally inauspicious ones. The first that comes to mind is the record for least time spent in the Royal Rumble. If Rey Mysterio is the WWE's iron man for spending more than 62 minutes in the 2006 Rumble, then I suppose you could call Santino Marella WWE's tin man for his 2009 performance.
The record for quickest elimination was a longstanding and seemingly unbreakable one as The Warlord initially set the record in 1989. The big man posed on the apron, stepped into the ring and within two seconds he was sent over the top rope by Hulk Hogan. It didn't appear as though it was possible to be eliminated much quicker than that, but Santino found a way to do it in 2009 as he lasted a mere 1.9 seconds, according to WWE.com.
Whether or not Santino actually spent precisely 1.9 seconds in the ring and The Warlord spent two seconds in the ring is up for debate, but the official record book shows that to be the case. I'm not sure how possible it truly is to enter the ring, go over the top rope and hit the floor in less than 1.9 seconds, but if the WWE wants that record to be broken, then it can easily make it happen by saying that someone was eliminated in 1.8 seconds.
Based on the way 3MB has been bragging about having a 10 percent chance to win the Rumble, I'm inclined to believe that one member of the team will be eliminated rather quickly. Heath Slater is the leader of the group and has embraced a comedic role, so my money is on him entering the ring and immediately being thrown out by Sheamus, Ryback or perhaps even Randy Orton. The 3MB group doesn't take itself too seriously, so it would be a logical record to pin to the team.
Most Times Being the Final Participant Eliminated
Fans always remember the man who won the Royal Rumble, but the superstar who finishes second is often forgotten. Some of the WWE's top stars have been the Royal Rumble runner-up, however, and four of them have done it on two occasions. John Cena, Shawn Michaels, Triple H and Big Show have all come within inches of winning the Rumble twice apiece only to be eliminated by the eventual winner.
Of those four, only one of them is a lock to be in the Rumble match, and one other is a possibility. It's already known that Cena will be competing and he is considered by most to be the favorite. Big Show is also a possibility, although he will be challenging Alberto Del Rio for the World Heavyweight Championship. It has become commonplace for the loser of the world title match at the Royal Rumble pay-per-view to compete in the Rumble match, so we'll likely see Big Show in the 30-man melee as well.
The smart money is definitely on Cena to win the Royal Rumble since most believe a Cena vs. The Rock match for the WWE Championship is on tap for WrestleMania. Also, Cena was given the opportunity to close the go-home edition of Raw by saying that he would win the Royal Rumble. With that said, the WWE has been known to throw a curveball or two and that could come in the form of Cena falling short.
If Cena doesn't win, somebody like Ryback could turn the trick and ultimately eliminate Cena last. If it comes down to Cena and somebody else, the entire crowd will be expecting Cena to win, but the other guy could certainly beat Cena and make him runner-up for a third time. Failing that, Cena tossing out Big Show to win could happen as well, and that would make Big Show the all-time leader in terms of second-place finishers.
Follow @MikeChiari on Twitter and listen to him on Ring Rust Radio.
Keep Reading