2013 NFL Draft: Most Athletic Quarterbacks in This Year's Class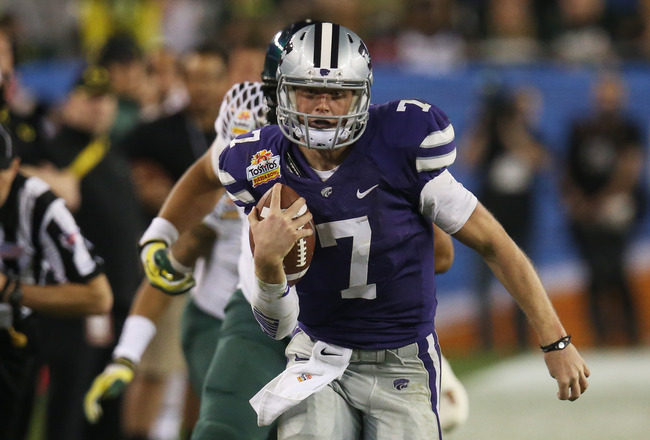 Stephen Dunn/Getty Images
Mobile quarterbacks are having a renaissance in the NFL, thus raising the profile of some of the more athletic prospects in the 2013 NFL Draft.
Colin Kaepernick and Robert Griffin III have been extremely successful this season by running the read-option offense. RG3 led the Washington Redskins to the playoffs and Kaepernick's San Francisco 49ers are in Super Bowl XLVII.
Russell Wilson, while not the runner that Kaepernick or Griffin are, was also extremely good in 2012, using his mobility to get past the rush and create more time for himself outside the pocket.
As a result of the three's success, teams will be looking at some of the more mobile quarterbacks in the draft in a much better light. Their rushing abilities can play a significant role in an NFL offense.
With that in mind, here are the six most athletic quarterbacks who could be drafted come April.
1. Denard Robinson, Michigan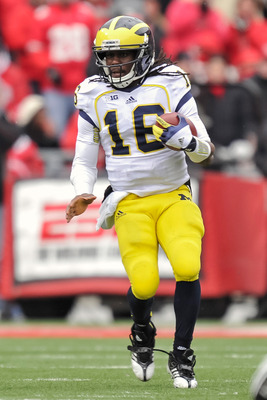 Jamie Sabau/Getty Images
More than likely, Denard Robinson will spend the lion's share of his time in the NFL as a wide receiver. However, as Colin Kaepernick and Robert Griffin III have shown that mobile quarterbacks can shred opposing defenses with the read option.
The team that selects Robinson could line him up at QB occasionally to great success. The defense would have to respect his rushing ability, and as it creeps up to stop the run, Robinson could beat the secondary over the top.
He's not a good enough quarterback to warrant a starting job on a regular basis, but if used correctly, Robinson could play a key role in an offense.
At the very least, Robinson could follow in the path of Josh Cribbs, who played quarterback during his time at Kent State and became one of the most dangerous return men in the NFL.
2. E.J. Manuel, Florida State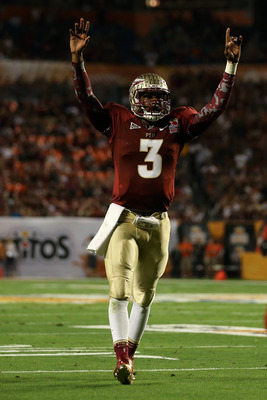 Streeter Lecka/Getty Images
E.J. Manuel could shoot up draft boards as a result of the NFL Combine. If he falls out of the first round, whatever team takes him will be getting quite a steal.
Manuel has all the tools scouts look for. At 6'4", he's got the right size, and there's no doubt about his athletic ability.
The problem with Manuel is that he's extremely raw. His decision-making has come under question at times, and his throwing motion will need some work.
Teams know the kind of work it will take to make Manuel an NFL quarterback. With the right coaching, he could have a lengthy pro career.
3. Matt Scott, Arizona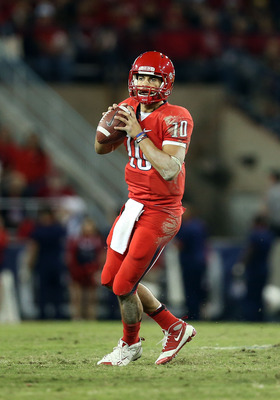 Christian Petersen/Getty Images
Matt Scott only had one season of starting at Arizona, having been stuck behind Nick Foles for his first three years. He made the most of it in 2012.
He threw for 3,620 yards and rushed for another 506. Scott finished 10th in the nation in total yards.
One of the knocks against Scott is that he will have to adjust to NFL offenses. Rich Rodriguez's system has been very kind to college QBs in terms of numbers, but it doesn't prepare them for the pro level.
Scott is also a little slight, at 6'2" and 202 pounds. That's not exactly a good thing in the eyes of scouts in regard to a mobile quarterback. He's going to be exposed to some big hits, so you would like for him to build some muscle in order to absorb the punishment a little better.
4. Nick Florence, Baylor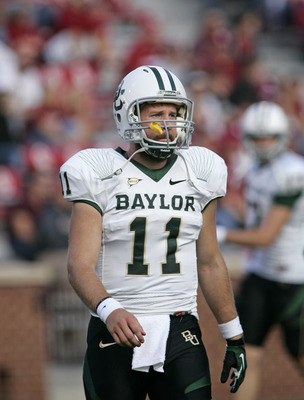 Brett Deering/Getty Images
Nobody had more passing yards in the country than Nick Florence, with 4,309. Adding in his 568 rushing yards, he finished with the third-most total yardage.
Scouts aren't going to question his athleticism. While not the most gifted, Florence is a threat on the ground and through the air.
A major concern, though, is his decision-making. He threw 13 interceptions last season.
Like Scott, Lawrence doesn't have a ton of experience because he was sitting behind RG3, so there won't be a whole lot of game film to go off of for the teams interested in him.
More importantly, Lawrence lacks the tools that scouts will be looking for. He also has a slight build that won't benefit him in the NFL.
5. Jordan Rodgers, Vanderbilt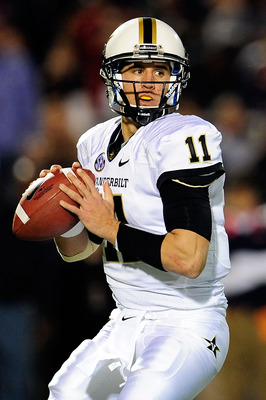 Stacy Revere/Getty Images
Jordan Rodgers is far from the NFL prospect that his brother Aaron was. Those who think Jordan is simply riding his brother's coattails are completely off base.
He isn't a can't-miss kind of player, but Rodgers has the skills necessary to succeed in the NFL. That's not to say he won't need some work in order to have those skills develop.
His completion percentages of 50.0 and 59.9 in his junior and senior seasons, respectively, are a bit worrisome. There's also Rodgers' 15 interceptions to only 24 touchdowns. While SEC defenses are tough, Rodgers needed to show some more accuracy in college.
Rodgers' mobility is a plus, though. He's not the quickest, but he can elude the rush and create more time for himself.
6. Collin Klein, Kansas State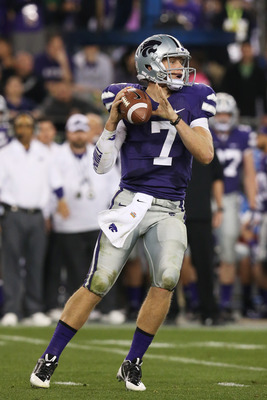 Stephen Dunn/Getty Images
Pretty much every football fan knows Collin Klein's name by now. He finished third in the 2012 Heisman Trophy voting.
While his rushing numbers suffered in 2012, Klein became a much better passer, throwing for 700 more yards and seven completion percentage points higher than he did in 2011.
It's his passing abilities that will come under fire the most come NFL Combine time and the draft. Klein doesn't have a perfect throwing motion, and it affects his accuracy when throwing longer passes.
While his mobility isn't in doubt, the way Klein ran right up the middle of the defense and welcomed contact isn't the way to have a long NFL career.
Keep Reading