Predicting 10 Shocking Contenders for MLB's Major 2013 Awards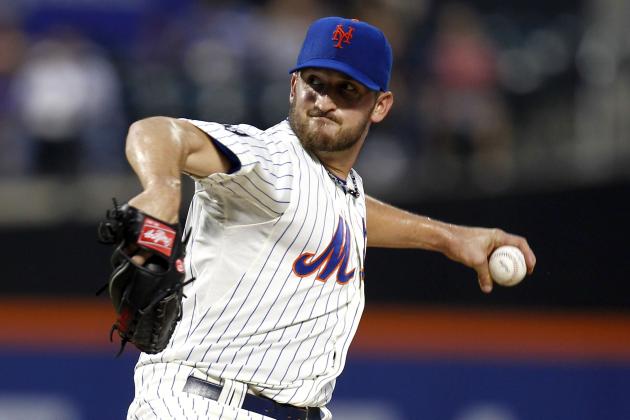 Jeff Zelevansky/Getty Images

With the East Coast in a deep freeze (the thermometer on my dashboard read nine degrees this morning), Opening Day can't get here fast enough.
What better way to warm up than to talk baseball, when the weather is warm, we don't have to put on three layers of clothes to go outside and the crack of the bat echoes in ballparks across the country.
While winning the World Series is every player's ultimate goal, anyone who says that individual accolades and honors are meaningless is well, lying.
Whether you are a professional ballplayer or a working stiff like myself, everyone likes being commended for their hard work.
It's human nature—we appreciate having our hard work and dedication to our craft being acknowledged. It can be something as small as a pat on the back or an email from our boss saying "nice job," or something as big as a raise and a promotion.
Now it's true that the biggest stars in the game typically receive all of the accolades and attention, but simply being considered for one of the game's individual awards brings with it instant gratification for players, regardless of how they are perceived by fans and the media alike.
Keep in mind, I am not saying that the players and managers on the pages that follow will win these awards, merely that they will be in the conversation when the season comes to an end.
With that said, let's take a look at some surprising contenders for that hardware in 2013.
Begin Slideshow

»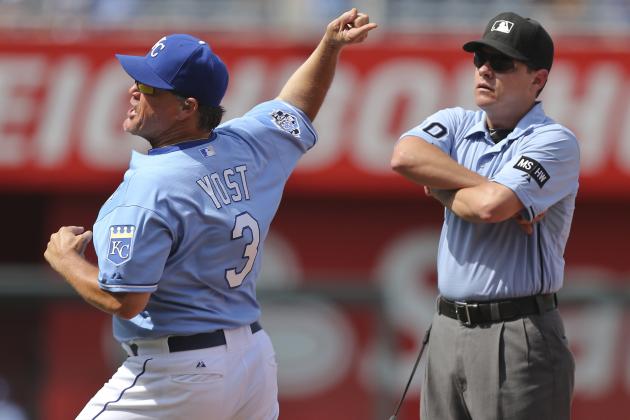 Ed Zurga/Getty Images

Things didn't go as planned for Kansas City in 2012, as seemingly each of the team's promising young position players took a step backwards in their development.
From first baseman Eric Hosmer to third baseman Mike Moustakas, underwhelming production and mediocre pitching doomed Kansas City to its ninth consecutive season of under-.500 baseball.
With sophomore slumps behind them and a vastly improved starting rotation led by James Shields, there are no excuses to be made in 2013.
It's on Yost to rally the troops and lead them to victory, and he'll do just that.
I'm not suggesting that the Royals will be contending for the AL Central crown—there's still a wide gap between them and the Detroit Tigers in terms of talent.
But a record above .500 and contending for a Wild Card berth certainly isn't out of the question.
That alone will get Yost into the Manager of the Year discussion.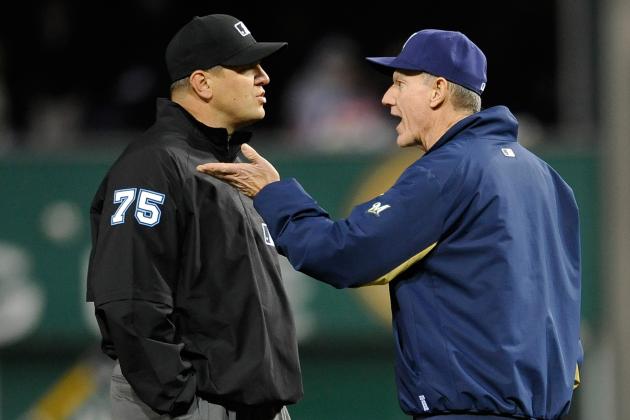 Joe Sargent/Getty Images

Ron Roenicke might not be the most shocking choice here considering that he finished second in the 2011 voting. As a matter of fact, the most shocking thing about Roenicke may be that he garnered absolutely no support for the National League Manager of the Year award in 2012.
While Milwaukee's starting rotation is largely unproven and underwhelming (on paper at least), the bullpen is significantly improved, and it's that unit that cost Milwaukee more wins—and a playoff berth—last season.
Blessed with one of the most potent lineups in baseball, led by perennial MVP candidate Ryan Braun, the former major league outfielder will once again be in contention for the highest honor the game can bestow upon a manager in 2013.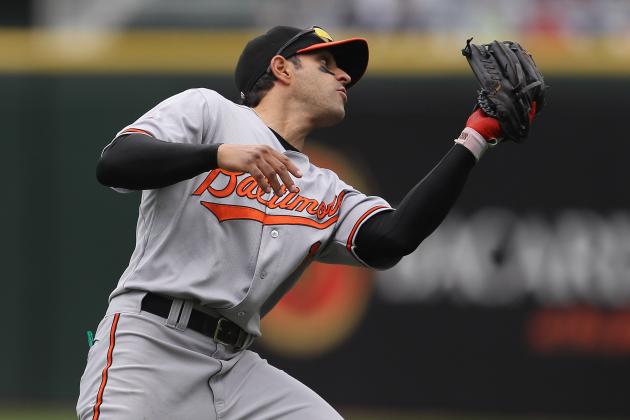 Jonathan Daniel/Getty Images

We simply can't talk about Brian Roberts without mentioning the fact that he simply has not been able to stay on the field.
No longer one of the premier second basemen in the game, Roberts has played in a total of 115 games over the past three seasons, with only 17 of those coming in 2012.
It might be unrealistic to expect the 35-year-old to play 140 games at this point in his career, but I can't help but think that he's got one or two quality seasons left in his bat.
No longer asked to be the catalyst of the offense, Roberts, who figures to bat ninth in the Orioles lineup, should be able to get on base and hit for average.
A slash line of .275/.340/.400—below his career averages—will certainly get Roberts into the conversation for Comeback Player of the Year in the American League, numbers that aren't as far-fetched as they may seem.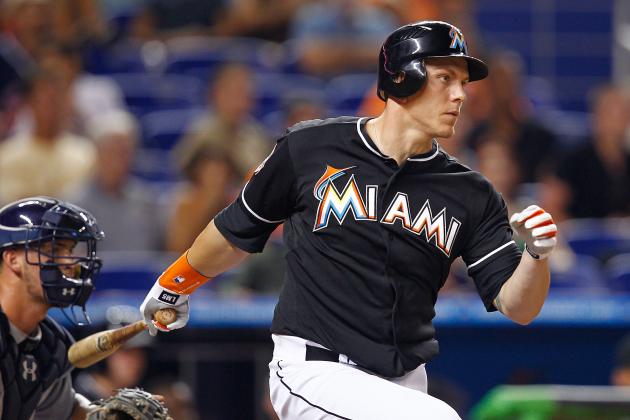 Sarah Glenn/Getty Images

There doesn't figure to be much winning going on in South Florida this summer, with the Marlins having gutted the roster and leaving new manager Mike Redmond with only a handful of quality major leaguers to work with.
One of those is Logan Morrison, Miami's 25-year-old outfielder-turned-first baseman.
Morrison, who battled injury throughout the 2012 season before his balky knee forced him out of the lineup and, eventually, under the knife, may not be ready for the start of the season, as he told Juan C. Rodriguez of the Sun Sentinel.
But when he does finally get back into the lineup, a healthy Morrison will be able to show off the tools that made him my pick for Marlins' breakout player of the year heading into last season.
Assuming that he's slotted into the three-hole in Miami's lineup, between Placido Polanco and Giancarlo Stanton, Morrison is going to get plenty of pitches to hit, seeing as how nobody wants to pitch to Stanton, who can take the ball out of the park on a checked swing.
That will enable him to put up solid numbers on the season, numbers that will find him in contention for the National League's Comeback Player of the Year award.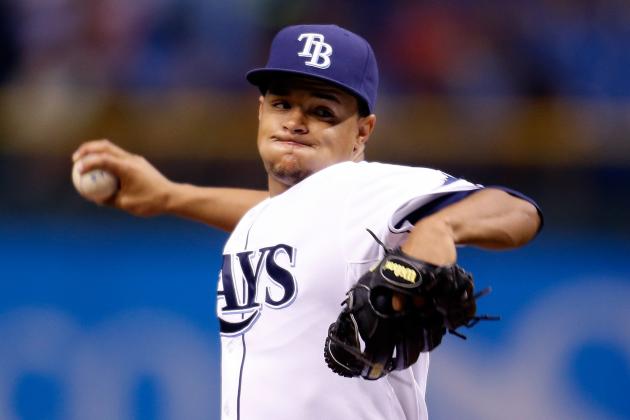 J. Meric/Getty Images

If spring training ended today, I'm not sure that Chris Archer even breaks camp with the Rays.
Even after trading James Shields and Wade Davis, Tampa Bay still has a plethora of pitching, and right now, I've got Alex Cobb starting the season as the team's fifth starter after David Price, Jeremy Hellickson, Matt Moore and Jeff Niemann.
But make no mistake about it—we will hear from Archer before too long, and when he gets the call, he'll become a permanent fixture in manager Joe Maddon's rotation.
Archer, 24, appeared in six games for Tampa Bay in 2012, making four starts. While his overall numbers weren't great: 1-3 with a 4.60 ERA, he showed flashes of brilliance.
In his first start after being recalled when rosters expanded in September, Archer dominated a potent Texas Rangers lineup, allowing two runs and four hits over seven innings of work, issuing two walks and fanning 11 batters.
In three of his four starts, Archer allowed no more than three earned runs, and he finished the season with 36 strikeouts in only 29.1 innings of work.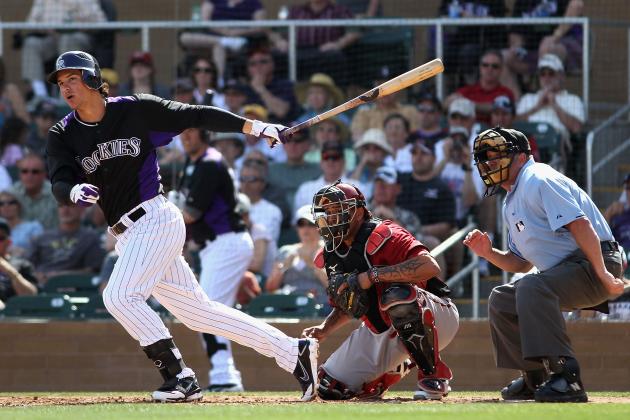 Christian Petersen/Getty Images

Colorado's top prospect, 21-year-old Nolan Arenado, has the talent to break camp with the Rockies and start the season as the team's everyday third baseman.
While his numbers at Double-A Tulsa in 2012 don't jump off the page and scream "Future star here!"—a .285/.337/.428 slash line with 12 home runs and 56 RBI—Arenado is a disciplined batter who excels at making contact.
In the thin air at Coors Field, making contact is sometimes all a player needs to do in order to get on base. When there's power behind that contact, well, we've seen how quickly balls can fly over the outfield fences.
Neither Jordan Pacheco or Chris Nelson has the talent level or high ceiling that Arenado does, and with Colorado needing as much offense as it can get thanks to a questionable pitching staff, Arenado is far and away the team's best option at the hot corner.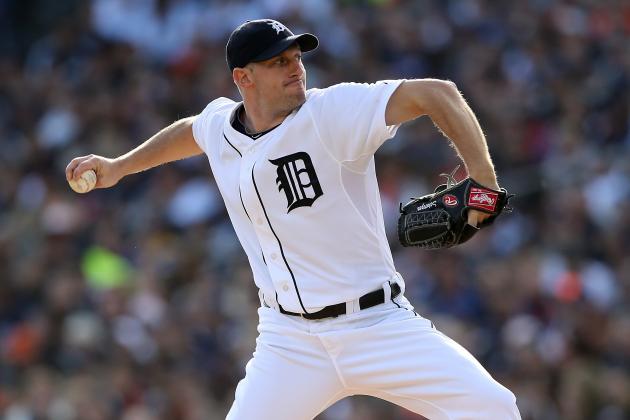 Leon Halip/Getty Images

Nobody ever questioned Max Scherzer's talent, it was just a question of whether he could ever put all of his tools together to become a dominant force on the mound.
Well, something clicked for him in the postseason, as Scherzer was spectacular for the Tigers.
In three playoff starts, Scherzer allowing only four earned runs and 12 hits over 17.1 innings of work, striking out 26 batters while issuing only four walks.
That works out to a 2.08 ERA, 0.98 WHIP and a ridiculous 13.5 K/9—more than two strikeouts per nine innings over his major league-leading 11.1 mark among starting pitchers during the regular season.
Now entering his sixth major league season and fourth with the Tigers, Scherzer, who celebrates his 28th birthday at the end of July, is in the prime of his career.
With all eyes on Justin Verlander (and rightly so) and increased expectations on Anibal Sanchez thanks to his shiny, new five-year, $80 million contract, Scherzer will quietly put together the best season of his young career.
By the time the season's over, he'll be in the discussion for the Cy Young award, right alongside Verlander.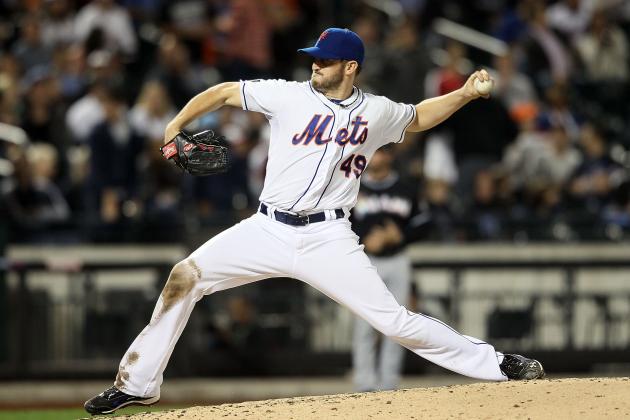 Alex Trautwig/Getty Images

As the Mets floundered to another disappointing finish, it was easy to overlook how Jon Niese finished the 2012 season.
Over the last two months of the season (10 starts), Niese went 6-4. Not exactly impressive numbers.
But wins and losses don't tell the entire story.
Niese allowed only 19 earned runs over 66.2 innings of work—that works out to a 2.54 ERA—and a 1.13 WHIP.
Those are impressive numbers, and with Niese, 26, entering his fourth season as a full-time member of the Mets rotation and the prime years of his career, there's no reason to think that the talented southpaw can't produce a similar performance over the course of an entire season.
His win-loss record will pale in comparison to some of the other pitchers in the National League, and Niese won't have the gaudy strikeout totals of a Clayton Kershaw or Cole Hamels.
But he'll find himself among those power pitchers as the season rolls along about contenders for the Cy Young award.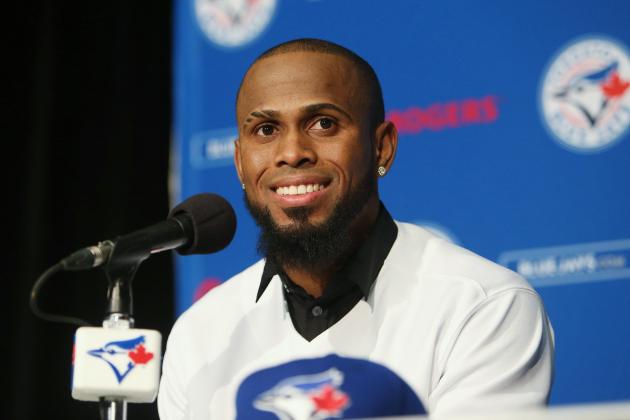 Tom Szczerbowski/Getty Images

Jose Reyes a MVP candidate in a league that features Josh Hamilton, Albert Pujols, Mike Trout and the reigning king, Triple Crown winner Miguel Cabrera?
You bet.
Five times over the course of his career, Reyes, 29, has received support for the MVP award, finishing as high as seventh back in the 2006 NL MVP voting, an award that eventually went to Philadelphia's Ryan Howard.
Hitting atop a stacked Blue Jays lineup and with the pressure of being "the man" in the lineup off of his shoulders, Reyes can get back to doing what he does best—getting on base and causing havoc for opposing pitchers.
He'll challenge Mike Trout for the lead in runs scored and stolen bases, hit above .300 and once again enter the realm of being one of the most exciting players in all of baseball.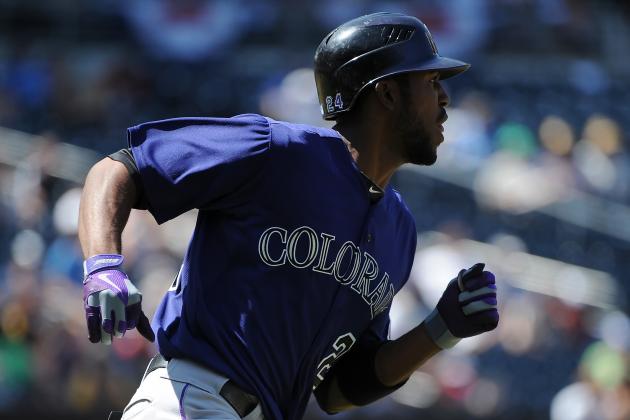 Lisa Blumenfeld/Getty Images

It seemed like it took forever, but finally, Colorado center fielder Dexter Fowler began to live up to his considerable hype in 2012.
He finished the season with a .300/.389/.474 slash line, 13 home runs and 53 RBI, solid numbers but certainly not good enough to enter the MVP discussion.
Fowler, who celebrates his 27th birthday at the end of March, has begun to hit his stride—and big numbers await him.
With a healthy Rockies lineup hitting behind him—namely, shortstop Troy Tulowitzki—Fowler's combination of power and speed will manifest itself in the best numbers of his young career in 2013.
He'll once again be among the league leaders in batting average and on-base percentage, and for the first time, he'll find himself among the leaders in runs scored as well.