Early Predictions for the Super Bowl XLVII MVP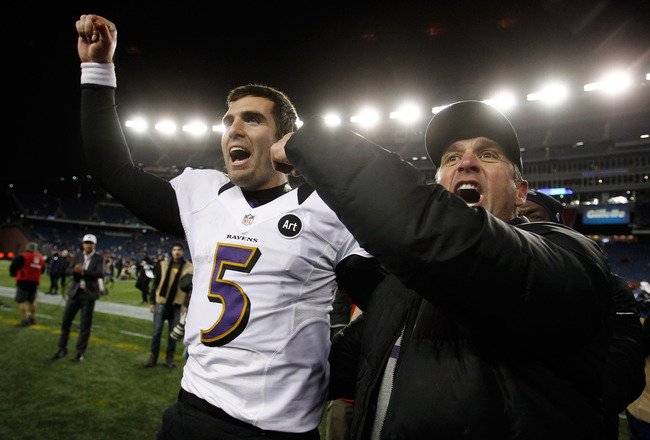 Can Joe Flacco continue his strong play in the Super Bowl and bring home the MVP award?
Jim Rogash/Getty Images
We've seen plenty of dominant performances throughout these NFL playoffs, but Super Bowl XLVII will be a completely different animal. Players will have to be at their absolute best, and at the end of the day only one will be named the Super Bowl XLVII MVP.
Which player is going to step up in this ultimate moment and play at the highest level? Will Joe Flacco or Colin Kaepernick continue the trend of quarterbacks winning MVP? Or will Ray Lewis bring home his second Super Bowl MVP to end his career on the highest note possible?
Here are early predictions for the Super Bowl XLVII MVP.
Defensive Backs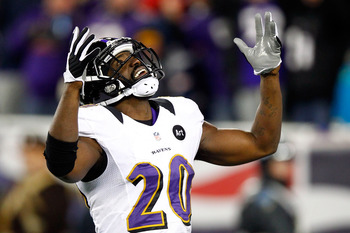 Jared Wickerham/Getty Images
Dashon Goldson, 49ers: Two Percent Odds
What makes Goldson such a dangerous player is his ability to produce jaw-dropping hits. In a game where one turnover can make the difference between a win and a loss, Goldson has the ability to produce those turnovers.
If he can jar a football or two loose during the Super Bowl at key moments, he could become just the third safety to ever win Super Bowl MVP.
Carlos Rogers, 49ers: Two Percent Odds
Of all the cornerbacks for both teams, Rogers is the best. He has the ability to cover nearly any receiver in the game.
While Rogers is certainly talented enough to win Super Bowl MVP, his lack of ability to cause turnovers could ultimately hurt him. People are looking for stats when looking for an MVP, and without interceptions, Rogers will have a hard time bringing home this honor.
Ed Reed, Ravens: Five Percent Odds
While Ed Reed hasn't been overly impressive in these playoffs (10 total tackles in three games), he is still one of the best safeties to play the game.
His ability to make plays with the ball in his hands is what really sets him apart and gives him such good odds to win Super Bowl MVP. Few players in NFL history have been able to turn interceptions into touchdowns like Reed.
A big play like that in the Super Bowl could earn him MVP honors.
Linebackers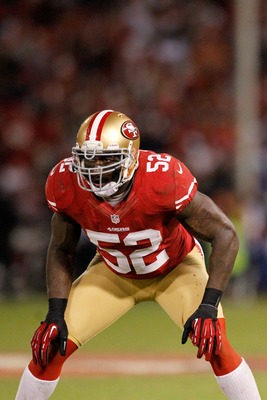 Cary Edmondson-USA TODAY Sports
Terrell Suggs, Ravens: Two Percent Odds
The last time these two teams met (Thanksgiving Day in 2011), Suggs was an absolute force. He recorded three sacks and a forced fumble, boosting his stats and eventually winning Defensive Player of the Year.
However, an Achilles' injury kept Suggs out for the first half of this season, and he is still working his way back to full strength. He certainly has the ability to still take over a game, but another three-sack performance seems like a stretch.
Aldon Smith, 49ers: Two Percent Odds
Despite recording 19.5 sacks during the regular season, Smith has failed to record one in his last five games. This includes both playoff performances against the Green Bay Packers and Atlanta Falcons.
Smith has quickly become one of the best young pass-rushers in the league and has the potential of making a huge impact in this game.
NaVorro Bowman, 49ers: Three Percent Odds
Bowman may be the second-best middle linebacker right now, with the best being his teammate.
However, there are times when Bowman plays so well that he looks even better than Patrick Willis. He is talented enough to make plays when blitzing the quarterback, playing the run or dropping into coverage.
If Bowman can play a solid all-around game and make a few huge stops, the MVP trophy could be his.
Ray Lewis, Ravens: Five Percent Odds
How perfect would it be for Lewis to retire holding his second Super Bowl MVP trophy?
Despite being 37 years old, Lewis is playing like a kid 15 years his junior. He's recorded 44 total tackles in three games, making plays all over the field. Few players are capable of using emotion to improve their play to the extent Lewis does, and playing in his final career game will certainly be emotional.
Look for him to bring everything he has to the field and make a strong case to win this award.
Patrick Willis, 49ers: 10 Percent Odds
Could this be the official passing of the torch from Lewis to Willis?
For the past few seasons, Willis has been the best linebacker in football, and it hasn't even really been close. He is a threat to make an impact on every play, in every facet of the game.
He has the best chance to win the Super Bowl MVP of any defensive player on either team.
Defensive Linemen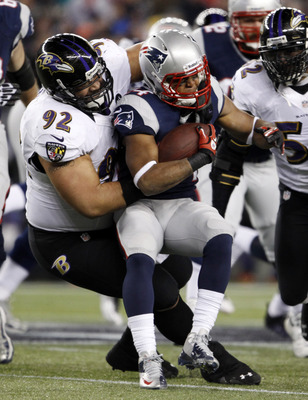 David Butler II-USA TODAY Sports
Justin Smith, 49ers: Two Percent Odds
It is difficult for a defensive lineman to win Super Bowl MVP, and it is even more difficult for an injured lineman to win this award.
However, Smith is talented enough to deserve at least some consideration. The 49ers are a much better team when he is on the field, and he can dictate what an offense does by his play.
He'll need to put constant pressure on Joe Flacco to win, which is something he is capable of doing.
Haloti Ngata, Ravens: Three Percent Odds
In the second half of the AFC Championship Game, Ngata dropped into coverage on Aaron Hernandez. If that doesn't prove that Ngata is an absolute freak of nature, I don't know what else could.
Due to Ngata's unique athleticism, he can do so many things against both the pass and the run. Making plays all over the field could be enough for him to be voted as MVP if the Ravens win.
Tight Ends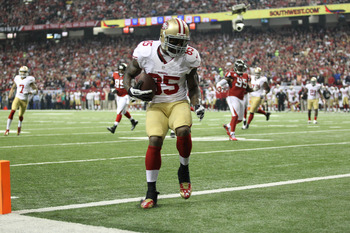 Daniel Shirey-USA TODAY Sports
Dennis Pitta, Ravens: One Percent Odds
The chances of Pitta winning this award are low, but he's certainly had his moments this season and deserves some consideration.
The only way that Pitta wins Super Bowl MVP is if he has an absolutely huge game. Considering the 49ers struggled to slow down Tony Gonzalez in the NFC Championship Game, it is a possibility that Pitta dominates.
Vernon Davis, 49ers: Five Percent Odds
After becoming nearly transparent to end the regular season, Davis was huge in the 49ers' win over the Atlanta Falcons. He finished the game with five receptions, 106 yards and a touchdown.
He was the catalyst of the offense in that game, and he proved just how dangerous of a player he can be. The biggest problem for Davis has been consistency, but hopefully the results of the Atlanta game will make Colin Kaepernick look in his direction more often.
With Davis' ability to stretch the field, he could easily have a huge game against the Ravens and win Super Bowl MVP.
Wide Receivers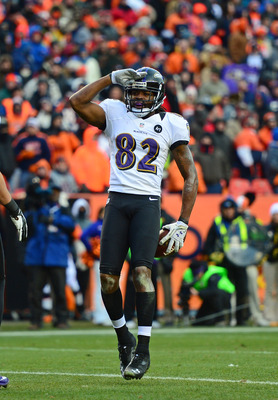 Mark J. Rebilas-USA TODAY Sports
Randy Moss, 49ers: One Percent Odds
How great would it be to see Moss finally win a Super Bowl?
Whether you love or hate him, you can't deny the fact that he is one of the best receivers to ever play the game. A player with his amount of talent deserves to win at least one Super Bowl.
While he clearly isn't the threat he was in the past, Moss can still make big plays and find the end zone. It's unlikely that he'll win Super Bowl MVP, but the Hall of Fame receiver could surprise us all.
Anquan Boldin, Ravens: Two Percent Odds
It always seems like people forget about Boldin, but he continues to be an extremely consistent performer for the Baltimore Ravens.
He may no longer be the No. 1 option for Joe Flacco, but he continues to excel at working the middle of the field and in the red zone. The odds aren't good for Boldin to beat out the more explosive receivers in this game, but his consistency could be what ultimately wins him this award
Michael Crabtree, 49ers: Three Percent Odds
The quarterback change from Alex Smith to Colin Kaepernick has been good for Crabtree. While he wasn't overly impressive against the Atlanta Falcons, his game against the Green Bay Packers in the divisional round showed just how good he is.
In that game, Crabtree finished with nine receptions, 119 yards and two touchdowns. He dominated every cornerback the Packers attempted to put on him.
It will be more difficult to have that huge of a game against the Baltimore Ravens. However, Crabtree has been getting better and better with each week, and winning Super Bowl MVP would cap off a great season.
Torrey Smith, Ravens: Five Percent Odds
Smith is easily the biggest deep-threat receiver in this game. His reception totals haven't been impressive in these playoffs (nine in three games), but he's still managed to make a huge impact.
He's averaging 22 yards per reception and has recorded two touchdowns. Flacco trusts him more than any other receiver on his roster, mostly because of Smith's ability to go up and win jump balls.
Don't be surprised if Smith leads all other receivers in yards and touchdowns, and makes a strong case to be Super Bowl MVP.
Running Backs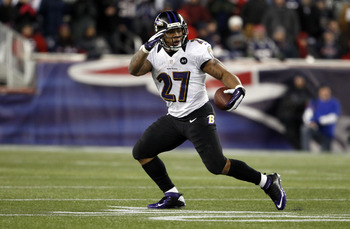 David Butler II-USA TODAY Sports
LaMichael James, 49ers: Two Percent Odds
The only reason that James is even on this list is because he'll likely be used in a number of ways for the 49ers.
If he can break a few huge returns and contribute as a running back, he could be in a similar situation to Desmond Howard when he won Super Bowl XXXI MVP for the Green Bay Packers.
Frank Gore, 49ers: Five Percent Odds
As great as Colin Kaepernick has been for the 49ers, Gore is still the catalyst for the offense in San Francisco. In fact, with defenses overplaying Kaepernick due to his running ability, Gore has been able to have an even bigger impact.
His physicality will definitely be tested against players like Ed Reed, Ray Lewis and Haloti Ngata. However, if Gore can wear them down and keep moving the football, he could have a huge game.
Throw in a touchdown or two, and an MVP trophy could be coming home with him.
Ray Rice, Ravens: 10 Percent Odds
The fact that Rice is such a vital part of what the Baltimore Ravens try to do on offense is why he has such great odds to win Super Bowl MVP.
Not only is Rice a major threat out of the backfield, but he is also a capable receiver. He'll be the key to Baltimore having success against the stout defense of San Francisco.
A few big plays from Rice in the ground game and through the air could be enough for him to take home the award if the Ravens win.
Quarterbacks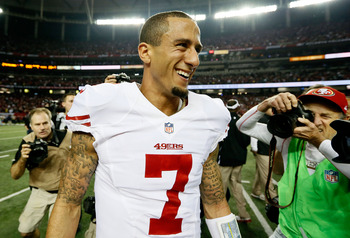 Kevin C. Cox/Getty Images
Joe Flacco, Ravens: 10 Percent Odds
This is a quarterback-driven league, so it shouldn't come as a surprise that Flacco has the best odds of any player for the Baltimore Ravens.
He's been absolutely brilliant in these playoffs, but certainly has his toughest test against San Francisco. The 49ers defense has been extremely difficult this season, but Flacco has really raised his game to a new level over the past three games.
If he keeps up his high level of play, it is hard to imagine any team beating Baltimore. And if the Ravens win, history shows that Flacco is the most likely winner of the MVP trophy.
Colin Kaepernick, 49ers: 20 Percent Odds
It may seem a little surprising for Kaepernick to have such high odds, but the second-year quarterback has simply been sensational.
It started with his record-breaking performance on the ground against the Green Bay Packers. After that, Kaepernick went on the road and led a 17-point comeback against the No. 1-seeded Atlanta Falcons in the NFC Championship Game.
He's been the most exciting player in these playoffs, and it hasn't even been close. His ability to make plays with both his legs and his arm makes him the favorite to win Super Bowl XLVII MVP.
Keep Reading