5 Chelsea Statistics That Will Surprise You This Season
Christopher Lee/Getty Images

After 23 games of the 2012/13 English Premier League season, Chelsea sit in third place, six points behind Manchester City and 11 behind leaders Manchester United.
Rafa Benitez will be crunching the numbers in his notebook in an attempt to work out what has gone wrong so far, and there are some obvious facts out there. For instance, Fernando Torres' shot conversion rate sits at 18 percent with Juan Mata way ahead on 28 percent, but there are some other numbers which will surprise you.
The following five statistics from Chelsea's 2012/13 season will challenge your perception of their performances to date.
All stats are provided by eplindex.com
Begin Slideshow

»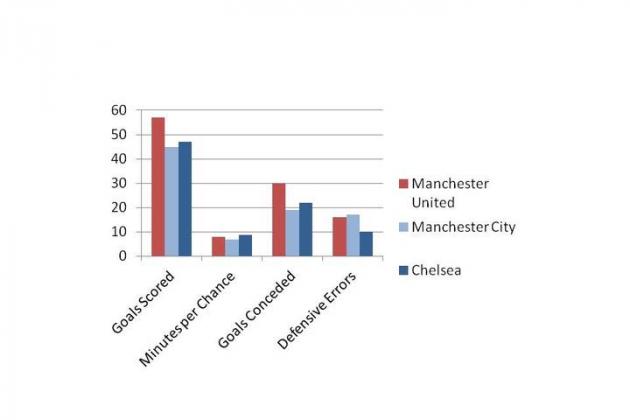 Whilst this graph shows that there is little to choose between the title contenders, the fact that Chelsea have committed far fewer defensive errors than either Manchester club is surprising.
Much was made of David Luiz's contribution to the poor run of form, which saw Roberto Di Matteo lose his job. But Chelsea, as a unit, have only committed 10 serious defensive errors this season, eight fewer than Manchester United.
These statistics highlight exactly what Chelsea need to do to keep up with the title challengers. They are scoring enough goals and defending well, but they need to time things better. Conceding two goals when you have just scored four is fine, but conceding two when you have only scored two leaves you 11 points off the top of the league.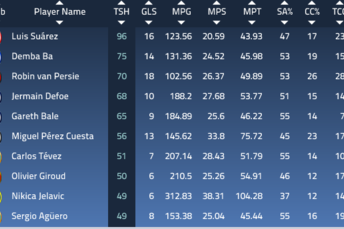 via eplindex.com CCS = Clear Cut Chances Scored, TSH = Total shots
Whilst the Dutchman has scored more goals and looks like he will be beating his tally of 30 from last season, Demba Ba is a more efficient striker. Van Persie has missed 17 clear-cut chances this season, whereas Ba has only missed eight.
When you consider the difference in value between the two players, Chelsea have got more bang for their buck with Ba.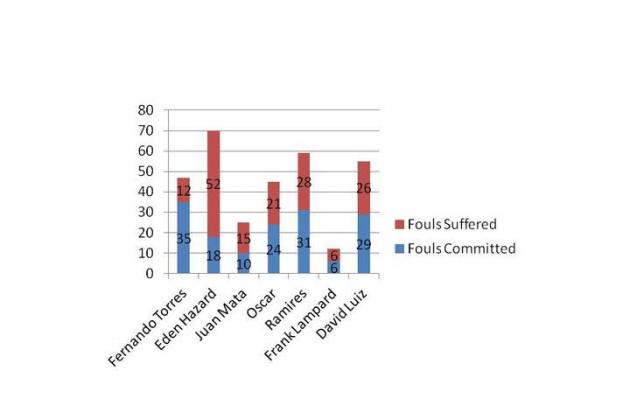 Benitez was quick to praise Fernando Torres' defensive work when he arrived at Chelsea, but these numbers suggest that the beleaguered striker should stick to what he is supposed to be doing.
So far this season, Torres has committed more fouls than anybody else, conceding 35 free kicks whilst only winning 29.
By contrast, Eden Hazard has won 52 fouls and conceded 18. This shows that Hazard causes more problems for the opposition, as well as being more effective defensively.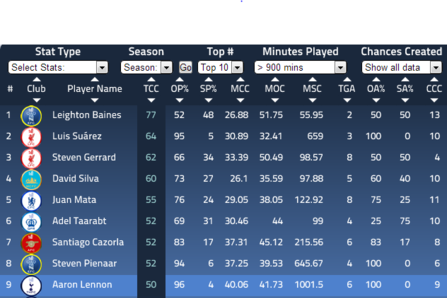 via eplindex.com. TCC = Total Chances Created
Despite the fact that Liverpool have both scored fewer goals and conceded more goals than Chelsea so far this season, Juan Mata is still behind Luis Suarez and Steven Gerrard in the number of chances created for his teammates.
What is more surprising is that Everton's Leighton Baines tops the table with 77 chances created, compared to Mata's 55.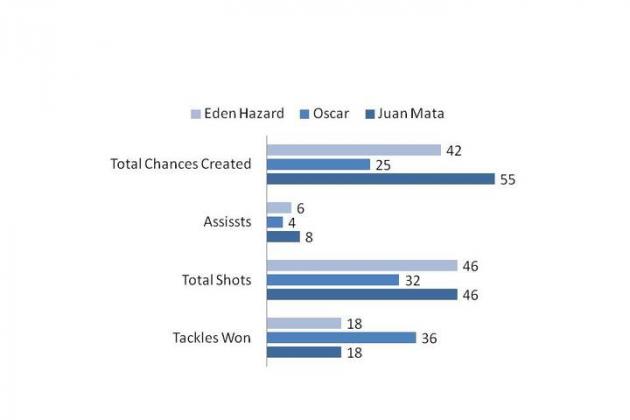 Whenever Oscar is on the pitch, the main thing people notice is his attacking flair. He has a tendency to run at defenders, no matter how unlikely it is that he will succeed in going past them, and has scored several noteworthy goals from near impossible positions.
However, his slight frame belies the fact that he is the link between the defensive midfield pairing and the attack, ready to switch between roles when needed. Oscar has won as many tackles as Eden Hazard and Juan Mata combined, despite having played in fewer games.
If handled correctly, he could become the successor to Frank Lampard, whose 195 career goals for the club have set a new benchmark for the next generation of midfielders.