The Safest Picks in the 2013 NFL Draft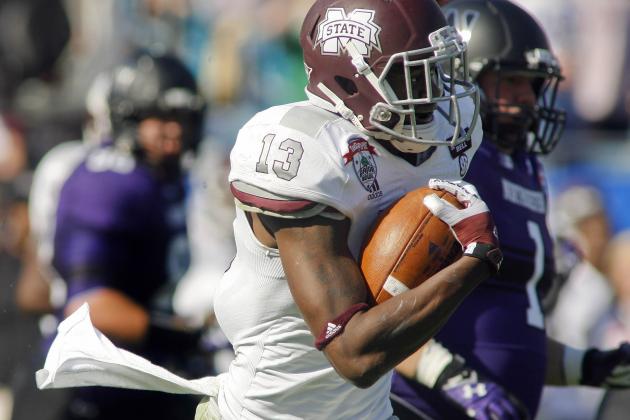 Phil Sears-USA TODAY Sports
Mississippi State cornerback Johnthan Banks is among the 2013 NFL draft's safest picks.
The 2013 NFL draft is the wrong draft to go into with the strategy of making "safe" picks. The 2013 draft class has a shortage of sure-thing draft selections, with many of the draft class' top prospects coming with big upside but also significant risk factors.

When considering which 2013 draft prospects are the surest bets to be successful NFL players, there are a lot of criteria to consider.

Has the player been consistently productive for multiple years? Did he play at the highest level of competition in college? Will the player have the same success against bigger, faster athletes in the NFL? Does he have a clean bill of health? Has this player had any character issues?

Many of the draft's top prospects fail to meet at least one of these criteria.

The list of safe picks has gotten even thinner in the past two weeks following the 2013 BCS National Championship Game, with the stock of two of the draft's top prospects now in flux. Notre Dame linebacker Manti Te'o now faces character questions surrounding the revelation that his well-publicized deceased girlfriend never existed, while Alabama offensive lineman Barrett Jones is recovering from a Lisfranc injury to his foot.

The early rounds of the draft are bound to be full of risky draft selections, but which players should teams feel safest about investing an early pick in?
While risk factors can certainly arise at any time in the next three months, these are the 10 players who currently look like the best low-risk choices and the "safest" picks in the 2013 NFL draft.
Begin Slideshow

»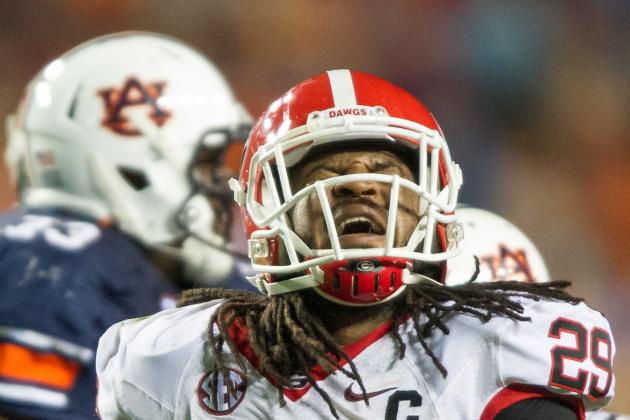 Michael Chang/Getty Images
Injury concerns make Jarvis Jones a risky selection.
Risk factors just recently came to light for Te'o and Jones, but for many other players, concerns about their certainty as a top draft pick have been more established over time.

Georgia outside linebacker Jarvis Jones is one of the draft class' most talented players, but spinal stenosis gives him a much higher risk for injury.
California wide receiver Keenan Allen would be among the safest choices in the draft class, but he missed the final three games of his collegiate career with a knee ligament injury.

Ohio State defensive tackle Johnathan Hankins is also among the top prospects, but while he dominated at the college level with an outstanding blend of size and athleticism, concerns about his motor and technique make him a riskier choice than many other top prospects.

LSU defensive end/outside linebacker Barkevious Mingo is an incredible athlete and explosive pass-rusher, but concerns about a lack of bulk and strength make him a riskier choice than most.
SMU defensive end Margus Hunt has freakish athleticism and measurables but was very inconsistent for the Mustangs.

Missouri defensive tackle Sheldon Richardson is among the top prospects in the draft as well, but he had some off-field issues in his collegiate career.
Central Michigan offensive tackle Eric Fisher was dominant against MAC competition but didn't often have to play against the top pass-rushers in college football (though this risk factor could be quelled with a strong week at the Senior Bowl).

None of the quarterbacks in the 2013 draft class fit the bill as safe picks either, and all of them have significant flaws in their game that make them very risky choices at the top of the draft.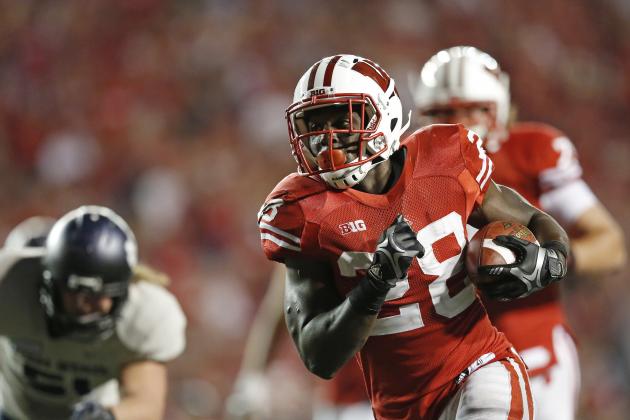 Tom Lynn/Getty Images
Montee Ball's productivity should continue in the NFL.
Running backs are rarely safe picks, but if there is one running back who looks like a sure bet to be productive at the next level, it is Wisconsin's Montee Ball.

Ball ran for a whopping 3,753 yards on 663 carries over the last two seasons. Even with that very heavy workload, Ball never missed a game due to injury. At a position where he took, and will continue to take, many hits as a feature back, that durability is a very important trait that will continue to lead him to success.

Ball does not have off-the-charts measurables, but he is a hard runner with great vision and quickness. He is not the most gifted back in the draft class—Alabama's Eddie Lacy and North Carolina's Giovani Bernard have much more potential—but if there is one running back worth banking on to be a productive and reliable runner for four quarters, that would be Ball.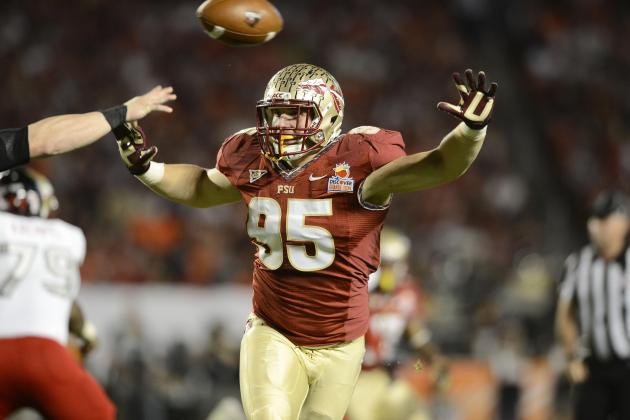 Ron Chenoy-USA TODAY Sports

Even in a class loaded with talented pass-rushing defensive ends, Florida State's Bjoern Werner is close to being a unanimous choice as the top defensive end prospect in the 2013 draft class. With great length, burst, speed and pass-rush moves, Werner is a dynamic pass-rusher who is also very good against the run.

Werner did not miss a single game in any of his three seasons with the Seminoles, and he finished his career with 35 tackles for loss. He has the skill set and upside to be even more productive at the next level.

Werner is one of the draft class' best overall prospects, but he is not higher on this list because he is only a safe pick for teams that run 4-3 defenses.

While he is a natural fit to come in and produce immediately as a defensive end in a four-man front, he has no experience playing outside linebacker. He certainly has the traits teams look for a pass-rushing outside linebacker, but moving a 4-3 defensive end to outside linebacker in a 3-4 is always a risky projection.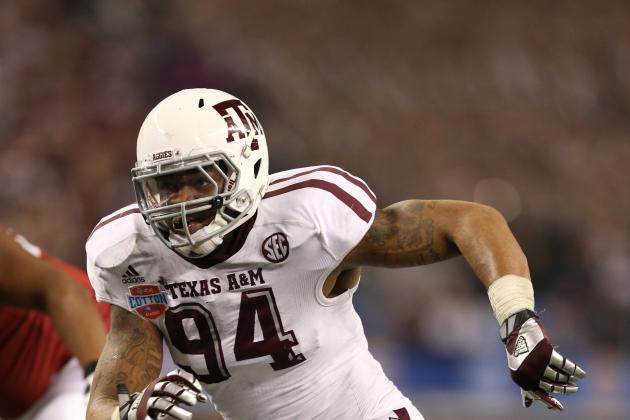 USA TODAY Sports
Moore would be higher on this list if not for a 2011 arrest.
Bjoern Werner would be the best draft choice for a team that runs a 4-3 defensive scheme and is looking for a pass-rusher, but Texas A&M's Damontre Moore is more scheme-versatile. Moore played both outside linebacker and defensive end for the Aggies, and he was very productive in both positions.

As a linebacker in the 3-4 defense as a sophomore, Moore had 17.5 tackles for loss. Moore moved to defensive end when the Aggies switched to a 4-3 scheme in his junior season, and he finished the year with 21 tackles for loss.

Moore is a terrific athlete and natural pass-rusher who has the skill set to excel and has proven successful in both defensive schemes. His productivity actually improved when the competition went up in the SEC this year, and he never missed a game due to injury.

Moore did have one significant off-field issue in 2011 when he was arrested for marijuana possession and was suspended for the season opener. Yet teams will most likely overlook that issue if he can prove that he has learned from his mistake and matured since that time.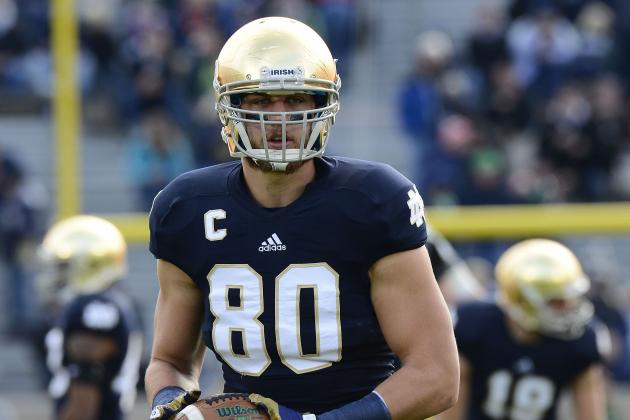 Mike DiNovo-USA TODAY Sports

As a big, athletic tight end with terrific downfield receiving ability, Notre Dame's Tyler Eifert fits the modern prototype of "basketball player" tight ends. Eifert has made good on that prototype with a terrific collegiate career for the Irish, and he now looks like one of the most solid picks in the early rounds of the 2013 NFL draft.

Eifert needs to improve as a blocker, but he can contribute immediately as a receiver in any offense. He was very productive over his Notre Dame career, catching 140 passes for 1,840 yards, and he did not miss a single game in either of the past two seasons.

Eifert has stiff competition from Stanford's Zach Ertz regarding who will be the top tight end selected in April, but with more consistent productivity over the last three years and better athleticism, Eifert is the safer choice as a first-round pick.
There are many wide receivers in the 2013 draft class who have better measurables and higher upside than USC's Robert Woods, but for a team looking for a reliable, low-risk selection who can be immediately productive as a receiver, Woods is the best choice.

Woods does not have the height and speed of a prototypical deep threat, but he can fit any offense. He has the physicality, vertical ability and outside receiving skills to play as a flanker or split end, but he can also play in the slot as a terrific route-runner with great open-field quickness.

Woods never missed a game in his three-year USC career and was consistently productive against top competition, finishing his career with 251 receptions for 2,924 yards. He may struggle against bigger, faster cornerbacks on deep balls at the next level, but his ability to get open and his terrific hands will enable him to be productive right away.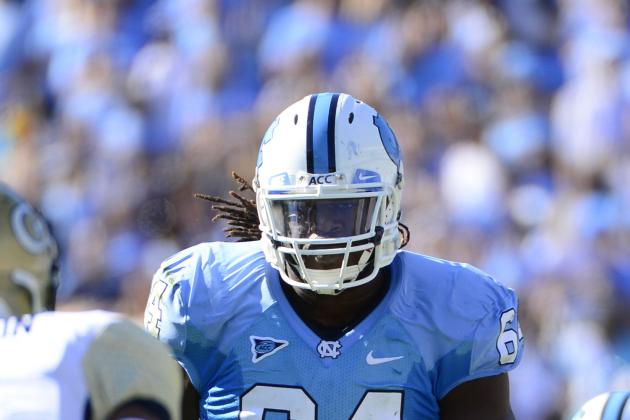 USA TODAY Sports

Drafting a guard in the first round is never a flashy pick, but the team that drafts North Carolina's Jonathan Cooper will likely be glad it did so.
As a big, powerful guard with tremendous feet, Cooper has big upside, but most importantly, he was a consistent performer at UNC who is ready to come in and be a top NFL guard right away.

Cooper started 47 games in his four-year career at UNC, and he has not missed a start since his freshman year. He was consistently among the nation's best left guards throughout his career and was especially dominant in a senior season that earned him All-American honors.

Cooper doesn't get the notoriety that many of the other top draft prospects get because of the position he plays, but he will pay immediate dividends for any team that invests a draft pick in adding him as an upgrade at either guard spot.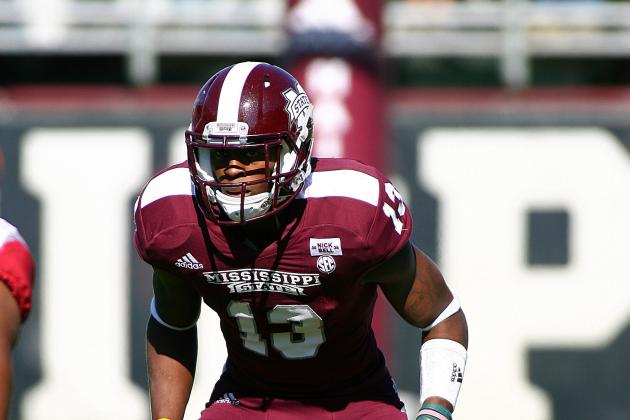 Spruce Derden-USA TODAY Sports

There may not be any prospect in this draft who has proved himself as much over the course of his four-year collegiate career than Mississippi State's Johnthan Banks. As a four-year starter who did not miss a single game in his collegiate career, Banks consistently went up against star receivers in SEC competition and more than held his own.

Banks is a big, athletic and physical cornerback with great ball skills. He went up against many current NFL receivers in his earlier years as a Bulldog, and he has rarely been beaten badly throughout his career.

Banks is not the best playmaking cornerback in the draft class—Alabama's Dee Milliner is the best defensive back in the class—but the team that drafts Banks should feel safe that it is getting a starting-caliber cornerback who will be ready to contribute immediately.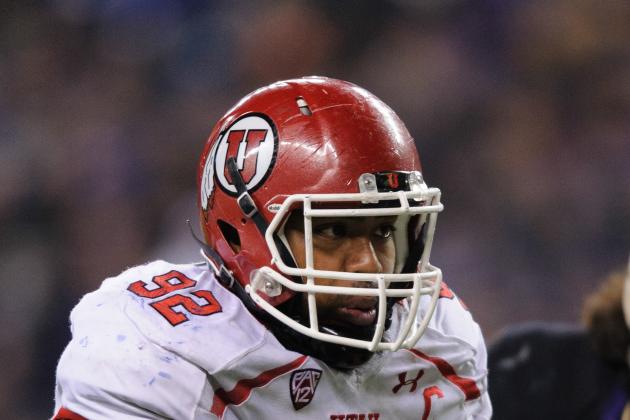 Steven Bisig-USA TODAY Sports

Big nose tackles aren't always scheme-versatile, but Utah's Star Lotulelei certainly is.
Lotulelei has been a dominant force on the Utah defensive line throughout the past two seasons, and he is a massive, yet quick and explosive, interior lineman.

Lotulelei has a very well-rounded game, combining tremendous strength and size as a run-stopper with the quickness and burst off the line to beat blockers into the backfield and penetrate as an interior rusher. He projects as a player who could play as a nose tackle or a 5-technique end in a three-man front. He could also serve as one of two defensive tackles in a four-man front.

Lotulelei's college football career got off to a slow start—he started out at Snow College in 2008 before eventually ending up on Utah's football team two years later—but he has no injury or character concerns.
Of any defensive player in the 2013 draft class, Lotulelei may be the safest bet to be a productive player for many years at the next level.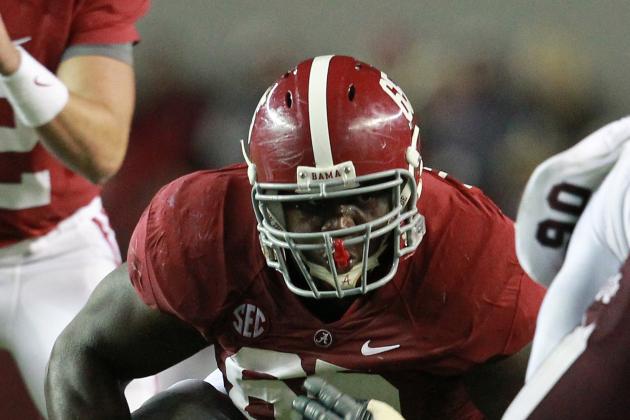 Marvin Gentry-USA TODAY Sports

Jonathan Cooper isn't the only guard in this class who will be a safe first-round pick who can pay immediate dividends for his team. Alabama's Chance Warmack is a massive and powerful, yet quick and technical, guard who has been dominant against SEC defensive lines.

Warmack is a three-year starter at left guard who never missed a start during that time. He is an explosive mauler who can immediately strengthen any NFL offensive line.

Warmack has proven his mettle against many great defensive linemen over the past three years, and he has no character concerns.
Part of the reason that Luke Joeckel is both the highest-rated prospect in the draft class and a top candidate to be the No. 1 overall pick is that he is a very low-risk selection.
Unlike the high-risk choice that any of the flawed quarterbacks in the 2013 draft class would be, Joeckel is a polished left tackle with all of the tools necessary to lead an NFL offensive line for many years to come.

Joeckel started all 39 games of his three-year career as Texas A&M's left tackle. He has been an exceptional pass-protector throughout his tenure as a result of terrific length, great feet, consistent leverage and adequate strength.

Joeckel is a high-character individual with no injury concerns, and he was consistent, even against the many great pass-rushers that he faced in the Big 12 and SEC over the past three seasons.
Calling Joeckel an elite left tackle at this point is a slight stretch, but he has the potential to be among the NFL's best offensive linemen for many years to come.
Dan Hope is an NFL draft Featured Columnist for Bleacher Report.