An NBA Role Model for Each Facet of Anthony Davis' Game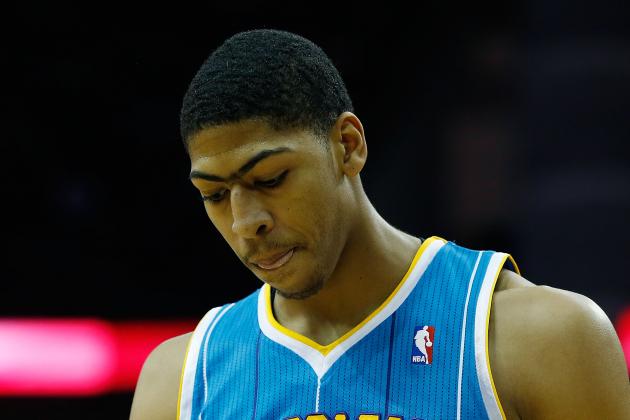 Scott Halleran/Getty Images

New Orleans Hornets' rookie Anthony Davis can continue to work towards being an NBA superstar by incorporating the skills of other great players into his game. Davis can become a more formidable weapon by developing himself into a unique blend of some of the league's best big men.
As of Jan. 21, Davis is averaging 13.1 points, 7.9 rebounds and 1.9 blocks per game. He's shooting just under 52 percent from the field and converting 70 percent of his free throws. The No. 1 overall pick has had his bright spots in his rookie season, but occasional injuries have kept him from gaining any consistent momentum.
When he's on the court, Davis has shown off his rare array of skills. He handles the ball well for a 6'11" forward, which stems from his days as a high school point guard. He's shown the ability to knock down a mid-range jumper here and there. Also, he's lived up to his billing as a rebounder and shot-blocker (28 boards and nine blocks in his last three games).
At just 19 years old, however, Davis still has room to grow. The first step in helping the former Kentucky standout evolve is for him to pay close attention to guys who have made the journey from college prodigy to NBA All-Star.
To get a better grasp on whose footsteps "The Unibrow" should follow in, I dissected Davis' impressive game and assigned a role model for him to emulate. For the most part, these are athletes with similar body types and skill sets.
Here are the perfect prototypes for Anthony Davis to pattern his game after.
Begin Slideshow

»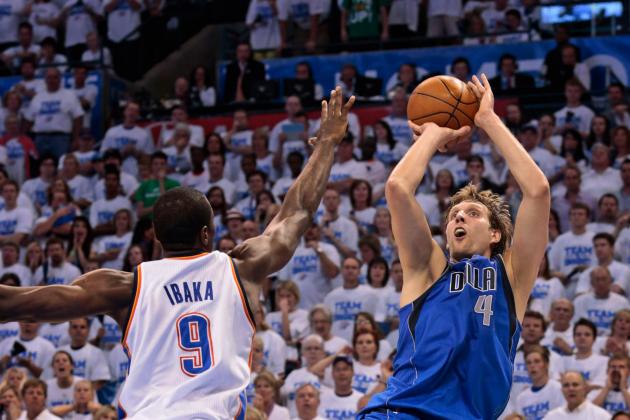 Brett Deering/Getty Images

NBA Role Model: Dirk Nowitzki
In truth, Anthony Davis could learn a thing or two about shooting from teammate Ryan Anderson. Anderson led the league in three-pointers last year and currently leads in three-point attempts this season. In just a couple seasons, the reigning NBA's Most Improved Player has blossomed into one of the game's best shooting big men.
However, the crown of professional basketball's sweetest shooting seven-footer belongs to Dallas Mavericks forward Dirk Nowitzki. Like Davis, Nowitzki entered the league in 1998 as a lanky forward trying to carve his niche in the pros.
In his first season in the NBA, Nowitzki averaged just 8.2 points per game and shot a paltry 20 percent from behind the arc. Things drastically changed in Dirk's second season, as he boosted his scoring average to 17.5 points per game. He also shot just under 38 percent from behind the arc.
In 14 years and counting in the pros, Nowitzki is a career 38 percent shooter from the three-point line. He utilizes his impressive jumper in almost every facet of his game. When Dirk's in the post, he finds a way to make a quick turn on the defender and fire up a shot. On the perimeter, he uses his height advantage to get a good look on a three-point shot.
It may be unrealistic to think Davis can become a three-point marksman like Nowitzki, but if he's going to learn the art of being an excellent shooting big man, it would benefit the rookie to learn from the 11-time All-Star.
Davis has impressive range on his own jump shot. According to HoopData.com, Davis is shooting a respectable 33 percent from between 16 and 23 feet this season. By keeping a close eye on how Nowitzki shoots, Davis can improve on those numbers and become a more versatile offensive weapon for the Hornets.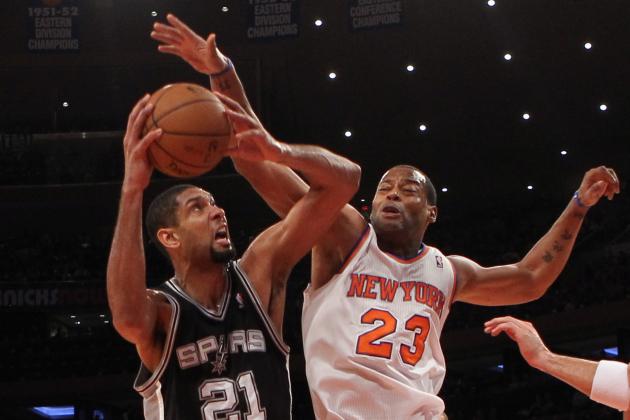 Bruce Bennett/Getty Images

NBA Role Model: Marcus Camby
Like Davis, Marcus Camby left college with a reputation for being an intimidating defensive presence. With 2,328 blocks over 16 seasons and a Defensive Player of the Year Award under his belt, it's safe to say Camby has lived up to his billing.
Camby and Davis are pretty much body doubles. They are both lanky, athletic big men with long arms and the instincts to contest any shot within their reach. Camby has averaged at least a block per game every season throughout his career and has led the league in total blocks three times.
Davis has become more of a defensive force as of late, blocking nine shots in his last three games including seven in the past two (as of Jan. 21). Davis also has developed the knack for being aggressive when contesting shots without committing fouls. For the season, Davis is averaging less than three fouls per game.
Even at 38 years old, Camby is still a serviceable defender in the paint. He hasn't played much for the Knicks this season, but he has still managed to get his hands on 11 shots in 14 games. There are plenty of younger shot-blockers Davis could emulate (former Hornet Tyson Chandler being one), but Camby is the best option because of how long he's managed to perform at a high level defensively.
If Davis can manage to not follow in Camby's footsteps health-wise, he could become one of the game's premier shot-blockers. Davis isn't just a defensive presence inside. He has also proven to be capable of stepping outside of the paint and blocking shooters on the perimeter.
With any luck, Davis will be swatting shots well into his late 30s just like Camby has been doing.
Stephen Dunn/Getty Images

NBA Role Model: Lamar Odom
Lamar Odom was one of the first big men in recent memory who had the rare ability to beat defenders off the dribble. Odom's ability to bring the ball up-court or even penetrate and create offensive for himself is part of what makes him such a special player.
Anthony Davis share Odom's unique ability. As a former high school point guard, Davis developed excellent ball-handling skills. Eventually, a major growth spurt transformed him from a guard to a forward. Even with the change in positions, his ability to handle the basketball never left him.
Like Odom, that unique skill is what makes Davis much harder to defend. Rather than relying on the ball being dumped to him in the post and then trying to make a move to the basket, Davis and Odom can set up on the wing and use their dribble to attack the basket.
While a majority of Davis' points have come on dunks and shots close to the rim, there have been moments when he has picked up his dribble and used his quickness to get by defenders. It's an art that Odom has perfected over his 13-year career.
Davis is fortunate to have a player like Odom around to emulate. Even 13 years after Odom was drafted, there are very few power forwards in the league who can handle the ball like a guard. Davis should continue to develop this unique gift. It will make him a more formidable weapon and give the Hornets more ways to utilize their young big man.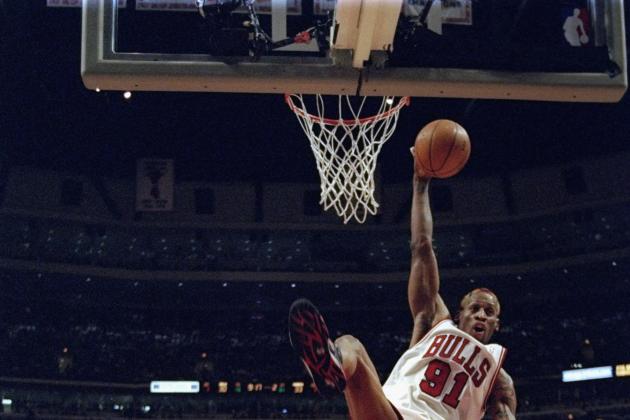 Jonathan Daniel/Getty Images

NBA Role Model: Dennis Rodman
Many will remember Dennis Rodman for his colorful hair, his unpredictable personality and his wild antics on and off the court. They may also remember that "The Worm" was one of the greatest rebounders in NBA history.
There are many great forwards for Anthony Davis to copy who don't have the kind of disruptive nature that Rodman had. However, if you are going to learn about the art of rebounding, there aren't many better than the 2011 NBA Hall of Famer.
Rodman's credentials are pretty extensive. He led the league in rebounds per game seven times, offensive rebounds six times, total rebounds four times and defensive rebounds three times. His behavior might have been unpredictable, but it was a near-certainty that he'd get his hands on a loose basketball.
At 6'7", Rodman was a little shorter than the 6'10" Davis, but they have similar body types and athleticism. Rodman made up for his lack of ideal size with a combination of instincts, positioning and athleticism. Davis can watch tapes of Rodman during his Bulls and Pistons days to get a better understanding of how to dominate the glass.
With his impressive wingspan and athleticism, Davis has the physical tools to get his fingertips on the basketball before many of his less fortunate opponents. If Davis is going to be a great rebounder, it will benefit him to watch film of one of the greatest to ever do it.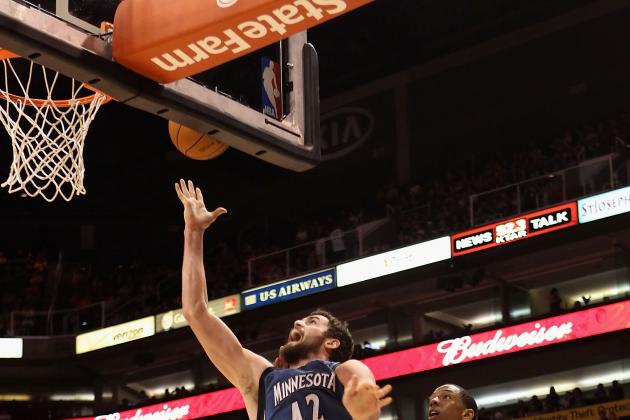 Christian Petersen/Getty Images

NBA Role Model: Kevin Love
Being a great rebounder isn't just about athleticism or strength, it's also about having the instincts to be in the right place at the right time. Minnesota Timberwolves" target="_blank">Minnesota Timberwolves power forward Kevin Love doesn't have a great vertical or even ideal height, but he's one of the league's most intimidating forces on the glass.
Love makes up for his physical shortcomings by constantly being in good position. While Anthony Davis won't have to worry about being hamstrung by a lack of size or hops, it will be in his best interest to watch the way Love anticipates the ball coming off the rim.
Part of the reason that Love has molded himself into being a former rebounding champ is that he has a knack for being around the basketball. If Davis can keep an eye on how Love positions himself under the basket, that knowledge, combined with his physical ability, will make him an excellent rebounder.
Love also gets good position in the post when he's on offense. Unlike Davis, Love has excellent strength to overpower defenders when trying to work his way into the paint. While Davis' game will be more predicated on speed as opposed to strength early on, it will still benefit the rookie to watch how Love positions his feet and utilizes his body.
With a commitment to the weight room and some film study on a great rebounder like Love, Davis can become a force inside. He has the physical advantages that Love doesn't possess. Imagine what he can do if he manages to incorporate Love's instincts into the many facets of his game.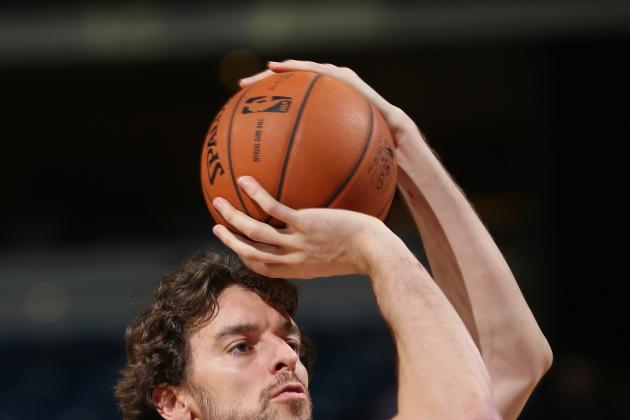 Ezra Shaw/Getty Images

NBA Role Model: Pau Gasol
It may not be as evident this season, as the Los Angeles Lakers" target="_blank">Los Angeles Lakers have struggled utilizing him, but Pau Gasol is an amazing scoring power forward. The system implemented by new coach Mike D'Antoni doesn't play to Gasol's strengths, which is operating in the post as opposed to settling for jumpers on the outside.
Gasol has been reduced to being a key reserve for the disappointing Lakers this season, but it will be interesting to see if the Spaniard can revitalize his career on a new team via a trade. The Pau Gasol who Davis should use as his mentor should be the one who was a key cog in Los Angeles' title run a couple years ago.
If you eliminate this season from the equation, Pau Gasol is a versatile forward who can put up points in the post or from mid-range. According to Hoopdata.com, Gasol has made at least 64 percent of his shots around the rim prior to this season.
Gasol has also converted more than 40 percent of his shots from between 10 to 15 feet every year from 2007 to last season. Gasol nailed at least 41 percent of his attempts from between 16 and 23 feet in all but one season during that same span.
The ability to become more than a one-dimensional offensive weapon will greatly benefit Anthony Davis. By knowing how to contribute offensively from different areas on the court, the Hornets can run a wider array of plays for their star big man.
With shooters like Ryan Anderson, Eric Gordon and Greivis Vasquez commanding attention on the outside, Davis can operate in the paint. When those guys choose to set up in the post, Davis can still be a factor in the mid-range game.
Having a forward who can do so many different things, like the Lakers had in previous years in Gasol, is what helped make Los Angeles successful. By becoming more like the Gasol of old, Davis can also be a huge factor in the Hornets' success going forward.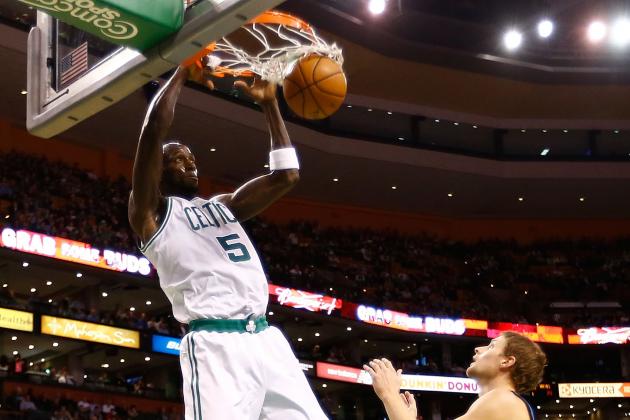 Jared Wickerham/Getty Images

NBA Role Model: Kevin Garnett
Obviously, if Hornets fans could choose any dunker for Anthony Davis to copy, it would probably be Los Angeles Clippers forward Blake Griffin. Unfortunately, Blake Griffin is the only forward who can pull off those kind of dunks.
Another impressive dunker who Davis could emulate is Boston Celtics forward Kevin Garnett. While some of Garnett's antics may rub people the wrong way, there is no questioning that K.G.'s heart and intensity have helped make him the future Hall of Famer that he is.
If Davis can harness some of Garnett's tenacity without turning into the infamous agitator that "The Big Ticket" has become, it will make "The Unibrow" a better player going forward. It will also make Davis more exciting to watch.
In his prime, Garnett thrilled fans by the way he attacked the basket and the ferociousness he displayed when throwing down a dunk. Davis, at times, has shown that kind of raw emotion.
While some may scoff at the pounding of the chest or the screams to the heavens as a form of "hot-dogging," it's good to see players show they are harnessing their emotion into being committed to the game.
Through the years, we've seen athletes find ways to use their competitive drive to make their presence felt. Michael Jordan used to stick his tongue out. Shaquille O'Neal would break backboards. Kobe Bryant had his famous scowl.
It would be great to see Anthony Davis steal some of Garnett's intensity to become a more polarizing figure. A guy with Davis' athleticism and speed should make it a point to attack the rim hard, and get the crowd going with a thunderous tomahawk jam.
You don't want the face of your franchise looking like he's just going through the motions. With a mix of Davis' physical gifts and Garnett's explosiveness, the Hornets can have a potential star who electrifies the crowd like Griffin does for Clippers fans.
That's an element this team hasn't had since Larry Johnson left, and it has been greatly missed.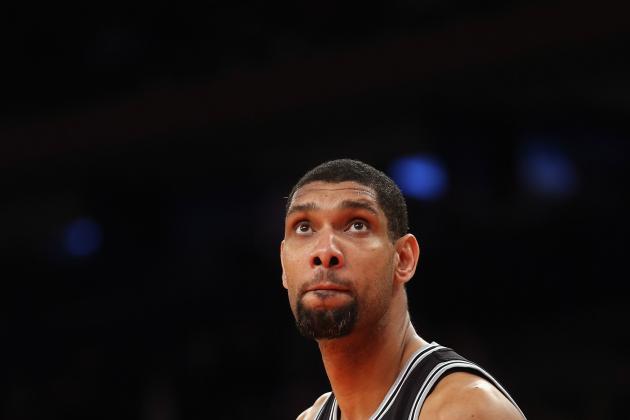 Bruce Bennett/Getty Images

NBA Role Model: Tim Duncan
You could use San Antonio Spurs forward Tim Duncan as a role model for any and all of the facets listed in this piece. He is the blueprint for what an NBA franchise wants from its star big man. While encompassing Duncan's attitude may contradict the previous slide, there's a way Davis can combine Kevin Garnett's emotion with Duncan's professionalism.
Duncan has conducted his business over the last 15 years in a quiet, nonchalant kind of way. He doesn't need to lead his team with a lot of screaming and yelling. All Duncan needs to do is make a simple gesture here and there to get everyone on the same page.
On and off the court, Duncan is the consummate professional. His teammates love playing with him, and he's the kind of role model who young forwards should emulate. Davis got a first-hand look at how Duncan operates before the season starts, when he and a few Hornets teammates practiced with Duncan in the preseason.
The best case scenario for the Hornets is for Davis to become the kind of franchise-changing prospect that Duncan has been for the Spurs. It might not be realistic for Davis to live up to being "the next Tim Duncan," but it will go a long way towards the rookie's career if he can pick up some pointers from "The Big Fundamental."
The big key for Davis will be becoming a leader. He needs to be respectful of his teammates, while proving to be the kind of role model for future big men that Duncan has been to this generation's crop of forwards. He needs to copy Duncan's attention to detail and learn to utilize a Garnett-like intensity at the right times.
With commitment to shadowing Duncan and the other greats mentioned in this slide, Davis can build a dynasty in New Orleans like the one currently existing in San Antonio.