NFL Free Agency 2013: How the Class of 2013 Compares to 2012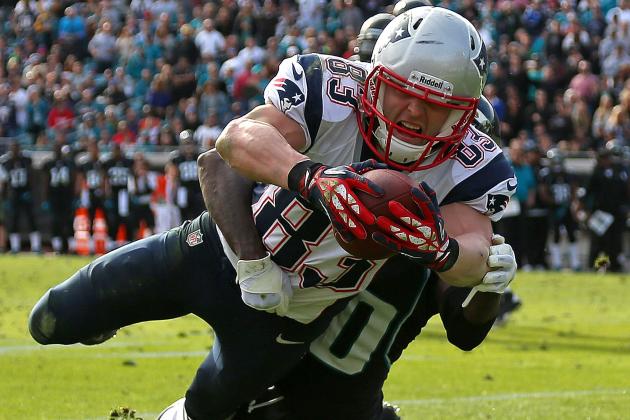 Mike Ehrmann/Getty Images
New England Patriots wide receiver Wes Welker.
As the city of New Orleans begins to prepare for the media frenzy that is Super Bowl week, 30 other organizations around the NFL have their sights set on the offseason and the impending commencement of free agency. However, in order to understand how free agency is going to play out in 2013, it's imperative to study its past effects on teams around the NFL.
A year ago, we saw the likes of Peyton Manning, Mario Williams, Brandon Carr, Vincent Jackson, Carl Nicks and Cortland Finnegan take gaudy contracts to switch teams. Perhaps not coincidentally, none of the aforementioned players won a playoff game this season.
Historically speaking, championship squads use free agency to plug minor holes on their roster. Rarely, if ever, do those lavish contracts handed out to elite veterans result in Lombardi Trophies. Even if big-money free agents play up to their contract, there is rarely enough remaining cap room to assemble an adequate supporting cast. The elite general managers in the NFL build through the draft and supplement their needs with minor free-agent acquisitions.
However, given the monstrosity of the 2013 free-agent class, this offseason could break from tradition. There are impact players entering the market from nearly every position. There are so many quality players out there for teams to sign, that there will inevitably be some free-agent success stories in 2013.
As you will see throughout this article, the 2012 class had some very significant names in it. Peyton Manning and Mario Williams are considered among the best players in the NFL at their respective positions. However, the depth of the 2013 class separates it from that of most recent free agency periods.
Let's compare the 2013 free-agent class to that of 2012 and see why this rapid cycle of player movement will have a significant impact on next season's outcome.
Begin Slideshow

»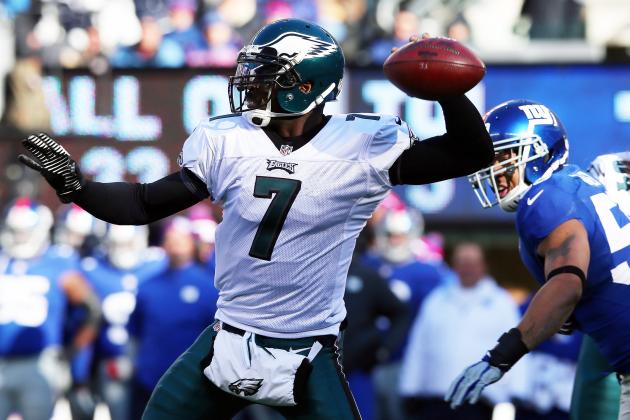 Elsa/Getty Images
Philadelphia Eagles quarterback Michael Vick.
Philadelphia Eagles quarterback Michael Vick is not officially a free agent. However, his unwillingness to restructure his contract will make him nearly impossible to trade. Furthermore, his $15 million cap hit in 2013 makes him a likely candidate to be let loose. Barring any unforeseen circumstances, Vick will hit free agency this offseason.
The same can be said of San Francisco 49ers quarterback Alex Smith, Seattle Seahawks quarterback Matt Flynn and even New York Jets quarterback Tim Tebow. It would make little sense for their current teams to keep them on the roster under their current salaries.
Add those names in with the likes of Joe Flacco, Tarvaris Jackson, Matt Moore, Brady Quinn, Jason Campbell and Matt Leinart, and it becomes apparent that there is talent to be had on the quarterback market this offseason. While most of those players qualify as above-average backups, many have had very successful stints as starters in the NFL.
However, while the 2013 class has considerably more depth, the 2012 class possessed perhaps the best quarterback in the history of the NFL. Peyton Manning and the Denver Broncos did not achieve their goals this season, but Manning had an MVP-caliber season.
Peyton Manning has had, and will continue to have a larger impact on his respective team than any of the quarterbacks about to become free agents. Based off his presence alone, the 2012 class will remain significantly more talented than the 2013 class next season.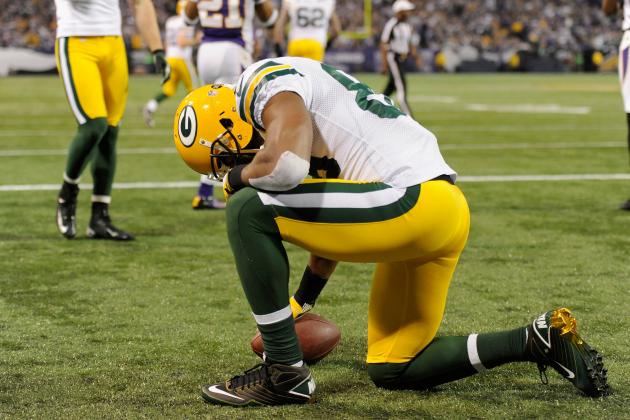 Hannah Foslien/Getty Images
NFL free-agent Greg Jennings.
This is where the class of 2013 separates itself from the class of 2012.
This offseason, there will be five potential Hall of Fame-caliber running backs, tights ends or wide receivers on the free-agent market. Steven Jackson, Randy Moss, Tony Gonzalez, Wes Welker and Greg Jennings will all be unrestricted free agents this offseason.
Granted, Gonzalez has already strongly hinted at retirement and would likely only consider the Atlanta Falcons as a potential suitor. Furthermore, Randy Moss is well past his prime.
However, add the likes of Jackson, Welker and Jennings with the other free-agents-to-be in Mike Wallace, Danny Amendola, Dwayne Bowe, Domenik Hixon, Martellus Bennett and Dustin Keller, one can begin to see why this free-agent class could change the landscape of the NFL next year.
Obviously, Vincent Jackson's departure from San Diego sent shockwaves throughout the league last offseason. In fact, Jackson could very well be the most talented player mentioned on this slide. But the sheer depth of this year's free-agent class will make it one of the most impactful periods of player movement in NFL history.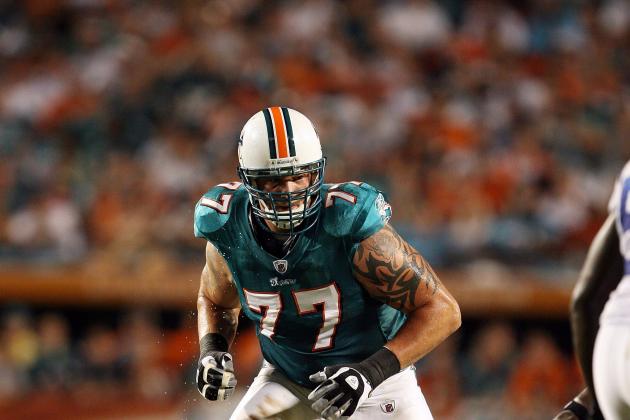 Doug Benc/Getty Images
Soon to be free-agent Jake Long.
Ryan Clady of the Denver Broncos should technically be on the list of free-agent offensive linemen this offseason. However, he is perhaps the best left tackle in the NFL and there is very little chance the Broncos let him get away. For the sake of staying realistic, let's stop talking about him right now.
Behind Clady, there is a bevy of quality offensive linemen on the free-agent market this offseason. Miami Dolphins left tackle Jake Long is a four-time Pro Bowler. Furthermore, Andre Smith (CIN), Godser Cherilus (DET), Brandon Albert (KC), Phil Loadholt (MIN), Sebastian Vollmer (NE), Jermon Bushrod (NO) and WIll Beatty (NYG) are all at elite to above-average offensive tackles in the NFL.
Although the market for interior offensive linemen is not as deep, Adam Levitre (BUF), Brian Waters (NE), Kevin Boothe (NYG), Brandon Moore (NYJ) and Matt Slauson (NYJ) are all capable of being contributing members to almost any offensive line in the NFL.
Obviously, most of these players' current teams will make a substantial effort to retain their services. Offensive linemen are a valuable commodity in the NFL, as it takes time to truly develop an elite player in the trenches.
However, the biggest names of the 2012 class were Carl Nicks and Eric Winston. Both are great players, but they do not make up for the immense depth that the free-agent market will see along the offensive line in 2013.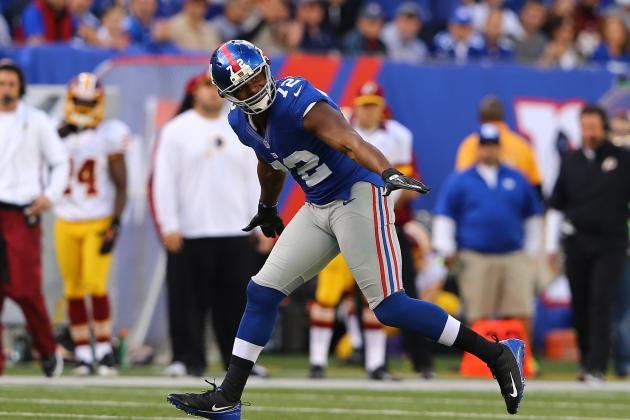 Al Bello/Getty Images
Osi Umenyiora.
While examining the raw statistics, it's hard to definitively say that Buffalo Bills defensive end Mario Williams lived up to his monstrous salary. After signing a six-year contract worth $96 million, it would be fair to expect Williams to single-handedly transform the defense. The Bills were still among the bottom dwellers in the AFC East.
However, Williams had 10.5 sacks while being the focal point of the defense. As the player who opponents game-planned for the most, WIlliams was able to stay productive and give his teammates opportunities to make plays up front. Many times, they didn't. But that can't be pinned on Williams. He's a valuable asset that will remain a cornerstone in Buffalo for years to come.
After Williams, there were very few significant defensive linemen to change teams last offseason. Brodrick Bunkley was another fairly productive player, but the cupboard was barren for the most part.
This offseason, we will see the likes of Cliff Avril, Dwight Freeney, Osi Umenyiora, Michael Johnson, Michael Bennett, Casey Hampton and Randy Starks hit free agency. These players are not as talented as Mario Williams, but they are all capable of putting of Pro Bowl seasons.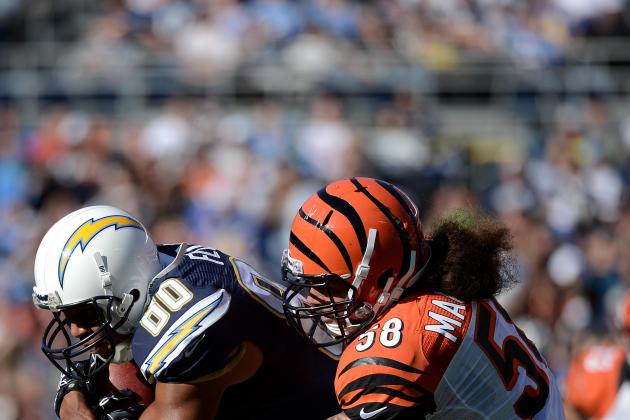 Donald Miralle/Getty Images
Linebacker Rey Maualuga.
The linebacker market was fairly barren last offseason. Curtis Lofton and David Hawthorne both left their respective teams for the New Orleans Saints. However, the Saints had one of the worst defenses in the NFL this season. It's hard to say either of those players had significant impacts in 2012.
This offseason, there will be several players out there looking for significant contracts. Connor Barwin, Anthony Spencer and Dannell Ellerbe could be looking for a raise from teams that don't have the salary cap room to compete for their services on the open market.
The 2013 free-agent linebacker class is far superior to that of 2012. There are several impact players on the market and many of them will be on new teams next season. It should be interesting to see how they integrate within their new defensive schemes.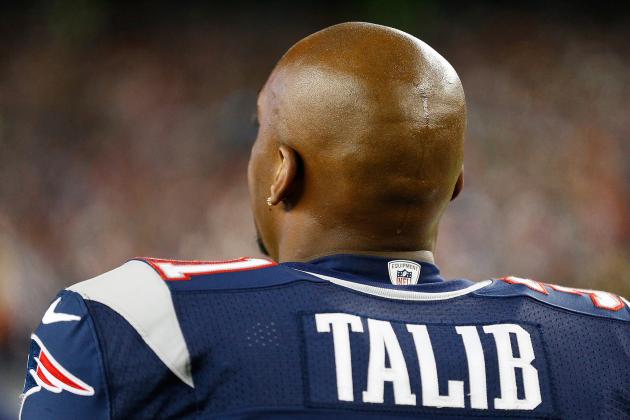 Jim Rogash/Getty Images
Cornerback Aqib Talib.
Defensive backs are always risky free-agent acquisitions. As we've seen with Nnamdi Asomugha and Dominique Rodgers-Cromartie in Philadelphia, scheme has just as much to do with playing pass defense as does talent. It would be foolish to sign a cover corner like Rodgers-Cromartie to play a zone-coverage scheme, just like it would be foolish to trade for a player like Asante Samuel to play a man-coverage scheme.
It's incredibly hard to predict how a defensive back is going to transition to a new team. So while the names in the 2013 free agency class appear significant, we have no way of knowing if they will stay productive next season.
Last offseason, Brandon Carr and Cortland Finnegan each switched teams and had relatively productive seasons. Granted, Finnegan is playing for Jeff Fisher, who was his head coach in Tennessee. But both of these players will elevate the market for defensive backs in this years free agency period. There is a lot of talent about to hit the market, so plan on watching teams with enough salary cap room fighting for their next franchise defensive back.
With Brent Grimes, Aqib Talib, Rodgers-Cromartie Dashon Goldson, Ed Reed, Kenny Phillips and LaRon Landry all looking for a new contract, there is going to be some player movement. Given the track record of each of those players, it would be hard not to expect most of them to produce immensely in 2013.