10 Questions the Philadelphia Eagles Must Answer This Offseason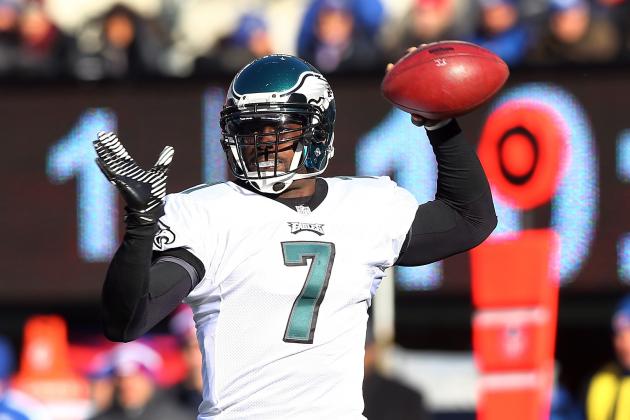 Elsa/Getty Images

The first year for a new head coach is typically one without a lot of pressure. Remember, the new team is typically one of the worst in the league, so the team is going to struggle regardless of what types of moves the coach makes during his first year.
But in Philadelphia, rookie head coach Chip Kelly has a tremendous amount of pressure on him. This is a fanbase that doesn't take losing very well. The past two seasons have been extremely disappointing. Chip Kelly is a big name, and results are expected immediately, especially in a division that is very winnable.
That being said, the 2013 offseason will be huge for Kelly and the Eagles. The shape of the franchise will be changed dramatically over the next six months. Kelly has some pretty big decisions to make.
Here are some of the things he needs to decide, in no particular order.
Begin Slideshow

»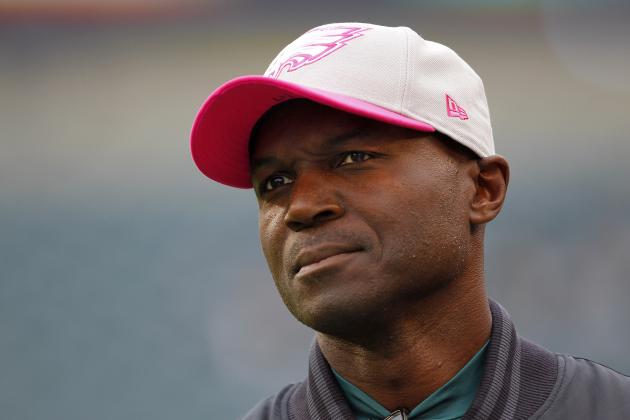 Rich Schultz/Getty Images

The Philadelphia Eagles have not been able to even adequately replace defensive coordinator Jim Johnson since his death after the 2008 season.
Sean McDermott was a big disappointment in 2009 and 2010, and he was fired after the Eagles allowed 377 points in 2010.
Juan Castillo was even worse, as the lifetime offensive line coach became synonymous with the term "blown fourth-quarter lead." Then, Castillo was fired, and veteran defensive backs coach Todd Bowles was promoted to coordinator.
That turned out to be the biggest train wreck of all, as the Eagles went eight consecutive games without intercepting a pass. The secondary of Nnamdi Asomugha, Dominique Rodgers-Cromartie, Nate Allen and Kurt Coleman played so poorly as a unit that it could be argued that none of the four deserve to even be on the team in 2013.
Kelly, who is an offensive mastermind, will need to find a defensive coordinator who can turn the Eagles defense from a soft bunch of players into the tough and physical unit they used to be.
I believe that a significant amount of the talent is there. On the defensive line, Trent Cole, Brandon Graham, Fletcher Cox and Cullen Jenkins are a solid group, while DeMeco Ryans and Mychal Kendricks provide hope at linebacker. There's also the draft and free agency, where the Eagles will likely add two, three or even four defensive starters for 2013.
Adding an intelligent coordinator to run the show is absolutely vital to the team's immediate success.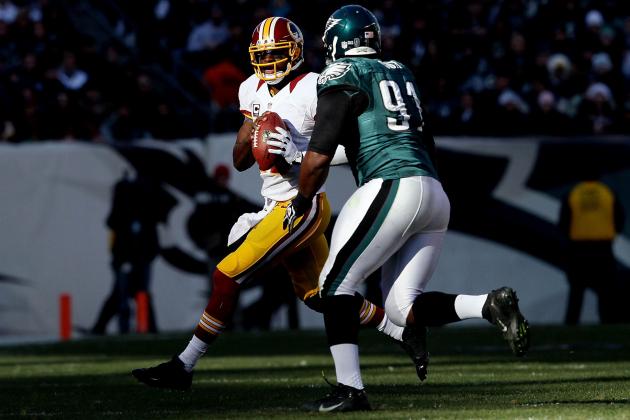 Alex Trautwig/Getty Images

We've all heard the speculation that the Eagles could switch to a 3-4 defense in 2013 (via Jared Sherman of CSNPhilly.com).
Personally, I would be OK with it because a 4-3 clearly wasn't working for the past few seasons. (Then again, that could be the result of poor defensive coordinators.) Regardless, the Eagles have the talent to make it work.
Fletcher Cox and Cullen Jenkins both have the ability to play defensive end or tackle. Trent Cole likely still has some good years left. Brandon Graham can play defensive end or outside linebacker.
Mychal Kendricks played in a 3-4 in college, where he experienced success as a blitzing linebacker. DeMeco Ryans played in a 3-4 in Houston, where he became expendable due to the team's overall depth at the position.
The secondary obviously needs to be redone, but a 3-4 is a definite possibility. If it happens, look for the Eagles to draft Jarvis Jones or Star Lotulelei, both defensive linemen, with the fourth overall pick.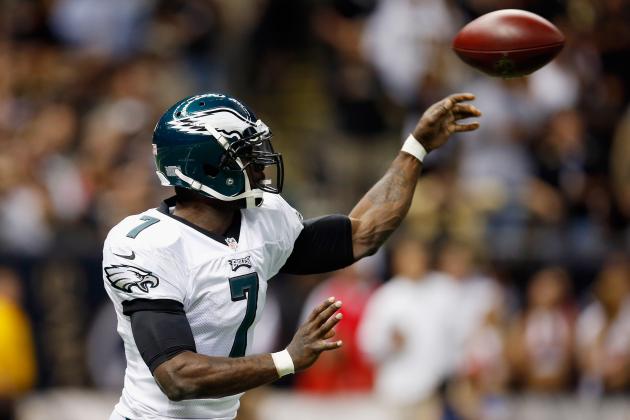 Chris Graythen/Getty Images

The Philadelphia Eagles have a major decision to make involving quarterback Michael Vick.
Vick, who turns 33 in June, is scheduled to make $16.9 million in 2013 (via Spotrac). But he can be cut for a cap loss of $4.2 million. That's still a lot of money but it's a lot better than keeping Vick, whose best days are behind him, as the starter for another season.
If Kelly does want Vick as his quarterback, it'll likely be as the starter, which means that Nick Foles will be his backup. Don't be stunned if it happens either. Kelly loves running quarterbacks, and although Vick's speed is diminishing, he's still one of the fastest quarterbacks in the league. Foles is one of the slowest.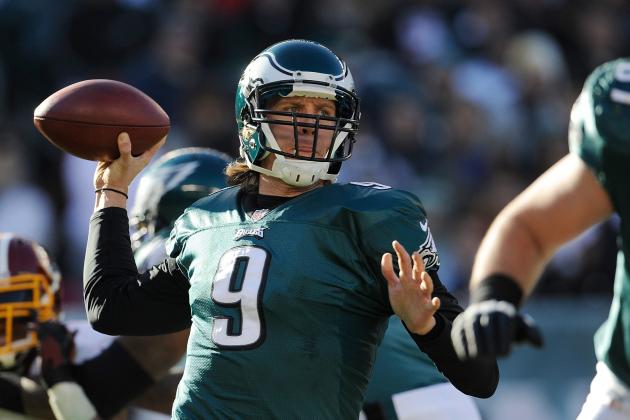 Patrick McDermott/Getty Images

As just discussed, the Eagles could save a tremendous amount of money under the cap by cutting Michael Vick this offseason. That would make last year's rookie, Nick Foles, the full-time starter.
But it's very likely that Kelly could go a different route. He's not the coach who drafted Foles, and although he raved about him in college two years ago, he doesn't feel any loyalty to him.
Foles has had his share of ups and downs in his half season as a starter. He delivered an improbable walkoff victory against the Tampa Bay Buccaneers, but he also lost his other five starts.
There aren't a lot of options for the Eagles at quarterback. They could draft a player such as Geno Smith or Matt Barkley, or they could try to trade for a backup like Matt Flynn.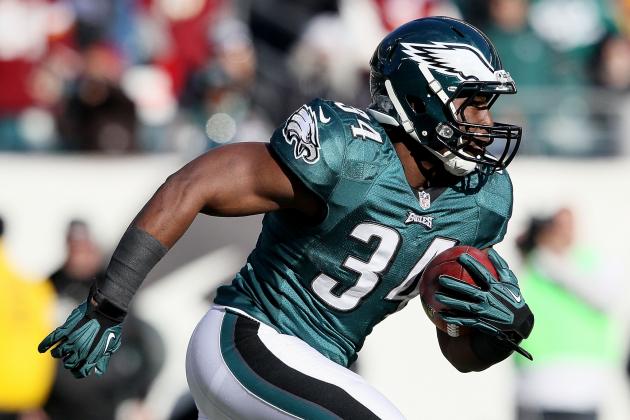 Alex Trautwig/Getty Images

Running back Bryce Brown had an extremely strange rookie season in 2012.
On one hand, he rushed for 347 yards and four touchdowns in his first two games as a starter after LeSean McCoy suffered a concussion.
On the other hand, he lost four fumbles in just 115 carries during the season. The explosiveness he showed during his two starts completely disappeared against solid run defenses like the Tampa Bay Buccaneers and Cincinnati Bengals. And he was a disaster when he received just four or five carries (via Pro-Football-Reference.com) throughout a game.
He seems like he has potential, but the fumbling and inability to produce when he's not a starter won't cut it.
In 2013, the Eagles will have a coach who ran the ball 65 percent of the time when he coached the Oregon Ducks. He has one tremendously talented running back in LeSean McCoy.
Does he have another one in Bryce Brown? Or does he have a flash in the pan, a player better suited as a backup?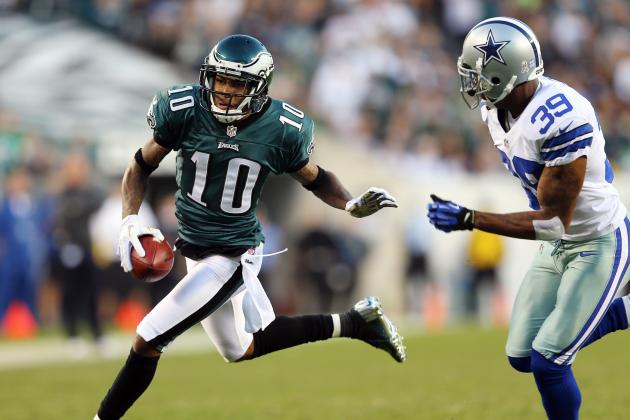 Elsa/Getty Images

Before the 2011 season, I proclaimed the Eagles group of wide receivers as one of the best in the league. I've come to realize that I have vastly overrated this group of talent.
The Eagles have a pair of hit-or-miss receivers in DeSean Jackson and Jeremy Maclin. One disappears in the red zone and periodically throughout games, and the other one can't stay healthy.
Jason Avant is a solid slot receiver, but he's not going to win games himself. Riley Cooper has yet to break out, and Damaris Johnson showed some potential.
At tight end, Brent Celek is a classic case of a player who is good enough to keep his job but not good enough to scare opposing defenses. Clay Harbor is a decent backup.
But the Eagles don't have a physical receiver, particularly for the red zone. Do they draft a big receiver in the 2013 draft? Or do they stick with their current group, now that they have a coach who has proven that he excels at putting his players in the best position?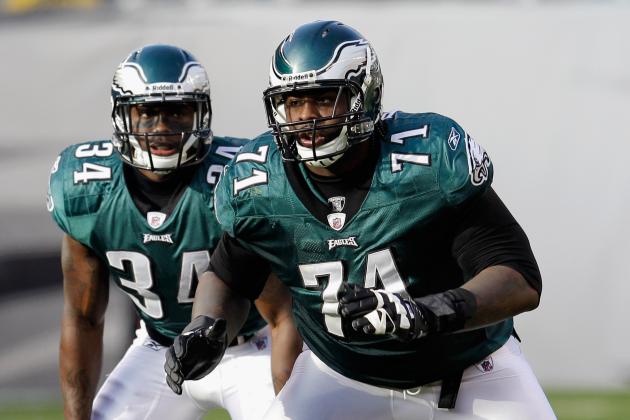 Rob Carr/Getty Images

The worst thing to happen to the 2012 Philadelphia Eagles was the season-ending injury suffered by left tackle Jason Peters, who ruptured his Achilles tendon last March (and re-ruptured it again in May).
Peters, quite simply, is the best player on the team. I believe he is the best offensive lineman in the NFL. To say his presence was missed in 2012 is a major understatement.
Michael Vick spent a lot of time either on his back or running for his life. LeSean McCoy's yards per carry dropped to 4.2. The screen pass was ineffective. The entire Eagles offense, basically, fell apart without Peters.
So will he be himself in 2013? If not, the Eagles could draft tackle Luke Joeckel with the fourth overall pick. Joeckel is a can't-miss prospect who would be plugged into the left tackle spot immediately. If Peters heals, this would allow Peters (or Joeckel) to move to right tackle, allowing veteran Todd Herremans to move to guard.
But if Peters will be fully healthy in 2013, the Eagles could select a defensive player with their first-round pick.
The 2012 season ended with the injury to Peters during the offseason. The 2013 season could very well hinge on the recovery of Peters during the next few months.
If Peters is healthy and still dominant, the Eagles will have one of the game's strongest offensive lines.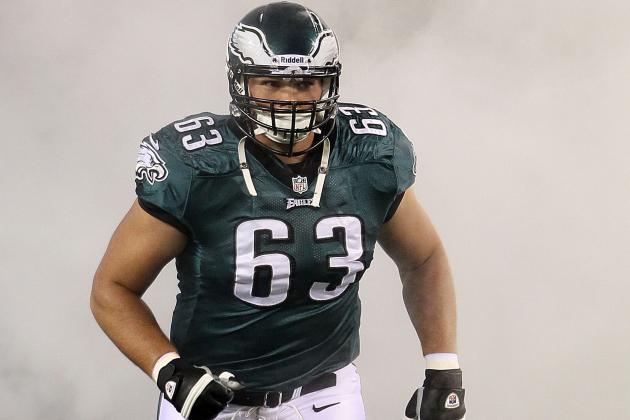 Alex Trautwig/Getty Images

The only significant hole at offense for the 2013 Eagles, other than quarterback, is right guard. This is even more pathetic when you consider the fact that right guard was the biggest hole on offense following the 2010 season, when Max Jean-Gilles and Nick Cole combined to form one of the worst starting offensive linemen duos in the league.
Danny Watkins, the team's first-round draft pick in 2011, hasn't been much better during his two seasons. He was benched in midseason for Jake Scott, who was literally signed off the street.
Watkins will be 29 years old next November, and time might be running out for his career. The Eagles could look to select Chance Warmack, the best guard prospect in over a decade, to fill the hole at right guard.
Or, they could give Watkins one more chance to start, with a new head coach (and a new offensive line coach) and focus on defense during the draft.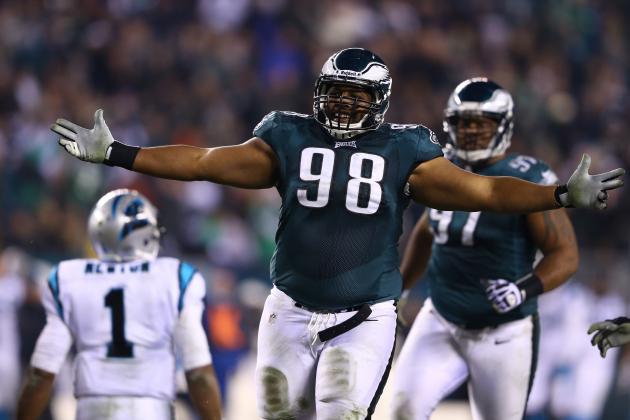 Al Bello/Getty Images

In 2013, the Eagles' starters at defensive tackle will be Fletcher Cox and likely veteran Cullen Jenkins, with Mike Patterson right in the rotation. That is, assuming the Eagles keep a 4-3 defense.
If the Eagles switch to a 3-4, Jenkins and Cox both have the potential to move to defensive end, although the Eagles also have Trent Cole and Brandon Graham.
Regardless, the Eagles will need to decide whether they want to keep Jenkins and Patterson in 2013.
Jenkins, 31, is scheduled to make $5.5 million. Patterson, 29, is scheduled to make $4.064 million. Jenkins is probably a little bit of a better player, but he is also older and likely has less time left in his career.
If the Eagles draft a defensive tackle in the first round, you could make a case for the team releasing both Jenkins and Patterson. But I would keep at least one of them because depth is a tremendous part of any defensive line.
The more likely scenario is the Eagles cutting Patterson, who missed significant time in 2012 with complications from offseason brain surgery.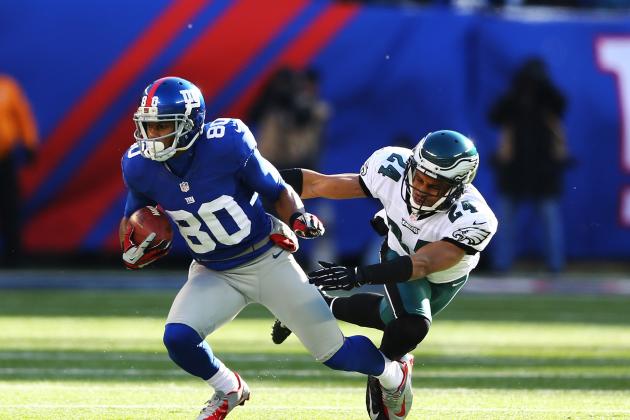 Al Bello/Getty Images

The Eagles had the worst secondary in the NFL in 2012. It was so bad, in fact, that over the final 15 games of the season, the Eagles allowed 33 touchdown passes and intercepted four passes. Numbers like that should exist only in the Madden video game.
Nnamdi Asomugha, a former four-time Pro Bowl selection, surrendered the fifth-worst passer rating (via Pro Football Focus) of any cornerback in the league (120.6). Dominique Rodgers-Cromartie played soft and appeared to not give his full effort on a lot of plays.
Safeties Nate Allen and Kurt Coleman looked like a pair of overmatched backups thrust into a starting role.
Asomugha is due $15.3 million in 2013. No argument can possibly be made for keeping him on the team.
Rodgers-Cromartie is a free agent and will likely be overpaid based on name recognition. Re-signing him would be a big mistake for the Eagles.
Either Allen or Coleman will likely start again in 2013 (probably Allen) simply because the Eagles can't replace their entire secondary in a single offseason.
However, if they can somehow sign Jarius Byrd in free agency, draft another safety and acquire a pair of starting-caliber cornerbacks in the draft, the secondary will be greatly improved in 2013.